Words & photos by Zac Erb
Spring in Owen Sound can be a flighty, fickle thing. Heavy brooding clouds are pierced by hopeful rays of sunlight. Plants timidly shed their snowy mantle one day, only to have it return the next. Winds blow along the escarpment, whispering promises of wondrous things to come. Meanwhile, deep in the thawing industrial heart of this port city, a ball peen hammer is swung just so, stamping a message of hope into something tiny and beautiful.
Fierce Deer is a jewelry studio and shop founded by native Owen Sounders Kate and Alanna Schwan. The sisters grew up creating together. Alanna cut her creative teeth on hemp bracelets and Kate wrote imaginative fiction. While Alanna wove hemp, 11 year old Kate was busy penning a book titled "Fierce Deer" about a young girl who finds herself transforming into a deer. This title stuck with her, as did the concept of a small shy girl changing into something proud, wild, and powerful.
Now, some 20 years on, the Schwans, along with collaborator Meghan Hargest, instill this overt feminist message into much of their handcrafted jewelry. The result, in a word, is inspiring. Simple elegance is the hallmark of Fierce Deer. Nothing superfluous or gaudy distracts from the visual impact of their work. A rough hewn amethyst catches the light at the end of an understated silver chain. A closed fist sits alone and defiant, stamped into a square golden pendant.
Find Fierce Deer online, at festivals across the province, or better yet find them locally at Hair Body & Soul and Shear Experience in Owen Sound and The Patch in Sauble Beach.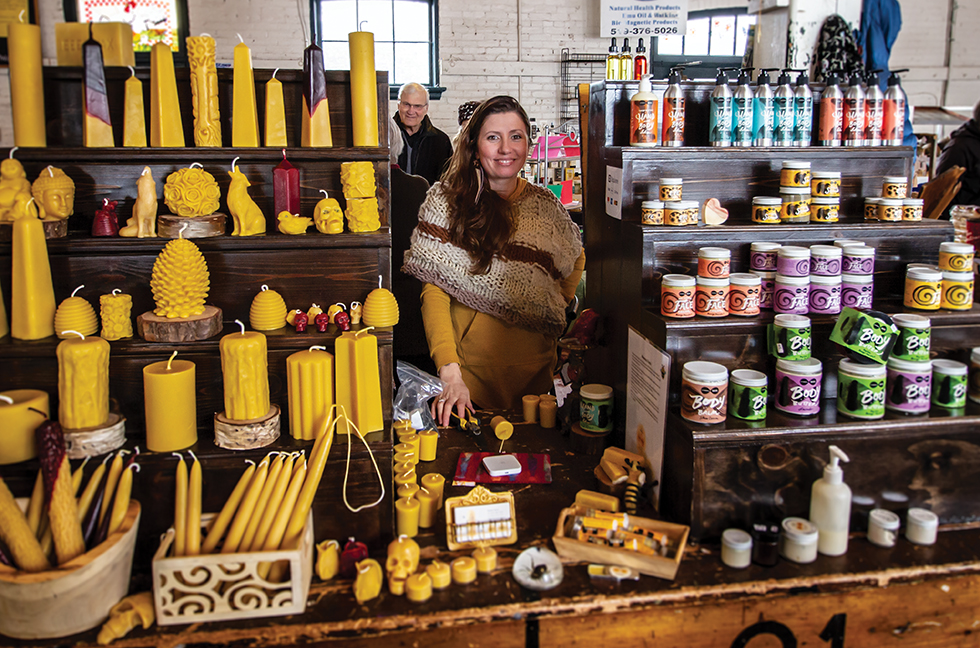 Aiyana Harris of Eternal Bee
The honeybee begins her vital work in the spring, and as she does, another talented local woman toils alongside her. Using wax from local hives, Aiyana Harris of Eternal Bee lovingly crafts a range of wonderfully aromatic candles as well as all natural beauty products. Aiyana's deep respect for the natural world is central to her work. Her lotions, balms and scrubs make use of organic ingredients while her candles feature many nods to the beauty of nature. Here, a tiny wax sparrow perches on a branch. There, a mountainous landscape is wrapped around a pillar candle, complete with rippling lake and wary moose.
Look for Aiyana to host a grand opening this spring in her new studio at 791 1st Avenue East. Until then, Eternal Bee can be found at the Owen Sound Farmers' Market every Saturday morning. Aiyana is also a mainstay at the Artist's Co-Op on 2nd Avenue East, where she has recently begun teaching her craft during workshops. A craftswoman unafraid of sharing the secrets of her trade is certainly one worth supporting.
The Artist's Co-op has been a nexus of local creativity ever since its inception in 1994.The Co-op is a crucial component of the arts scene here. Despite (or perhaps because of) our rough and tumble dockside roots, Owen Sound boasts a vibrant, skilled, and surprisingly deep creative community. Here, as everywhere, gifted young women make up a significant portion of that talent pool. This fact is borne out at the Co-op, which features offerings by many significantly talented ladies across a variety of disciplines.
Katherine Kennie, of Twisted Spiral Studios, creates elaborate laser etchings from hand drawn sketches. Her work is precise, rich with detail, and just a little bit pagan in its focus on life, death, and the cycle of the moon.
The cheekily named "Stain in the Glass" studios produce bright and charming pieces of stained glass art. Mallori McArthur, the brains behind these beautiful works, apprenticed under a local stained glass shop before striking out on her own with impressive and diverse results.
Kate Civiero's boundless passion for the art of glass blowing is rivalled only by her proficiency in the medium. Her subtle and engaging glasswork is complemented well by her work as a coppersmith. Some of her most intriguing pieces combine both disciplines to great effect. Ask for Inifnite Glasswork at the Co-op and prepare to be dazzled.
Lunamoon is the name dreamt up by Kim Gates for her innovative jewelry design project. Kim's creative process is focused on two goals, creating eye catching, edgy pieces, and doing so with minimal environmental impact.
To that end, much of her work is composed of salvaged material, though you'd never know it when admiring the finished product. These are by no means the only skilled women displaying arresting art at the Co-op. Nor is the Co-op itself the only location in Owen Sound showcasing the fine pieces of our local craftswomen. Turn a corner in this city and you're liable to find yourself face to face with a driven, creative woman.
Walk through downtown and you'll see any number of shops offering their creations. If something catches your eye through a window—stop, enter the shop, and ask about it. There's a good chance it was handcrafted by a local woman, and there's a great chance she'll be thrilled to tell you how she did it. |E|