Market your message. Target your demographic.
Escarpment® reaches 100,000 homes, shops, restaurants, hotels, ski & golf clubs, throughout Simcoe, Grey & Bruce counties. Engaging editorial, sophisticated, artistic design and high-quality presentation ensures that Escarpment® and your ad will stay in our readers' homes for months at a time.
For rates and media kit, please contact us at info@EscarpmentMagazine.ca
Why Advertise in Escarpment
®
Magazine?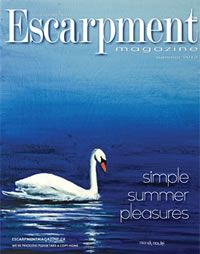 Our advertising partners know that advertising with Escarpment® Magazine works. In an email survey directed at our existing advertisers, an overwhelming 98% of respondents replied "YES" when asked, "Has involvement in Escarpment® Magazine helped bring you clients to grow your business or increased your brand awareness?" Here are a few more compelling reasons why Advertisers love Escarpment®. 
Escarpment
®
Magazine reaches your target market
Make an impact that lasts. Escarpment® distributes 22,000 copies per issue to local hot spots, popular businesses and high traffic locations free of charge. Countless businesses in our area proudly display Escarpments®, and our local readers know where they can always find a copy. Our advertisers tell us that people specifically come into their businesses to pick up the latest issue.
Escarpment® Magazine readers are:  Educated and active • Discerning consumers • Well-travelled  Passionate about life  • Affluent restaurant patrons  • Upscale ex-urbanites  • Environmentally aware    
Escarpment Magazine's Commitment to our Advertising Partners
Escarpment® has one of the BEST editorial-to-ad ratio in the region. By strategically placing your ad within relevant content, Escarpment Magazine ensures your ad will be seen by your target client.
Escarpment
®
Magazine gives you added value features
Beyond providing excellent, well-produced content, we offer added value features at no charge. Whenever possible we feature our advertisers with 'editorial spotlights' within relevant content. We accomplish this through product features like our "Escarpment Essentials", our fashion pages, or within one of our home features. New or newly renovated businesses are given special editorial profiles in "New Ventures."
Escarpment
®
Magazine
prints more
With an annual circulation of 88,000 copies, Escarpment® Magazine reaches more potential customers.
Escarpment® Magazine connects with more weekenders and visitors for two reasons:
1. We distribute to Private Ski and Golf Clubs.
With seven Private Ski Clubs along the Escarpment, our area has a unique ski culture unlike anywhere else in the world. When the snow melts our area is a mecca for golf, with numerous private and public country clubs.  Members of these clubs come from urban centers throughout Southern Ontario and many own second homes in our area. With membership costs upwards of $30,000 – $40,000, these clubs attract wealthy, active families: the target market of Escarpment Magazine.
2. We distribute in Blue Mountain Hotels including the Westin Trillium House..
Blue Mountain Resort is one of the largest 4-seasons tourist destinations in Ontario. Not just a ski resort, Blue Mountain also has a thriving Village with award-winning restaurants, trendy bars and pubs, and world class shopping. Blue Mountain Village businesses advertise with Escarpment Magazine because it works.

Escarpment® Magazine publishes 4 issues a year, allowing our advertisers to tailor their marketing campaign toward the seasonal demographic.
A four-season destination, Southern Georgian Bay's demographics change with the weather. We always cater to our local population, and during the slower Spring and Autumn months we gear our content even more so to the permanent residents. The Summer and Winter months see an increase of weekenders and visitors. Escarpment® makes sure to include exciting content that highlights the activities and interests that attract visitors and weekenders to our area. 
Escarpment
®
Magazine uses the best quality printing and paper stock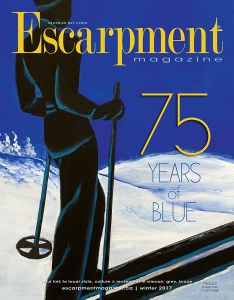 Throughout the evolution of our publication, we have experimented with different printing techniques. Ultimately, we chose to use only the best paper, ink and binding method to give our magazine the finest possible upscale presentation. Escarpment® Magazine uses a quality weight, satin-finish paper with superior ink retention, giving your ads and our photos the best possible reproduction. We then wrap our publication in a heavy UV-coated cover that is "perfect bound" with a hard spine — creating a superior product, with staying power, that readers are proud to display on their coffee tables and in their guest bedrooms.
Every issue
of Escarpment
®
is read cover to cover
With interesting, informative articles and incredible photography, we present a magazine that is both visually stimulating and entertaining, ensuring that each issue of Escarpment® is devoured by our readers.

Strategic ad placement—connecting our readers with your business
We make sure that your ad will have the utmost impact by strategically placing it within relevant content. Escarpment® always includes a wide range of topics from fashion to epicure, home and garden, arts and events, recreation, real estate market and beyond. By placing your ad within an editorial feature that is relevant to your business, we make certain that readers who are interested in your field will see your ad.
Escarpment
®
Magazine is the original magazine in Southern Georgian Bay
Originally 'Condo & Chalet' our publication, which is now in its 32nd year, began as a real estate and home magazine. Escarpment® has gone through many changes and has evolved through the years, but we have not forgotten our roots. We feature a stunning home in every issue, highlighting some of our area's top builders, designers and trades. We also always include the most recent updates and information about the Real Estate Market with our popular feature: "Marketwatch" written by local expert, Des von Teichman, followed by numerous pages of Real Estate listings offered by the top producing agents in the region.
For rates and media kit, please contact us at
Collingwood, Blue Mountains, Clearview:  
Owen Sound & Bruce County:
General Inquiries 
As an integral part of our region for over 30 years, Escarpment® Magazine's readership, exposure to the local and seasonal market and return on advertising investment is unequalled