RBC Dominion Securities, in conjunction with Summerhill Entertainment Inc presents "The Best Downhill Racer", documenting the rematch between Podborski vs Weirather on Friday November 30th, 2018 at the Historic Gayety Theatre.
Between 1974 and 1984 Canadians were dominant on the World Cup downhill circuit. Prior to 1975 no North American male had ever won a world cup downhill race. Ken Read became the first to do so at Val D'Isere in 1975 and so began what would become the stuff of legend. Over a period of about 10 years the "Crazy Canucks" won a total of 39 World Cup podiums including 14 wins. It was an unprecedented period in Canadian ski racing history, and may never happen again.
Winning a World Cup Downhill race is one thing, but winning the World Cup Downhill overall title is the big prize. As the Canadian Team reached their pinnacle in the early 1980s, the prospect of an overall downhill title looked increasingly likely. Ken Read had an excellent season in 1979-80 and came very close only to finish 2nd to Peter Mueller for the overall title. The very next season saw Steve Podborski finding his form with a string of podiums and consistent top 10 results. The 1980-81 downhill title came down to the very last race of the season between Podborski and Austria's Harti Weirather. The Austrian prevailed with a very strong performance in the final race and Podborski finished 2nd overall.
Starting the 1981/82 season, the Canadians could surely smell victory. Podborski was in good form and Weirather seemed determined to defend his overall title. As the season unfolded, it seemed clear this was headed towards a rematch of the previous season. To add to the suspense, the struggle for the overall title would come down to the very last race of the season.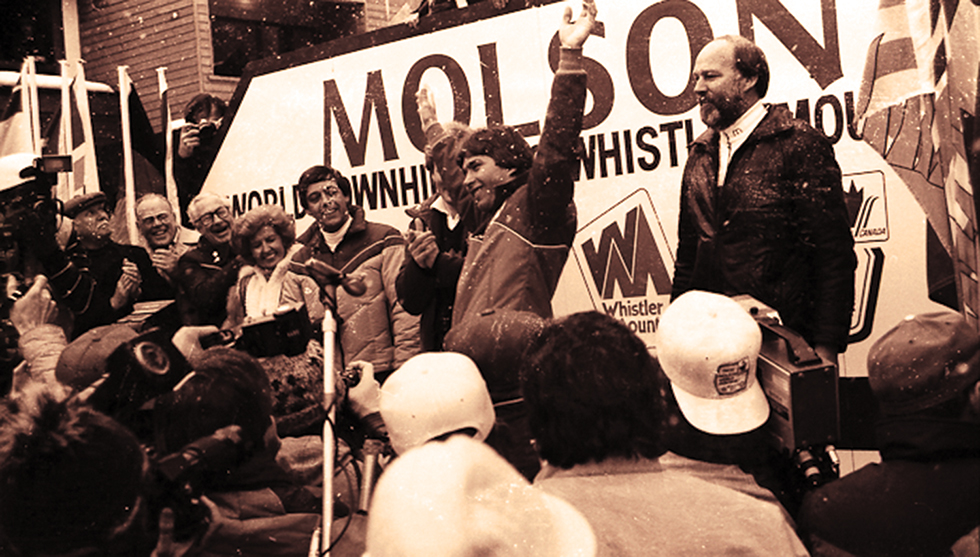 "Going into the 81 – 82 season was exciting," remembers Steve. "I had finished 2nd in the World Cup the year before and I was ready to move up. The European teams that we had been looking up to all those years were now peers, and we had the measure of what it took to win. In 11 races that season I was out of the top ten 3 times. Two were in Aspen after I had clinched the title at home in Whistler with a 2nd place finish. This season included a 1st and 2nd place in Kitzbuhel. So, it was a superb season for anyone in any era, but certainly for a small underfunded team it was stellar."
"My competitors were from the best teams. Harti Weirather of Austria and Peter Mueller of Switzerland. Each had a different ski style and were strong in different races. To beat them required the background of hard work, smart work and honing my craft as a ski racer to find a lot of hundreds and tenths of seconds on courses of every kind. Essentially, I was a student of ski racing and learned it all. Then I learned how to apply it."
"This season was the demonstration of that mastery. My worst race up until I clinched in Whistler was 11th.
I can remember the first time I got into the top ten; it was breathtaking. Now I was a permanent resident!"
"The movie crew that came on the tour that year were skilled veterans who had been on the road with us before. The tour was, as usual, grindingly boring interspersed with moments of sheer ski racing joy. They got the deal, and captured it all, and we get to see it in celluloid glory from time to time. What they captured had never been done before. A non-European had won the World Cup Downhill Title! What is perhaps as surprising is that it was a Canadian. And, it has not been done again in the 36 years since. And it is all there to see, in the Gayety Theatre! See you then."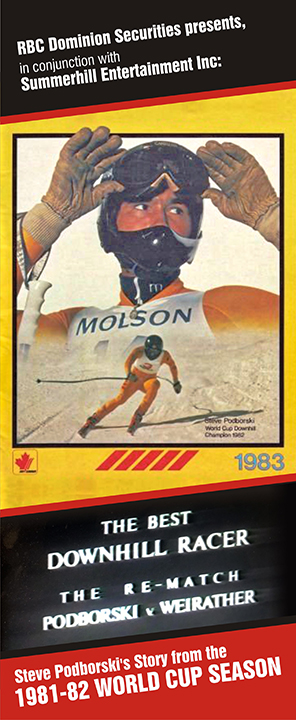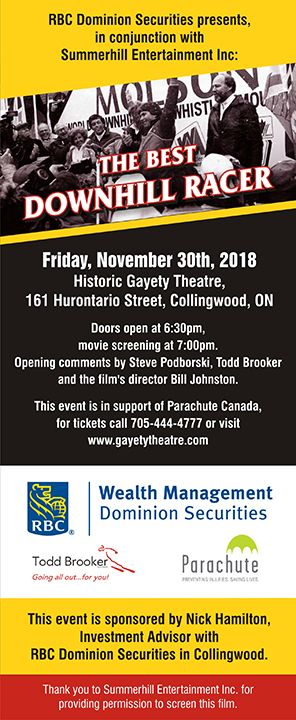 'The Best Downhill Racer', The Re-match: Podborski vs Weirather. Doors Open at 6:30pm, Movie Screening at 7pm
Opening comments by Steve Podborski, Todd Brooker and the film's director, Bill Johnston. This event is in support of Parachute Canada. For tickets call 705-444-4777 or visit gayetytheatre.com
This event is sponsored by Nick Hamilton, Investment Advisor with RBC Dominion Securities in Collingwood