Autumn Bucket List
By Cara Williams, photography by Clay Dolan
As autumn paints the landscape with vibrant hues, the Escarpment becomes an inviting playground for both locals and visitors to discover. While you likely have a few traditions of your own, we have a few fall bucket list items to add to your slate.
Hike, Bike and Run in Kolapore
What better way to embrace the autumn season than by traversing an extensive trail network. This autumn marks the 50th anniversary of the Kolapore Wilderness Trails. Originally organized by a cohort of University of Toronto students in 1973, today the Kolapore Wilderness Trails Association manages a 50-kilometre network of trails in the Kolapore Uplands. The shifting foliage adds an extra layer of picturesque beauty to your ride, run or hike. For trail maps, membership, details, and upcoming events, visit kolaporetrails.org
Enjoy Fall Colours from a Suspension Bridge
Stretching a magnificent 420 feet in length, the suspension footbridge at Scenic Caves in the Blue Mountains proudly claims the title of southern Ontario's longest, offering unparalleled vistas of Georgian Bay and its breathtaking surroundings. Suspended at a remarkable height of 82 feet above the forest floor, it creates a surreal sensation of floating among the ancient forest canopy. The bridge grants you a full 360-degree panorama, and thanks to the chain-link fence along its length, not a single view is obscured. It's an invitation to fully immerse yourself in the embrace of nature, challenge your comfort with heights, and revel in the sheer beauty that envelops you from every angle.
See Salmon Run 
With the cooling temperatures, Pacific salmon species like Coho and Chinook embark on an upstream migration from the Great Lakes, seeking the shallows to lay their eggs before the onset of winter. An iconic feature of the town, the Thornbury Fishway (also known as "the fish ladder") was designed to mimic nature, assisting fish as they swim upstream to spawn. Every autumn, crowds gather to witness jumping Chinook salmon as they fight the battle of their lives, attempting to make their way up the ladder and into the Beaver River to find suitable spawning areas in gravel beds. In Owen Sound, walk the trail from Harrison Park to Inglis Falls Conservation Area and see Salmon migrate up the Mill Dam and fish ladder. Ensuring unimpeded access to suitable spawning grounds is vital for the survival of rainbow trout and Chinook salmon populations— thanks to these fishways, migratory fish gain entry to several kilometres of pristine cold-water streams.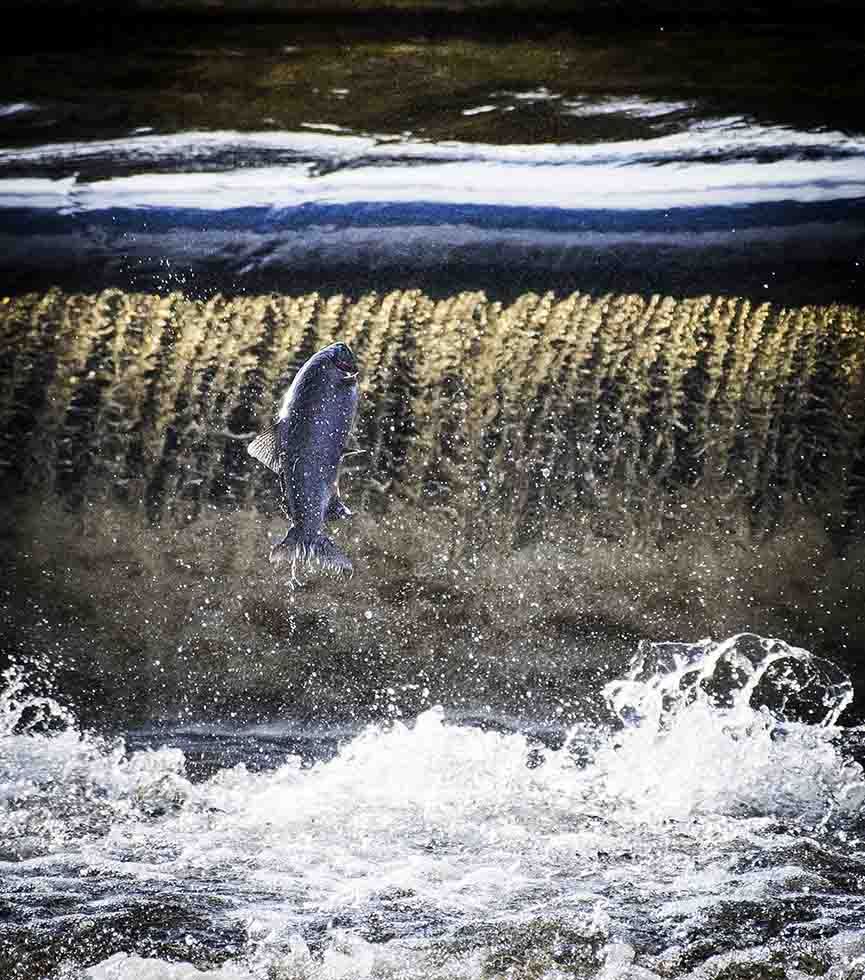 Apple Picking
Fall wouldn't be complete without taking a trip to one of our local orchards and farm markets for the season's crowned jewel—apples. Once you pick the freshest and crispest of the bunch, check out what other family-friendly activities are offered; you're likely to find corn mazes, pumpkin painting parties, hayrides, and more. Among our top recommendations are the Farmer's Pantry in Clarksburg, Goldsmiths Market in Thornbury, Fernwood Farms and Market in Stayner, T&K Ferri Farms in The Blue Mountains and Grandma Lambe's in Meaford. It's worth noting that Simcoe, Grey, and Bruce counties boast an abundance of wonderful farm markets, with countless more waiting to be explored!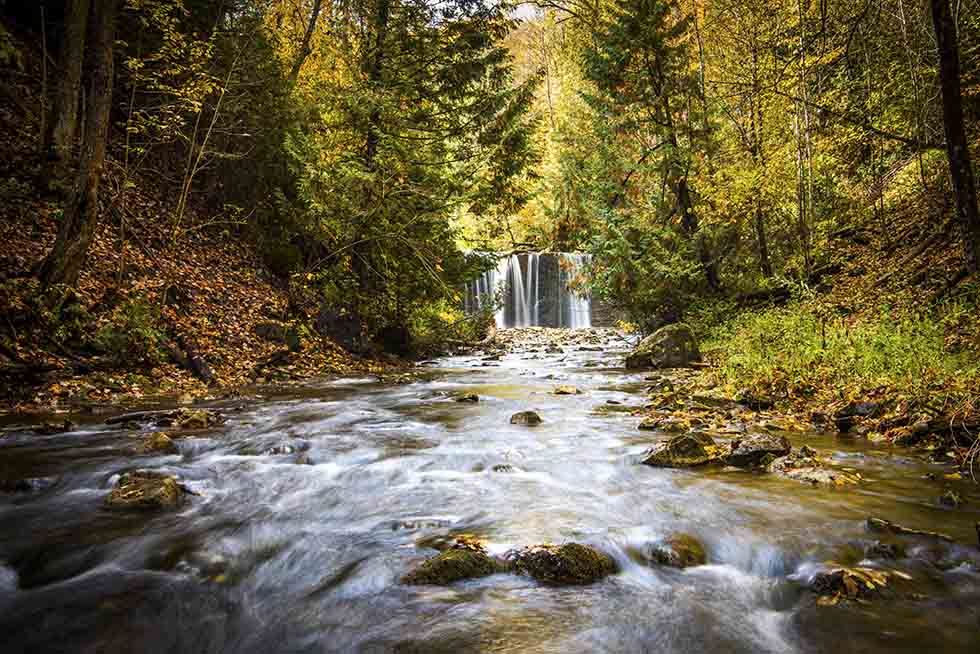 Fall Waterfall Chasing
Explore the beauty of a waterfall hike this autumn—the stunning foliage will add a colourful touch to your adventure. It's hard to narrow down our favourites, but Eugenia Falls Conservation Area, located in the charming Village of Eugenia, is the highest Grey County waterfall. Here, water plummets 30 metres, over the Niagara Escarpment, into the steep-sided Cuckoo Valley gorge. Hoggs Falls is often called one of Grey County's best-kept secrets—the falls are surrounded by lush, green cedars and ferns. Both waterfalls are notable stops on the Grey County Waterfalls Tour, where you can experience the serene beauty of nature and witness the impressive waterfalls amidst the vibrant colors of autumn. For more information and a list of waterfalls, go to visitgrey.ca
Paddle the Beaver River
Meandering gently from Simcoe County through the Grey Highlands, the Beaver River carves a picturesque path through the Beaver Valley, ultimately reaching Thornbury and Lake Huron. This broad, leisurely flowing river presents a unique vantage point, and the calm waters and scenic views are especially enchanting in the fall. The Beaver River Canoe Route begins north of Kimberley, and winds its way through open areas and wooded stretches, with several views of the Niagara Escarpment, ending at the village of Heathcote. Wildlife viewing opportunities are excellent, as is fishing. Short portages may be required to bypass log jams. Head over to visitgrey.ca for routes and more information.
Follow the Apple Pie Trail
With nearly 30 distinct stops promising enjoyment for the entire family, the Apple Pie Trail is an essential autumn experience. Explore Southern Georgian Bay, touring Meaford, Thornbury, the Blue Mountains, Beaver Valley, and beyond. This apple-inspired self-guided trail offers a delightful journey where you can uncover seasonal menus filled with delicious offerings, sample award-winning local ciders, and indulge in tempting apple tarts and treats at restaurants, cafes, wineries, cider houses, shops, and farmer's markets. Embark on an adventure through the Trail's numerous orchards and breweries, immerse yourself in apple-themed art, partake in outdoor activities, and delve into the rich history of apple country. Experience the passion that drives our local farmers, business owners, distillers, and artisans as they wholeheartedly embrace the world of apples. You can easily start your adventure by downloading the app or picking up a self-guided map at applepietrail.ca!
Bird Migration Watching 
Grab your binoculars and head to the Bruce Peninsula for an unforgettable experience. Located on a major northern migration route, the Bruce Peninsula is a birdwatcher's paradise. Here you can spot some of Ontario's rarest birds, such as the Bald Eagle, Golden Eagle, Whip-poor-will, Great Blue Heron, Snowy Owl, Plover, Hawk and many more species. Cabot Head is an important stopover site for migratory birds. Many species gather here in globally significant concentrations during their fall migrations. Cabot Head is also home to Bruce Peninsula Bird Observatory and is designated an IBA (Important Bird Area). 
Go Shopping
Exploring the vibrant towns of Creemore, Collingwood, Kimberley, Thornbury, Meaford, and Owen Sound is a delightful journey into the heart of locally owned retail shops and restaurants. Each of these charming communities (and everywhere in-between) offers a unique blend of character, culture, and culinary delights. Wander through the quaint streets to discover boutique stores filled with artisanal crafts, one-of-a-kind fashion, and exquisite home decor. Then, treat your taste buds to an array of flavours at cozy, locally owned restaurants that serve up farm-to-table dishes and regional specialties. These towns encapsulate the essence of community spirit, making every visit a warm and welcoming experience that celebrates the creativity and culinary expertise of their passionate entrepreneurs. 
Enjoy checking off these autumn activities while embracing the beauty of the Escarpment fall season! E