Portals

Into

Rocky Realms
By Marc Huminolowycz, photography by Clay Dolan
If you've explored the Niagara Escarpment in Simcoe, Grey and Bruce, you've likely encountered a cave or two. With a variety of options, from beginner to expert, now is the perfect time to explore the unique geological wonders that abound here. 
I remember my first hike to the top of Metcalfe Rock in the Beaver Valley. As I ventured along the short trail, I encountered deep, seemingly bottomless cracks in the rock face, providing a tantalizing glimpse of what lay ahead. Continuing on, the path led me through a narrow canyon, enveloped on both sides by towering rock faces. While peering into caves along the way, I was greeted by invigorating bursts of cool air, a reminder that ice could linger deep within these caverns throughout the year. 
With an abundance of caves, crevices, cliffs, and boulders scattered throughout the Niagara Escarpment, it's no wonder that "spelunking" (cave exploration) is a popular activity in our region. Stretching 750 kilometres in Ontario from the Niagara River to Tobermory, the Escarpment was formally recognized in 1990 as a UNESCO World Biosphere Reserve, putting it in distinguished company with such exotic global locales as Africa's Serengeti Plains, the Galapagos Islands, the Central Amazon, the Florida Everglades, and British Columbia's Clayoquot Sound. 
The formation of the Escarpment began 450 million years ago during the Ordovician Era when an ancient coral sea covering the land began to recede, eroding softer shales under harder dolostone rock. This caused large blocks of caprock to break off, creating magnificent cliff faces. Additional erosion from glaciers in the last two million years sculpted the countryside and moved huge rocks and boulders throughout the land. The forces of nature continued to shape the Escarpment long after the glaciers receded, as the expansion and chemical action of water dissolved the rock, carving out many caves and crevices.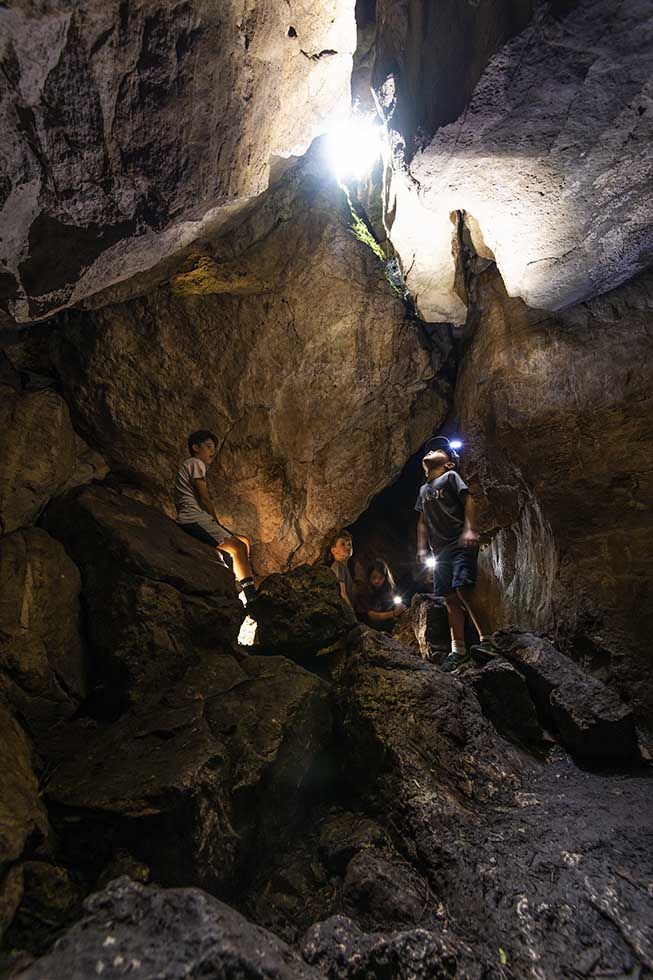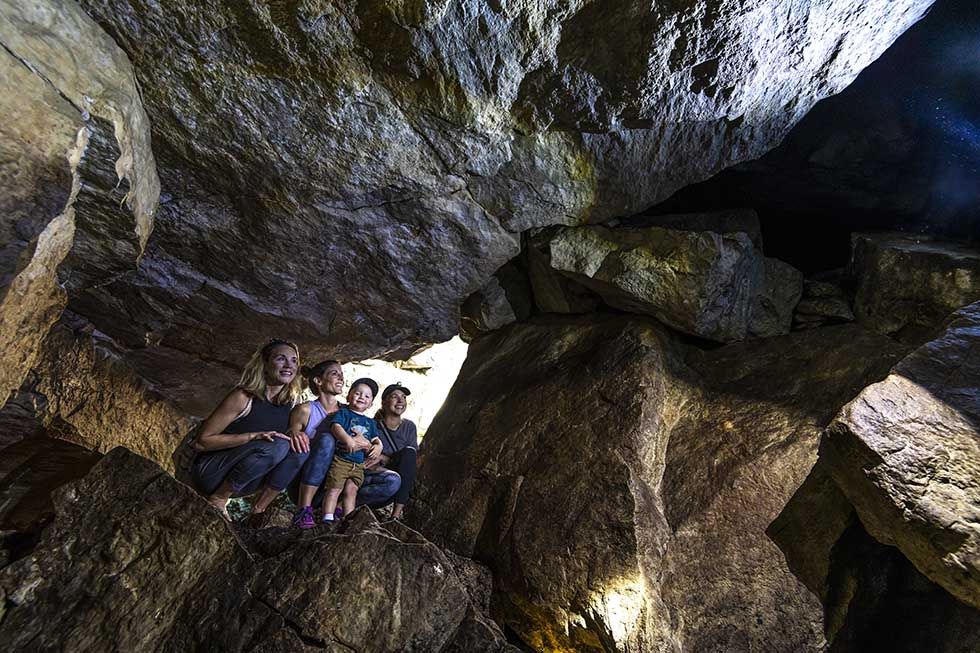 The spelunking highlight of Metcalfe Rock is the "Ice Cave," in which the temperature hovers around -2ºC in summertime with rock covered by muddy ice but is actually warmer inside than outside in the winter. A local cave tour operator described it as, "A network of dark, damp, and eerily majestic 'rooms' accessible only by crawling, climbing, and squeezing yourself through a bottleneck in between the rooms."
In addition to its spectacular caverns, fissures, and spectacular Beaver Valley views, Metcalfe Rock reveals another secret, with ancient eastern white cedars 500 to 1,000 years old clinging to the edges of the cliffs, still standing today only because they were inaccessible to logging. You can access Metcalfe Rock and its caves via a short side section of the Bruce Trail located by a parking area off the 10th Line in The Blue Mountains. Beyond Metcalfe Rock is the magnificent 50-kilometre Kolapore Wilderness Trail, which offers more caves and crevices to explore, as well as challenging mountain biking and cross-country skiing.
Established back in 1932, Scenic Caves is probably the granddaddy of all public cave sites on the Escarpment. The privately-owned 370-acre property at the top of Blue Mountain features 15 kilometres of trails meandering through a naturally beautiful landscape, including a descent into a crevice, where you can explore a labyrinth of caves and caverns twenty-one metres below the surface. It also offers Southern Ontario's longest suspension footbridge and groomed Nordic ski and snowshoe trails. 
Scenic Caves also has a fascinating indigenous history. Around 1600, as many as 8,000 aboriginal people of the Wyandot nation – Huron and Petun ("tobacco people," as named by the French) – inhabited nine villages along the Escarpment from Creemore to Craigleith. One of the most significant among them was Ekarenniondi, meaning "where the rock stands out," named after a sacred rock that served as a marker on the path to the "Village of the Souls" (the afterlife).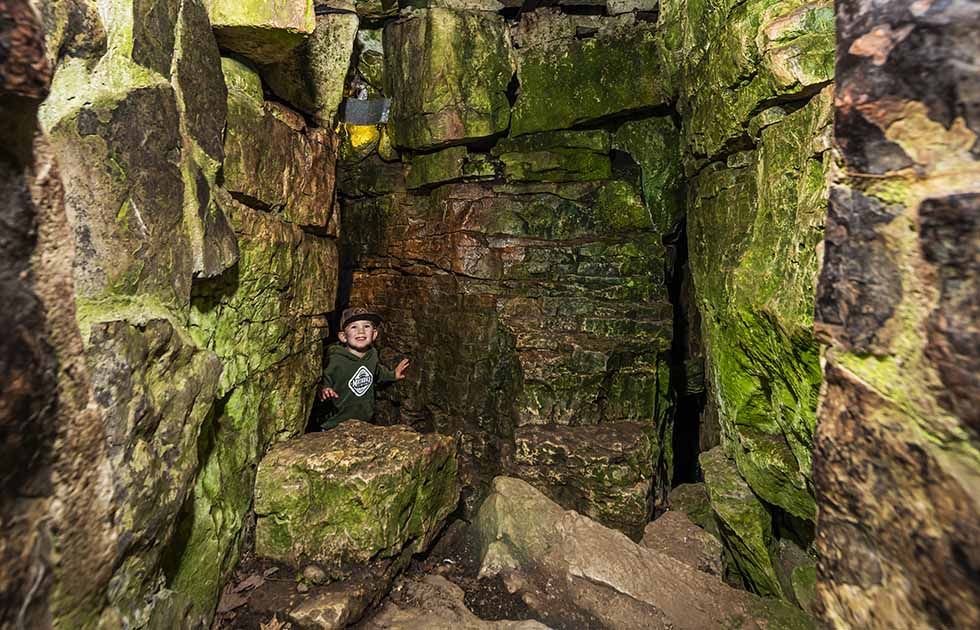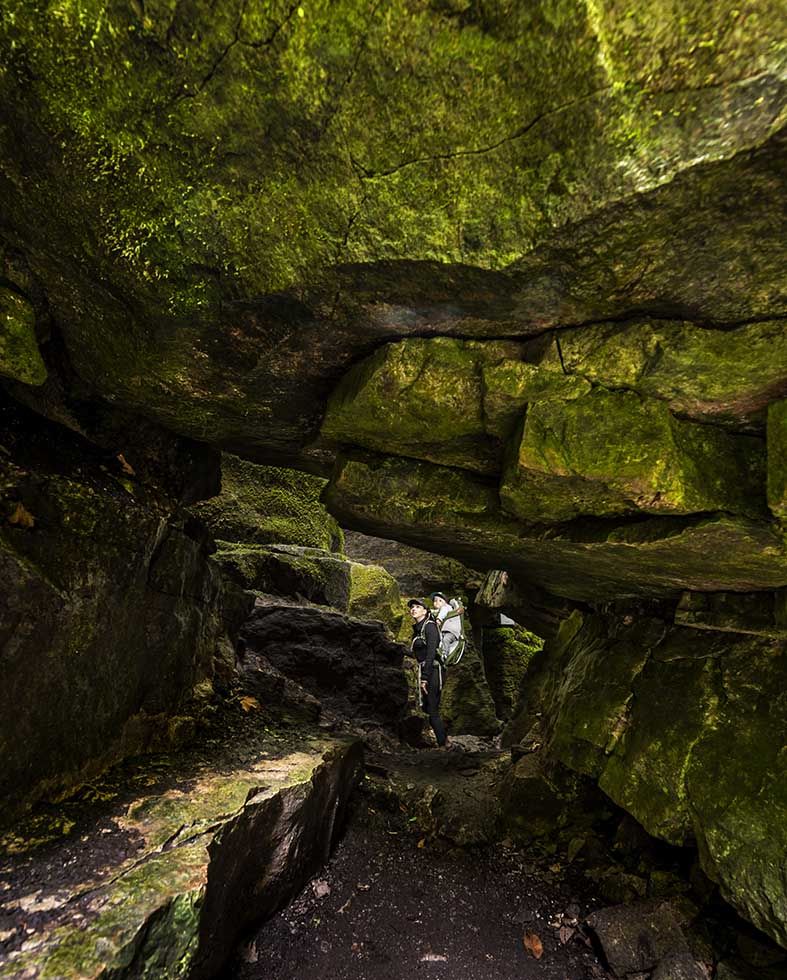 Jean de Brébeuf, a Jesuit missionary, documented Ekarenniondi in his writings. Within this narrative, he mentioned a spirit known as Oscotarach, or "Pierce-Head," whose role was to erase the memories of the departed to prevent them from yearning for their past lives. During his time in the area, de Brébeuf also encountered a local shaman named Onditachiaè. This shaman would perch atop the rock, gazing out over Georgian Bay, and exhibited the ability to influence the weather. For the Chippewas of Rama, this particular rock holds a special significance as the nest of the Thunderbird, a spirit attributed with various powers, including the control of weather.
Named after the Petun people, Petun Conservation Area is located near Scenic Caves on the 2nd Line in The Blue Mountains. It boasts one of the highest elevations on the Niagara Escarpment and the 100-acre site offers visitors the opportunity to hike the 5.5-kilometre Petun Trail that winds its way through a myriad of rock faces, cliffs, and crevices.
Located in Duncan Escarpment Provincial Park, Duncan Crevice Caves is a 10-kilometre Bruce Trail loop near Ravenna just off Sideroad 9. It features a series of rocky tunnels, caves, nooks, an old-growth forest filled with ancient white cedars, and a stunning cliffside lookout. 
Situated in the Nottawasaga Lookout Provincial Nature Preserve near Duntroon is a 1.9-kilometre loop trail that leads to the Singhampton Caves and Standing Rock detour. This trail is a great family hike featuring the giant Standing Rock pillar and many little side caves to check out and scramble through. It also takes you through rock formations that require some crouching and sliding down through openings, with some steep sections. It leads to the Standing Rock Lookout with a spectacular view of the Pretty River Valley. 
Boyd Crevices is an in-and-out trail located on Sideroad 10 just east of Owen Sound and is considered a hidden spelunking gem, with a labyrinth of mini-canyons, caves, and fissures. It's a magical, other-worldly place that takes you into a giant crevice with towering rock walls on both sides. A ladder at the end of the crevice takes you to the top, where several caves can be explored.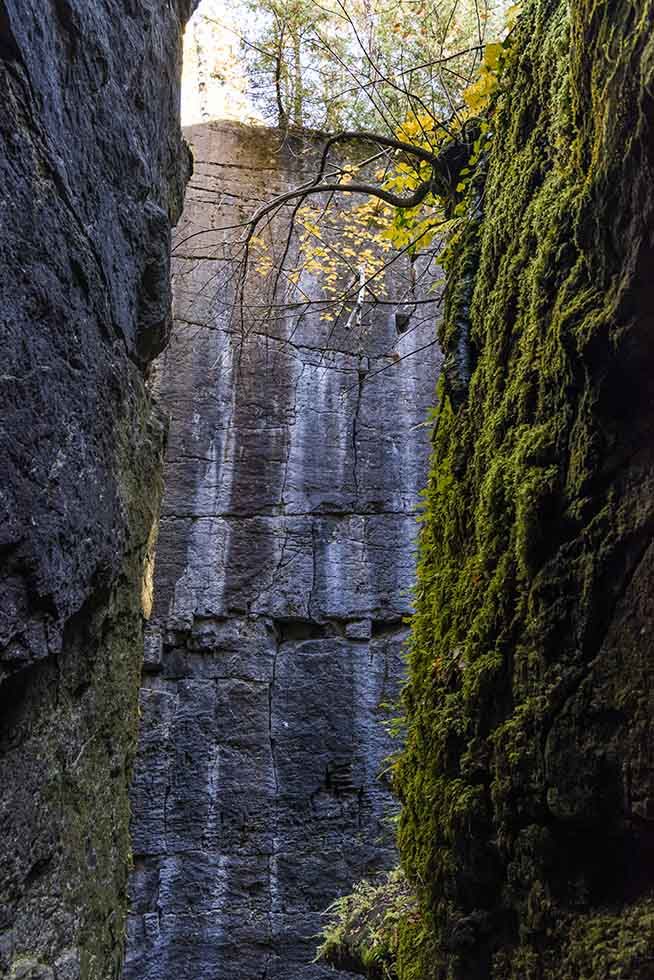 Singhampton Caves / Standing Rock
Boyd Crevices is a hidden gem… it's a magical, other-worldly place that takes you into a giant crevice with towering rock walls on both sides. 
Another out-and-back, is the Keyhole Trail. This 2.7-kilometre Bruce side-trail, located within the Nottawasaga Bluffs Conservation Area near Glen Huron, offers a captivating journey. It guides you along a path that ascends a slope, meandering through substantial rock boulders, navigating narrow crevices, and culminating in a thrilling passage through a small rock "keyhole" (In case it's a tight fit, there's an alternative route available). When you rejoin the main trail, you can continue on to Freedom Rock and Best Caves.
Northeast of Wiarton, near the hamlet of Oxenden on Colpoy's Bay, you'll find a captivating assembly of sea caves. These remarkable geological formations took shape around 7,000 to 8,000 years ago, sculpted by the relentless wave action of post-glacial Lake Algonquin. Bruce's Caves Conservation Area includes a 2.9-kilometre loop trail through a beautiful hardwood forest with mossy rocks and a wooded swamp. It culminates in a spectacular display of shore caves that feature beautiful hourglass columns, deep caverns and hidden back entrances for more adventurous spelunkers to explore.
If shore caves are your passion, venture further north on the Bruce Peninsula near Lion's Head to Grieg's Caves, a privately-owned and operated attraction that offers self-guided explorations of ten impressive limestone sea caves. A rugged trail on the property ninety-one meters above the water, where scenes for the movies Quest for Fire and Against the Wind were filmed, offers breathtaking views of the crystal waters of Georgian Bay.
When you're out there exploring the many caves and crevices in the Niagara Escarpment, remember that you're entering a primeval realm—the very core of ancient rocky formations shaped and sculpted over eons by the forces of nature. Happy spelunking! E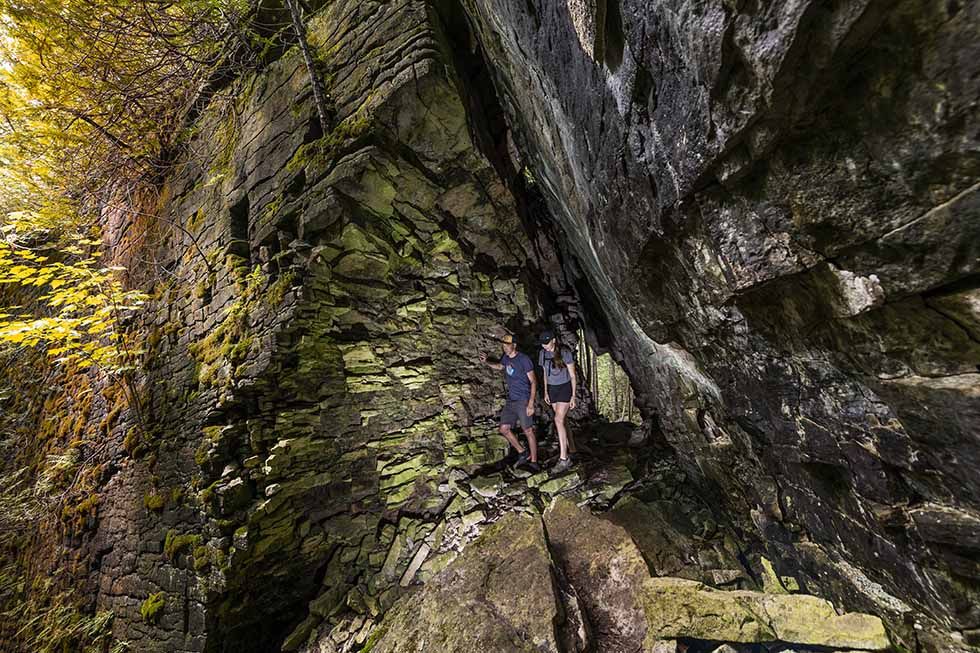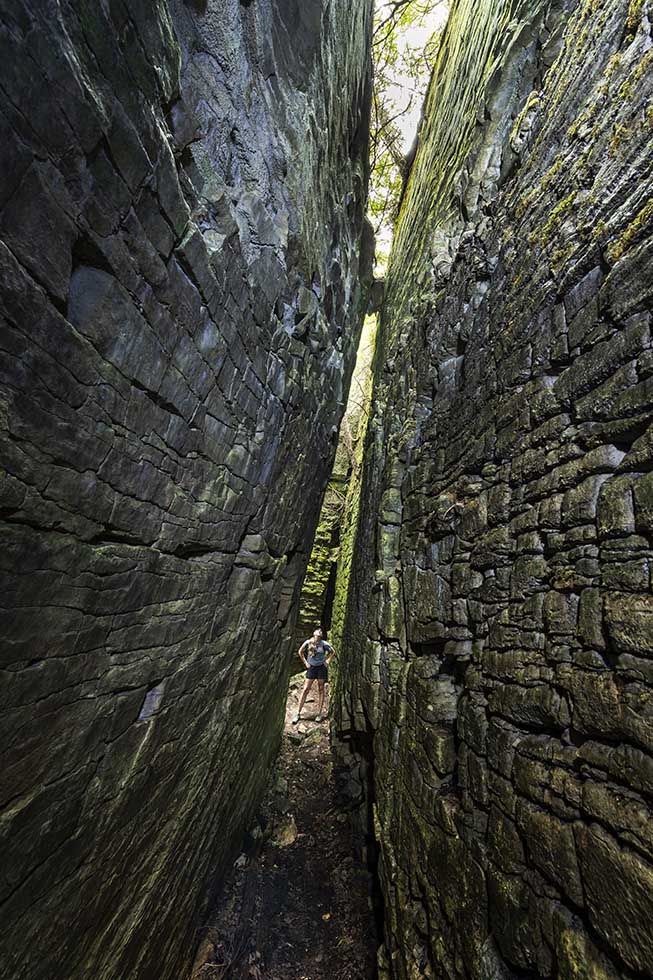 Before You Go
Most of the trails leading to caves and crevices described here are classified as moderately challenging, so a certain level of fitness and the right hiking gear are required. Spelunking doesn't require any fancy equipment, just a good pair of shoes or boots, warm clothing (be prepared to get dirty), and steady legs because it can be cold and cave rock is often slick and unstable. 
Caving can be spectacular, but it can also be claustrophobic. That's why it's important to bring two reliable flashlights—and never explore alone. If you're hiking with family on a trail with deep fissures nearby, like at Metcalfe Rock, always keep kids safe and your dog on a leash. 
Consider packing a guide book such as the Bruce Trail Reference Guide or download the Bruce Trail App, which includes parking information, trail maps and other useful information. 
Please exercise extreme caution when hiking and caving; wear proper footwear; stick to the marked trails; do not trespass; check the weather before you go; obey all warnings posted at the trailhead, along paths and at caves; pack out what you pack in.