OUTSIDERS
By Cara Williams and Deborah Lalande, Photography by Heather Goldsworthy
From design tips to landscaping inspiration, the Backyard Glam Tour showcases six stunning, professionally staged backyards throughout the Town of the Blue Mountains.
Outdoor living spaces are an extension of our homes. In a few short months, our backyards will once again be a favourite place to entertain, unwind and enjoy the longer days and nights. Whether you're looking to enhance or completely remodel, there are some important factors you need to consider before embarking on backyard design.
OBJECTIVE – Ask yourself how you plan on using your outdoor space. The most common answers include entertainment, exercise, gardening, relaxation, or creating a play area for the kids. But don't forget about privacy, and how the needs of your family may evolve over time. Whether your design is big or small, considering how you intend to use the space is the most important step.
STYLE – An effective landscaping plan is one that entices the homeowner outside by making the outdoors feel like an extension of the house. Creating a tie or sense of continuity between your house and yard is the best way to capitalize on your outdoor area and will help to build on the architectural integrity of your house.
MAINTENANCE – Consider how much time you want to spend maintaining your outdoor space—this will be important when selecting appropriate plants and materials. Keep in mind the Escarpment's four-season weather and natural landscape when making selections and choose items that will match your maintenance intentions in the long run.
BUDGET –Regardless of how much you expect to spend on your project, working with what you already have can save both time and money. That doesn't mean you have to keep everything, but it may serve as a good starting point in creating your ideal outdoor living space.
The 2022 Backyard Glam Tour visited six magnificent backyards, all professionally designed and landscaped by local businesses and trades. Whether you're seeking something as simple as a covered porch or a more complex build such as an outdoor kitchen, entertainment/lounging areas and a pool, inspiration is right around the corner—Deborah Lalande, Backyard Glam Tour Chair, takes us on a tour of six stunning backyards.
Bliss on the Bay
The owners of this sunny backyard oasis are well traveled and souvenirs in the form of art sculptures adorn their yard. They love to entertain and have several areas for friends and family to gather. A covered dining area and a covered fireplace conversation area provides places to gather intimately. Many backyards are "open concept living" and this one has it all. The pool area with sun tanning loungers and a large conversation area make this backyard a welcome retreat or a great gathering place to entertain. To tie this backyard together, items such as an area rug, umbrellas, cushions and accessories give the space a cohesive look.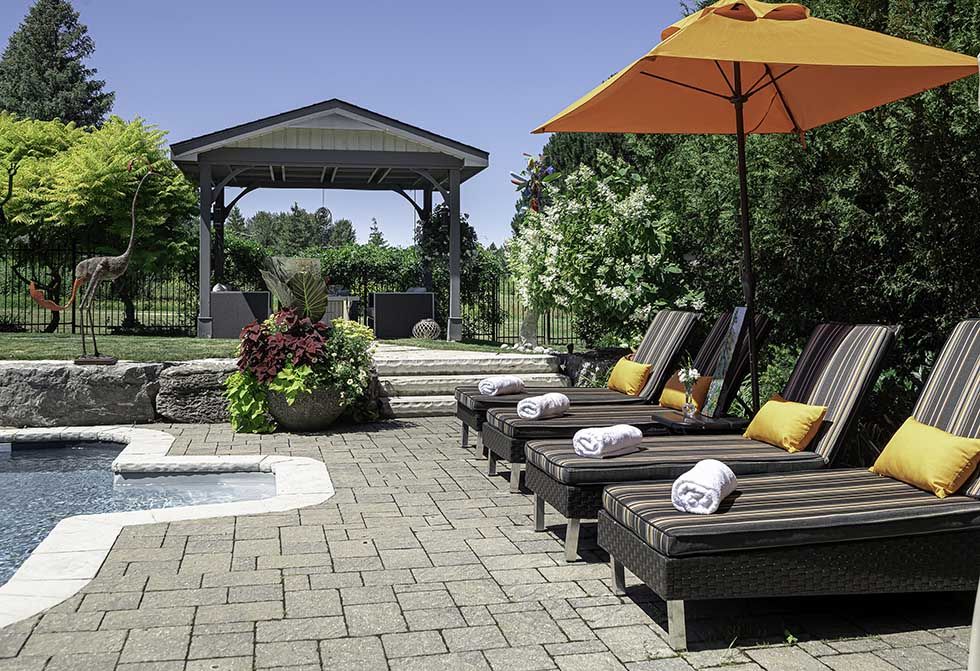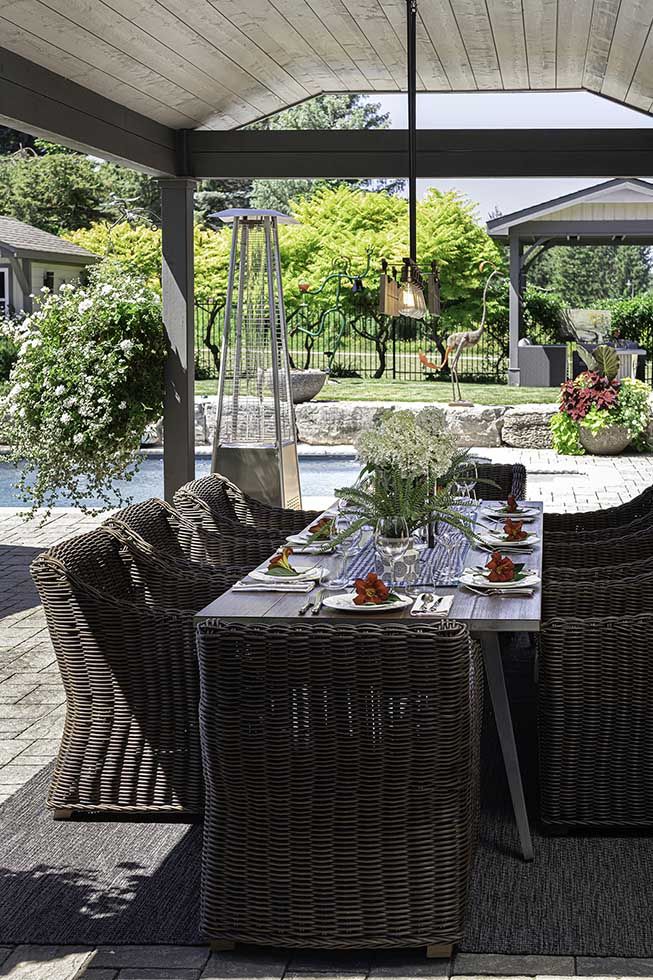 The Ridge Life
Traditional outdoor Canadian colours work very well for this home—the burst of red accessories in contrast to the slate grey façade of the home add dimension and cohesiveness. The kidney shaped pool is the focal point of the space and several umbrellas and a retractable awning offer respite from the sun.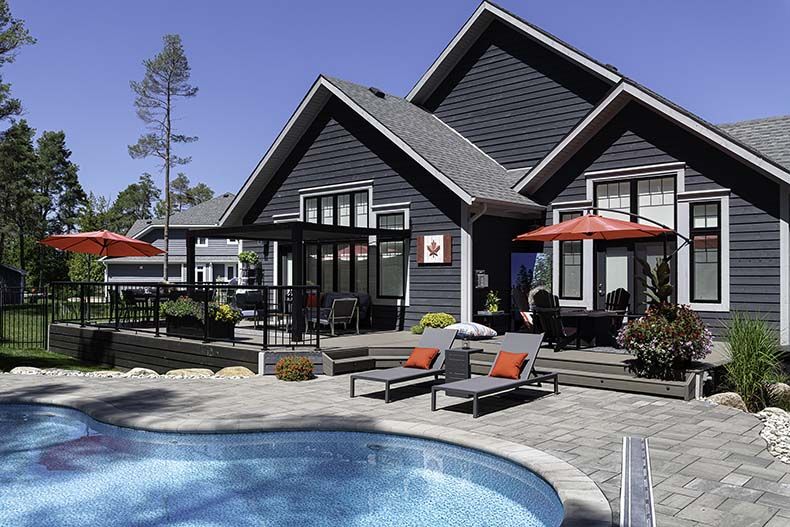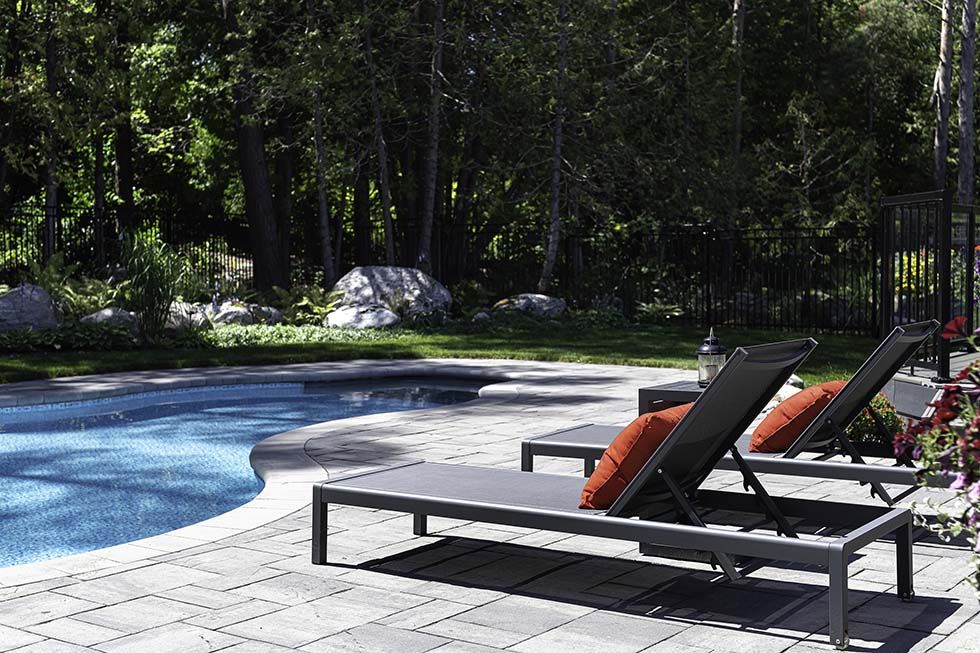 Sunset on the Beach
Being on the water has its challenges. The best choice for exposed landscaping is heavy, low maintenance furniture made of metal, like aluminum or wrought iron. Several groupings were built around the expansive yard and the homeowners make use of every space. Dining and entertaining are protected back from the water but still offer a stunning view. Colourful umbrellas and accessories pulled this coastal beauty together.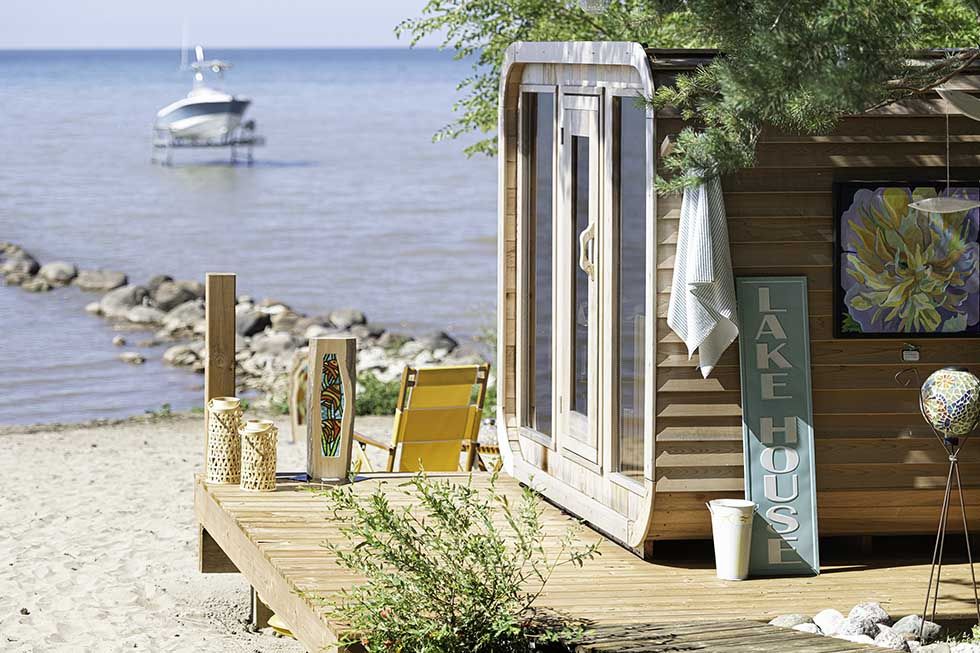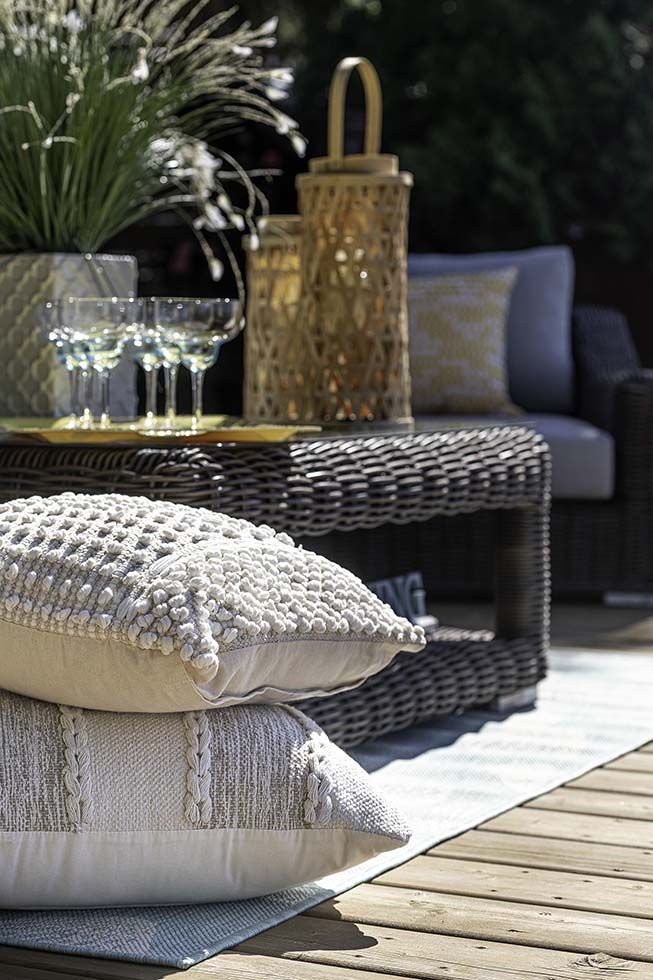 The 19th Hole
This home backs onto a golf course, the backdrop of the manicured lawns and forested areas are picture perfect. The Homeowners love to garden and enjoy colourful flowering plants so the Art that was displayed in the backyard reflected this. Art can be used to bring a space together as do other accessories such as an outdoor rug.  They will also provide the space with a feeling of bringing the indoors out. The swimming pool with loungers, the cozy covered seating area with fireplace and the outdoor kitchen with dining complete this backyard.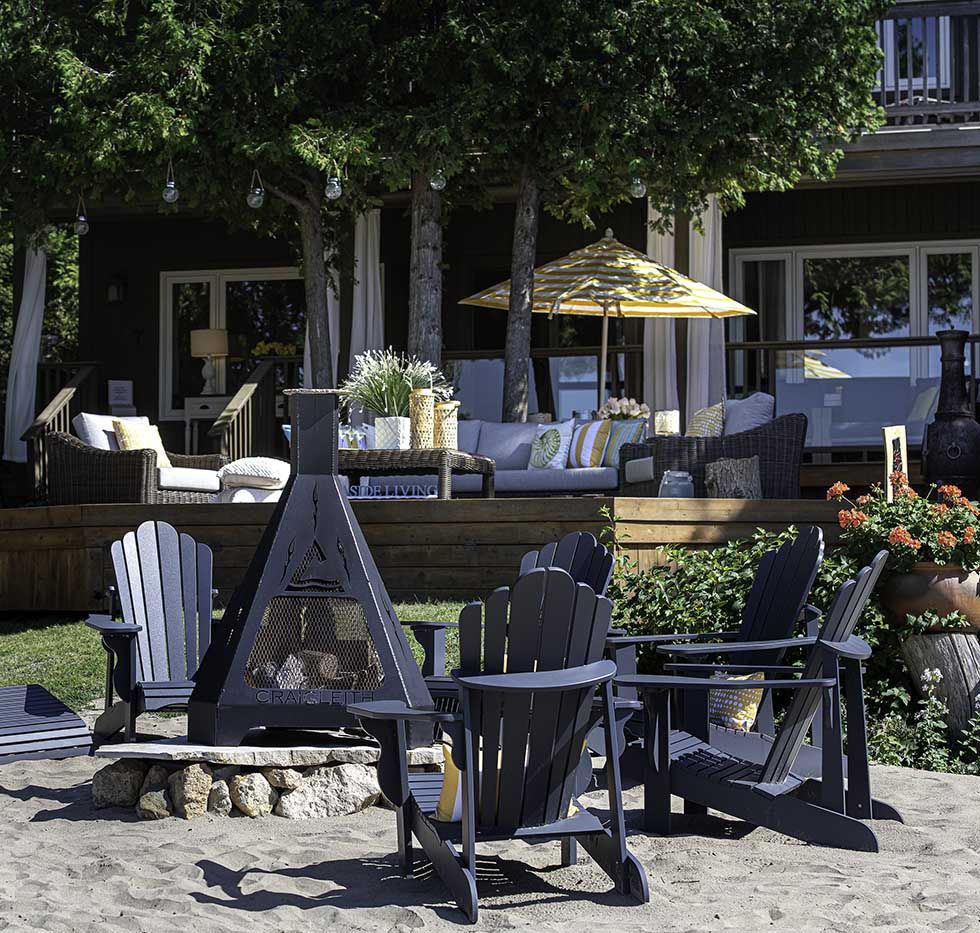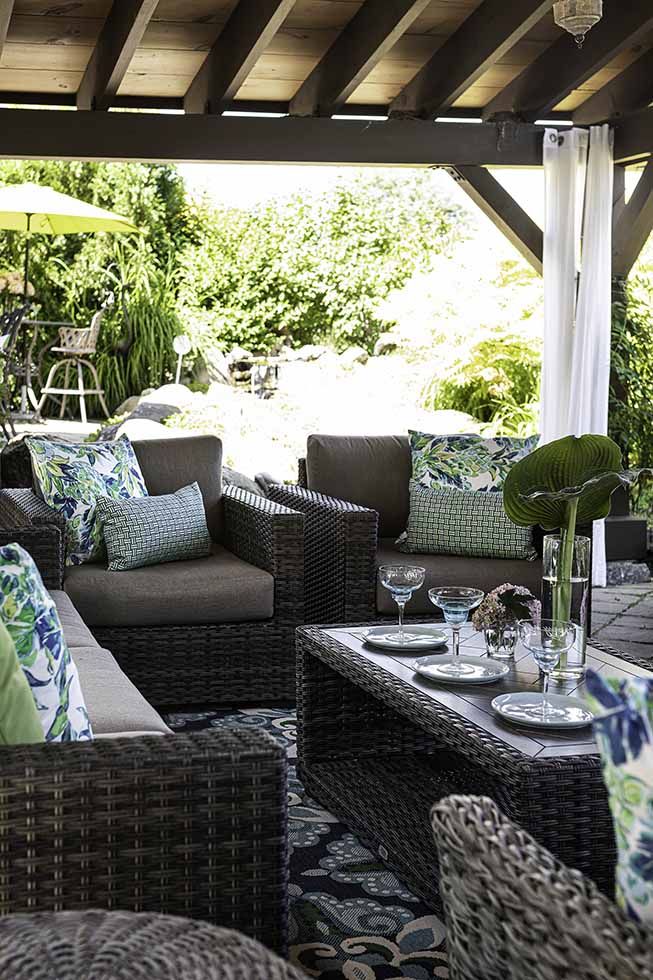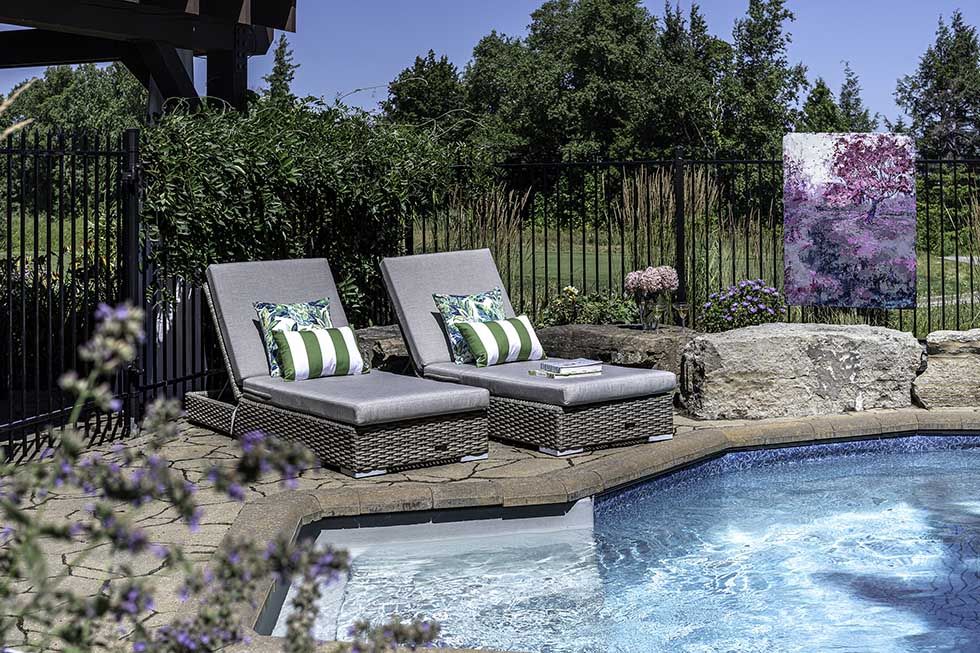 River Runs Through It
Tying this space together was done by the use of furniture groupings in the same family but in different areas of the backyard. A neutral cool colour scheme with a pop of bright orange combined with textured fabrics provides a nice contrast to all the nature in the backyard.
The homeowners love to entertain but also enjoy having morning coffee by the pond so a two-person setting was important. This sanctuary backyard can hold a very large event with the different groupings but also feel cozy when needed.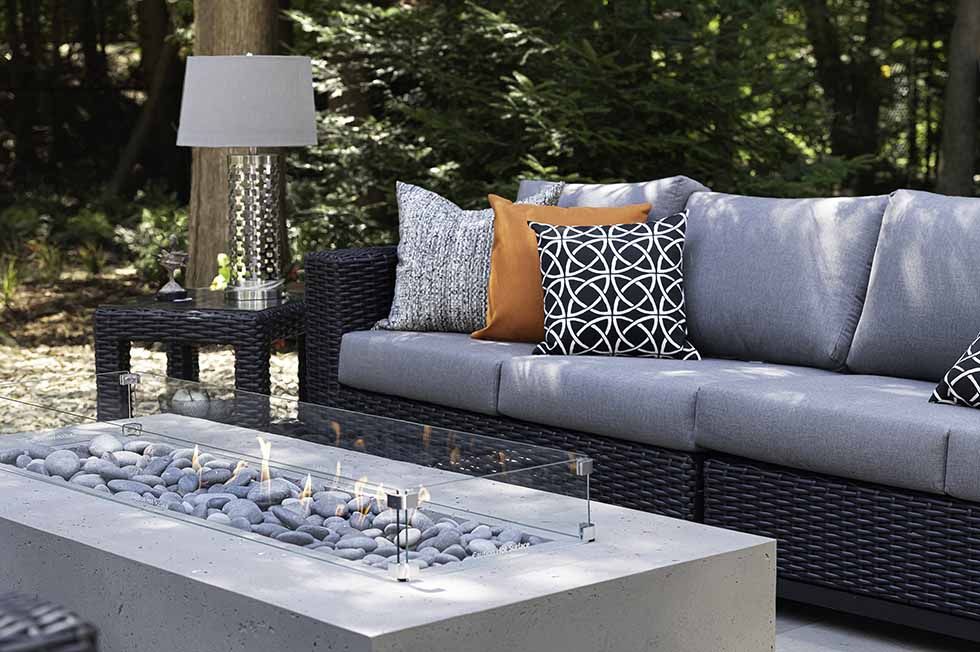 Windy Resort
This backyard and property take your breath away—literally. The wind proved to be a challenge so the homeowners invested in heavy furniture and good quality umbrellas with weighted bases. Even the accessories needed to be significant. Matching the façade of the home, a neutral colour scheme echoes the classic architecture and the Sunbrella fabric on the cushions make them easy to maintain. The weight and endurance of the poly-resin furniture means that it can be left outside and is not going anywhere.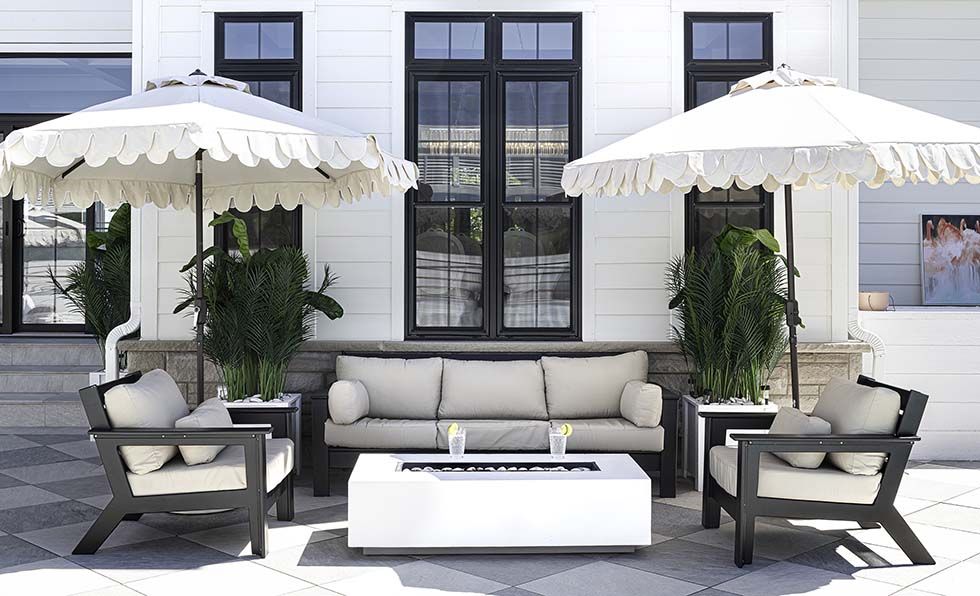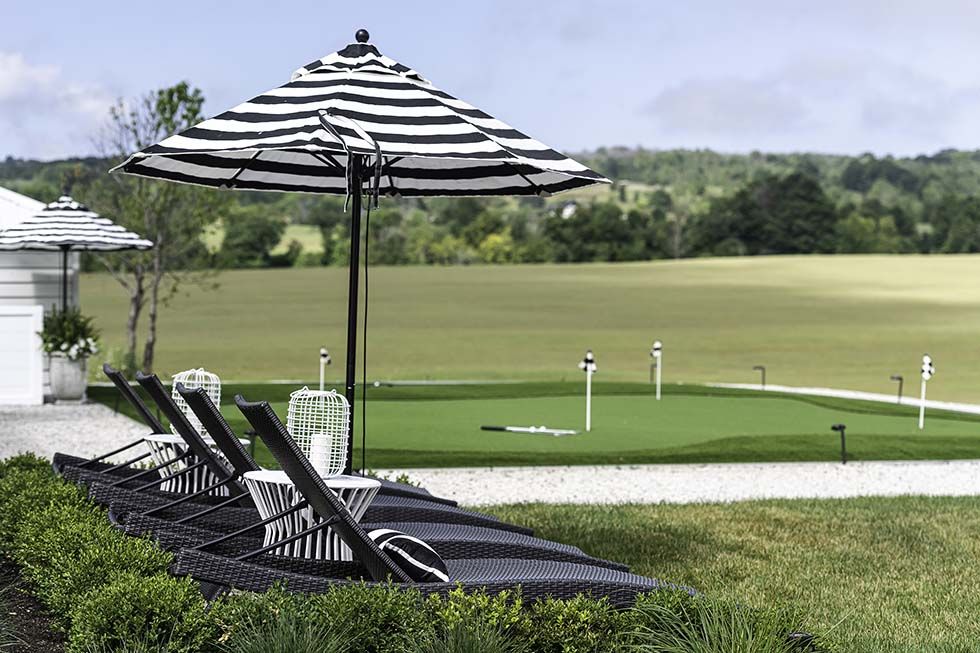 About the Backyard Glam Tour
"This year, the featured backyards are a combination of small town and waterfront living, all offering different outdoor perspectives," says Deborah Lalande, Chair, Backyard Glam Tour. "We are proud to showcase a mix of properties, from smaller areas that utilize space and function, to luxurious and lavish outdoor living areas."
Additionally, the Backyard Glam Tour will feature "glamourous vehicles", an art crawl, silent auction to benefit the Beaver Valley Outreach (BVO), outdoor living seminars as well as a chance to win some fantastic gifts and or services courtesy of local retailers and participants. Tickets are $35.00 each (HST included) and are available online at designoutdoorscanada.com or at Design Outdoors Canada located at 13 Louisa Street East in downtown Thornbury. $5.00 from each ticket sold will go directly to the Beaver Valley Outreach.
Schedule of Events
Friday, August 11th, 2023
11am-8pm – Map and tour bag pickup
Tour the silent auction located at the Design Outdoors Canada
Art crawl, Downtown Thornbury 6-8pm (NEW)
Night Tour 8-10pm
Saturday, August 12th, 2023
8:00 am – Map and tour bag pickup
8:30 am – breakfast at Design Outdoors Canada
9am-10am – Breakfast seminars and door prizes
10am-4pm – Tour the backyards with glamorous vehicles (NEW)
3pm – Silent auction closes
4pm – Draw for outdoor design consultation
Backyard landscapes should be functional spaces that are both useful and beautiful—don't miss the 2023 Backyard Glam Tour. Visit designoutdoorscanada.com for more information and tickets.