Onward Bound
By Michelle McMillan
Helena Kallin and I were 17 in early June of 1969 when we set out from the Beaver Valley on horseback. The mosquitos and black flies had receded, unfurled leaves tinted the treetops soft green and the air resonated with the promise of growth. We had ridden the roads and fencerows of the valley in every season and yearned to venture into new territory. Our Toronto high school challenged us to finish Grade 12 doing something we had always wanted to do but never had. We decided to take a horseback camping trek along the escarpment from Helena's parents' farm to Blue Mountain where we would search for the ruins of the Kionontio estate.
After consulting people who were familiar with the area, we plotted a route we could follow and obtained permission from local landowners to camp on their properties with our horses. My boyfriend lent us his car. Any lingering city tension fell away when we drove over the brow of the hill above Kimberley and looked out over the Beaver Valley. Descending into its timeless landscape, we drove along Grey Road 7 to the farm, eager to start our adventure.
On departure day, we woke up to a boundless blue sky and after a hearty breakfast, dashed to the barn to groom and tack up our horses, Comanche and Roger. We secured a tent, sleeping bag rolls, food bags, halters and ropes to the saddles; slung square canvas rucksacks packed with clothing over our shoulders, mounted and ambled down the lane.
Our escapades were chronicled in five acts, one for each day of our journey.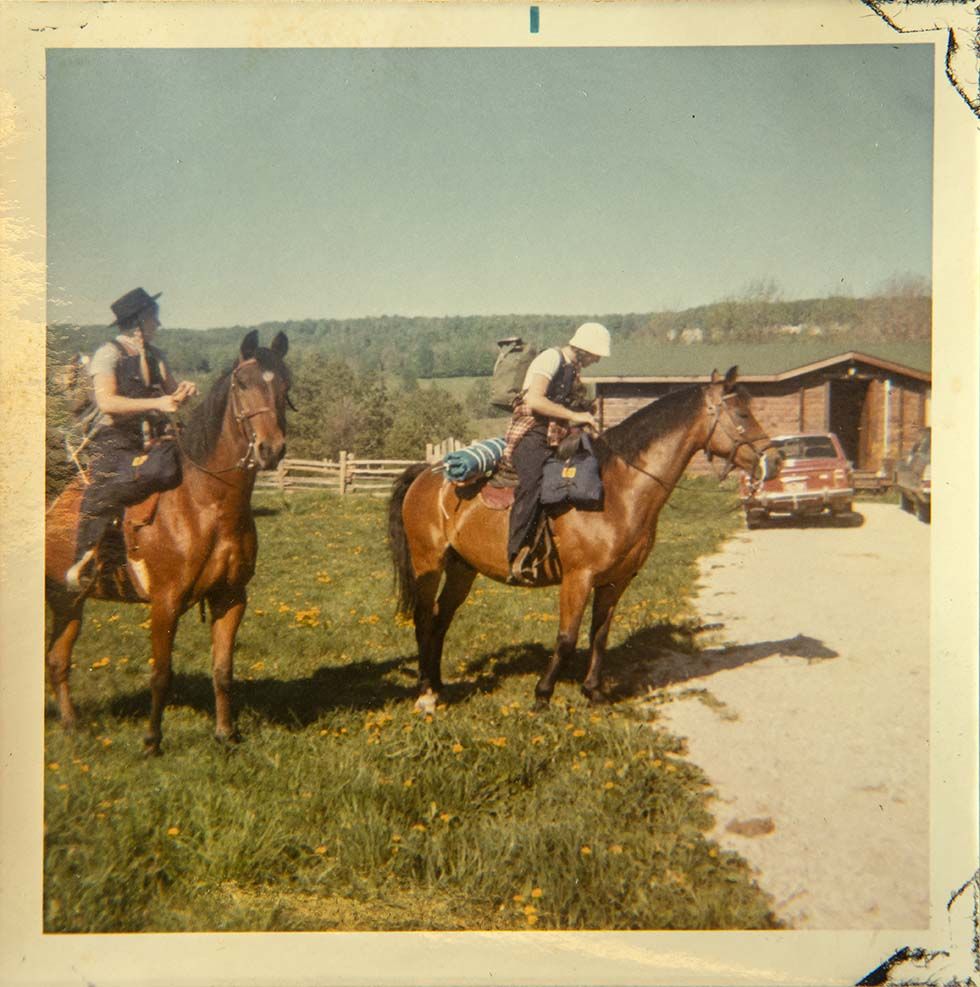 ACT I
There was no need for conversation as we rode side by side. Fragrance wafted from apple orchards in full bloom as we sat under a maple tree to eat peanut butter sandwiches washed down with water from our canteens. An easy ride up the far side of the valley brought us to the village of Ravenna. In its heyday Ravenna was an essential halfway stop between Owen Sound and Barrie; a bustling place where weary travelers and their horses enjoyed the services of two hotels, stables, a blacksmith, a feed store and a general store. Now reduced to a crossroads on the map by the invention of the automobile, it still had a commercial presence with a general store and gas station for the convenience of modern travelers who stopped but never stayed. Helena photographed me standing beside the gas pumps with the horses before she went in to buy Coke, orange gum, red licorice twisters and cigarette papers.
Back on route, we looked for Baron Casten von Otter's farm, the home of Toronto's annual Swedish community Vasaloppet, famous for its grueling cross-country ski race in which Helena was a regular contender. We pitched our tent on the brow of a hill by the farmhouse, dug a pit beside a huge granite rock and built a fire. I took a photo of Helena smiling over her shoulder at me while roasting our potato and wiener dinner. Behind her, the distant grey-blue of Georgian Bay is underlined by a border of grass bending in the evening breeze.
We rode bareback to find a stream for washing up and walked back to our campsite, enjoying the dusky landscape. "There's a red sky," I said. "It's going to be nice tomorrow." Helena looked at her watch. "It's late. Let's see to the horses and sleep. Oh––we can't go to sleep yet. We have to watch the Collingwood lights––and the stars."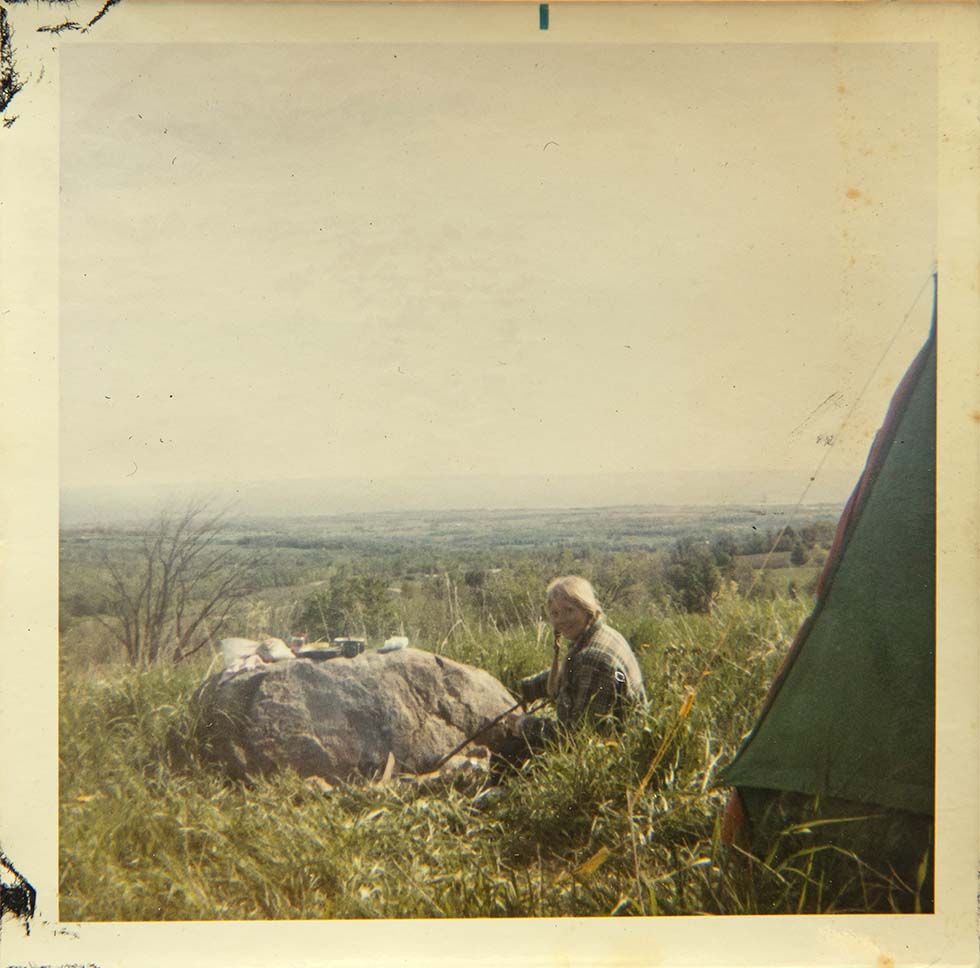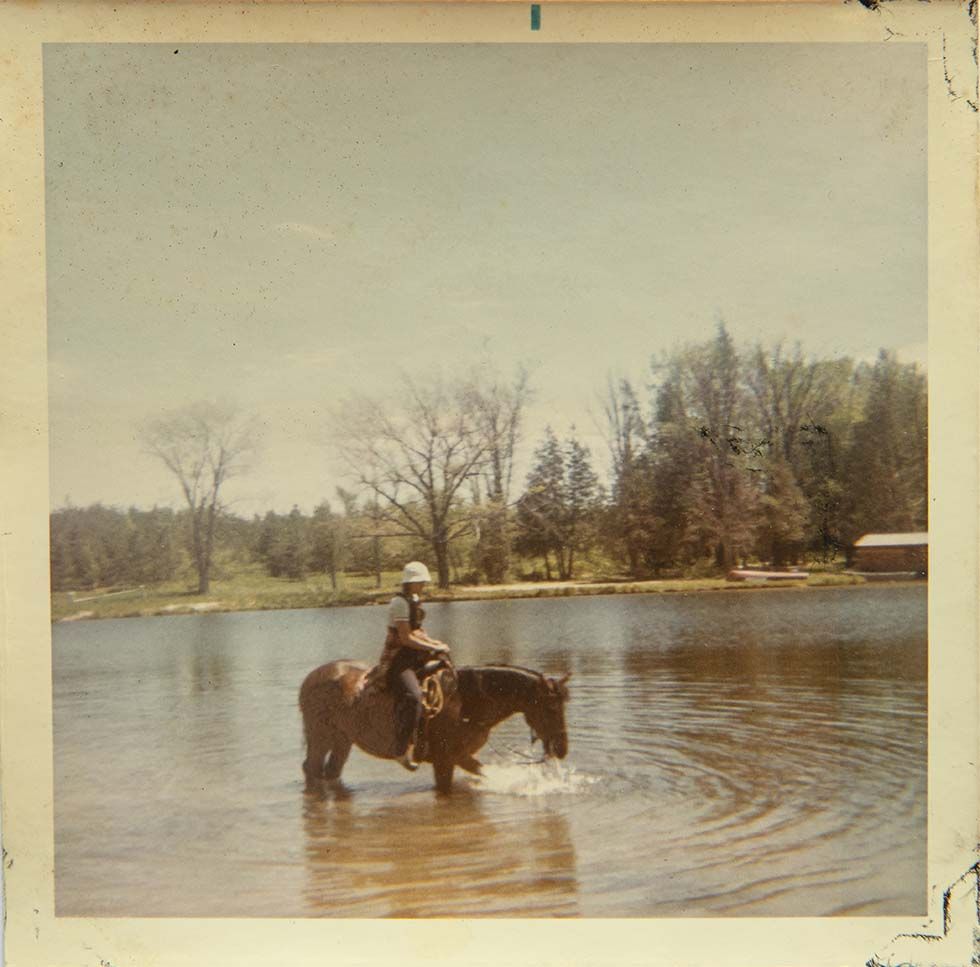 ACT II
Rubble overgrown with wildflowers and grasses filled the spaces between what remained of Kionontio's stone walls, chimneys and archway so we chose a campsite outside the western wall which still held the warmth of day.
Locally known as Osler Castle, the house was built in 1893 by Britton Bath Osler, a criminal lawyer best known for securing Louis Riel's conviction of treason during the North-West Rebellion of 1885. Osler built his summer retreat on the 330 acres he owned on the Escarpment in hopes that the fresh breezes and expansive views would ease the suffering of his wife who was wheelchair-bound by arthritis. From its high vantage point, one could contemplate the line where sky met water and watch the verdant green of wooded hills turn to the brilliant red, orange and yellow of fall. Mrs. Osler named her new home "Kionontio", a First Nation's name meaning "Top of the hill". 
The walls were constructed of rounded granite rocks interspersed with sharp broken stones. The western side was crowned with a line of jagged vertical cap stones that, together with towering stone chimneys and a round turret with a pointed roof, gave the impression of a baronial castle. A hipped gambrel roof extended over a pillared veranda that wrapped around the front and side of the house. At its gable end, facing Nottawasaga Bay, a grand stone entrance arch sat under twin bay windows. Local craftsmen finished the interior with expensive woods, stained glass, fireplaces, an elevator and a wine cellar. Osler stocked his pond with trout and brought in a herd of deer which inspired locals to call the estate "Deer Park". As winter approached, the Osler's returned to the city and the house was left to wait out winter.
Sadly, Mrs. Osler died in 1896. Her husband followed in 1901. The gardener and his wife lived in the house for forty years. After they left, thieves stole everything that could be removed, while vandals trashed the building. The fires of revelers destroyed the rest.
We explored the ruins in twilight, tied Roger and Comanche to the fence for the night, crawled into our tent and declared ourselves, "Queens of The Castle."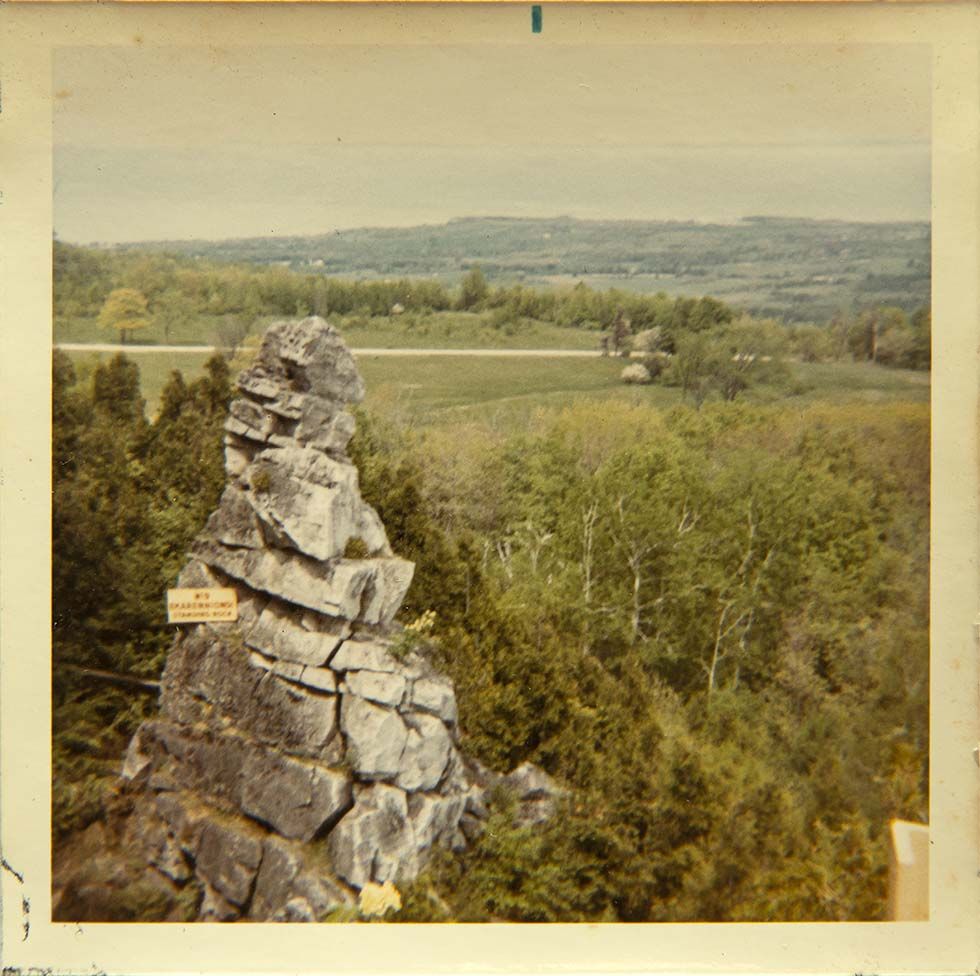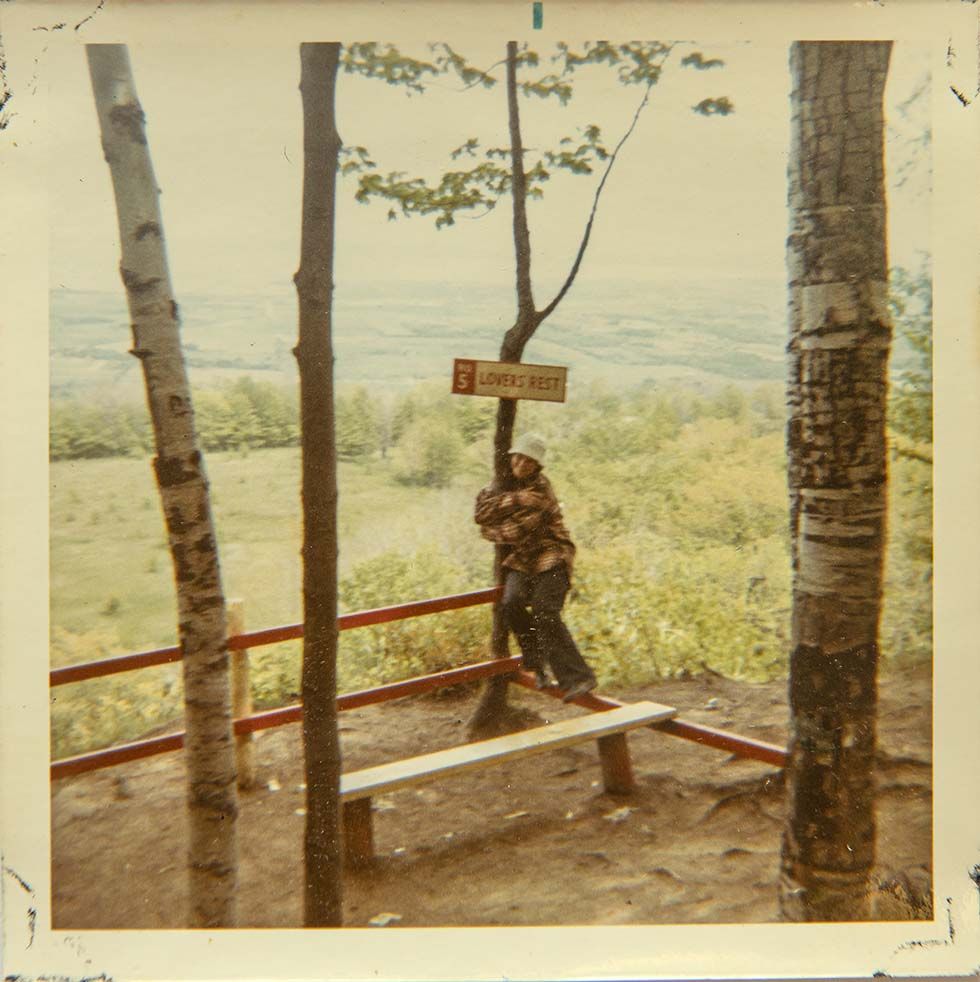 ACT III
The next morning, we rode single file along The Bruce Trail, appreciating woodland flowers dappled with sunlight. Back on the road, we stopped at a farmhouse to ask for water. Two older ladies welcomed us into their kitchen to sip tea and enjoy banana bread and lemon cream cookies before we, "brave little girls", went on our way with refilled canteens.
An afternoon exploring Scenic Caves (which cost us $3.00 for admission tickets and $6.75 for drinks and beaded thunderbird headbands made by local indigenous artisans), we rode the rocking horses in the playground, enjoyed the luxury of portable toilets and finished off our perfect day with potato chips and Cokes.
The Blue Mountain chairlifts looked like strings of ornaments floating over the startling green slopes of mowed runs. We found a ready campfire site littered with beer bottles at the crest of the hill, where we set up our tent and cooked a dinner of red chili beans and petit pois. In the last of the candlelight we wrote, "Blue Mountain really is blue!"
Footsteps crunched through the leaves. Something scratched at the tent. The moonlight threw a moving shadow across the wall as big as a bear but we recognized the hunched shape of a racoon. Thankfully, it wandered off and we slept peacefully.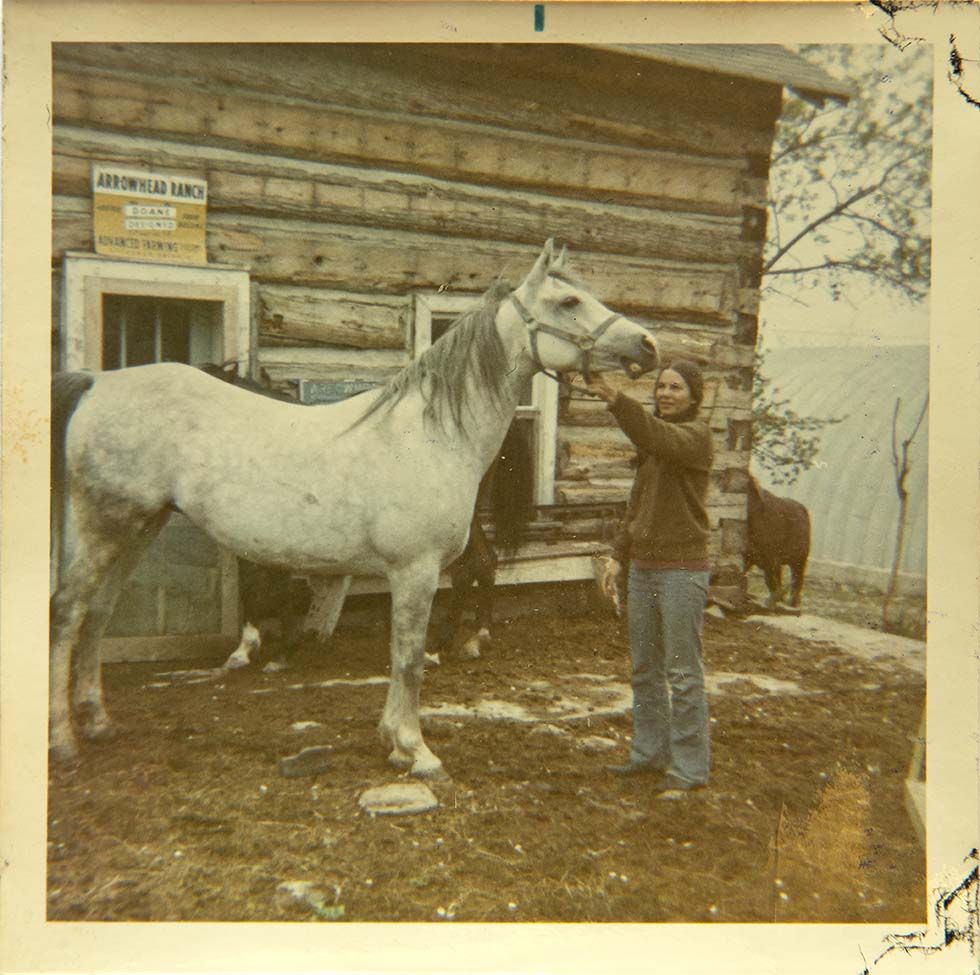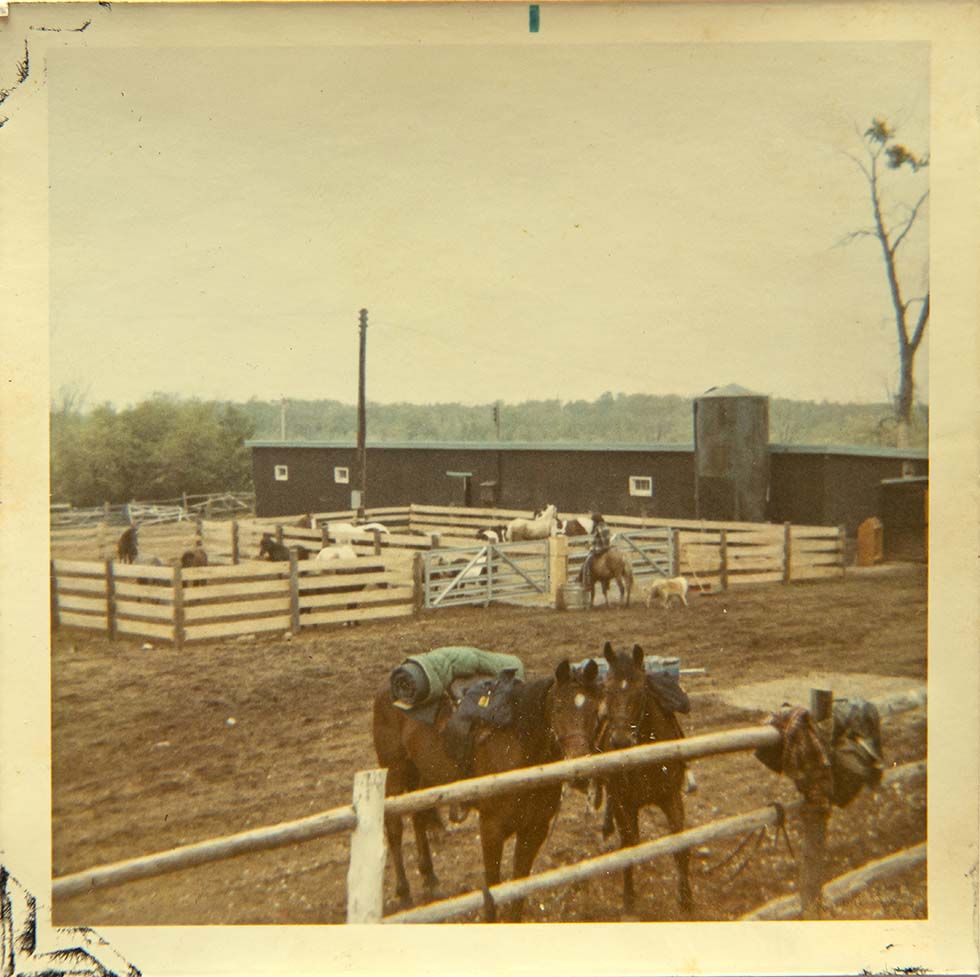 ACT IV     
It rained all night. By mid-morning a stream was running through our living room. We sang along with Frank Sinatra's The Good Life, on the Collingwood radio station, but changed the lyrics to; "Tripping is the good life, to be free and explore the unknown."
When we couldn't take being closed in any longer, we packed our soaked belongings, loaded our horses and tacked cautiously down the hill through the fog. Feeling like time travelers re-entering civilization, we rode along the shoulder of Highway 26 to the nearest general store. The proprietress told us we could pitch our tent on her lawn but we were determined to spend our last night at Craigleith Provincial Park. On the way there we stopped at a restaurant beside Georgian Bay for hamburgers, then strolled along the beach and looked for fossils.
"We haven't had a bath since last Friday," Helena remarked as she put her hand into the clear blue-green water. Still icy from the spring thaw, it turned her hand bright red—clearly too cold to dip our bodies into. Helena sighed, wiped her hands on her pants and hugged the reassuringly warm body of her horse.
Craigleith Provincial Park was deserted except for a conscientious booth operator who told us that the rule book stated nobody was allowed to walk or ride horses in a Provincial Park. She suggested we try a nearby children's camp called Arrowhead Ranch. As we approached the ranch, fantasizing about meeting some attractive male camp counsellors, we heard shrieks and squeals from the bushes alongside the road.
"Help, I'm falling off! How do you stop this thing?"
A beautiful boy on a magnificent steed rounded the corner followed by a line of giggling girls on ponies. They looked equally as surprised to see us and we halted to greet each other. His name was Ray. He listened to our issue and suggested we talk with Mr. Campbell, owner of Arrowhead Ranch, who we could find at the black barn with the sign: "Horseback Riding – The World's Best Sport." The horses in the barnyard were a motley group: a chubby pony rubbing his bum on the fence, a pinto wandering around with his injured head sewn up and some Arabian horses doing what they do best, looking beautiful. A stable-hand brought out an Arabian stud named Telstar to service an Arabian mare in the barnyard. We found the successful mating quite invigorating.
Mr. Campbell said he would let us stay the night, offered board and oats for the horses and a cabin for us to sleep in. Feeling like vagabonds, we retreated to a fenced corral to cook our spaghetti and marshmallow dinner over a fire. The campers kept their distance, stared and whispered as they passed on their way to the dining hall.
A voice came from the dark, "That's not what I call a fire," and a curly haired guy climbed over the fence, sat down and regaled us with stories of his tractors and fires until Ray came along. The horses had been looked after for the night so Ray drove us to our cabin and helped us get our beds arranged. Then we went to the recreation hall and had fun dancing with the campers. Curly brought water and walked us to bed by sparkler light.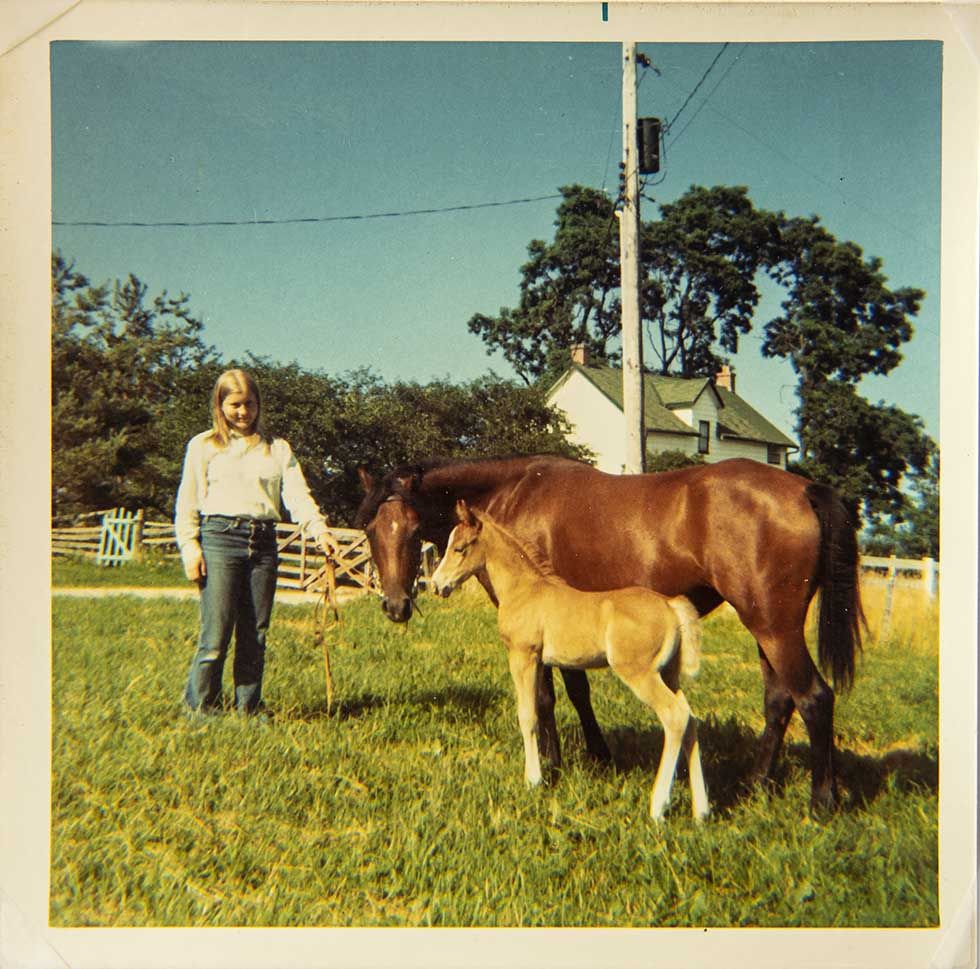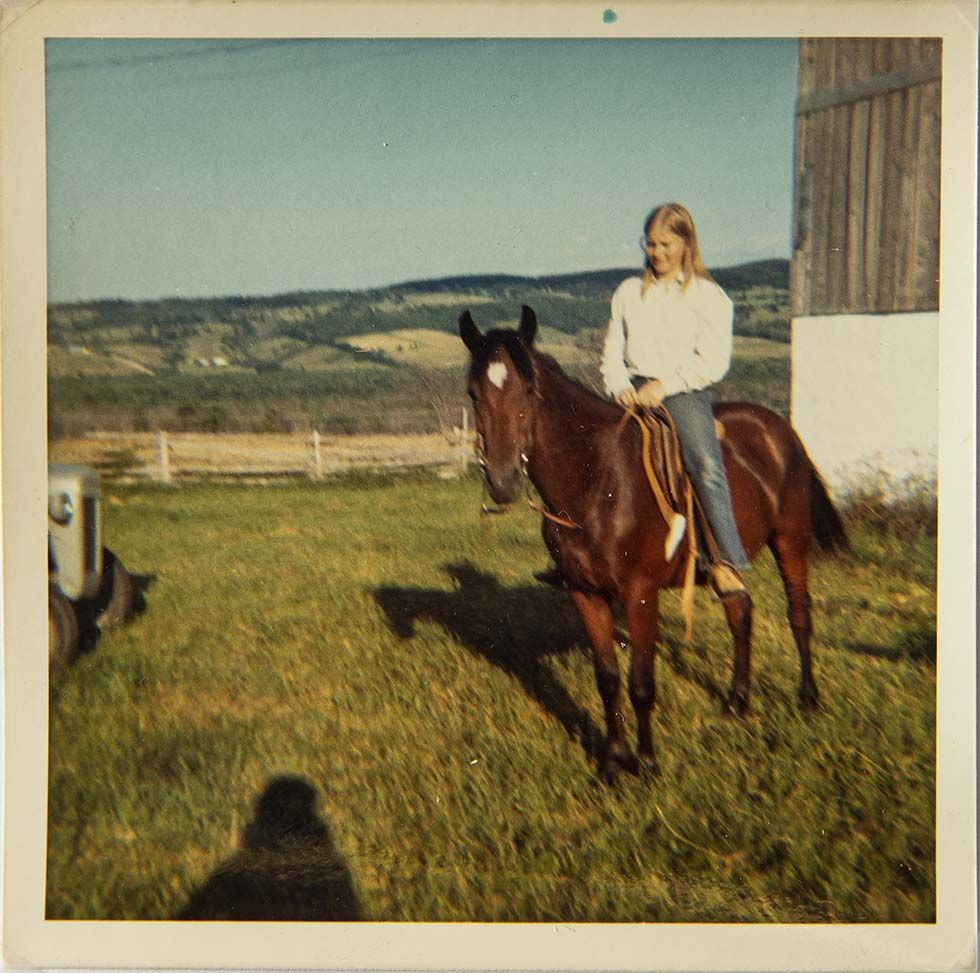 ACT V
 We woke early, packed our things, swept out the cabin and joined the campers for breakfast. Mr. Campbell charged us $3.00 each, for his much-appreciated hospitality. After taking photographs we said goodbye, promised we'd come back to visit someday and started for home.
At Heathcote General Store we bought a package of Danish pastries and sat outside to savour every one of them. The horses knew we were close to home and quickened their pace and we soon found ourselves galloping up the laneway with no one to greet us but the excited border collie Sam. We were happy to be home, "loaded with experience and no regrets."
After a shower, a long hot sauna, dinner and a contented night's sleep, we wrote the last entries in our journal before driving back to Toronto, beginning with; All the while, we faced piles and piles of miles with smiles…
A special thanks to Roger and Comanche for being so patient. Thanks to our families for their support and letting us trustworthy chicks try the tripping bit.
Mission Accomplished.