Freeze the Day
Words by Cara Williams, Photography by Janet Dawson, Clay Dolan, Sue Kolundzic, Jamie Smith, Micheal Yates & Jody Wilson
While some flock to warmer climes during the snowy season, the adventuresome souls who remain are rewarded with breathtaking views, unspoiled scenery, and wintry magic. Whether you want to drop a line into the frozen bay, explore your town or hike to an icy waterfall, Escarpment has something for everyone this winter.
Some hear the call year-round. For others, it comes when the first snowflakes fall. Yes, it's cold and, yes, it will snow—but our winters provide a flurry of inspiring activities that are enhanced by heaping piles of lake effect snow.
The beauty of Georgian Bay and Lake Huron is perennial so, it's fitting that the name Ontario is derived from the Indigenous word for "Shimmering Waters". Surrounding our lakes and waterways are diverse and defining landscapes—from walking and hiking to fat-biking, snowshoeing, skating, Nordic skiing and ice fishing, we have everything that you would want in an outdoor winter adventure. Read on for a boundless assortment of adventures to get you outdoors and into the fresh air all season long.
WINTER HIKES
Georgian Bay's turquoise waters are just as magical in the winter as they are in the summer, and with fewer people to contend with and no bugs, there are countless hiking routes to discover around Simcoe, Grey and Bruce. When in doubt, pick a section of the Bruce Trail. Get lost (but not too lost) exploring the trails at Lion's Head and further north to Bruce Peninsula National Park. While The Grotto is perhaps the most popular natural attraction in the warmer months, you'll likely have it all to yourself in the winter.
The jewel of Owen Sound, Harrison Park is accessible all winter and is popular for hiking, snowshoeing and cross-country skiing. The trail follows the Sydenham river south to the Freedom Trail, commemorating the first black settlers of Owen Sound, the northernmost stop on the Underground Railway. The Bruce Side Trail takes you over the Weaver Creek Boardwalk, an easy to navigate, 300-metre boardwalk that winds through the forest behind Harrison Park's outdoor pool (closed in the winter).
If you're into chasing frozen waterfalls, Hogg's Falls is a mere two-minute walk from the Lower Valley Road near Flesherton. Named for William Hogg, the waters of the Boyne River tumble seven metres through the snow-covered woodland. Avid hikers can travel from Hogg's Falls to Eugenia Falls or choose to loop the side trails, creating a 13-kilometre round trip.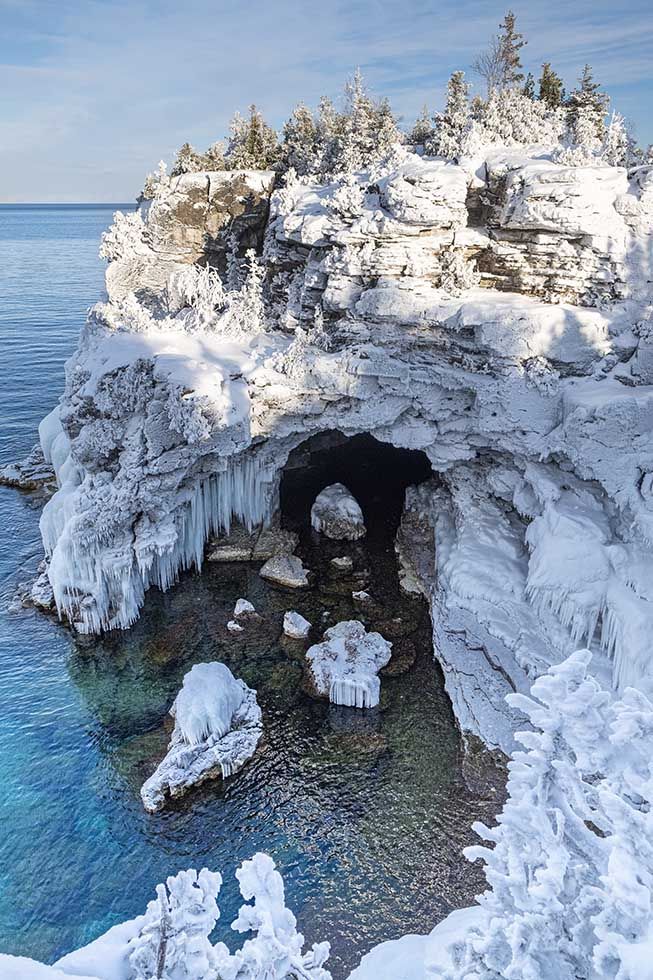 Further east, the Pretty River and Bruce Trail Loop is a moderately trafficked trail that offers stunning views of the Escarpment. A favourite among snowshoers, the Pretty River Valley Provincial Park trails take you to the highest point along the Bruce Trail. Know before you go—there is a one and half kilometre double track trail that is groomed in the winter by local snowmobile clubs. 
Fresh snow adds to the beauty and serenity of winter hikes, and the brilliant ice formations along the Escarpment are incredible. While still gorgeous on a cloudy day, keep your fingers crossed for some sunshine and blue skies.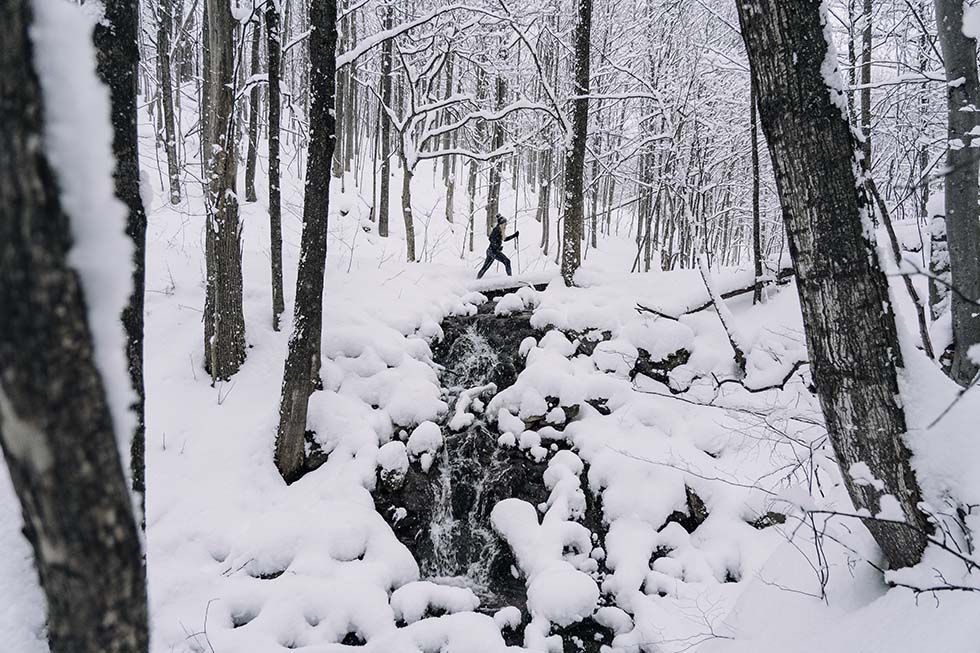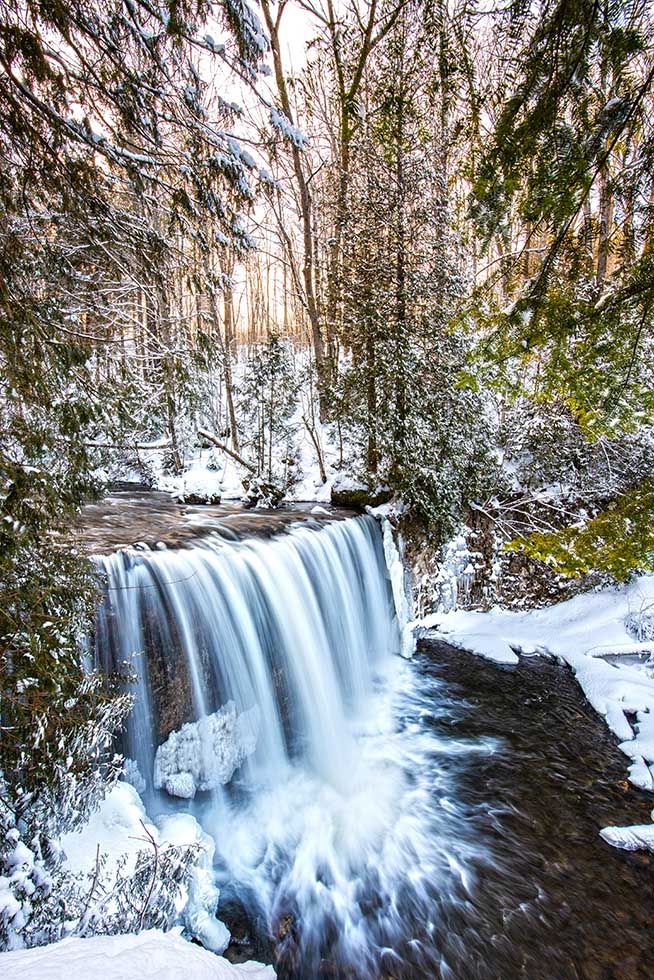 WATERFRONT WALKS
Popular beaches and bustling waterfronts transform into quiet places of respite in the snowy months. Blankets of fresh powder lay like quilts over the frozen lake, while layers of ice encase the rocks and shrubs along the shoreline. Dress warmly, take your time and enjoy beach-combing or birdwatching.
The Meaford Harbour dates back to the early 1830's, when the first settlers arrived and named it Peggy's Landing. Stunning in every season, the harbour is a magnet for amazing ice formations—it's not uncommon for large slabs of ice to drift in from the eastern shorelines, creating four to six-foot-tall turquoise ice walls on the bay. Pack a picnic and enjoy it on one of the harbourside benches.
Saugeen Shore's North Shore Trail is a six kilometre multi-use trail connecting the towns of Port Elgin and Southampton. The trail weaves along the water's edge, and includes a beautiful two kilometre section of beachfront boardwalk along Southampton's shoreline. From here you can enjoy the view across to ChantryIsland and its elegant Imperial Lighthouse.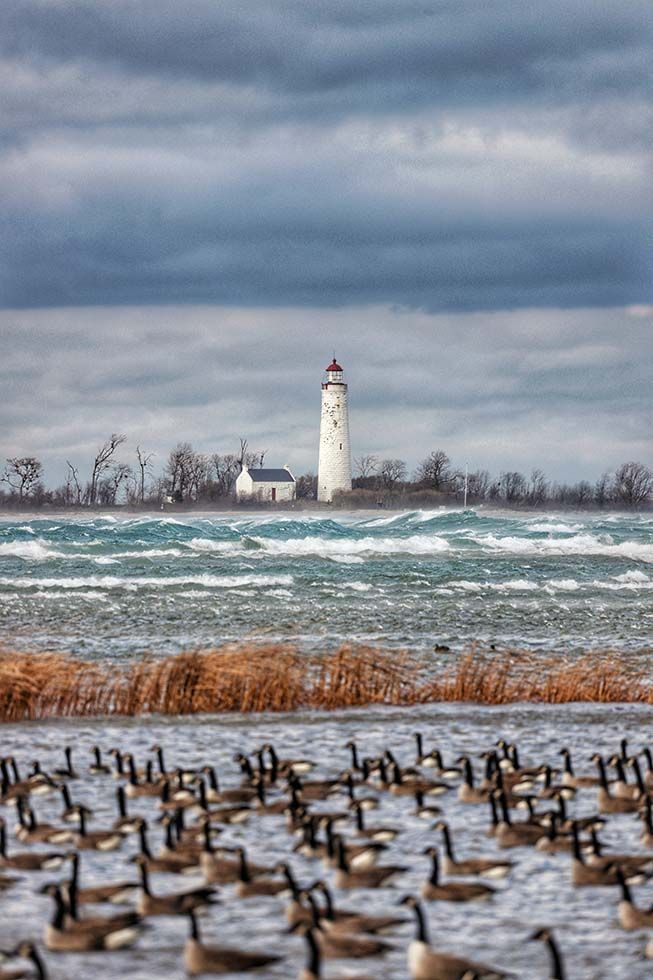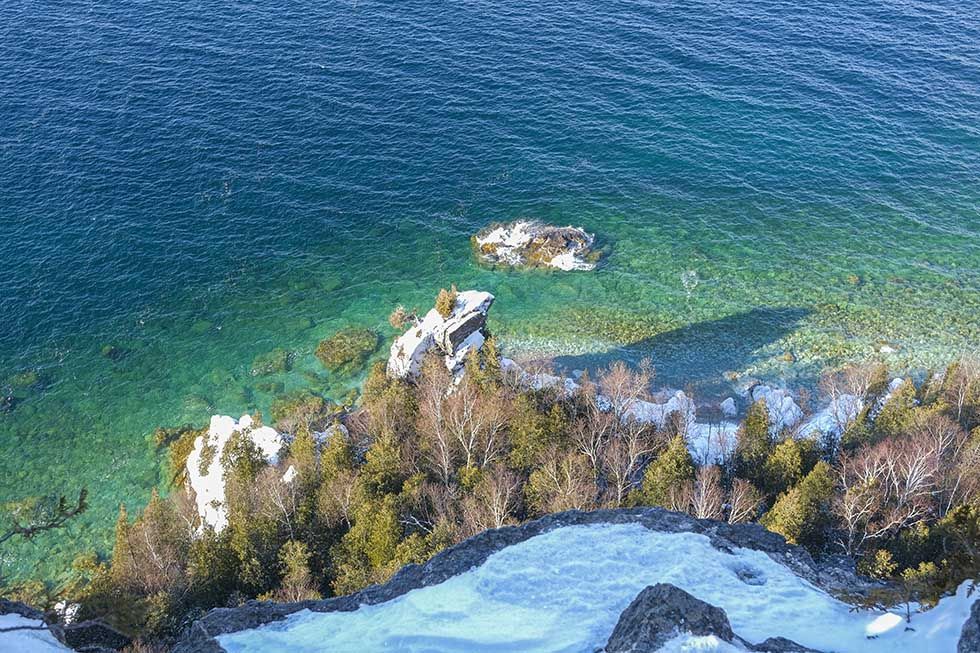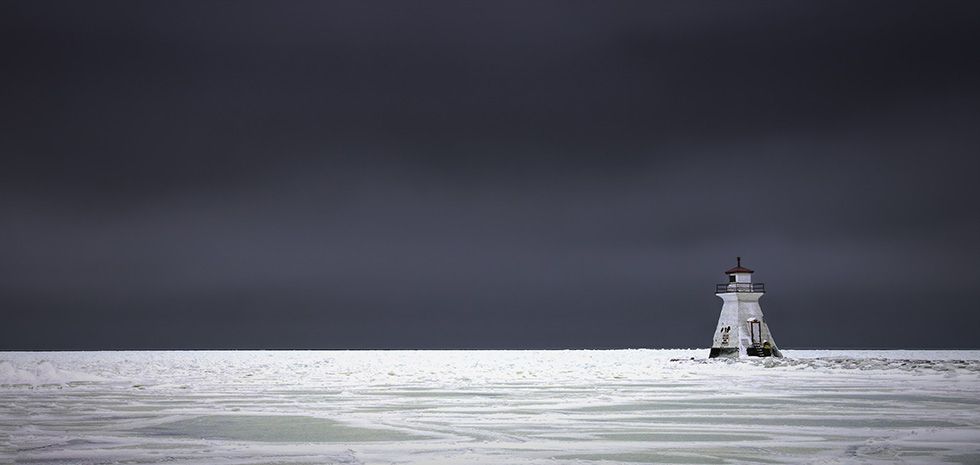 Head north and you'll find yourself at Red Bay Beach Park, near Oliphant. Bring your binoculars and keep an eye out for snow buntings, horned larks, and dark-eyed juncos. Snowy owls and great gray owls also make their way up the peninsula this time of year, as do flocks of wayward Canada geese on their migration journey.
Collingwood's Harbour Circle Trail is about a four kilometre route along the waterfront and past the Arboretum and labyrinth. Follow the trail to Sunset Point and enjoy a stunning view of the town, the Collingwood Terminals, and the ski hills at Blue Mountain, Craigleith and Alpine.
WINTERTIME PLAY
From toe-loops on backyard rinks to games of shinny on the lake or ponds, it doesn't get more Canadian than outdoor skating. Similar to Blue Mountain's Woodview Mountaintop Skating, MacGregor Point Provincial Park near Port Elgin has a 400-metre ice-skating trail that meanders through the lush forest. Both loops are lit at night for a magical winter skating experience.
Truly a four-season angling destination, some of the best ice fishing in the province can be found approximately three miles from the inner harbour of Owen Sound. Here, Lake Huron's surface is transformed into a bustling community of colourful huts each winter, with anglers hoping to hook lake trout, whitefish, rainbow, walleyes, perch, browns and the odd coho king salmon.
It's no secret that our area boasts incredible cross-country skiing—choose between a backcountry experience at Kolapore Wilderness Trails or a family-friendly groomed trails at pay-and-play centres like Scenic Caves, Glenleg Nordic Club or Highlands Nordic. The Town of Blue Mountains grooms the multi-use Georgian Trail from Christie Beach Sideroad to Grey Road 21 throughout the winter season, and Wasaga Beach Provincial Park grooms 22 kilometres for classic skiing and 12 kilometres specifically for skate skiing.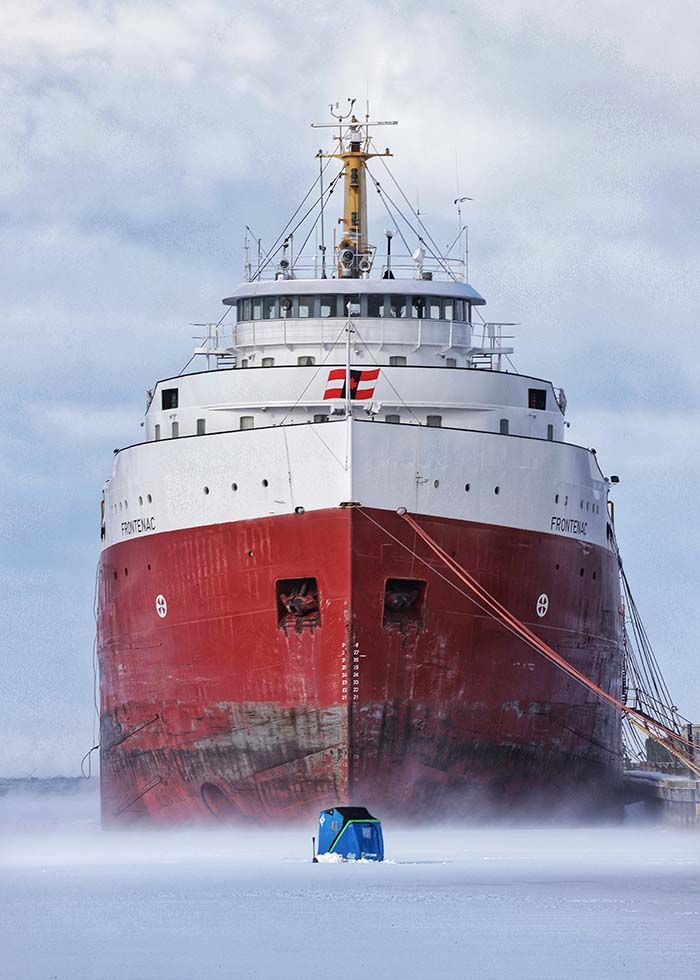 One of the coolest (pun intended) winter sports, fat-biking has gained traction (yup, another pun) in the past few years. Collingwood's multi-use trails system encompasses over 60 kilometres of recreational trails perfect for this growing sport. When perfectly packed, snow-covered trails can be every bit as fun as dirt, while offering a different experience. With tires about twice as wide as a regular mountain bikes, fat-bikes provide more traction so they can travel over almost any surface. They even bounce over hard-crusted snow and plow through drifts of soft powder.
Perhaps the best thing about adventuring outside at this time of year, is there are often fewer people—providing a greater sense of quiet and solitude. The cool, clean air can also feel especially invigorating. When heading out on your next winter adventure, remember to dress for the weather and to check the forecast. If you are driving rural roads, be careful about where you pull over. Tire chains and a shovel are good items to pack, along with a sleeping bag, snacks and water just in case. Always make sure to top off your gas tank, as well.