Each summer our family creates a check-list of activities to occupy our cherished days and nights until school resumes in September. In summers past we have travelled to amazing locales with family friendly attractions. This summer, with friends visiting who have children under the age of three, we are exploring home-based activities—thankfully there is more than enough to keep all of us entertained, right in our backyard—so to speak— world removed from stuffy classrooms and noisy daycare centres, Blue Mountain Resort is chock-full of attractions for even the smallest member of your tribe. Plan a full itinerary of activities and soak up every second of summer!
Words by Cara Williams. Photos by Andrea Hamlin Photography for Blue Mountain Resort.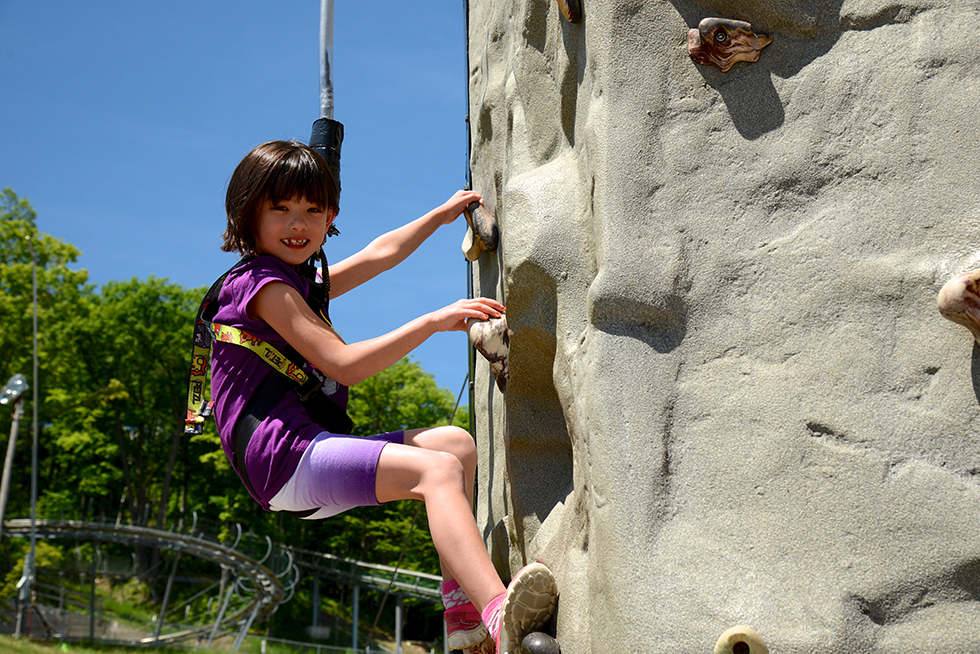 CATCH A FROG – Blue's Mill Pond is home to frogs, toads, fish and even a few turtles. Rent a paddleboat and see who you can spot snuggled among the bulrushes.
BUILD A SANDCASTLE – Blue Mountain Beach is just 10-minutes from the resort. Dip your toes in the shallow waters and wade in the surf or venture a little deeper with a boat rental; canoes, kayaks and stand up paddle boards.
GO SWIMMING – Plunge! Aquatic Centre has an indoor/outdoor pool, an indoor splash pad (perfect for younger kids), slides, and a rope swing (such a hit with my kids). And don't worry, a deep-water swim test first is mandatory for those wishing to use the rope swing. Relax in the hot tubs or on a sun-lounger while your kiddos exhaust themselves under the supervision of Plunge! lifeguards.
LEARN A NEW SPORT – The 18-hole Cascade Putting Course at the base of the gondola has fairways, bunkers and water features that are both fun and challenging for aspiring, young golfers—or fair-weather golfers like me who are simply trying to stay within a few strokes of my kids.
GO FAST – The Ridge Runner Mountain Coaster has over 1 km of twists and turns. You and your lit- tle daredevils can reach speeds up to 42 KM/H (or take it slow and enjoy the view).
GO ON A SCAVENGER HUNT – Pick up your free scavenger hunt kit at the Visitors Information Centre and wind your way through the Village following the clues. Once you uncover all the clues, go back to where you started to claim a prize.
HAVE A PICNIC – Enjoy lunch at the Blue Mountain Beach Hut, featuring snacks, cold drinks and a fully licensed patio to guests 19 and older.
For more information check out Bluemountain.ca Bluemountainvillage.ca
TAKE A HIKE – the Cascade Trail is family friendly and parallels a babbling brook, complete with… (you guessed it)… cascading waterfall!
GET SOME FRESH AIR – Blue's Open-Air Gondola boasts 360° panoramic views of the Village, Monterra Golf Course, Collingwood and Georgian Bay. The gondola culminates at a mountaintop picnic area and scenic lookout that is sure to garner more than a few Insta- gram likes (make sure you use the hashtag #liveitoutside).
PLAY CHECKERS – Challenge your family and friends to a life-sized game of checkers beside the Water St. Bandstand or chess in the Events Plaza.
WATCH A MOVIE UNDER THE STARS – Pull up a chair in the Blue Mountain Village Events Plaza every Monday and Thursday at dusk from June 28 to August 30.
GET WET – Even the littlest member of your crew will enjoy cooling off in the Vil- lage Fountain and Splash Pad. This fountain is kid- friendly and inviting for lit- tle water babies. It's also the perfect way for your overheating squirts to cool down while you catch your breath.
REACH NEW HEIGHTS – Active kiddos will enjoy honing their mountain climbing skills on the Resort's Climbing Wall. Bring previous climbing experience or come as a beginner for an opportunity to reach the top. The ropes course is another big draw. Swingin' and climbin'… it's what kids love.