Words by Cara Williams . Photos by Clay Dolan
Those who love the game of golf and the escape it provides might argue that even pre- COVID-19 golf had a certain amount of social distancing built into its existing rules of play. As excited as golfers were to get back on the course (you can bet the exhilaration deadened a bit with the first chip shot into a bunker), the opening of golf courses earlier this spring came with new guidelines designed to maximize safety and limit the number of contact points where the virus could be transmitted. Even before the Phase One announcement was made, Monterra Golf at Blue Mountain Resort was fielding calls for tee-time requests from golf-lovers itching to hit the greens. 
"Golf gives people the chance to get outside, enjoy the weather while physical distancing," says Greg Lecky, PGA of Canada Professional, and Manager of Golf & Winter Activities at Blue Mountain Resort. "Being on the course is the easy part. For our staff, we need to manage the flow of when people are checking into the golf shop and returning the carts."
Monterra Golf is open for course access to season passholders, members of the public, and Blue Mountain lodging guests. Many policies have been amended to ensure health and safety, including arrival at the course—please don't arrive an hour ahead of time so you can work on your beautiful (or horrible) golf swing—players are advised to arrive up to 15 minutes before tee time. By taking a few extra steps to ensure safety, such as booking tee times online, traveling to the course alone and resisting the temptation to socialize outside of your group, we can all enjoy our favourite game safely and responsibly. 
Murphy's Law states that if there is one sand trap on a 550-yard hole, your ball will settle right into the middle it. COVID-19 golf etiquette dictates that you replace divots, fix ball marks and smooth sand to the best of your ability. You may have noticed bunker rakes have been removed so players are asked to smooth sand with their feet. If your ball comes to rest in a disturbed area, you may take a free drop at the nearest point of relief in the bunker. Finally, lifting and placing is encouraged—see the game isn't so hard after all! Golf courses have been instructed to remove or disable anything that your hands could touch, so you may want to bring a towel. If your ball gets a little dirty from whacking it into the sand, simply wipe it off. Flagsticks remain in the hole and Pin Caddies have been put in hole cups for simple, contact-free ball retrieval.
"Almost everyone I talk to says they've knocked 10-15 minutes off of their rounds," says Mike Tenet of Collingwood. "Not having to rake bunkers, fill divots and wash balls certainly helps speed things up. In 2019 rules dictated players receive a penalty for hitting the flagstick with a putt from the green but we're now forced leave the pin in for safety reasons, which speeds up play. Although my scores aren't any higher, I actually prefer this style of play. Maybe from now on they'll nail the pin in the cup and never remove it."
The Leaderboard Bar & Grill at Monterra is open for take-out service prior to your round, and you'll have the chance to burn off your meal by walking the course. Monterra staff understands that not everyone is able to walk, therefore carts are washed and sanitized after each use and touch points are wiped down each time a staff member moves the cart. All golfers must have their own clubs and are responsible for handling them at bag drop including loading onto their cart.
"So far this summer golfers are respecting the rules," says Mike Tenet. Golf has a positive impact on our physical, social and mental well-being… well, I guess that depends on how well you play. But honestly, any day on the course is a good day."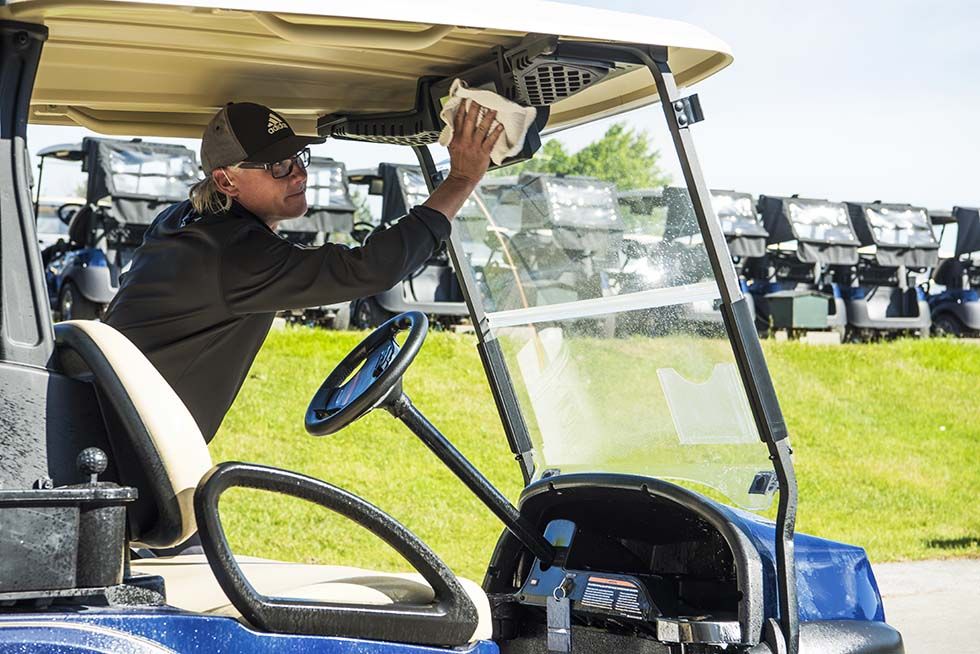 Monterra Golf is committed to playing its part in taking every precaution to keep the environment safe, flattening the curve of COVID-19 and reducing future viral spread. Now, it's up to golfers to show restraint and responsibility. Follow the guidelines. Obey the rules—even if it seems unreasonable or too restrictive.