Words by Cara Williams . Photos by Clay Dolan
While global food markets have faced months of uncertainty due to COVID-19, our local agri-food sector has shown more resilience to the pandemic thanks to enterprising farmers who have diversified in order to connect consumers with fresh, healthy, locally grown produce. Many farms were faced with the sudden cease in demand from restaurants and specialty epicure partnerships that had closed due to the pandemic, while others were forced to revamp their websites to support online sales and coordinate deliveries throughout the region. Farmers across the Escarpment acted swiftly and creatively to mitigate disruptions and to ensure nutritious food remains available amid uncertainty. All of this was done of course, while farmers were readying the soil for spring planting, managing crops that had already sprouted, and tending to livestock.
Lives and livelihoods are at risk from this pandemic and agriculture is no different.
"Our farm follows a rhythm set by mother nature," says Amy Kitchen of Sideroad Farms. "There's not much that a pandemic can do to derail that. We had already made our plans, ordered our supplies and were well on our way planting for the season, when the realities of the current situation began to unfold. We decided to stick with our plans and continue to plant as usual." What has changed for Amy and her husband Patrick is how they sell and distribute their goods. "About two weeks into trying to run our store with appropriate protocols in place in order to keep our staff and the public safe, we decided that it would be best to move everything entirely online and not have the public in the store for the time being." Fortunately, Amy and Patrick have a well-established customer base and were able to tap into this database to get the word out. "We now take orders online, pack them up and folks either pick up in our parking lot or we offer home delivery."
The pandemic has exponentially increased the demand for produce at many local farms and farm markets. "It's hard to say exactly why," asks Amy. "Is it a fear of running out of food? New found motivation to support local? More time spent cooking at home versus eating out? Perhaps a combination of all three. We (and most other farmers who sell direct) have experienced a sharp increase in demand for our food. Particularly those of us who have set up online sales. Our store traffic has increased by 400 percent since mid-March."
Others weren't so lucky out of the gate. For over 15 years Gillian Files and Brent Preston have been producing premium quality organic vegetables at their family run farm located on the crest of the Niagara Escarpment just west of the village of Creemore. Traditionally, 60 percent of The New Farm's harvest is earmarked for restaurants—many of which were forced to shut down earlier this spring, or have sadly closed their doors forever. To complicate matters further, The New Farm employs seven migrant workers who were slated to arrive in Canada just weeks after the government mandated travel ban. "Our workers were supposed to arrive in late April," explains Gillian. "The government offices in Mexico closed before that could happen and all of the workers were put in limbo. We were able to get six of them expedited, but because one was living in a different area of the country, his state office would not respond and allow him to get his Visa and work permit processed. When the first six arrived on May 8th they had to be transported to their housing on our farm—we weren't allowed to pick them up at the airport like we have for 11 years. They then had to quarantine for 14 days and were not legally allowed to work; however, we did pay them for 30 hours per week. We hired someone to shop and run errands for them and covered all of their food costs while in quarantine."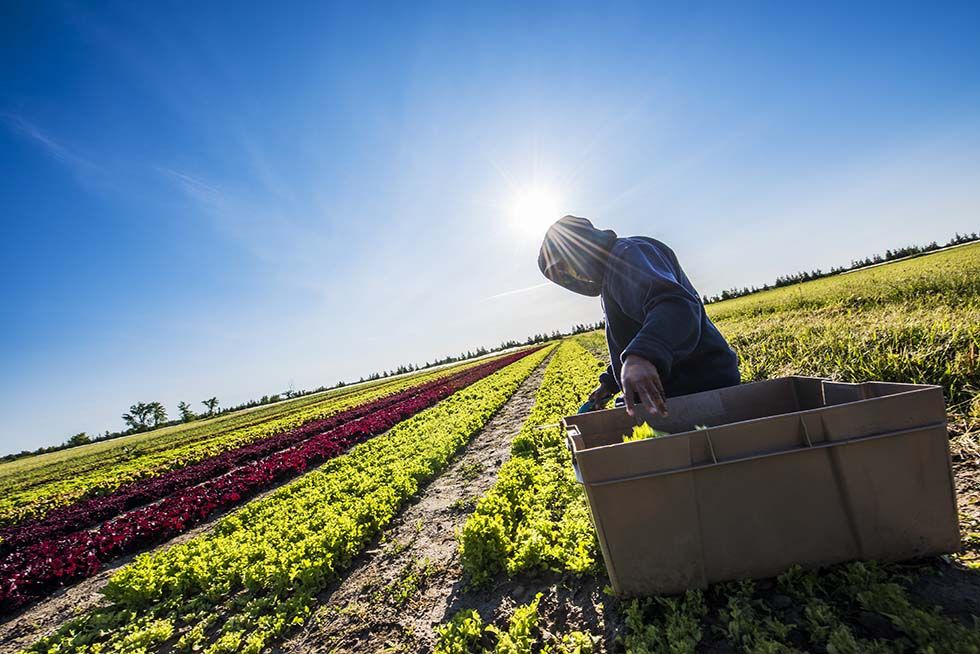 Amid all the red tape, Gillian and Brent managed the early season planting with the help of friends, neighbours and their teenaged children, Foster and Ella. "Luckily, the season was a bit late and the guys made it here for the first harvest," says Gillian. The final migrant worker arrived in late June which offered Gillian and Brent the chance to take a breath and look at options for shifting their business model to delivery programs like 'Fresh City' and distributing their produce to grocery stores and farm markets like Goldsmith's Orchard Market in Thornbury. "We feel that we have a moral obligation to grow healthy, nutritious local food. We have pivoted to a larger focus on retail sales and home delivery services. We have had to introduce new types of packaging to accommodate new clients and we have had to revamp our operation to accommodate COVID-19 public health social distancing requirements."
In addition to the litany of changes to their day-to-day operations, The New Farm canceled all their summer events including their annual charity fundraiser, Farms for Change which supports local foodbanks and 'Community Food Centres Canada'. With help from restaurants like Bruce Wine Bar and The Pottery, as well as legendary musical acts like The Tragically Hip, Sloan, The Sadies, Sam Roberts Band, Stars, and Broken Social Scene, Farms for Change is a highlight of the summer for those fortunate enough to score a ticket, and has raised over $1,000,000 in the 10 years since it began. "We believe that sustainable, profitable small farms are the foundation of a healthy food system, and that local, organic food should be available to everyone," says Gillian. "Farms for Change is a partnership between organic farmers and 'Community Food Centres Canada' that aims to increase access to healthy organic food while strengthening organic farms. This year we will be fundraising online so that we can continue to send good food to people in need when they need it the most."
Culinary entrepreneurs Hannah Harradine and Joel Grey have been hosting intimate farm to table dinners at Good Family Farms, under the pseudonym 'Sumac + Salt'. The partnership was born out of the desire to educate and inspire through knowledge of the farming practices that go into bringing food to our plates. "Due to the pandemic our previous concept was completely halted," explains Hannah. "One of the main founding principles of our dinners is communal style dining. We love having a diverse table of people who maybe wouldn't normally meet. It's amazing to see 12 strangers sitting together, sharing stories and starting a conversation about local food. We are now moving forward with socially (physically) distanced tables as well as accommodating private dinners for 10-person social circles. Our concept/passion is to showcase the best of Simcoe, Grey and Bruce Counties. Although we have taken a step back from large communal dinner parties we are ready to move forward with a concept that reflects the state of the new world and as always with a focus on local." 
Local is a recurring theme—not only have our home- grown farmers stepped up to the challenges presented by this pandemic, but our community has displayed loyalty and commitment to supporting local agriculturalists. Mitchell Good of Good Family Farms credits this region's understanding of a potential food crisis. "We have become acutely aware of the fragility of our food system," says Mitchell. "When big business faltered, our farm and many others were not able to meet the demands of our community. Industrialization and commodification of our food hamstrings our society when faced with a pandemic. It is apparent that decentralized food production and processing is very important for food sovereignty. We are planning and investing in scaling up our direct to market sales because of the new awareness the virus has created in the consumer. We are looking to retail as much as possible."
Clearly farmers who moonlight as retail grocers have weathered the COVID storm by adapting their business practices and acclimating to the new social environment. Debby and Kyle Oakley (generational farmers who also own/operate Goldsmith's Orchard Market) describe the difficulty in staffing during a pandemic; "From the back end, one huge change the consumer would never see is in our scheduling," explains Debby. "We experienced empty shelves at the beginning of the pandemic like every grocery store, and this continued for some time, but it was not always due to lack of product, but simply the lack of hours in the day to try required to get everything back on the shelf. It is very challenging to stock a store while maintaining physical distancing, so one way we've worked to combat this is by spreading out staff shifts before and after store hours, so that we can have dedicated cleaning and restocking time when we're not trying to stay out of the way of people shopping. We call the constant dance to maintain physical distancing the 'COVID shuffle'."
Known for their vibrant organic edible flowers, herbs and vegetables, Roy and Ginny Love's pre-COVID produce was primarily sold to local restaurants with a small percentage sold at farmers' markets or to direct customers. Roy'l Acres Farm adapted to the new social environment by offering the community access to their produce as well as plants and seedlings earmarked for restaurants. "Everyone seems to want to be a gardener now," laughs Roy. "We took those plants that were ready to go into the ground and sold them to the public, rather than to restaurants." Throughout the spring and early summer, Roy's business grew thanks to word-of- mouth and before long, Roy'l Acres' sales were booming. "At the beginning of the pandemic people would order through text or email. I didn't even have to change our website. We offered clients the option to pick up their order at the farm—when I would tell them how far away we are (the farm is located in Grey Highlands) they would tell me it doesn't matter—getting in the car and going for a drive with the kids was a way to get out of the house." After a few weeks Roy decided it would make more sense logistically to deliver orders, so every Thursday he makes over 80 deliveries.
Like many, Roy'l Acres and Sideroad Farms, traditionally sold a hefty portion of their produce at the Collingwood Farmers' Market during the summer months. "The market represents about 1/4 of our revenue and so we have had to find ways to make up that income in order to keep things running," says Amy Kitchen of Sideroad Farm. "We, along with four other vendors, have started a temporary local food hub, where our customers can order from us online and pick up their items on Saturday mornings." At first, Amy and her husband Pat figured the increase in sales was a temporary blip. "While this is a good thing overall, and we are so fortunate to be a business that is not struggling with sales, it has been a whole other beast to manage. The jump has come out of the blue for us and it takes time to increase production on a farm, so we have ended up buying in more from other farms than we had planned, to make up for it. Selling online also takes a huge amount of labour in the managing of logistics, the packing of groceries and administration. We have had to bring on three more people just to keep up with it and still find ourselves working 16-hour days, seven days a week (with young kids at home) just to try to keep our heads above water. So, while demand is up, we will not see much in an increase of profit due to it."
While increased demand is what initially took many local farmers by surprise, many were able to adapt and adjust in order to meet the demand. In preparation for the busy summer season Debby and Kyle Oakley planted slightly more than they would have otherwise. They also introduced a weekly produce box containing a selection of in-season Ontario produce. "We will continue the local produce box throughout the summer and into the fall, so long as there is the demand," says Debby. "And most exciting for us is, we are working towards having a true online store—this is a huge endeavour because we have thousands and thousands of products and variations in our small store." 
While COVID-19 has posed a serious threat to food security, local farms and farm markets are proving to be more resilient to
the pandemic than many other sectors thanks to forward thinking farmers who have adapted to the changing landscape of agriculture and are therefore able to meet the demands of our residents with safe, affordable and fresh produce. "When the grocery stores faltered and did not have consistent supply, people took it seriously and sought out local producers and farms to secure their food," says Mitchell Good. "In a lot of ways food has been taken for granted—assumed that it is endless and is available all year round. Our centralized, commoditized and industrialized food system is fragile and it was apparent with the COVID-19 outbreak. People are learning to value their health and are turning to good, local organic food, which may cost more. Decentralizing and breaking down large businesses into more small businesses run by people in the community will make our food system much more stable and pandemic proof."
FOR MORE INFORMATION ON THE FARMS IN THIS STORY PLEASE VISIT THEIR WEBSITES AT: