Words by Cara Williams . Photos by Clay Dolan
The property was a standout—edged with lush farmland and rolling hills, a long driveway lined with tall maples—it looked like something out of a Jane Austen novel. "We're alwawys looking at real estate, even if we're not interested in buying," says Kim McMaster. Kim's husband Rick had been doing some work for the township when he came across this expansive property just above the village of Creemore. "It was for sale and Rick came home all excited about the romantic driveway with the tall trees bordering it and the magnificent view. He brought me out and we had a look." Seeing the potential (and looking past the structurally worrisome original farmhouse with its cedar block foundation) Kim and Rick made an offer. 
"We love architecture and seeing what other people have done," says Kim. "Initially we thought we could renovate. But when we started looking into it, it didn't look like a very good option." The little farmhouse was not only unsightly and neglected, it was completely inhabited by racoons. "Some people would ask what we saw in the property," adds Rick. "The setting reminds us of travels in Italy and hiking in British Columbia. This is the environment we like." 
Kim and Rick wanted to build a home that would honour the view, as well as work with their lifestyle. The couple enlisted the help of Ken and Gord Zeggil of Ken Zeggil Construction Inc. and together they created a stunning architectural masterpiece, designed for main floor living. This four-bedroom, three-bathroom home features 16-foot ceilings in the great room and magnificent panoramic south views of Creemore Valley. "We're fascinated by modern design," says Rick. "We had seen a similar home and knew we wanted to be completely self-sufficient on the main floor, as well as capitalize on the views. We prefer round light—there are no real shadows in any of the rooms. There are windows in all directions so during the summer months it's almost not necessary to turn the lights on."
Simple, uncluttered and practical was the objective in the kitchen, which was designed by Ken and Gord Zeggil with input from Kim. "The Zeggils were wonderful to work with," says Kim. "This kitchen is the perfect size and is very functional." Contemporary custom walnut cabinets flank the sleek cook top and oven while the oversized granite counter/breakfast bar serves a dual purpose of separating the kitchen and dining areas as well as acting as additional storage. "I was drawn to the walnut and white combination. I wanted to bring that into the island somehow so we did this with wrap around floating shelves." An adjacent door provides easy access to the outdoor living and dining space, and the couple spends most summer nights dining alfresco. "Everything is in close proximity but if we're both in the kitchen we're not tripping over each other."
"We ran into lots of challenges when we were building," says Kim. "Because it is a more contemporary, modern design there are certain things, design wise that you do to make it work. Not having done this before there were decisions to be made. When it came to lighting I was stumped." Kim scoured lighting catalogs and eventually found a trio of black orbs which float above the sitting area as well as a contemporary metal light fixture which hovers above the dining room table. "I love that this chandelier doesn't distract from the view—it's low profile, yet interesting." The centrepiece of the great room is undoubtedly the linear Napoleon gas fireplace, which evokes relaxation and indulgence. One of Kim's own paintings hangs above picking up shades of turquoise and gold around the room. "Most of the furniture was bought to suit, but my Dad built the dining table and buffet," says Kim. The couple sourced furniture from a variety of stores including Georgian Design Centre.
The master ensuite is beautiful in its simplicity, with an abundance of natural light. The generous marble shower runs the length of the wall and features a polished stainless-steel, rain-shower head. Stark white quartz countertops and his and her sinks with walnut cabinetry by Zeggil's add warmth and luxury to the space.
In the master bedroom a dreamy upholstered platform bed floats above a decidedly retro white shag carpet. "We wanted to maximize the view as much as possible so we went with lots of windows—as a result, the light in here is incredible at all times of the day." With 3010 sq ft of finished space, the main floor covers approximately 1800. "Everything we need is on this floor," says Kim. "It's the perfect size for a couple, completely self-sufficient."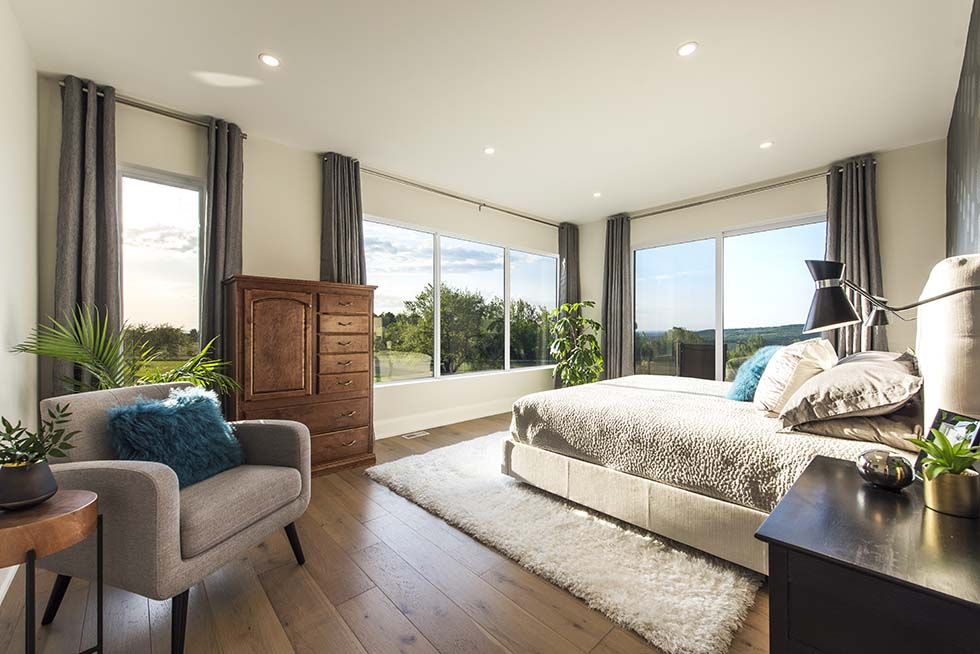 Downstairs the walkout family room boasts even more incredible views and features a games table, wet bar, multiple couches for lounging and an entertainment unit. "The field below us is a working field," says Rick. "It's lovely to come down here and relax—the views are ever changing. Last year was wheat and this year its beans. Its fun to watch it grow throughout the summer months." Two additional bedrooms on the lower level await Kim and Rick's guests which often include their children and grandchildren. The fourth bedroom currently acts as Rick's office.
Rescued from ruin, a portion of the original farmhouse now serves as Kim's artist studio which is connected to the garage. "I've always loved dabbling in art, but up until the time I retired I didn't really have a lot of extra time to paint," says Kim. "Rick's mother was an artist and I spent a fair bit of time painting with her. The more time you spend doing it, the more time you grow as an artist. I've taken some workshops with local Creemore artist Sue Miller. This spring with the COVID lockdown was the most time I've ever had to really concentrate on my art. It's been wonderful to spend time in my studio."
Showcasing texture and dimension, the exterior of the home is a combination of cedar, Eramosa stone and stucco. Generations old maple trees dot the property, which Kim and Rick were careful not to disturb during the build.
The couple enjoys gardening in their retirement and chose low maintenance, high impact dark black mulch to surround a forest of vibrant green and white perennials. "It gets quite windy up here so we built a privacy fence which does double duty protecting us from the elements," says Kim. Underfoot the patio is comprised of Eramosa stone and poured concrete, with limestone steps leading down to the farmers field below. With the closest neighbour being several hundred metres away the McMasters' home is idyllic, private, functional and tranquil.
The perfect place to relax, unwind and enjoy retirement.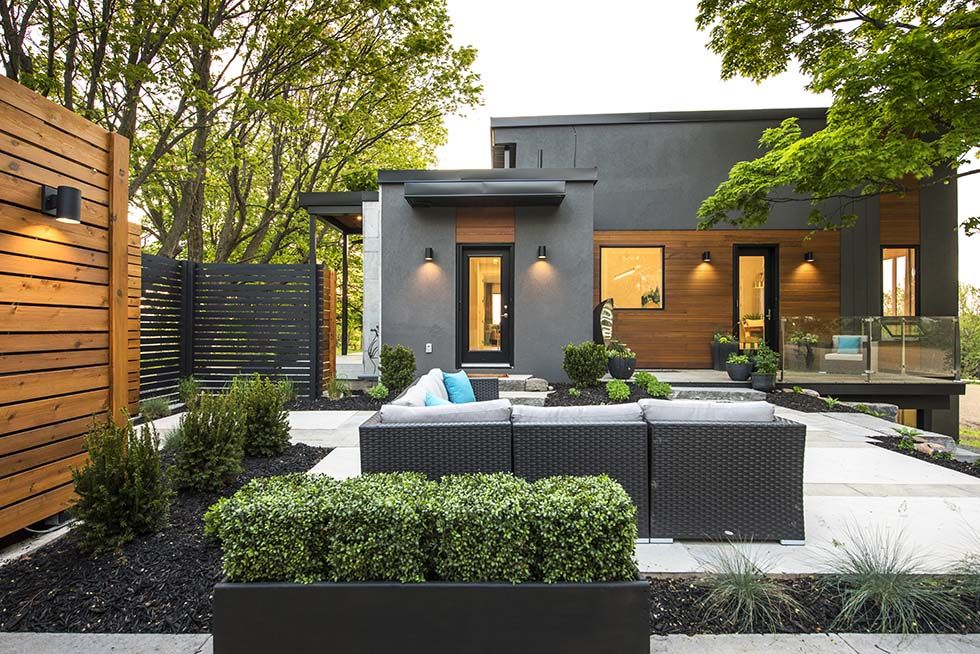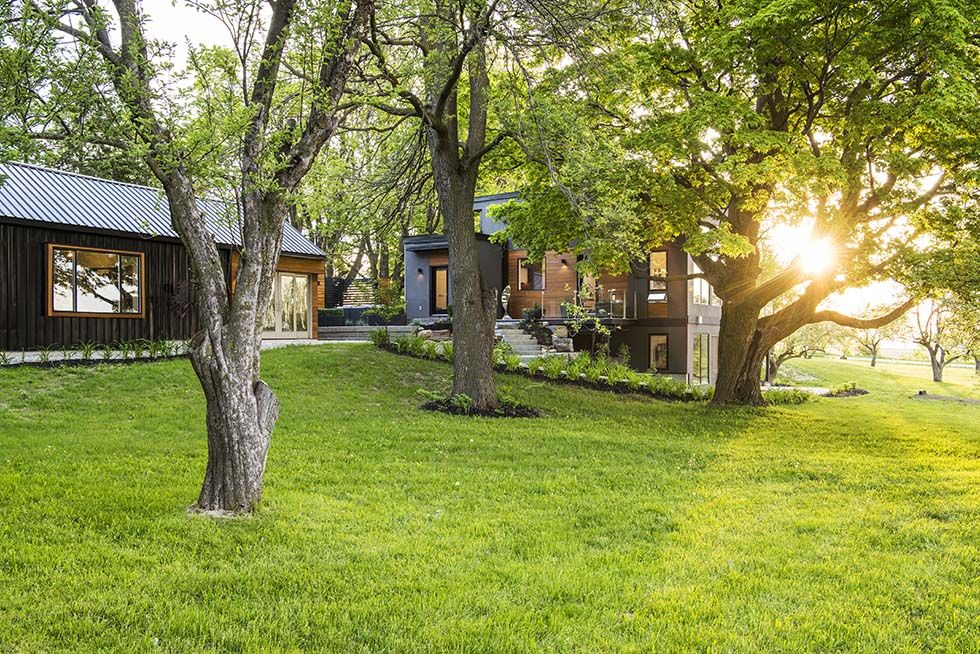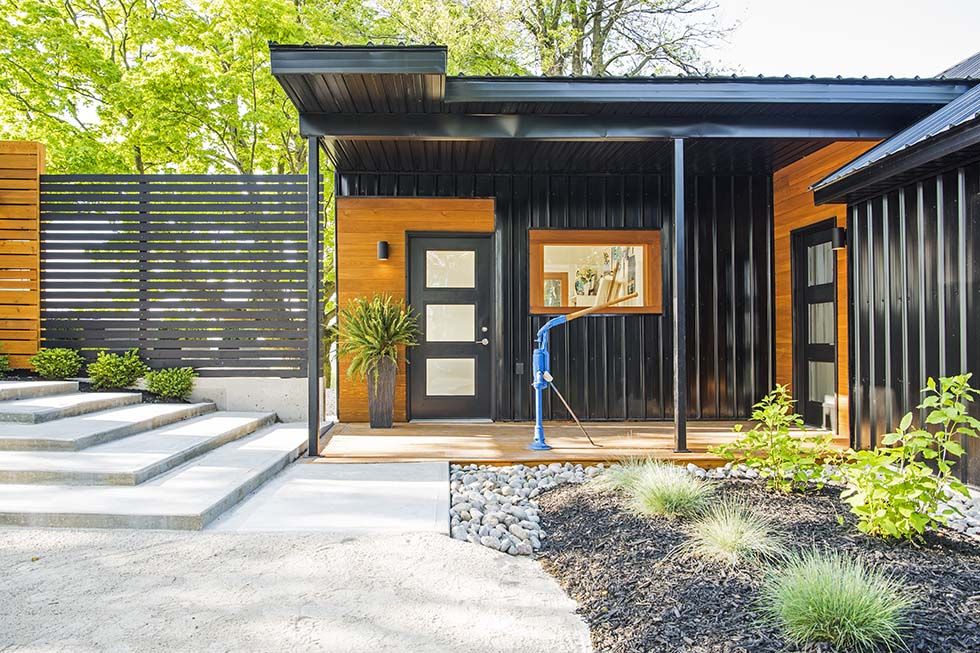 SOURCE GUIDE
Builder KEN ZEGGIL CONSTRUCTION INC.
Architect SPRINGWATER ENGINEERING LTD.
Interior Design CATHERINE STAPLES INTERIORS
Kitchen & Bathroom Cabinetry KEN ZEGGIL CONSTRUCTION INC.
Bathroom Fixtures ATLANTIS BATH CENTRE
Appliances TA APPLIANCES
Flooring & Tile BAYFIELD CARPET INC.
Light Fixtures THE LIGHTING GALLERY, ROYAL LIGHTING
Countertops DI PIETRA DESIGN