In Conversation with Ali Nullmeyer
Interview by Cara Williams
Marked by grit, determination and an unwavering commitment to both athletic and academic pursuits, Canadian Ski Team member Ali Nullmeyer's journey is nothing short of extraordinary.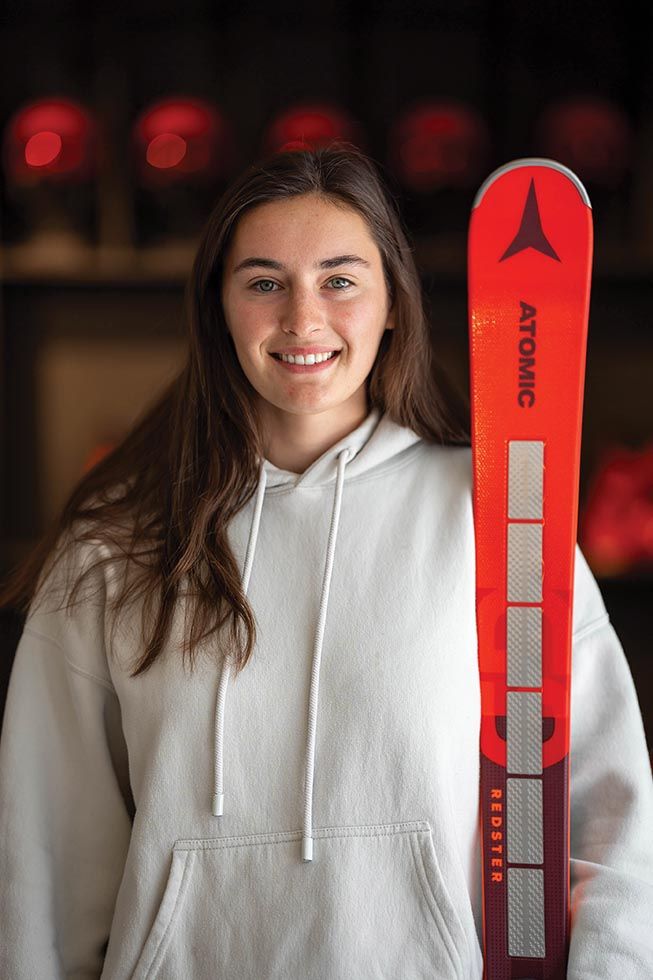 Beginning her junior ski racing career at Georgian Peaks, Ali Nullmeyer's early promise was evident when she won a silver medal in slalom at the Youth Winter Olympic Games. By the time she graduated from high school in 2016, she had already competed in the World Junior Championships (her first of three) and was on the Canadian Development Ski Team. Her upward trajectory continued with the Nor-Am slalom and overall titles in 2016/17, which secured her a coveted World Cup start for the following season. However, just two days prior to the season opener in Soelden, Austria, Ali suffered a crash that marked the beginning of an arduous journey back.
Despite her early accomplishments, pursuing higher education was always part of the plan. After taking a year to rehab and another year to return to competition, Ali accepted a spot at Middlebury College—a transition that brought a fresh chapter to her skiing career. Here, Ali expertly managed the highest level of academics and ski racing—simultaneously competing on both the NCAA and World Cup tours. Now, with a couple of top-ten World Cup finishes under her belt and a university degree (she graduated with a 3.5 GPA and All-American Honors), Ali has an unobstructed view of the future.
Ali's story is an inspiration—a story of resilience, triumph, and the unstoppable quest for greatness.
We caught up with Ali just before the start of the 2023/24 World Cup season. In this, our first In Conversation feature with Ali, she talks candidly about the moments that define her journey: the highs, the challenges, and the unwavering passion that has turned her into a remarkable athlete.
CARA WILLIAMS: Your junior ski racing results were exemplary—at the 2016 Winter Youth Olympic Games you won a silver medal in slalom and placed fifth in the giant slalom. You also finished fourth in the mixed team parallel event alongside fellow Peaks athlete Justin Alkier. You won silver at the 2017 Junior Worlds and clinched the overall Nor-Am Cup title in 2016/17. Can you reflect on the significance of these achievements and how they shaped your confidence and approach as a competitive skier? 
ALI NULLMEYER: Achieving success as a young skier was both helpful and challenging in terms of the growth of my career. The Youth Olympic and World Junior events were really important to me as a young athlete because they were one of the first times that I competed on an international stage. These results showed me where I sat internationally against the best skiers in the world at the age, and it reinforced that I could reach my goal of racing World Cups one day if I kept working hard. While these results helped encourage me, they also made it hard when I struggled to find success on the World Cup circuit after my knee injuries. It was really challenging for me when I came back from my injury and was nowhere near the girls that I was competing with as a younger skier. This was a whole new mental battle for me, especially in my first and second season back from my injury while I was struggling to gain my confidence back. 
CW: Just two days before you were set to make your World Cup debut in 2017, you crashed, tearing your ACL and lateral meniscus in both knees—that must have felt like a tremendous setback after years of hard work. Could you walk us through your path to recovery and ultimately how you were able to make it back both mentally and physically? 
AN: My knee injuries were the first major setback I had endured as an athlete, and it came at a very important time in my career. I was set to start in all the World Cup races for that season after winning the overall Nor-Am title, so at the time, I was really devastated. I remember deleting social media apps off my phone for a period of time because it was too hard for me to watch the season or even see skiing on a daily basis. I also felt like I hadn't made my mark yet—I hadn't skied World Cups or scored World Cup points. I felt like I not only had to get back to where I was before I got hurt, but I had to improve beyond that, which at the time felt extremely overwhelming. After having surgery on the first knee, we waited eight weeks to have surgery on my other knee which allowed just enough time to stand on the first knee without crutches. Each knee felt like a rehab of its own with its own challenges. After 11 months of continuous rehab and training and one more surgery, I finally got back on snow. At first, I thought the hardest part was over, but I underestimated the time it would take to get back the strength and confidence in my knees. When I made it back to racing, I felt like I'd lost so much time and like I wasn't where I wanted to be at that point in my career. It took me almost a full season to rediscover my love for the sport and realize why I wanted to go out every day. Once I realized this, it helped me tackle that last mental hurdle relating to my injury. I'm really grateful that I had such a great team to help me through the different stages of challenges and my family to help me, especially through those first few early months when the injury was so fresh.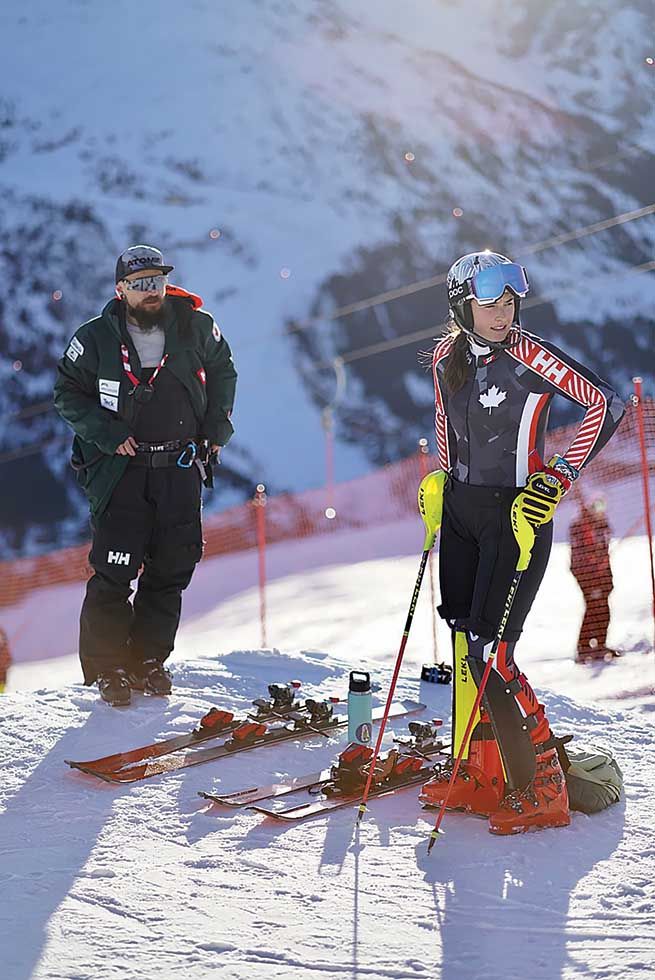 CW: Since your recovery, your upwards trajectory on the World Cup has been remarkable. What's even more impressive is that for the past several years you have been juggling a full academic workload at Middlebury College (where you maintained a GPA over 3.5 – enough to earn you All-American Honours). How did you manage to excel both in your athletic pursuits and academic commitments, and how did you balance these demanding responsibilities? 
AN: Thank you! My injury is a big part of why I decided to start college in the fall of 2019. I knew since graduating high school that I would eventually attend Middlebury College, but I wasn't sure exactly when. As I mentioned, I was struggling to find my love for the sport in the season coming back from my knee injuries. At the time, school was a perfect escape for me to share my focus with another endeavour. I was able to take some of the stress off skiing while also recapture my love for the sport through the Middlebury and NCAA team environment. Middlebury is a challenging school and while I was able to manage my classes, many of the professors didn't always understand what I was doing or how it could work with missing the classes for training camps and races. Luckily, I was able to build strong relationships with professors that allowed me to tackle work on the road and keep up from afar and make up work when I returned. Although it was not easy—there were a few times that I had to run from races to take tests or skip multiple movie nights on the road to study—it was truly what I needed to help free my mind for skiing. 
CW: During your time at university, you were also a part of the ski racing team at Middlebury College. NCAA ski racing is different from the more conventional pathway, which often entails progressing from a provincial team to a development team, and eventually onto the national team. Can you tell me a little about why you choose this route? 
AN: I always knew I wanted to attend school because I always felt like there were more sides to me than just my athletics. I am entirely committed to ski racing and maintain that drive to be the best in the world, but I wanted to explore other avenues so that after my ski racing career, I have the opportunities to explore beyond me as an athlete. This was a huge reason why I decided to go this route and my injury offered a perfect time to transition. When I decided to go to school, I was returning from my knee injury and didn't have the results needed to be on the national team. While the national team allowed me to attend camps and certain races, I was not on a full-time program with them which allowed me the perfect opportunity to get the best of both worlds. I could train with both the competitive national team environment and the also competitive, but more team-oriented environment at school. Since NCAA races are an accumulation of team points, it was the first time I had experienced skiing as a team sport and not just on an individual level. This really opened my eyes to what a team can be and much it can propel you and others in this sport. 
CW: During the 2021/22 season you finished fifth at the slalom World Cup in Zagreb, Croatia—at the same race last season, you posted the fifth fastest first run but in a cruel twist of fate, missed a gate on your second run. When faced with such setbacks, how do you manage to shift your perspective and overcome disappointment? Moreover, what strategies do you employ to maintain a resilient mindset, consistently giving your all week after week, month after month throughout the rigorous World Cup season? 
AN: Last season was another mentally challenging season for me. After my best season yet in the 2021/22, I was training really fast leading into the 2022/23 season, however, was unable to show this speed throughout the season. I'm learning that every season brings its own challenges and will continue to no matter how my goals shift. After an average start to my season, I was very disappointed to have straddled in the second run in Zagreb and was ready to give it my all for the next race the day after, which was unfortunately cancelled the next morning. The biggest thing I learned from this experience and this past season is to not let these tough days weigh on me too much and to use them to build resilience for the future. Skiing is a hard sport. Sometimes your day can be over if your foot in half an inch too far left or right. Sometimes things go wrong or you make a mistake. I am trying to use these mistakes to learn from them rather them let them discourage me. It is definitely easier some days than others, and is something I continue to work on, but I try to tell myself that if I can do it once, I can do it again as long as I show up excited and ready to give it my all.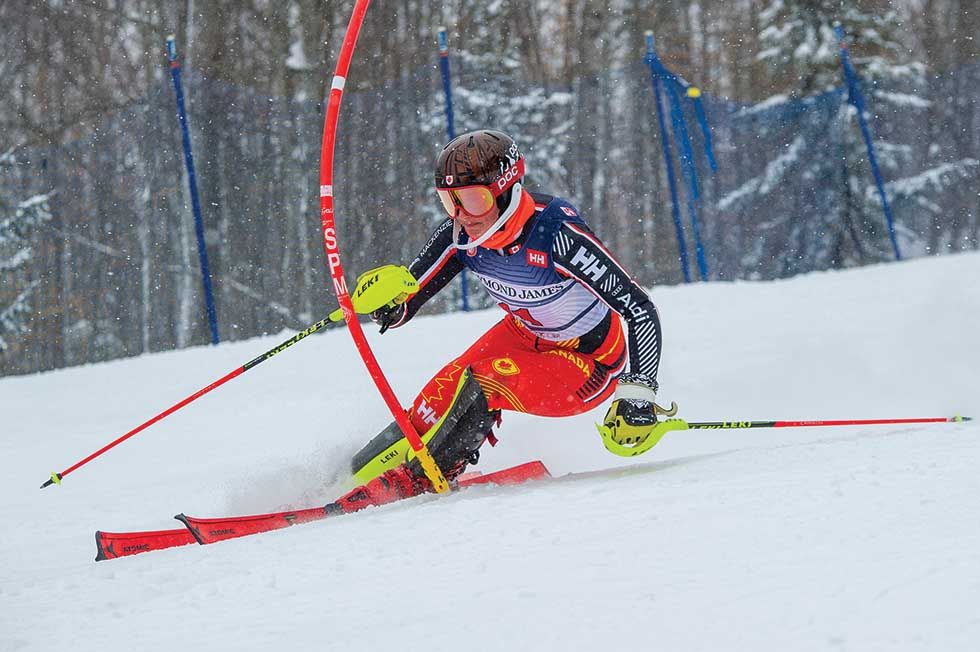 CW: Last winter you returned to Ontario to race the Women's Nor-Am Cup, winning the slalom at Osler and finishing 12th in the giant slalom at Georgian Peaks. Racing on familiar terrain must have held unique significance – what was it like racing at home on the Escarpment and can we expect to see you at any local races in 2023/24? 
AN: I always love racing at home! Between seeing family and friends and racing on familiar hills, it's a fun and humbling experience to come back to where I began my ski career. My favorite part of racing at home is seeing familiar faces that are always supporting us from afar. I always find it so cool to talk to people I haven't seen in a while and realize how much love and support we have coming from our Canadian ski racing community even when we are normally racing so far from home! I'm really hoping this season will bring me back to Collingwood for some Nor-Am's if it works into our World Cup calendars! 
CW: Canadian women had a banner season last year. Valérie Grenier achieved two World Cup giant slalom podiums, winning gold in Slovenia and bronze in Andorra and Laurence St. Germain won a historic slalom gold medal at the World Championships. When reflecting on the accomplishments of your teammates, how do you perceive their successes influencing the team's overall culture and motivation? 
AN: Watching Val and Lau's success last year was really inspiring for our whole team. I think their results last season really reflects what we are capable of and where we are headed as a team. We have a lot of speed and drive to succeed and as these girls showed, it's just a matter of time before our whole team shows this. We are able to push each other every day in training while also supporting each other in the tough moments. Even if we don't each show our best in every race, the pace we have in training helps us every day to be successful as a team. I'm excited to see what we can achieve as a team this coming season! We just had our first on snow camp in El Colorado and Valle Nevado, Chile and there is a lot of excitement and energy amongst us as we gear up for the World Cup season! 
CW: The removal of Lake Louise races from the World Cup calendar was undoubtedly disheartening for North American skiers, however this fall Mont Tremblant, Quebec will host our first ever women's World Cup giant slalom (two races are scheduled for December 2nd and 3rd, 2023). How significant is it to have World Cup races outside of Europe, and Canada in particular? 
AN: It is really exciting for the women's technical circuit to have these upcoming Mont Tremblant races! These races are important to build excitement around ski racing in Canada and continue to inspire younger generations of skiers to see the best skiers in the world come all the way to Canada to compete. I remember going to watch World Cups in Europe when I was younger and I was always in such awe of the athletes. To be able to bring that to our backyard means so much to those of us Canadians competing in these races as well as the whole Canadian ski racing community! Especially that we now have back-to-back race weekend in Killington, Vermont followed by Quebec, this really shows that North America wants to support the World Cup. For Canadians, having these races and being able to see friends, family and connect with local fans means so much to us as athletes who in general don't get to train or race much at home.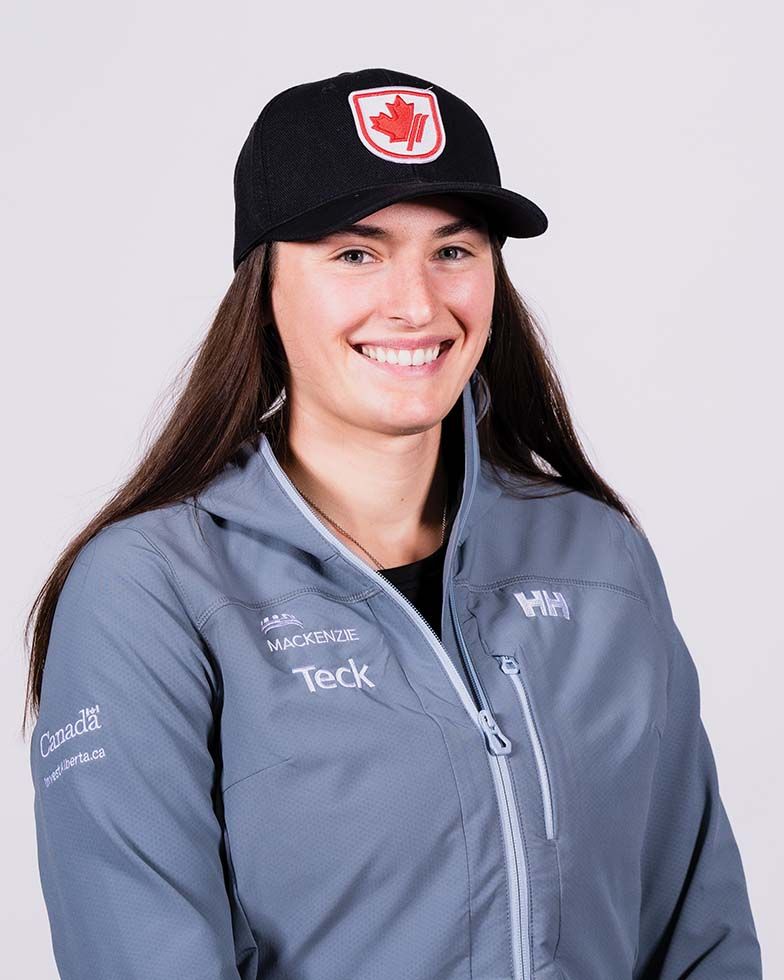 CW: With your university graduation behind you, the prospect of fewer distractions must be appealing. How do you anticipate this change will impact your training, travel and overall World Cup competition schedule? And by chance to you plan to participate in any giant slalom (GS) events?
AN: While school was definitely a massive time commitment, I was always very conscious to not let it impact my dedication to skiing to the best of my ability. So, my on and off hill routine will remain quite similar to before, however, I am looking forward to having more time to just relax and decompress from long, hard training and race days. During the past four years, I haven't had much time to reset after races without throwing myself right into school work so I am excited to be able to take it a little slower in that sense. I am also working hard towards rebuilding my GS after talking some time to focus on slalom. I have always loved training and competing in GS so it is a big goal of mine to build in training this year and race some Nor-Ams this season with hopes of starting some GS World Cups in the near future.
CW: Having grown up ski racing at Georgian Peaks, Escarpment clubs have produced countless top ski racers despite the fact that our hills lack vertical and our season is short-lived—why do you think this is, and in your experience, what can other regions learn from us?
AN: The Escarpment has produced a number of former and current World Cup athletes and I think something that has allowed that to happen is the love of skiing in the area. I fell in love with skiing even though we have smaller hills or sometimes brutal weather conditions and I feel the community played a big part in instilling that unwavering joy in the sport. As a community, the Escarpment builds a resilience through training hard, even if the conditions aren't great—if it's raining, icy, cold, slushy. When I was younger our coaches would make us go out and be productive whether or not it was the perfect training day. I also felt that we really took advantage of number of runs. Even though our hills aren't the longest, I always remember maximizing number of runs and making every run count. I think these are qualities that helped to propel me as an athlete especially on days when conditions are tough on training or race days.
CW: As the ski season approaches, our best wishes are with you, and it's safe to say that Canadians, myself included, will be enthusiastically cheering you on. Looking back on your journey, what advice would you offer to a young aspiring ski racer from Ontario who has dreams of competing at the World Cup level?
AN: My best advice would be to work hard and really enjoy what you are doing. Skiing can be such a challenging sport between conditions, injuries, and results that it can get really tiring and mentally hard to stay motivated if you don't understand why you are out there every day. If you love the sport and that's why you're doing it, then work hard to keep it fun and lighthearted when you can because that will make the journey so much more enjoyable and rewarding! E