Farmhouse Revival
By Marc Huminilowycz, photography by Clay Dolan
A retired couple with vision, lovingly transformed a 1900s Victorian home, adding special finishes, piece by piece. 
DRIVING DOWN A GRAVEL ROAD amid acres of farmland west of Stayner, a traditional Victorian red brick farmhouse stands, accompanied by a large barn behind that appears as though it has graced the landscape for centuries. Upon closer inspection while pulling into the driveway, it quickly becomes evident that someone invested a considerable amount of care and attention into meticulously restoring and modernizing the home for the 21st century.
In contrast to the opulent modern homes emerging in our region, which hold their own beauty, this project is an astonishing transformation. The original two-storey home, boasting a modest 750 square feet on each level, remains intact with its red brick expertly cleaned. A spacious board and batten addition now adorns the rear of the home, harmoniously blending with a wrap-around covered porch, original rooflines, and sleek black energy-saving windows adorned with new rock face sills.
The two-storey home dates back to 1900 when it sheltered a farming family on a 100-acre lot. In 1985, the four acres on which the house now stands were separated as a "farmers' retirement lot," while the remaining 96 acres were sold to a local farmer who tends the fields to this day. The current owners, a retired couple who once resided in a renovated cedar Pan Abode home at the base of Blue Mountain, concluded that the time had come to exchange the hustle and bustle of mountain living for a more serene rural lifestyle in the countryside.
"With the amount of development at the south end of Blue Mountain, the number of people at Blue and vehicles on the road increased," says the owner. "It was loud, busy and some days, depending on the time, very difficult to pull out of our street. We now enjoy the peace and quiet here, not to mention far less traffic." The couple still owns their Blue Mountain property, which their children and grandchildren use when they come to ski.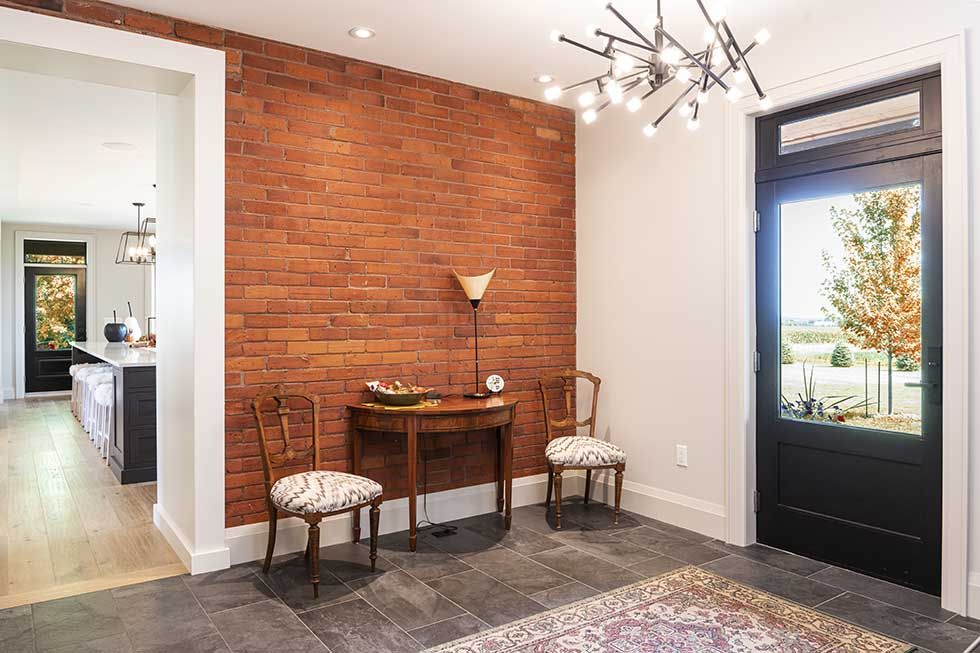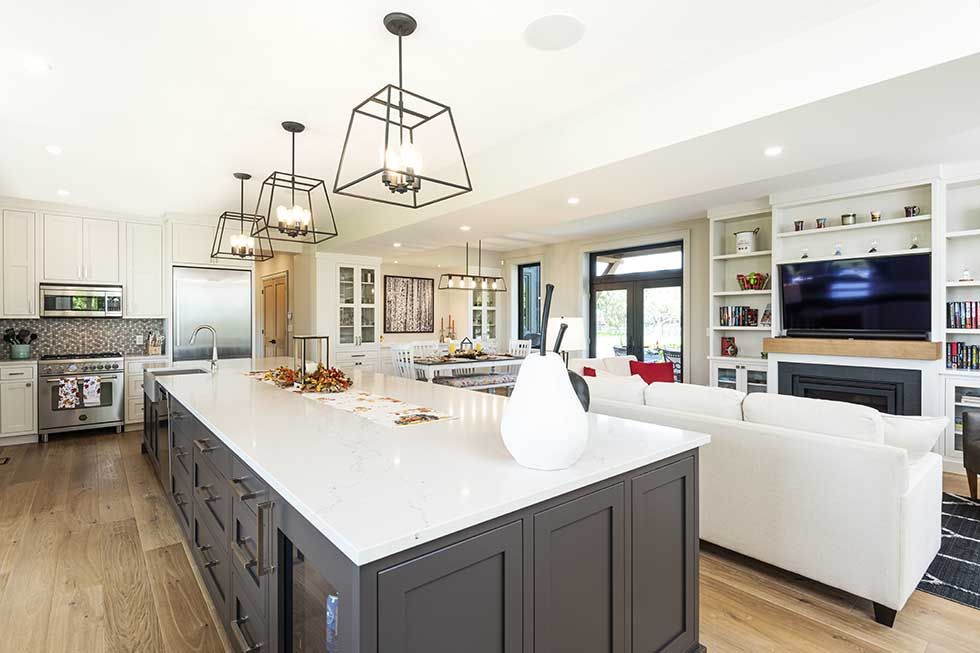 Besides offering the couple a place of tranquility, the renovated farmhouse was also designed as a family gathering place, expanded to approximately four thousand square feet including seven bedrooms and six bathrooms. 
Besides offering the couple a place of tranquility, the renovated farmhouse was also designed as a family gathering place, expanded to approximately four thousand square feet including seven bedrooms and six bathrooms. "With our kids and grandkids living in Georgetown and Stouffville, within two hours from here, our new home offers a comfortable space in which we can spend quality time together," says the owner. 
Beside the main entranceway on the east side of the home is a sign that bears its name, "The Orchard", harkening to a time when apple orchards covered the property. Stepping inside the door, comfort and good taste are evident everywhere. In the foyer is a large walk-in closet with plenty of shelving. "When family comes, they can park all their stuff here." To the right of this, occupying the entire main floor of the original home, is a spacious and light-filled kitchen/family room/dining room space dominated by an enormous eighteen-foot-long island with light Caesarstone countertop and seating for the whole family. 
At first glance, the kitchen area isn't obvious – no typical in-your-face appliances or wall cabinetry evident. "With all the windows in this area, there was no room for any upper cabinets," the owner explains. "Instead, we maximized space under the countertops and on all sides of the island for storage." Adding to the clean look of the kitchen is a fridge tucked away discreetly but within easy reach, a cooktop and an oven and dishwasher below. Adjacent to the kitchen is a more formal dining room and a family seating area with fireplace. 
On the same level within the new section of the house, you'll find an office, a guest bathroom, and the couple's master bedroom featuring an ensuite bathroom oriented towards the east to capture the captivating sunrise views. "Our home at Blue Mountain had three floors. I've had my knee replaced and my wife had her hip replaced, so it was important for us to build in one-floor living," says the owner.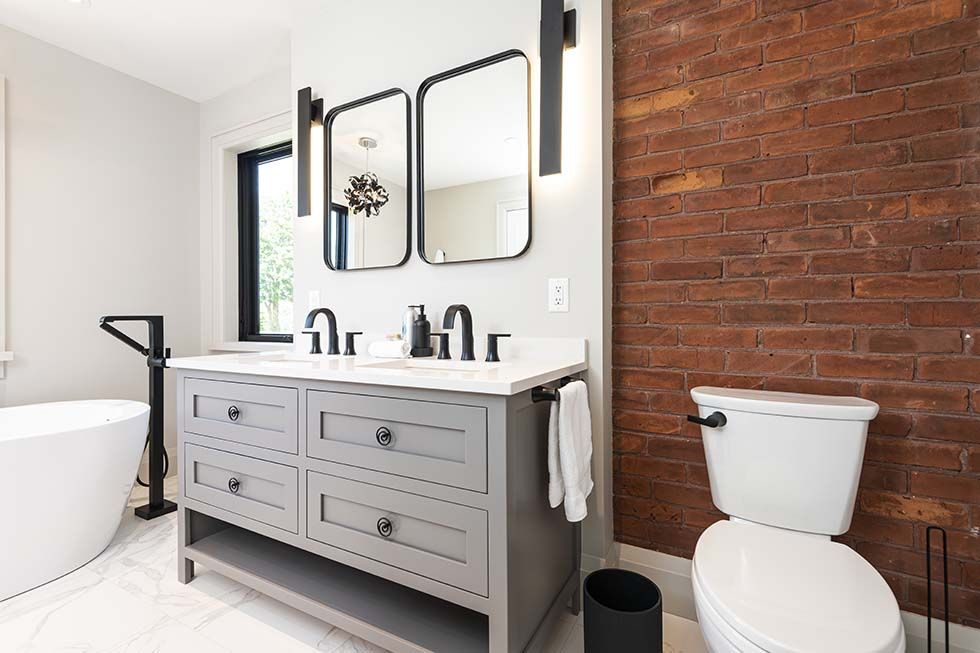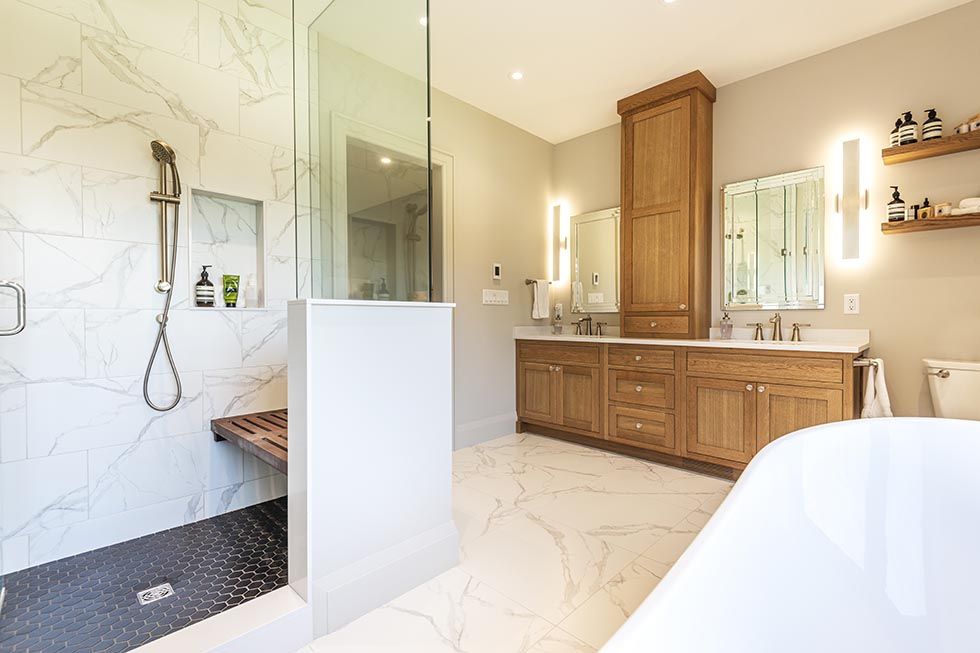 The upper level (comprising both the original house and the additional sections) accommodates the remaining six bedrooms. This includes two master bedrooms with attached ensuite bathrooms for sons and daughters-in-law, four bedrooms for grandchildren and guests, and two communal bathrooms. "We have three masters here," the owner adds. "It's great. Our kids come up, and they each have their own room with a king-size bed and ensuite – a place to do their own thing. The grandkids had a choice of their own bedrooms with two twin beds, one with an ensuite. When they came to see the house for the first time, our ten-year-old granddaughter was thrilled to be able to pick her own room, and guess which one she chose: the one with the ensuite. They all have a great time splashing around in the tub!" 
To accommodate the family's needs, the upstairs bedroom area is well-appointed with good-size closets and plenty of built-ins, including slide-out storage under the beds. Firm believers in shopping locally, the couple sourced all of the home's furniture in Ontario versus overseas. "Our living room furniture, manufactured by Brentwood in Toronto and Palliser in Winnipeg, was bought from Macdonald's in Meaford. The dining table, etc., and the bedroom furniture all came from Chatterson's in Collingwood. It was manufactured in Ontario by Vokes Furniture in Durham and Crate Designs in Chesley, as well as Canadel in Quebec.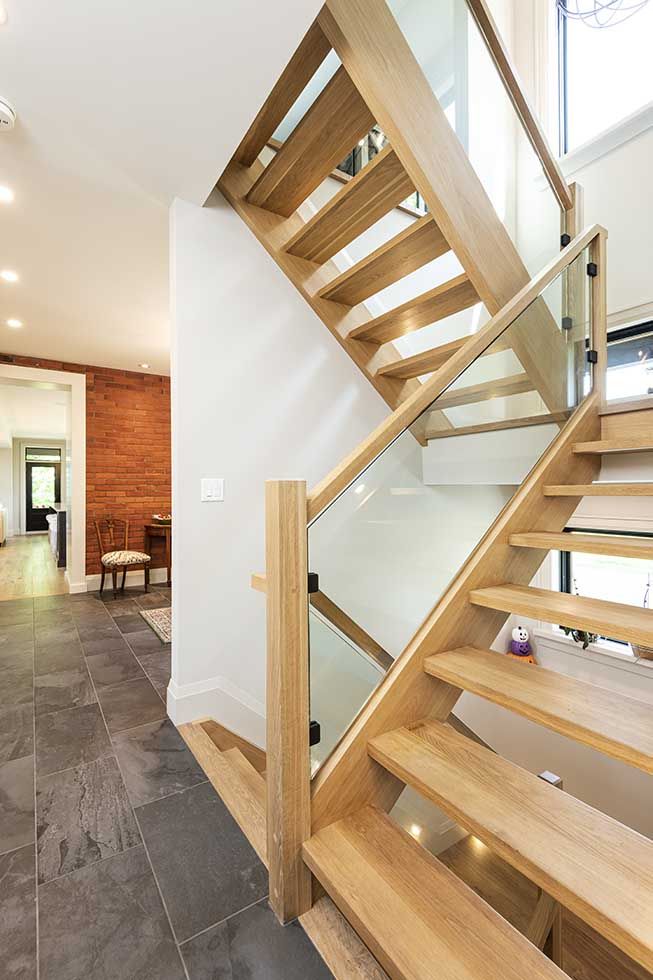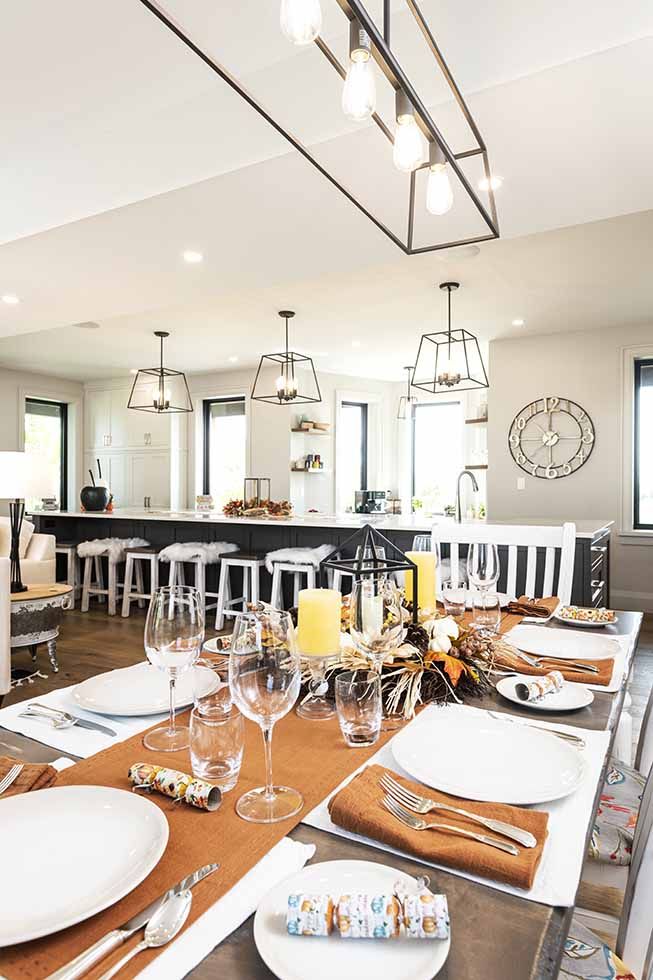 During the home renovation, a crucial factor for the couple was to retain as many aspects of its heritage as they could. These details included exposed red brick on some interior walls, transom windows containing original glass above second-floor doorways, and a refurbishment of the home's original two-storey nook including windows, which now serve as cozy gathering areas between the bedrooms. Throughout the home, engineered oak hardwood floors and oversized solid oak doors stained to match the floors merge everything together. 
Relaxing on a spacious new patio on the west side of the home overlooking a pool and cabana set among heritage apple trees, the couple's builder, Gord Zeggil of Mountain Ridge Custom Homes, reflects on the challenges and opportunities of the project. "The original wood sills on the two-storey nook had some rot and subsequent water damage to the brick below, causing cracking in the brick and breakdown of the mortar joints," he says. "Because this was such a beautiful architectural feature, the owners and I decided to replace and repair it from the bottom up, utilizing reclaimed brick and the details that originally existed. It's a great feature that blends well with the new design."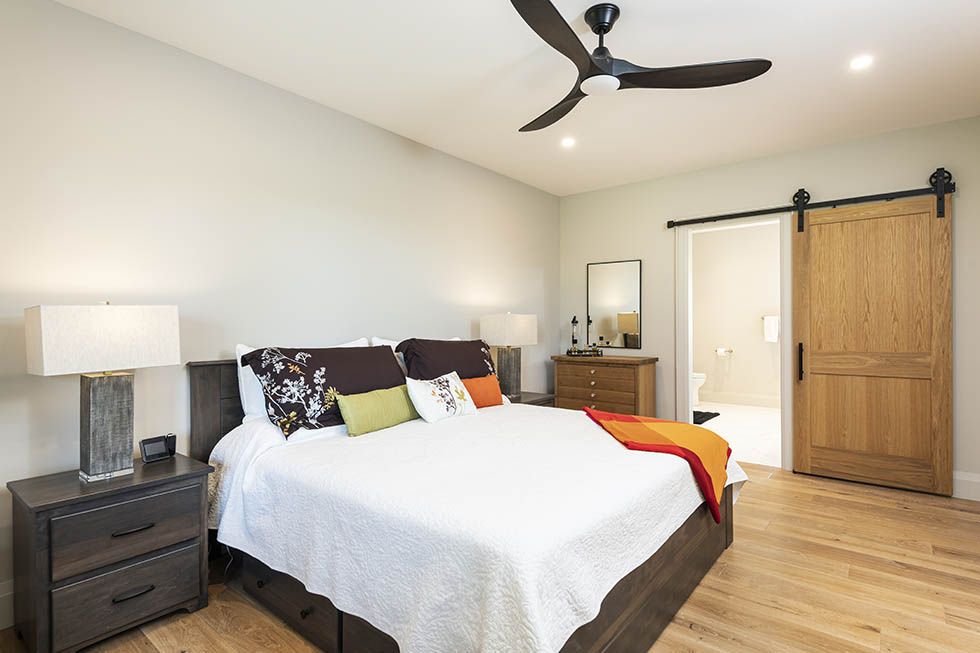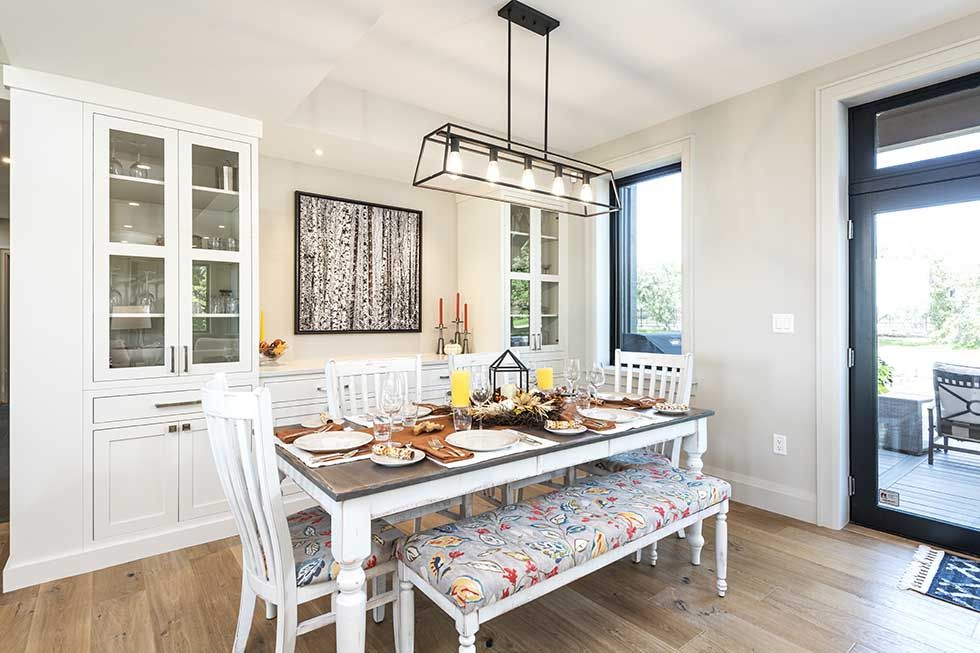 The original two-storey home, boasting a modest 750 square feet on each level, remains intact with its red brick expertly cleaned. 
The red brick on the house was soda blasted to restore its original look, then sealed to maintain its appearance for many years to come. Because homes of this vintage were typically built on a fieldstone foundation, it was an area that needed inspection. "It's the first thing we look at when we're dealing with red Victorians. Fortunately, the foundation of this home was in very good shape," says Gord.
According to Gord, the only thing that needed to be done with the foundation was preventing water from seeping into the basement. This was accomplished by installing new internal drains, weeping tiles, and a sump pump. To keep the entire home comfortable throughout the year, high-performance Jeld-Wen windows were installed, the entire home was insulated with spray foam insulation, and a generator was added to keep everything running in the event of a power failure. Combined with a modern heating, cooling and ventilation system, a dry, comfortable and energy-efficient home was created.
"As a small family company, we like to form close working relationships with our clients," says Gord. "For us, it was important to have regular consultations with the owners of this home with collective input every step of the way, from establishing their primary need – a family gathering place – to initial design, to suggesting solutions that were more cost-effective but still look great, to regular meetings with the architectural designer, to design tweaks, and finally to the permit stage." 
This retired Blue Mountains couple set out to create a quiet retreat far away from the commotion of mountain life, with plenty of room for visiting family. Rather than building a new home from scratch, they bought a 1900 red brick Victorian home and lovingly restored it, transforming it into "The Orchard" – a spacious and elegant family gathering place for future generations to enjoy a refined country life. E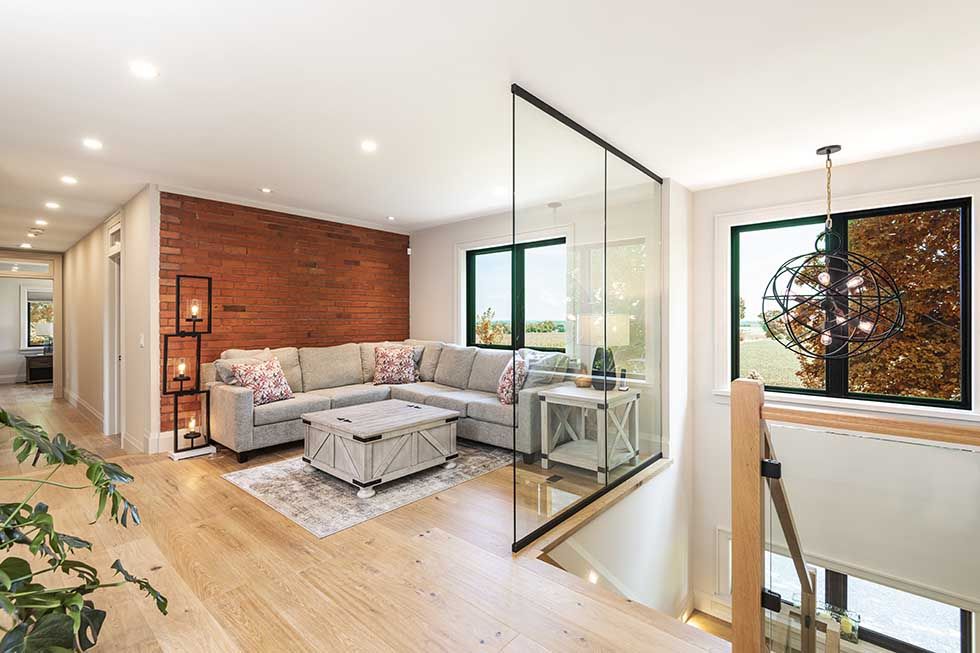 Post-renovation photos – click arrows to see more photos
Source Guide
Architect – Klayton Weston
Contractor – Mountain Ridge Custom Homes Inc.
Fireplaces – Chantico Fireplace Gallery Inc.
Millwork – AV Custom Woodworking
Flooring – Muir Concrete Floors Inc.
Landscaping – AJ's Landscaping
Windows & Doors – Collingwood Home Hardware
Fixtures – Georgian Design Centre
Masonry – D'Alimonte Masonry Contracting Ltd.
Plumbing – Noble Plumbing & Roger Burkholder Plumbing
Drywall – Downey Drywall Plus
Landscaping – Falls Land Services
Alarm & Security – Huronia Alarm & Fire Security Inc.
Building Materials – Hamilton Bros.
Electrical – Lorne Bunn Electric Ltd.
Mechanical – Nottawasaga Mechanical
Tile Work – New Style Tile
Soda Blast Brick & Seal – Ontario Stain & Blast
Trusses – Rob's Crane Rental Service Inc.
Railings – Stairhaus
Countertops – The Granite Company Inc.