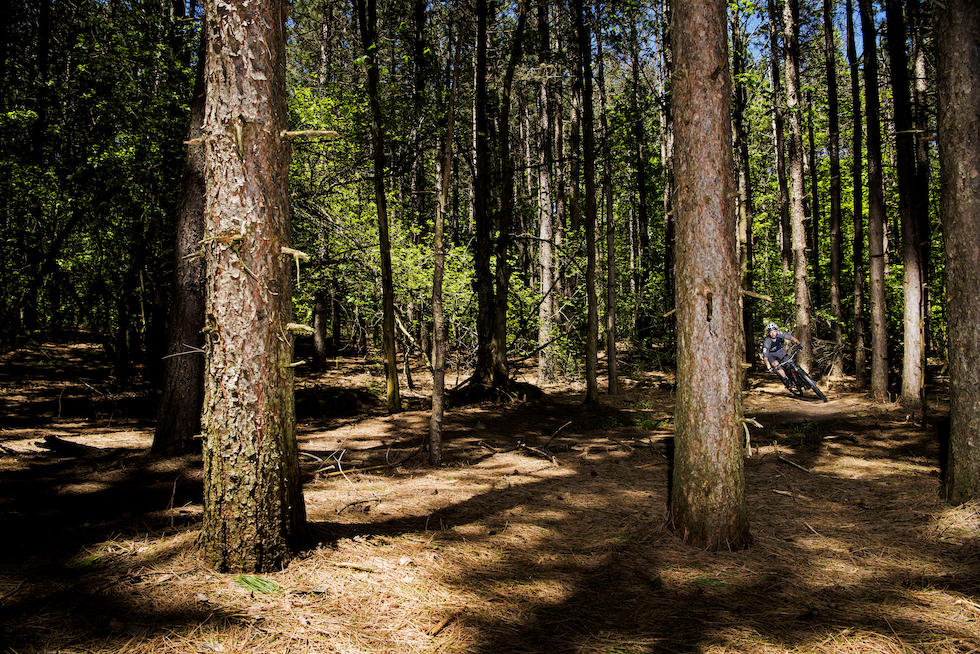 James Frost at Three Stage
By Cara Williams. Photography by Clay Dolan
With over 75 career starts, 27-year-old competitive downhill mountain biker James "Frosty" Frost has been representing Canada, and his hometown of The Blue Mountains, on the world stage as a member of the Canadian Team competing on the Union Cycliste International (UCI) Elite World Cup. Downhill mountain biking (DH) is a race against the clock in which the rider negotiates a succession of fast and technical obstacles, while rapidly descending. At speeds up to 80km/h, competitors are highly skilled, courageous and undoubtedly a little nuts. Frosty is known for having extremely strong piloting skills which come in handy when affronting tree roots, banks, berms and bumps — all of which are found in abundance on UCI Elite DH courses.
The first mountain bike competitions were held in California in the early eighties. Since then the sport has seen steady growth. As luck would have it, the Escarpment is one of the best natural training grounds for DH mountain biking. Frosty trains at Blue Mountain Resort, Ontario's largest bike park, which was designed and built by world renowned trail builders. While there are a number of cross-country trails, the Blue Mountain Bike Park is primarily a DH destination that caters to all ability levels. Frosty can often be found at Blue's "Tuesday Night Series", a grassroots DH race series which fosters the sport of downhill bike racing while maintaining a relaxed, fun, social vibe. I caught up with Frosty on a rare break in his competitive schedule.
Escarpment: You have spent an impressive 13 years competing, nine within the UCI Elite field – when and where did you start downhill racing?
James Frost: My first downhill race was at Blue Mountain! I was in the U17 category, which was called "Cadet," and it was an O Cup event. We raced O Chute, and it was a wild ride on my old Santa Cruz Bullet, with 26-inch front wheel, 24-inch rear! Imagine that combination, unheard of nowadays! I think I placed 6th or 7th, and I was happy. And obviously hooked.
E: What is it like to race O Cup and World Cup?
JF: We are on a bit of an extended "pause" when it comes to O Cup racing in Ontario, as there hasn't been an O Cup series operating in the province for quite a few years now. It takes a dedicated event promoter, strong participation and attendance, sponsorship, insurance, money, time, volunteers, etc., to make a successful MTB series operate, and we currently don't have all those necessary resources to make a go of it. Maybe someday it will come back! As for other racing series, the World Cup is the pinnacle, I have been fortunate enough to enter one, and I hope to be able to do it again! My focus primarily remains on Canada Cup, Pro Gravity Tour and Eastern States Cup Series (the latter two both series in the USA).
E: Where is your favourite place to ride?
JF: Time on two wheels is good with me anywhere. But I've been having a great time at Mountain Creek Bike Park in New Jersey this year, so I will pick that for now.
E: Do you prefer flow or tech trails?
JF: No preference, there is a time and place for both. I love hitting jumps and corners as much as I enjoy picking apart a technical rock or root line. Good to be well practiced in all styles of terrain, and obviously have fun while doing it!
E: You work with the Youth Development Program at Collingwood Cycling Club/Pedal Pushers—why do you think kids should get into the sport?
JF: The Pedal Pushers gig is new to me, and so far, I'm really enjoying it! MTB or cycling in general is such a strong developer sport, and carries many teachable skills, qualities and experiences that translate to everyday active life and health. And did I mention yet that it is the most fun ever? Some of my best childhood memories are of riding my bike with friends, hitting jumps, falling down, then getting up and doing it again! Thank you, Noelle Wansbrough, for letting me be part of your amazing program!
E: Who is your biggest cycling influence?
JF: I always liked Steve Peat—guy is a legend. Hard charging, good personality, had fun on and off the bike, a GOAT of the sport.
E: How do Canadian riders stack up against the best in the world?
JF: There is a large and very talented (and very fast) pool of Canadian athletes performing across the globe at all sorts of events. I'm a fan of cycling, so I follow many of the events closely, and it is always inspiring to see friends of mine and fellow Canadians landing on podiums and achieving their goals on the international stage.
E: Injuries come with the sport – how have you come back mentally and physically?
JF: Injuries are not fun, but can be extremely motivational in the right head space. I continue to come back strong and confident because I work really hard to be prepared for any outcome and I don't let the injury alter my routine. Once the disbelief or sadness passes, its right back to work with building my confidence and body back up to be stronger on the return to the game. I'd like to thank Active Life Conditioning (Coaches Sarah, Mark, & Cait) for helping me achieve my MTB goals through strength and conditioning all year.
E: What's the coolest innovation in cycling as of late?
JF: To date I am so fired up about my Downhill bike because it has 29-inch wheels and it all works so well. In a sport that evolves at sometimes an uncomfortable rate, the 29-inch Norco Aurum HSP is the coolest cycling innovation in my life.
E: My husband Dak suggested I ask you this: are the wheel size wars over?
JF: The war is over, 26″ is dead, 29″ prevailed, ha-ha! I only have 29ers now, something I would have frowned upon a few years ago.
E: What's your take on E assist bikes?
JF: E Bikes are a blast, and I would totally own one if I had a group of people to ride with that ALSO owned E Bikes. I would never ride an E Bike with a group who are on normal bikes, that's weird.
E: I imagine you could live anywhere – why do you choose to call the Blue Mountains your home?
JF: Blue Mountains and the Collingwood area is home. I moved away to BC for a few years and had some fun, however injuries and new employment opportunities brought me back and I have zero regrets! We have great trails, great people, and a thriving cycling scene here – I have no plans to leave anytime soon.
E: What does the next year look like for you?
JF: This summer includes around 15 races, which will be my fullest race calendar ever! This is exciting for me because I have always wanted to focus more and more on racing and riding my bike all summer with minimal distractions. I continue to work with Beaver Valley Ski Club through the Summer and Winter, along with some other event work on the side. I would also like to keep working at being an ambassador for the sport, helping the next gen get into riding bikes!
E: Where do you see mountain biking going in the next 10 years?
JF: Better trails, faster bikes, even more participation, and unfortunately some new industry standard that we will all hate at first, then celebrate later.
E: Final question – Strava?
JF: Heck yes! Good for battling your friends and for use as a training tool for personal growth.
Frosty is currently supported by Norco Bicycles, SPY, Deity, Royal Racing, 7 Protection, is a brand Ambassador for Norco Bicycles and Sea Otter Canada. |E|