Alpine's New Digs – words Cara Williams. Photos Clay Dolan
With a unique and contemporary design by CGL Architects and contributing architect David Pontarini of Hariri Pontarini Architects, the new lodge at Alpine Ski Club embraces the spectacular Escarpment and Georgian Bay views and introduces a new era of functionality for Alpine's members and guests.
Coming in on time and on budget at just over $11 million, the new 45,000 square foot lodge boasts indoor seating capacity of 1600 (200+ on the patio), nearly double the capacity of the former clubhouse.
Building began in May 2015 and required tight timelines and scheduling to ensure the structure was closed-in before the snow began to fly. During this time the previous clubhouse remained operational while construction on the new lodge continued indoors.
The original Alpine clubhouse met its demise this past fall, when it was demolished and in its footprint is now an expansive meeting area. Flattening out the base area was a necessary challenge as it meant that the terrace of the new building would only be a few steps up from the compacted snow base and virtually level with the base of the Summit Chair. No skating required!
What it did require is a significant amount of fill; almost 15,000 cubic yards or 750 dumptruck loads in total.
General Manager, Bill Williams is thrilled. "This area offers up ample room for the many program meeting needs and equipment racks, among other things. It also opens the access to the bridge to the north and reduces the pedestrian /skier/snowboarder congestion of the past."
Inside, the space is well thought out and efficient, with a clean, modern esthetic that is at once cozy and minimalist. Expansive views abound from every side of the building, aided by floor to ceiling windows. The 'Georgian Room' boasts almost 180-degree views of Georgian Bay, while south facing 'Ascot Hall' (the signature room) looks directly towards the slopes. The adjacent sun-drenched patio is warmed by patio heaters and is equipped with a bar kiosk window so there's no need to stray far from the gas fire pit at après. A new bright nursery area welcomes Alpine's youngest members, and racers now have their own 3,000 square foot 'Athletes Room' with seating for over 220 and state of the art audio video system to aid in coaching.
The building is fully accessible featuring wide common spaces, an elevator and touch-less toilets, sinks and drinking fountains. All doors have climate breaks to prevent the free exchange of indoor and outdoor temperatures. Well over 100 speakers are built in to the structure, providing the latest in audio, video, security, telecommunication, and data services which will be fully rolled out in future seasons.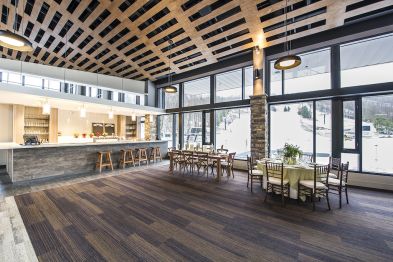 The restaurant is designed to accommodate large traffic with ample service counters and multiple point-of-sale stations. There is also a bank of microwaves and long condiment counter reminiscent of Blackcomb's Glacier Creek Lodge. And of course Starbucks coffee is brewed just steps from the main entrance making for a convenient early morning caffeine fix. Men with Knives Catering is the exclusive caterer for Alpine Ski Club and beginning spring 2017, Alpine welcomes weddings and special events.
"When I look back at my Alpine experience of almost 35 years, I find it hard to believe just how far we have come as a Club," said past President Philip Taylor. "I note that it took until December of 1964, the fifth holiday season of operations, for members to enjoy their first clubhouse. In fact, the original Bunker structure remained in use as the nursery and boot change area until its demolition this summer. After ten years of involvement with the building project, I can only imagine what it will be like for our founding and long-term members as we celebrate 57 holiday seasons with the opening of our clubhouse—already the talk of the community and new face of Alpine." |E|
Quotes:
Alpine Ski Club, owned and governed by its members, is one of a small community of private ski clubs offering their members access to a family-focused ski and snowboard experience.
In the building of the clubhouse and surrounding aesthetic updates, Alpine made an overnight change from a rustic and traditional style to one that's contemporary and progressive.
~Bill Williams, General Manager
'Game changer,' 'awesome,' and 'brilliant' were some of the superlatives I heard when touring members through the clubhouse. Each time I let out a private sigh of relief.
~Manfred Berg, Director of Infrastructure