Crafty Business – words and photos by Heather Goldsworthy
Seeing clever names like Hoptimus Prime and Hauling Oats on store shelves, label designs that are works of art, festivals, brewhouses and tasting rooms popping up, many folks are asking—what is 'craft beer' all about? Is it taking over?
First, a little clarity on the terminology. Craft brewers use high-quality malted grain and hops, traditional brewing styles and brew in batches smaller than 75 hectolitres. Micro brewers are generally considered breweries that produce less than 100,000 hectolitres annually. Both micro and macro brewers can produce craft beer.
When looking at volume, micro breweries only produce 10% of all beer produced in Canada. While it will be some time before the two biggest producers, Molson Coors Brewing Co. and Anheuser-Busch InBev, lose the market the micro brewery segment is showing steady growth and Ontario brewers are leading the way.
While overall beer sales in Ontario only increased by a marginal 0.2% last year, the LCBO reports that sales of craft beer has increased by a whopping 35.9%. So why is such a small niche market getting so much attention?
Ontario has quite an interesting brewing heritage. From 1793 when the first brewery was opened, through prohibition and bootlegging in the early 1800's, The International Union of Brewery and Distillery Workers (one of the first labour unions in Canada) forming in 1902, to a resurgence in 1980's with the opening of a few micro breweries, there has been steady action in the Ontario beer market. In 1993, after five years of decline, beer sales began to increase thanks to the growing popularity of craft beer.
Brewmasters were wanting to make great tasting beers, using high-quality ingredients and honoring traditional brewing styles. At the same time, consumers were wanting quality products, with unique flavours, made by people they know. After decades of drinking beers that were basically interchangeable consumers were thirsty for something new. From lighter style Lagers, Pilsners, complex Wheat, Ales and Bocks, to rich Porters and Stouts – craft brewmasters were satisfying the consumer's desire for variety, flavour and quality.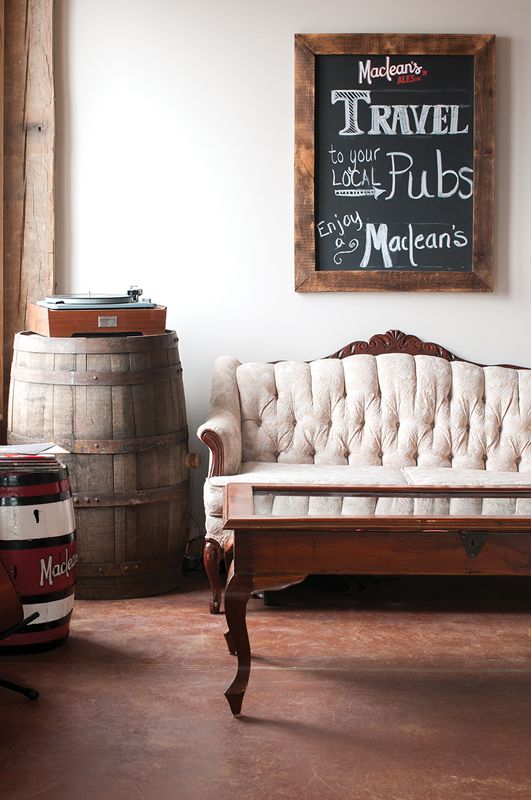 Charles MacLean is considered one of the pioneers of the craft brewing renaissance. Since 1985, when he opened the Wellington County Brewery, Charles has started numerous breweries and helped many others get their start. Currently MacLean's Ales produces over 400,000 litres annually in their Hanover brewery.
The number of craft brewers in the province has increased 70% over the last five years. Of all beer produced in Canada (micro and macro breweries) 41% is brewed in Ontario. The Ontario Craft Brewers reported that there are over 140 operating craft breweries, another 50 contract brewers who brew out of the operating breweries, and there are over 130 others who are in the planning/concept stage.
The craft brewing industry is booming in Southern Georgian Bay. Collingwood alone is home to three thriving breweries; Collingwood Brewery, Northwinds Brewery and Side Launch Brewing Company. In total, the region boasts 13 breweries including Kilannan Brewing Company, Tobermory Brewing Company, Neustadt Springs Brewery, Outlaw Brew Co., Barnstormer Brewing Co., and two contract brewers—Black Bellows and Wasaga Beach Brewing Co.
What makes this area so special?
As anyone who lives and plays here knows, Georgian Bay is a mecca for lifestyle and recreation. What better way to apres after a bike ride, hike on the Bruce Trail, or day on the slopes or water than with a crisp, cold brew? Community pride certainly plays a part too as residents choose to buy from folks they know and sip locally.
Breweries have long held a place in local communities producing beers that reflect the personality of the community and the breweries here are no exception. Beer names like Northwinds' 'Old Baldy', 'Pretty River' and 'Three Stage' pay homage to local bike trails, paddling spots and climbing crags.
Collaboration and community is a key factor in the success of our local breweries and there is a strong relationship between brewmasters, farmers and chefs in the area. Local growers, Bighead Hops and Clear Valley Hops, provide hops for breweries locally and province-wide. Chefs are incorporating local beer into their dishes and servers are offering beer pairing suggestions to diners. Brewmasters are also combining forces to create colab brews such as the Alt Bier by Bryan Egan (Northwinds) and Chris Freeman (Collingwood Brewery).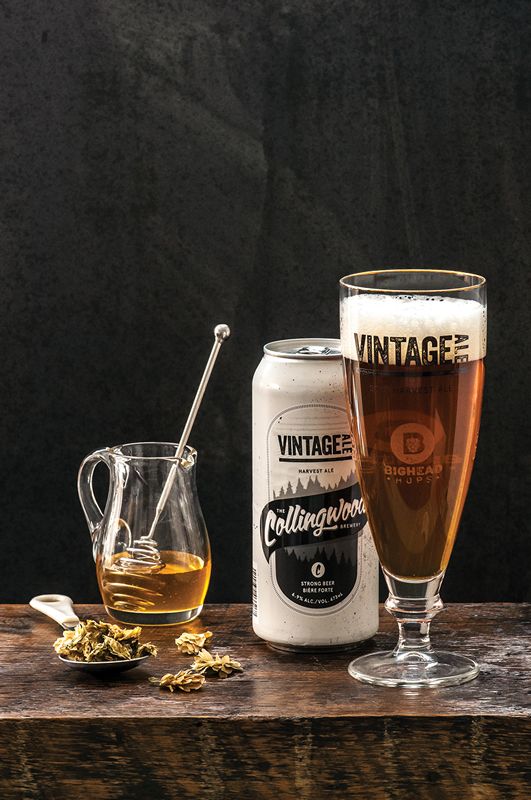 Many breweries are incorporating locally-sourced ingredients into their brews– such as Collingwood Brewery's seasonal Vintage Ale which is flavoured with fresh, organic hops from Bighead Hops and Beaver Valley Gold honey.
It's not just the locals who are fans of the beer around here. Our breweries are garnering praise on the national stage. Side Launch Brewing Company, Flying Monkeys Craft Brewery and MacLean's Ales all took home medals at the 2016 Canadian Brewing Awards – including Side Launch being named Brewery Of The Year.
The craft beer industry is an important part of the growing economy and agri-tourism sector, and a proud part of our heritage. Annual events like the Bighead Shindig, Copper Kettle Festival, and the Craft Beer & Cider Festival celebrate the local brew scene. There is even a self-guided trail devoted to exploring the history of beverage producers in the region. The Saints & Sinners: Bootleg Map can be used to explore Bruce, Grey and Simcoe Counties and tour farms, facilities, enjoy tastings and learn more about the history of the breweries, wineries and cideries in the area.
While craft beer may not be taking over there is a lot of success to be celebrated. Over a pint of course. |E|
When Blue Mountain Resorts decided to  
develop
a brew to commemorate their  
75th Anniversary they contacted
Creemore
Springs Brewery. Blue Mountain envisioned
a
beer that was light and easy-drinking.
a
beer that would represent the year-round experience the resort is known for. Excited by the idea,
Creemore
Springs created a crisp and refreshing unfiltered
Kölsch
-style Ale for the occasion. 'Smart Alec Ale'
is set to be released
late January 2017.