A Cold Snap
By Cara Williams
Photographer CAM POWELL lives by the mantra, you make your own luck. "You're never going to capture anything if you're on the couch—so, if you're not out there, you're not going to have much luck." Over the past decade or so, Cam has been honing his craft capturing wildlife 12 months a year. However, his favourite species to photograph, the snowy owl is most active during our long, Ontario winter. "Snowy owls are sort of a snapshot of the Arctic. And like the Arctic, the worst weather is often the best weather for shooting."
Unlike other owls, snowys are diurnal. Having adapted to the 24-hour daylight of the Arctic, they hunt during the day, so spotting them is somewhat easier. "White on white is tricky, so it's more of a size and shape," explains Cam. "They might be on a silo, they might be on a fence post, or a hydro line. It's really just all about driving a few concession roads and seeing what I can find."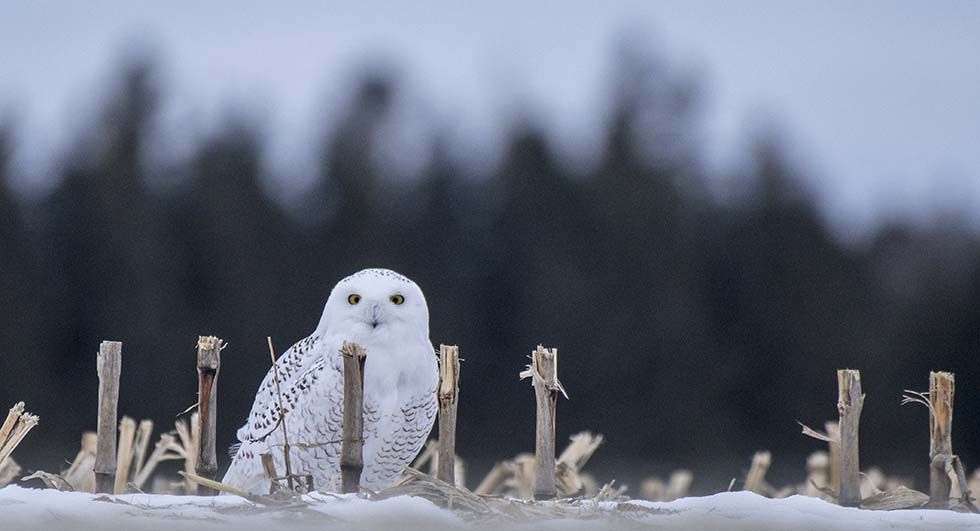 Certainly, one of the more challenging forms of photography, capturing winter scenes requires sound technical skills, such as being able to expose correctly.Wildlife photographers generally exhibit good field craft skills—knowledge of the animal's behavior is a must in order to be able to predict its actions. Cam is a big believer in apps to help him with his 'luck'. He uses apps like iBird Pro and Merlin Bird ID as well as iSolunar, which predicts peak feeding and wildlife activity. "It's a bit of a scavenger hunt," explains Cam. "If an owl is hunting meadow voles, iSolunar outlines when the voles will be active so I try to be out during those peak hours of activity. Of course, Mother Nature will throw you curve balls. You don't necessarily need to travel for birds—birds will come to you. But you need to know your terrain, your environment, so for me, a lot of it is trying to understand the territories, when birds migrate and when they move around."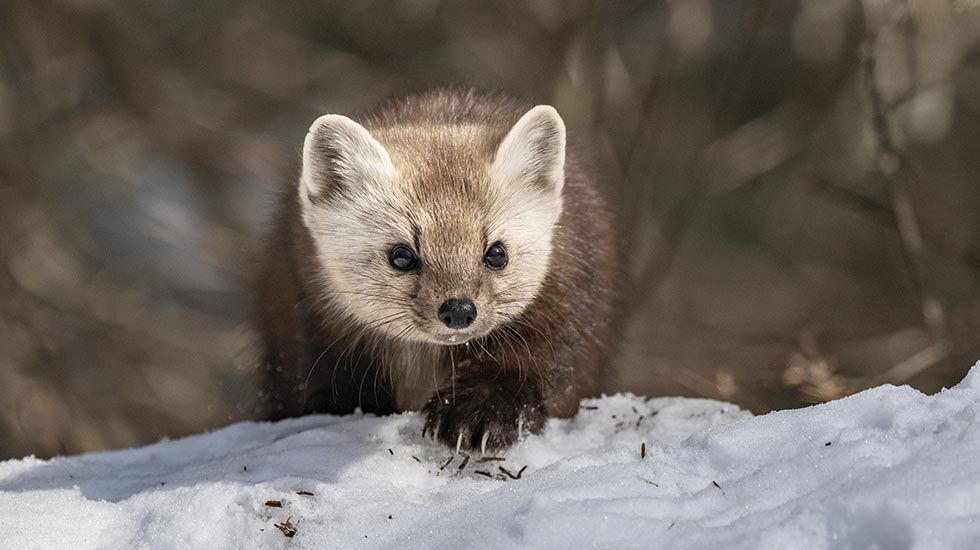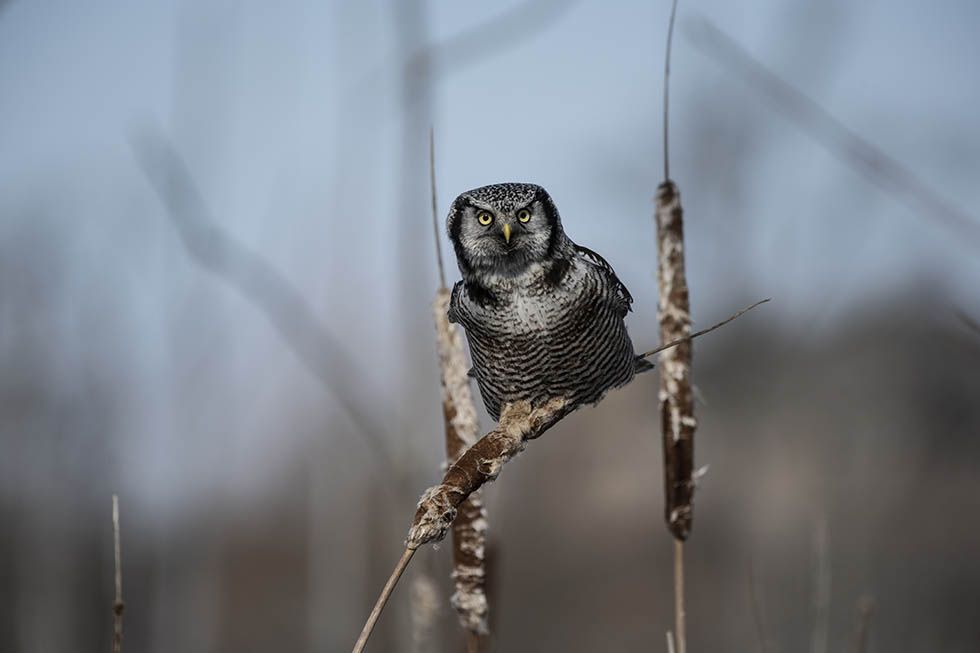 Baiting and trespassing are major con- cerns of wildlife photography critics. Cam respects this and often sticks to the water, having great luck in and around our local harbours. "Because they have wings, snowy owls move around a lot. So, it's just looking at berms of dirt and grass, and looking for a perch."
Cam has a $20 "cheap gas" rule; fol- lowing this, he'll travel rural concession roads looking for "the shot" until his gas gauge points to empty. Another of histactics is to take two lefts and a right, stop the car and see what he can capture on film. As for fancy lenses and photographic tricks, Cam keeps it simple. "The gear that I have, is the gear that I have. I don't invest in crazy lenses, and I never use Photoshop. Some days are better than others." More important than equipment, is preparedness. "If you're going to go out, set up at home. Make sure your batteries are fully charged, and that you have enough memory avail- able on your card. I go out early so I can be ready at first light. When I'm shooting in -30°C temperatures, I don't put my camera back in the car. Invest in a cover for your camera lens—I keep my camera out but I keep the battery in my pocket. It's all about light, memory and batteries—and managing the three."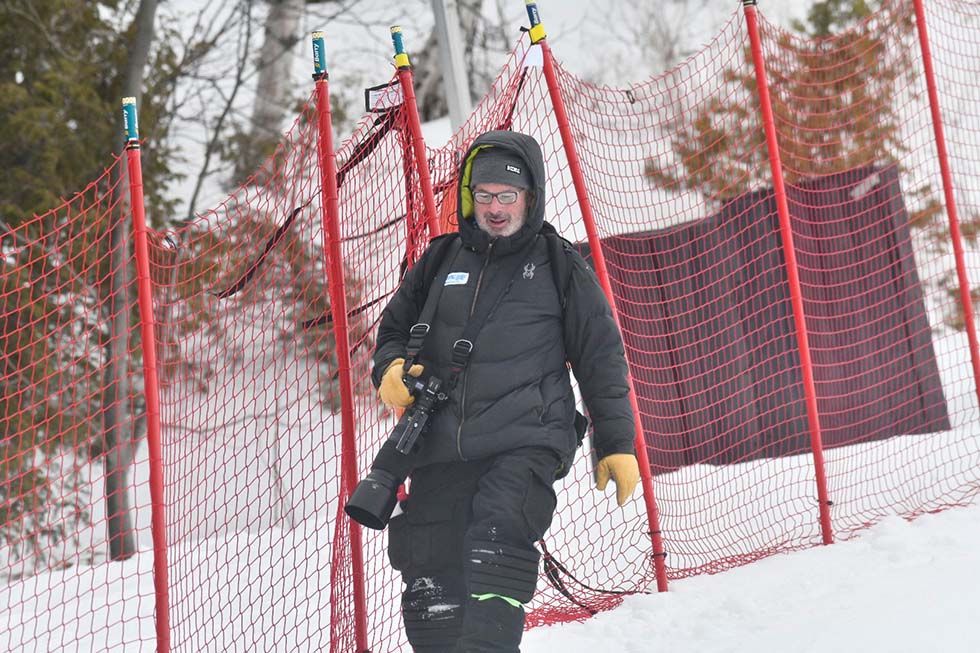 Cam's photography isn't limited to owls, he also regularly photographs eagles, hawks, falcons, osprey and dozens of bird varieties and wetland creatures. When asked if he has a preferred image he explains, "I don't really have a favourite picture—it's the next one I'm going to get. It keeps me going. It's always an adventure." Find Cam at Squire Johns in Craigleith and view his portfolio at camerontpowell.info
If you've ever ski raced at one of the Escarpment clubs, chances are HERMAN KOESLAG has taken your picture. Herman grew up with a love for photography, aviation and skiing and was one of the founding members of the Huronia Radio Control Club in the mid 1970's. He went on to found his own company Eye In The Sky Custom Aerial Photography in 1995. In 2002 Herman was invited to photograph the Pontiac GMC Cup at Georgian Peaks. "That first day on the hill I didn't have crampons and I had old, rear entry ski boots," remembers Herman."One of the prerequisites of me being allowed to photograph the racers was that I could not interfere with the race or go on the course. Well… I got distracted, chatting with someone at the side of the course, and I slipped—I slid down the entire pitch of Rogers Run with my camera in my hand, finally coming to a stop in the middle of the course while the race was underway. That was my first day."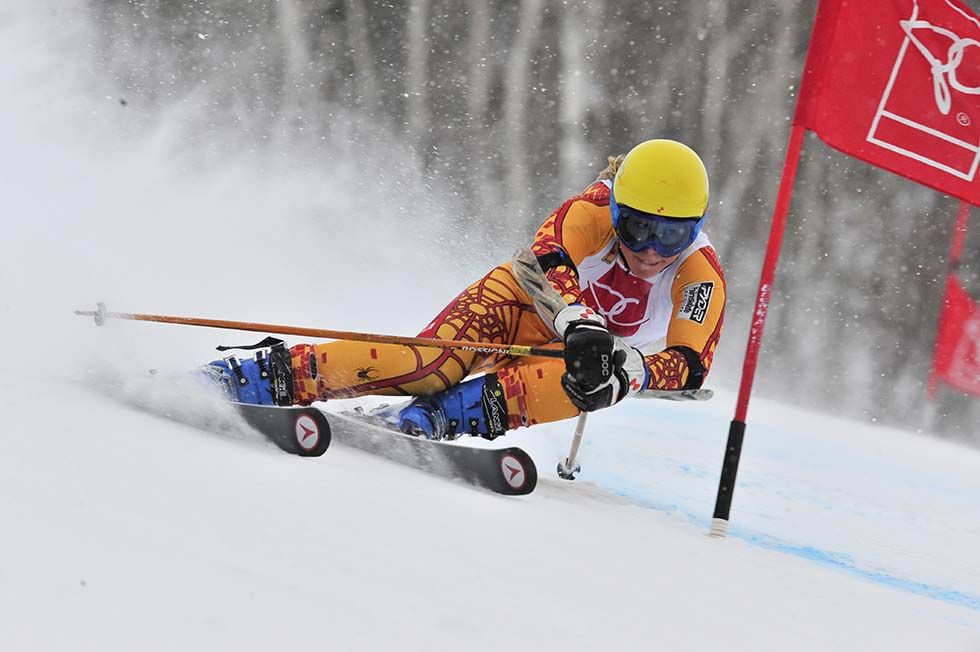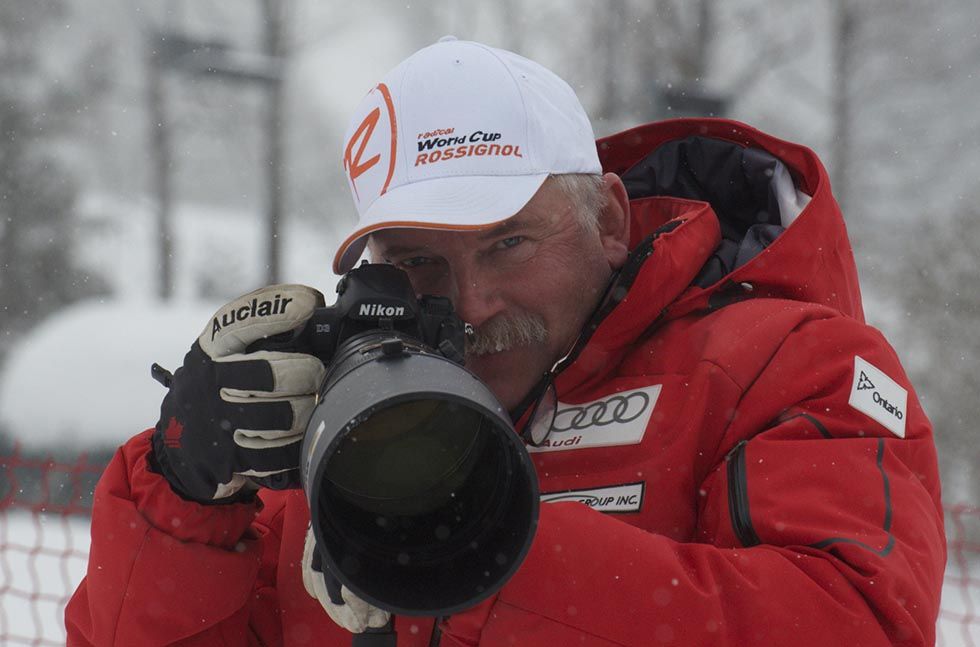 Despite his public humiliation, Herman stuck it out, and it's a good thing he did —he demonstrated a genuine talent for capturing racers in action. Herman spent the rest of that winter travelling to ski races across the Escarpment with a portable printer, selling hundreds of on-the-spot photos."I was riding the digital curve," explains Herman. "I had the best digital camera at the time and thepictures were incredible. I had line-ups of people gathered around at my computer in the lodge wanting to buy photos. That was the beginning."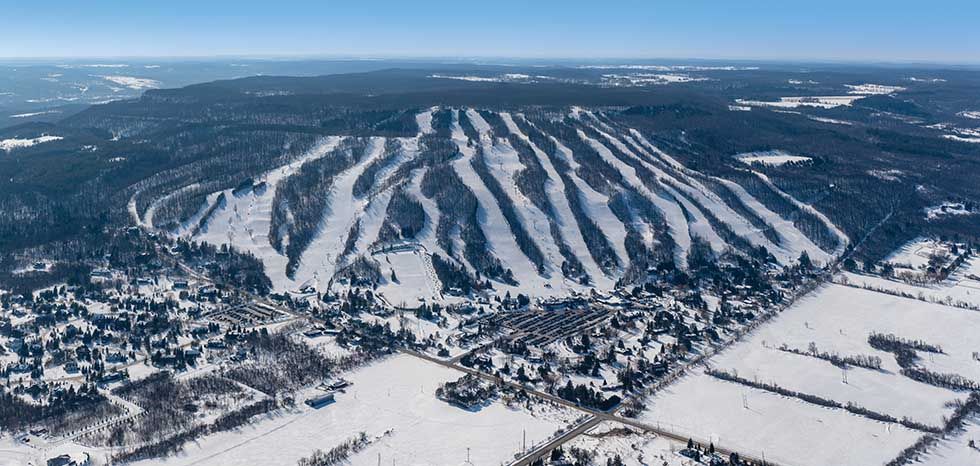 Soon after, Herman struck an agreement with the Escarpment ski clubs to access the hills to photograph racers. He also formed an official partnership with Alpine Ontario, the provincial sport organization that promotes the development of recreational and competitive ski racing in Ontario. "Shooting in the winter has its challenges. But most of the races were at the same clubs year after year and I was able to figure out with trial and error what angles gave the best action shots. There are several things to consider: for example, Georgian Peaks is particularly difficult to shoot, because where I would prefer to stand, and where the athletes tend to fall coincide. So, in order to catch every athlete's run—while they were still standing up—I'd have to shoot higher up on the hill, otherwise they wouldn't all make it to me."
Cold temperatures and rapidly changing conditions throughout the winter are the norm, especially at the top of Georgian Peaks. "I always wore my ski boots and lots of layers," explains Herman, who never did invest in a pair of crampons."In the beginning battery life was an issue, but as the years went on the technology caught up. Keeping yourself warm is the ticket, because if you're not comfortable then it's really hard to do a good job. I always tell people to watch the weather and understand the elements you're going to be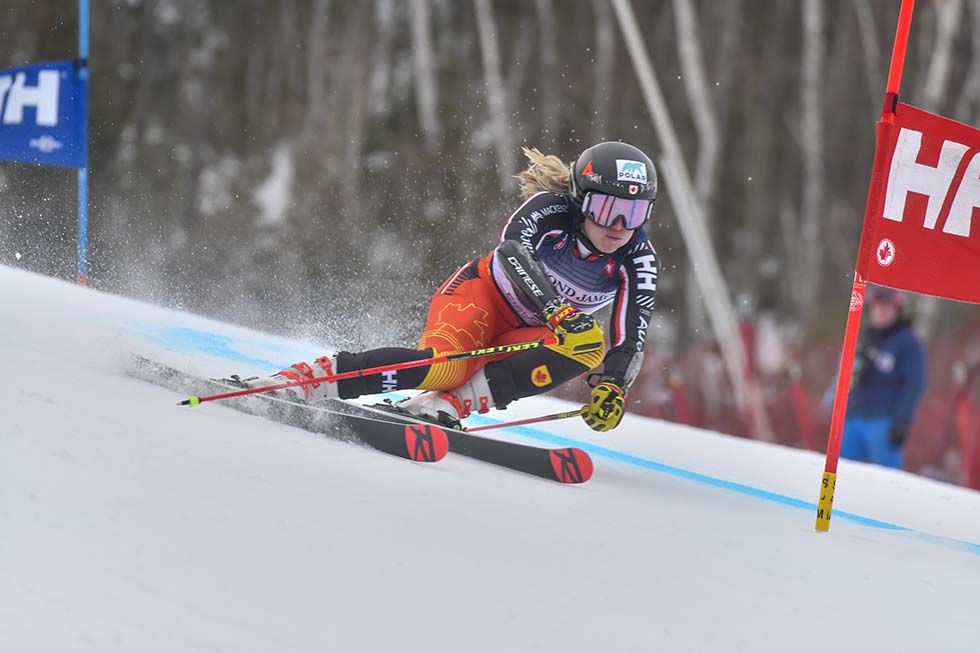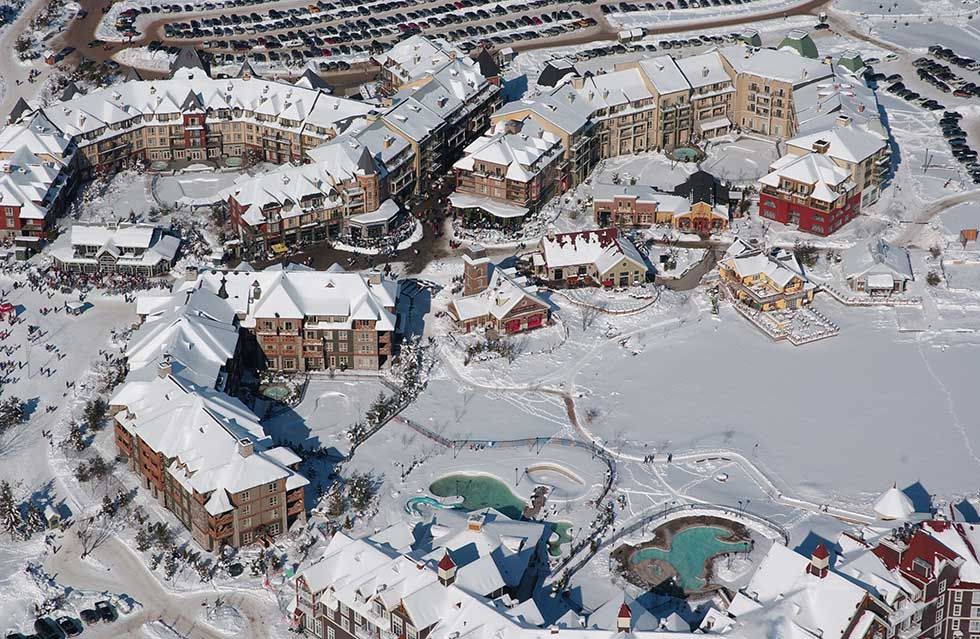 dealing with that day. It was a bit of a challenge to figure out the right hand-wear because I really couldn't wear a full glove and operate a camera. I found fingerless gloves worked pretty well and I would put my hands in mitts between runs."
Herman became a member of Nikon's Professional Service (NPS), which allowed him to access and borrow equipment rather than purchase outright."If there was a certain lens I needed for a specific race I could get it from NPS." Herman's camera of choice is the Nikon D850, which at eight frames per second at full resolution is in his words, "all you need for ski racing." Once the internet became more accessible, Herman established a website where he would upload all his images and parents/athletes could purchase a direct download—no more travelling with a colour printer and hanging around the lodge two hours after the race wrapped.For more information, visit eyeinsky.ca
Winner of the Canadian Governor General's Medal, photographer MARK ZELINSKI'S career has taken him to over 80 countries, including expeditions to Antarctica and the Canadian Arctic. In 1989 Mark joined a cross-cultural group comprised of Inuit and "southern Canadians" on an Outward Bound dog sled expedition across Baffin Island. Mark describes his first day; "It was a glorious morning—sunny, windless, and a comfortable -15°C. We broke camp and the skiers, laden with 50-pound backpacks departed in advance, while the remaining crew loaded komatiks and fastened the dog teams. As I photographed the sled teams disappearing round the headland of the peninsula, I became aware that for
the first time I was completely alone in this frozen wilderness." Mark began his solo ascent to the top of the fjord to capture the group crossing the bay. By the time he reached his chosen vantage point, the icy teeth of the wind had picked up considerably. "Exposed on the high rock, I positioned myself in anticipation of sighting the group rounding the distant headland of the peninsula." Keeping himself warm was a struggle— he describes running on the spot and practicing Tai Chi until his body reached a temperature just below sweating. "Body moisture is perilous when exposed to sub-zero temperatures, so it was important to layer clothing and never break a sweat." It was nearly two hours until the dog teams and skiers appeared as a row of tiny black dots moving on the frozen bay. The resulting photos are breathtaking.
Like many artists, Mark is equally as inspired by beauty found at home on the Escarpment, and often takes stunning photographs of wildlife, rock formations and waterfalls along the Bruce Trail. He describes one uneventful, cold, winter morning outside his home on the Escarpment; "I forced myself to take a walk outside in search of something to lift me from the depths of the mid- February blues. My eyes scanned the bleak expanse of a desolate field near my house—melt water had refrozen on the vegetation, transforming the field into a fragile universe of translucent art. The setting sun illuminated the field, and I walked home in gratitude, having found once again the divine disguised as the mundane."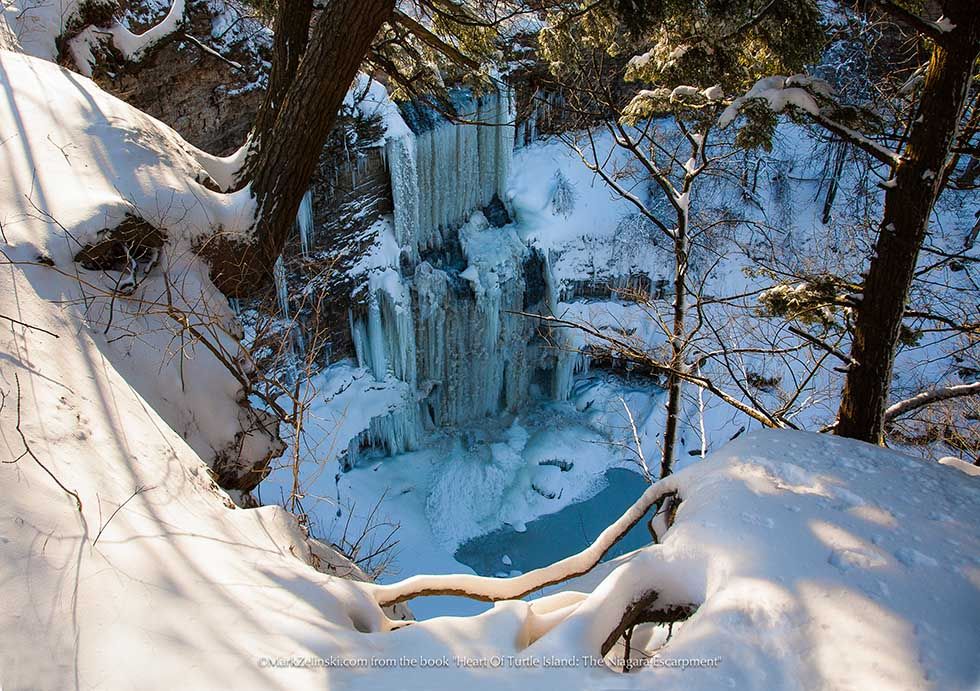 Mark's book Heart of Turtle Island: The Niagara Escarpment brings exquisite focus to the environmental treasures
of the Niagara Escarpment, and to the diverse native and settler communities that thrive along its rugged, curving path. His 10th coffee table book Niagara: Land Between Waters featuring brilliant landscape, wildlife and cultural photographs of Niagara Peninsula, is due for release in 2022. For more information visit markzelinski.com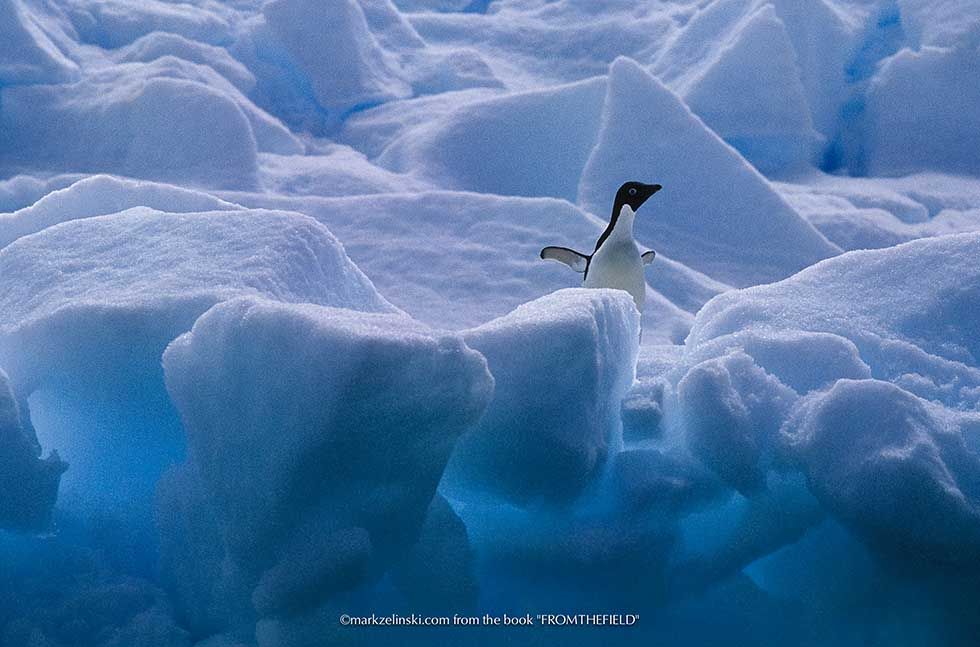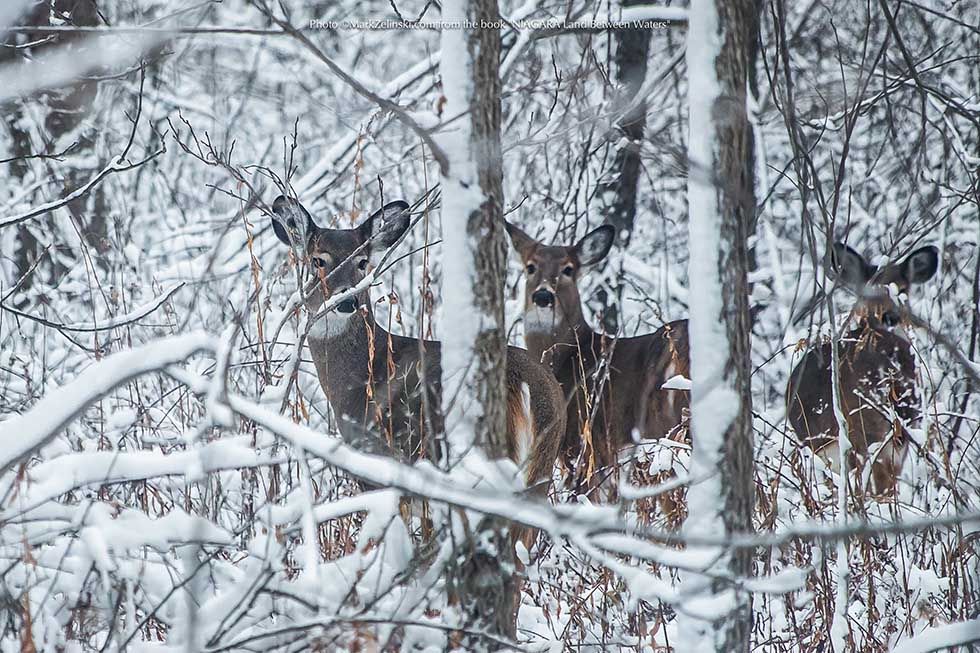 ESSENTIAL TIPS FOR COLD WEATHER PHOTOGRAPHY
Bring spare batteries and keep them inside your jacket—in cold temperatures batteries discharge faster than in warm weather.

Carry a backpack, or invest in a lens cover to protect your gear from the elements.

Dress in layers—it's better to be over-dressed than under-dressed.

Fingerless gloves give you control—bring along a pair of mittens with hand warmers for additional warmth.

Acclimatize your equipment—transition your equipment from cold outdoor temperatures to warm interior temperatures by removing your memory cards to avoid condensation.