Slopeside Speakeasy
By Cara Williams
As the sun sets on another amazing day on the slopes, hotspots like Jozo's Original Après and the Bullwheel Pub at Blue Mountain Resort buzz with snow sports enthusiasts looking to rehash the day's adventures over a few beers. A time-honoured tradition, the art of drinking alcohol after skiing first arose in Telemark, Norway in the mid- 1800s. Like all come-by-honestly, fast-moving trends, the phenomenon traveled to the emerging resorts in the French and Swiss Alps. The first Winter Olympic Games were held in Chamonix, France in 1924, hosting several thousand athletes, tourists and a multitude of pleasure seekers. Sometime around this period the term "après-ski" was coined by the French to describe the celebration of having survived another day on the slopes. Later, as Prohibition in both Canada and the US waned and skiing gained traction, après ski culture catapulted into North America's growing mountain resort towns. But it wasn't all smooth sailing— in parts of this country, Prohibition would result in perhaps the most potent hangover of them all.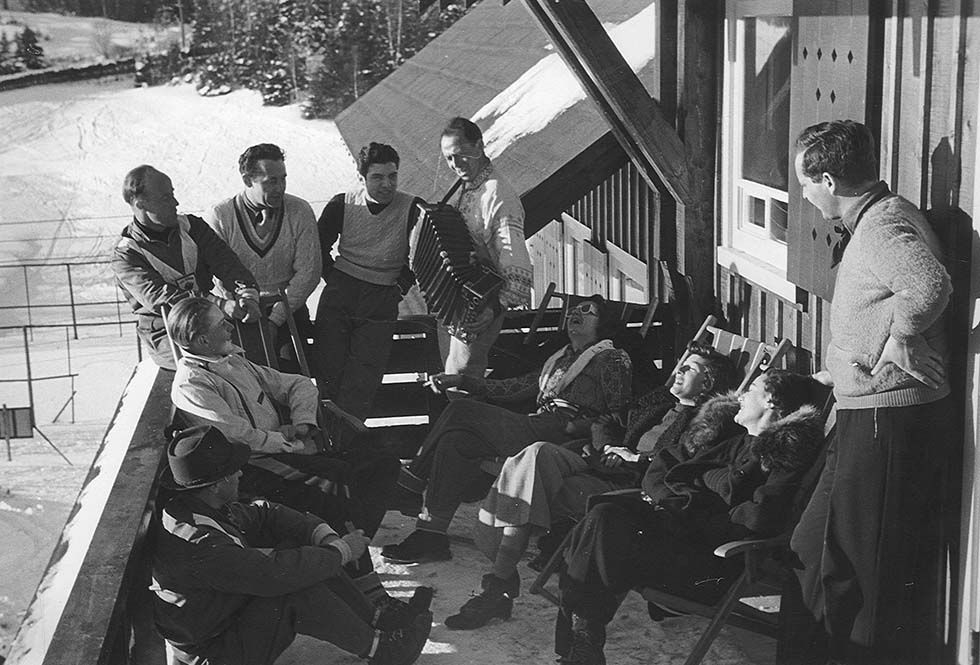 Deck party outside the Ski Barn at Blue Mountain, circa 1925
Ontario went "dry" along with the rest of Canada in 1916—meaning there was no legal sale of liquor (not that there is none to be had). Ontario resumed the sale of liquor by the individual permit system under Government Control in 1927, and in July, 1934 established a system whereby beer and wine could be sold in hotels, clubs and restaurants. Collingwood Township however, remained dry for decades more. By the end of the 1960's a municipal election was held which resulted in the allowance of beer and wine sales in restaurant dining rooms. Blue Mountain Resort, a burgeoning hot-spot for the growing number of skiers visiting the area, was feeling the pinch of not being allowed to properly entertain it's guests who, by the late 1960's were already familiar with après skiing.
It was 1969 when The Pottery Restaurant at the Blue Mountain Inn was finally permitted to sell beer and wine. The only licensed establishment at the resort, patrons of The Pottery were expected to sit at a table and order food if they wanted to be served alcohol—not exactly a hopping après ski scene. "We went from 'dry' to 'damp'," laughs Gord Canning (retired President and CEO of Blue Mountain Resort). "The 1970's was time of immense growth at Blue—baby boomers were in their 20s and many had discovered skiing. We were seeing more and more young people, full of energy and educated—they had disposable incomes because they didn't have families yet, but they had great jobs." Meanwhile in New York state, Ellicottville and Holiday Valley Resorts had ample beer, wine and liquor at their slopeside bars. Comparatively, Blue Mountain was a place of vast restraint. Stories of legendary après ski parties trickled north tempting many boomers to drive across the border. "We weren't in a competitive environment because we didn't have what the baby boomers were looking for and they knew it. New York was partying."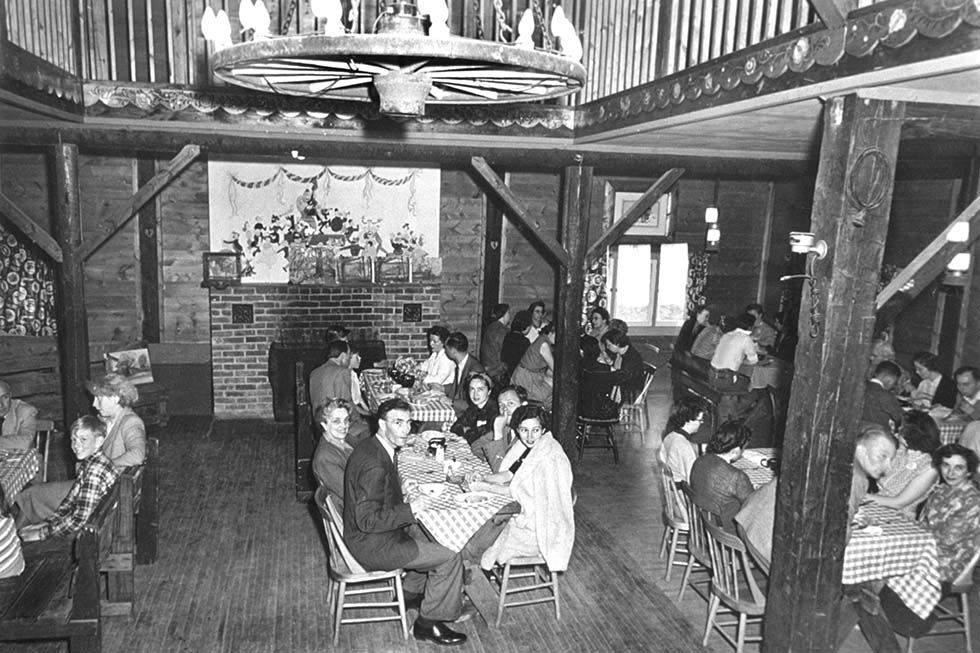 Dinner at The Pottery, circa 1949
It wasn't all buzz-kill and bummer—skiers were able to drive into Collingwood for a little frivolity at the end of a great day on the slopes. "Collingwood was in a different district so they had different licensing," explains Gord. "But skiers would have to leave the hill early because of the limited capacity. By 3 o'clock in the afternoon The Dorchester, The Mountain View and The Arlington all had lineups." Recognizing the revenue potential to entertain a captive audience, Gord launched a campaign to allow alcohol sales at the base lodge cafeteria. "Back then the Ontario Liquor License Board was a three- man operation and the Chair was a former police chief. We applied and were immediately turned down." The official reason: the furniture wasn't 'nice enough'.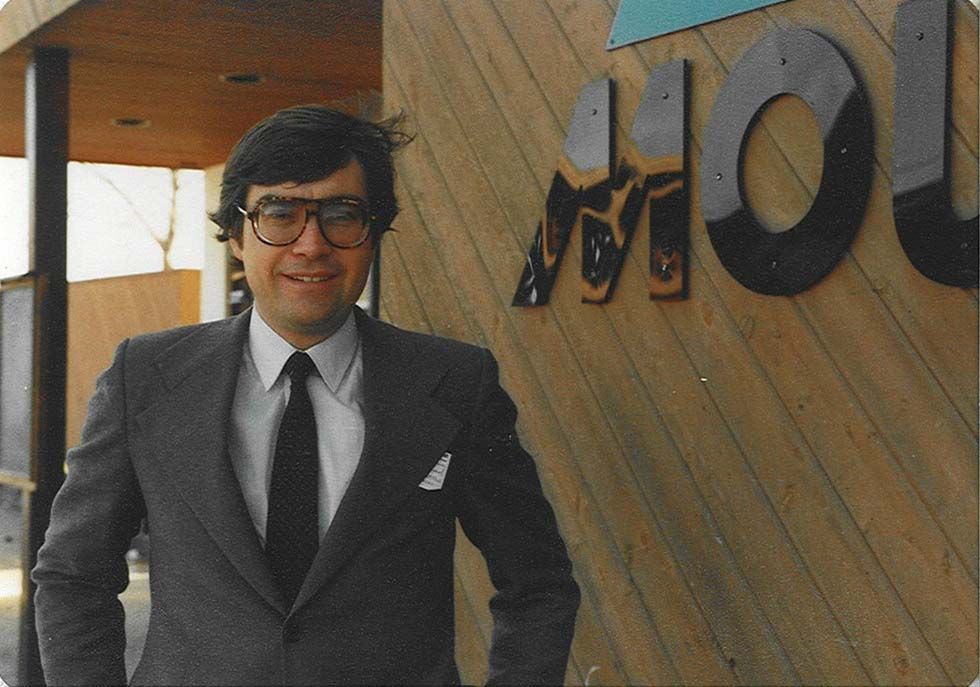 Gord Canning outside The Blue Mountain Inn, circa 1973
Not one to take no for an answer, Gord requested an in-person meeting with the Chair at his office in downtown Toronto. "I brought my ski boots with me," explains Gord. "I said, 'This is why we have the furniture we have. We have steel legs because ski boots beat the heck out of furniture.' Still, he argued against licensing us. He had said to me, 'If I do what you want me to do you will have a whole province swimming in booze.' So that's what I was up against. I told him he didn't understand what was going on up there—that he didn't understand what young people wanted. I myself was only 28 years old at the time. He turned me down again and I left upset on behalf of all the baby boomers who wanted to party."
Member of Parliament Eric Winkler represented the riding of Grey South from 1967 to 1975 and Gord heard that he often held court with voters in Hanover on Saturday mornings. "I drove to Hanover and lined up with everyone else," says Gord. "Eric had a retail store and he would sit behind the curtain to meet with constituents. I explained what I had been trying to achieve over the last year or so and he simply said to me, 'You mean you've spent a whole year on this? Don't ever do that again.' Within weeks our base lodge was licensed."
The first alcoholic beverage was served at the Blue Mountain base lodge during the 1971/72 ski season (which, come to think of it, coincides with my parents buying a chalet and Blue Mountain seasons passes). "We bought a juke box," remembers Gord. "The number one song at the time was American Pie by Don McLean. The first time we played the song, the beer drinking skiers started dancing and as I recall, everyone went nuts. That's what we had been missing."
Later that decade Food and Beverage Manager Dale McNichol suggested converting the outdoor swimming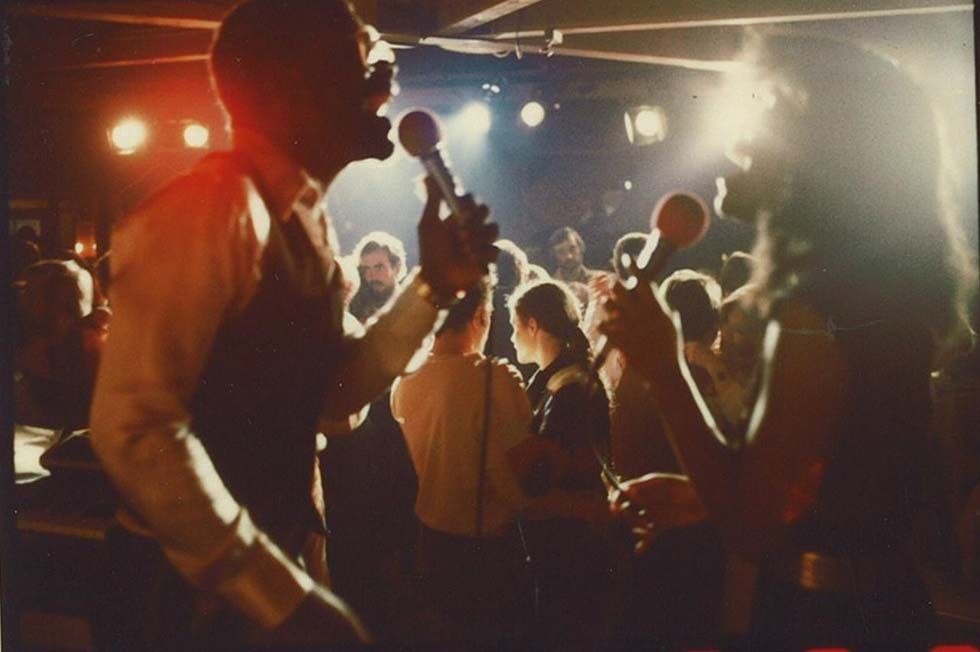 Live music at Jozo's Original Après, circa 1978
pool at the Blue Mountain Inn into a bar—an inspired idea that would kick-start an après scene even the French would appreciate. Jozo's Original Après was named for Jozo Weider, the enigmatic founder of Blue Mountain whose untimely death in 1971 was felt by all who knew him. Despite the continually cumbersome liquor laws, Jozo's was an instant hit and often had lineups that encircled the building. "When Jozo's was created, we were allowed to operate on Sundays but patrons had to have a meal and had to be seated," remembers Gord. "As a result, there were a lot of wrapped sandwiches going around that were never eaten and the sitting rule was basically ignored thanks to a friendly liquor inspector who checked in on us mostly in the morning." Jozo's had everything the baby boomers had been looking for—dancing, drinks and frivolity that often carried on until the early hours of the morning.
Today Blue Mountain offers alcohol sales at all of the base lodges, as well as The Pottery Restaurant and Jozo's Original Après (still in the Blue Mountain Inn). Popular slopeside bars have popped up, including the Bullwheel Pub in the South Base Lodge, Six Pak Bar Down in the Grand Central Lodge and new this winter Off Piste Patio at the top of Waterfall ski run. 
Now the only question remains; does après ski last until dinner— or does après ski last until bedtime?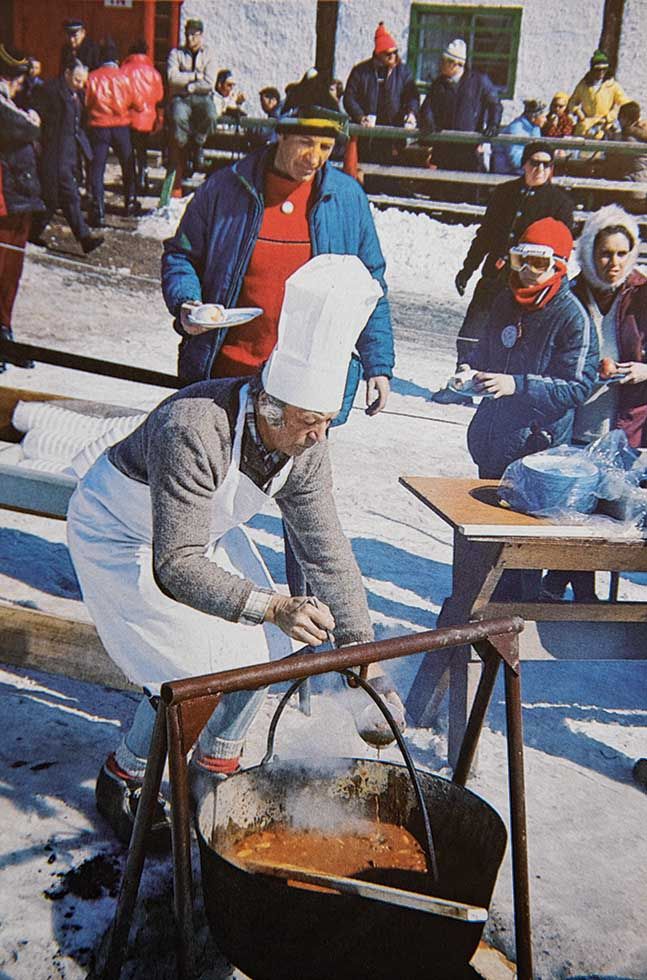 Chef Jozo Weider serves hungry skiers at the Base of Blue Mountain Resort