The High Life
Words by Cara Williams, Photos by Clay Dolan
When Toronto based entrepreneur Keith Turner purchased this downtown Thornbury building, the structure was non-descript, with an accounting firm on the main floor and upstairs a neglected apartment was dated, cramped and had no outdoor space. The story of many small-town downtowns often goes like this; historic, utilitarian buildings that once held residences, have been converted to offices; more often than not, the residents who once called these buildings home (and kept commerce bustling downstairs) moved out, trading a walkable community for other conveniences. While initially purchased as an investment property, in contemplating making the permanent move to the Blue Mountains Keith recognized an opportunity to borrow from a big city concept and create a stylish and convenient downtown loft-style apartment, complete with a rooftop terrace worthy of a Manhattan walk-up.
"When I lived in the city I loved to park my car and walk everywhere," says Keith. "I like the experience of living in a neighbourhood, where I can walk to great restaurants and coffee shops—this is the experience I had in Toronto and it was what I was seeking in Thornbury." The seed was planted.
This massive residential project was planned with beauty, history and convenience in mind, but it took a lot to get there. By design, loft apartments typically have wide-open spaces, high ceilings, exposed ducts, brickwork, mezzanines and large windows. Organized on two levels (and accessed by a glass elevator that runs from street level), the top floor features an office mezzanine, sitting room and terrace, while the main level comprises three bedrooms and two bathrooms. The new space features unusual geometries, which Keith took advantage of to create dramatic and characterful new rooms. "It was a very interactive process with input from many people," explains Keith. "I didn't work with an architect. I went through a check-list—I wanted it to look like a renovated warehouse, like a loft apartment. I knew that I wanted outdoor living space—that was really critical to me—but I didn't want to have to take care of a lawn. I knew that I needed a carport, but not a garage. I'm not a traditional white picket fence kind of guy, so this really works for me."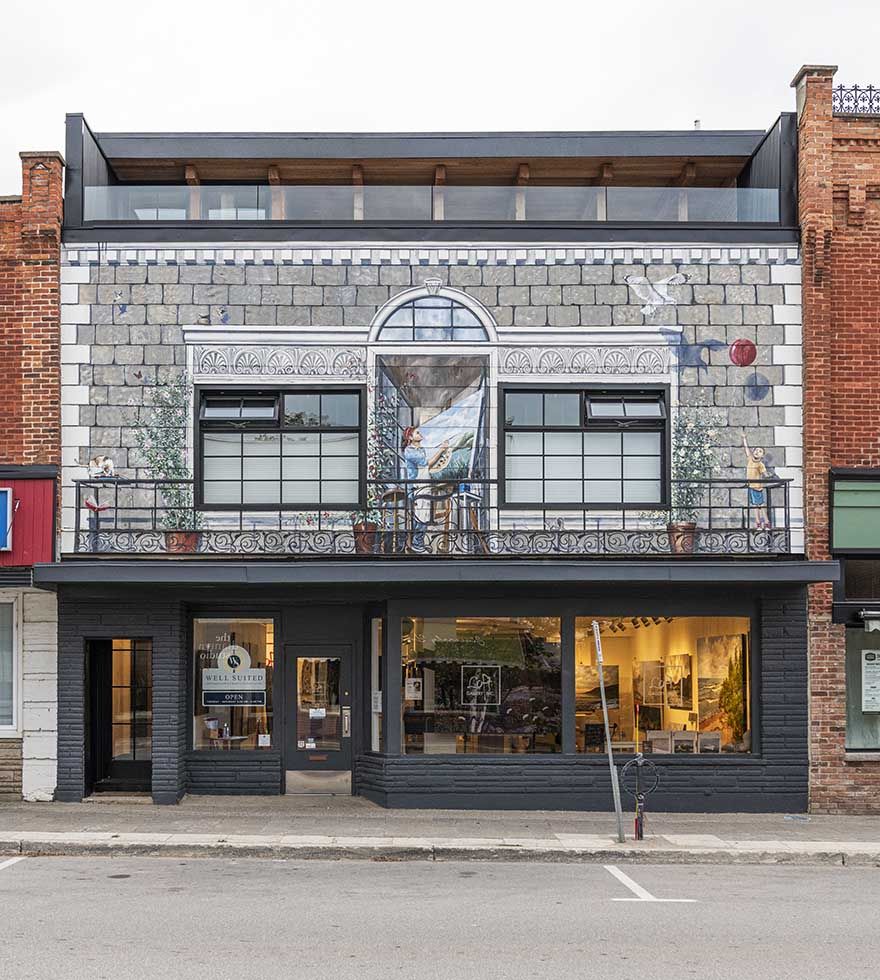 The architectural style is heavily industrial, while warmed up significantly by Keith's cozy decor selections, as well as a plethora of thought-provoking artwork. By adding a substantial addition to the back of the original structure, Keith was able to stretch more space out of the original footprint. "I worked as my own general contractor in a lot of regards, but when you don't start with an end in mind, all directions get you there, but it's easy to get lost and it's easy to make mistakes. Because I was designing my own place and my own passion, it was a lot of hit-and-miss."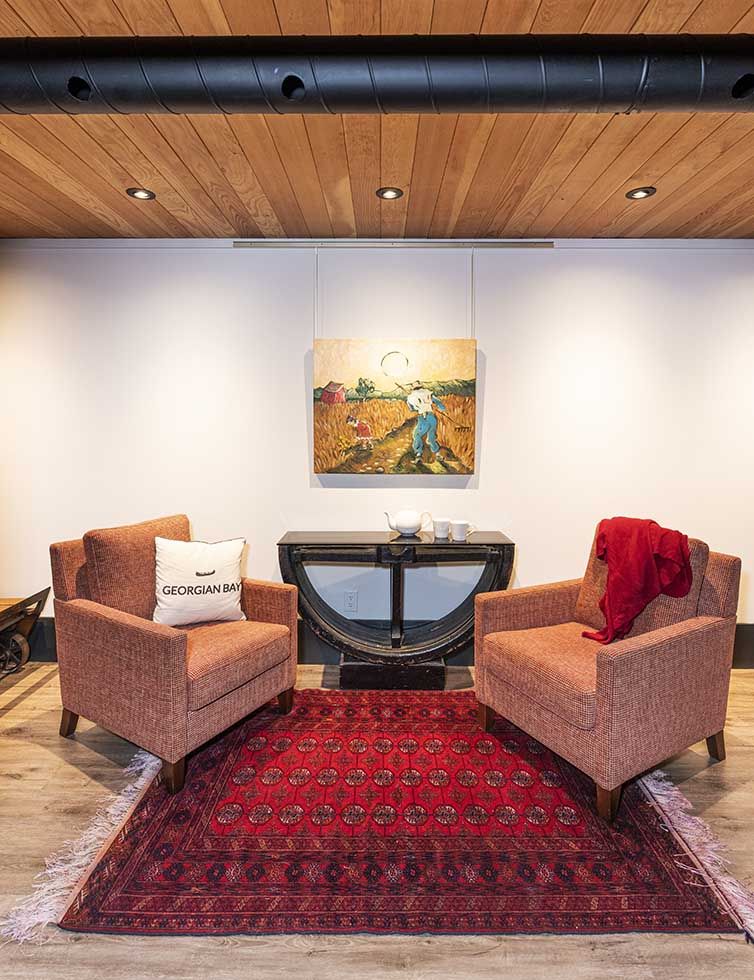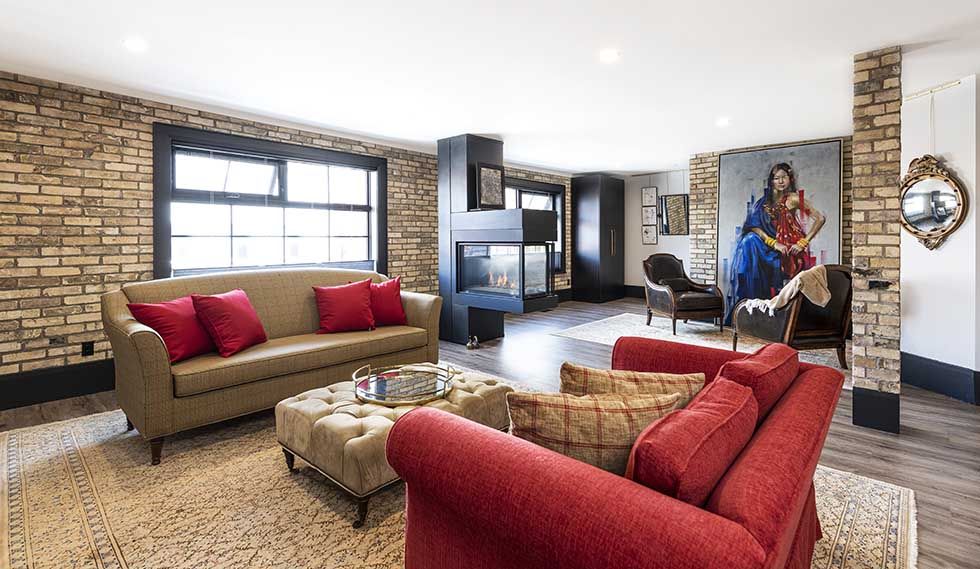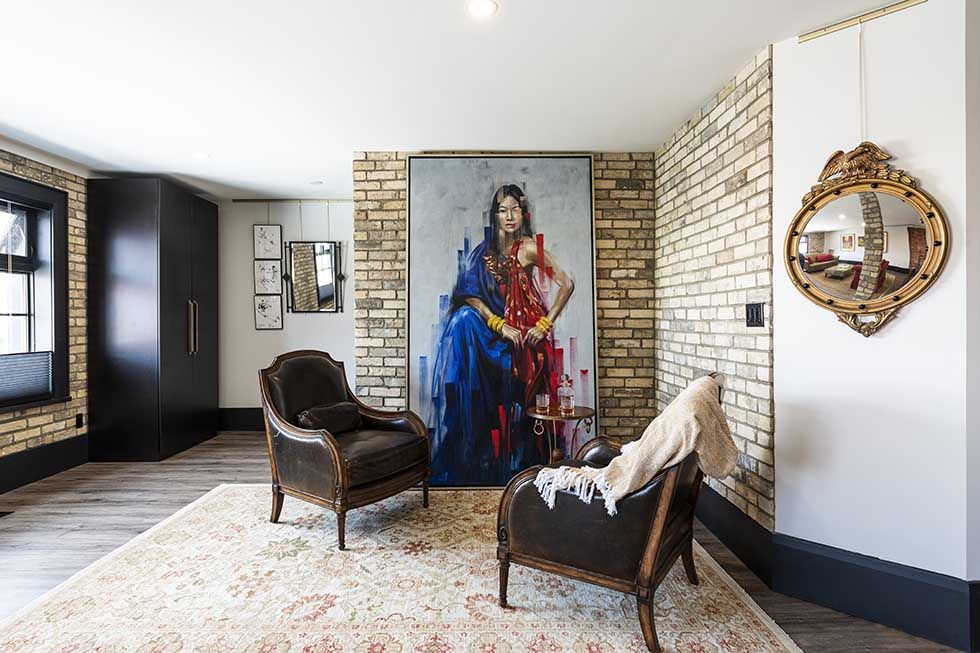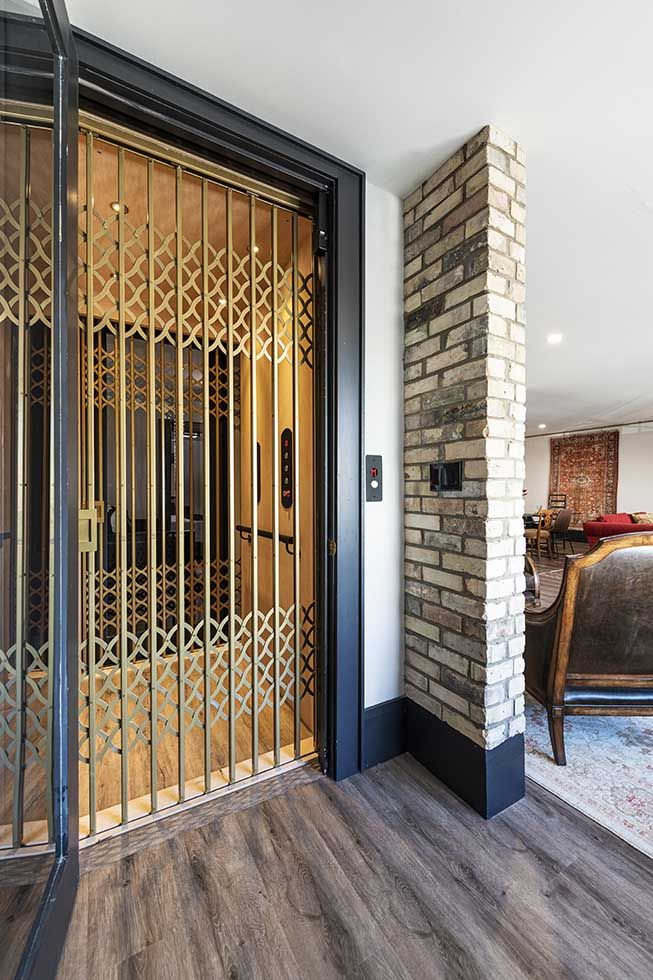 Most of the furnishings in the main living area of the loft were repurposed from previous residences, while Keith's impressive art collection is regularly refreshed and relocated. "Instead of constantly having the same pieces in the same places, I tend to change the look of the room by season." Due to his inclination to cyclically shuffle his wall decor, Keith invested in art trackers—a versatile and robust hanging system designed for rearranging art and tapestries with minimal no damage to walls.
Stepping out of the elevator, the foyer leads to a sitting area, or "scotch and conversation pit", as Keith calls it. This intimate nook is cozy by design with comfortable twin leather-bound armchairs. The space is anchored by a vibrant floor-to-ceiling painting Keith acquired while living in Colombia. A three-sided, floating fireplace aids in separating the spaces while providing warmth and ambiance to the kitchen, dining room and sitting areas. "The positives in being your own designer/general contractor are, that I got to design and build as I went along, but the negatives are, you can miss some stuff. The fireplace for example is where it is because there is a support beam there and I didn't think to move it early in the renovation process. So, you can walk all the way around it which is an interesting neat effect. I realized I had created a problem and worked with Chantico and MCR to create a solution."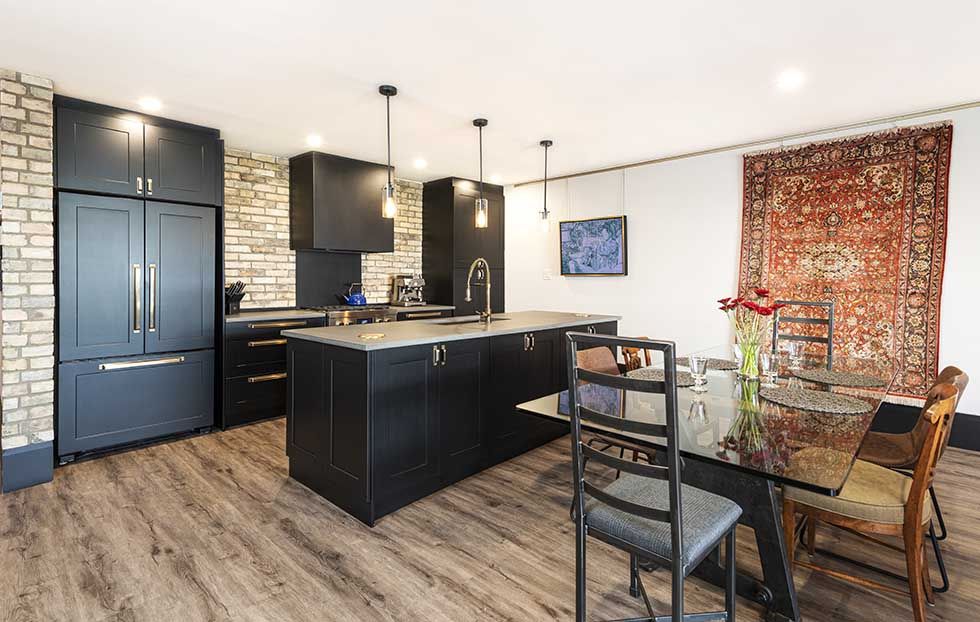 While white kitchens are a continuing favorite for their clean, fresh appearance, decorating with black is quickly becoming a popular trend in kitchen design. Keith's near-black cabinets pump up the drama and are paired with bold brass hardware. An onyx hood and backsplash float over the range, while custom concrete countertops offer a stylish alternative to pale granite or marble. "I didn't know when I started, that the slight flexing in the floor might create a problem for kitchen fabrication, but it did. One of the things that I encountered with this older building was, as you're walking around you can feel the floor flexing a little—you can feel that it's not a hundred percent level. One of the problems we had with the countertop was that we couldn't use a rigid material such as marble. It was an interesting work- around and I eventually found a company based in Quebec that fabricates custom made concrete countertops and because it's concrete, it's flexible."
Exposed brick work carries through nearly every room in the loft. The master bedroom has a rustic, industrial finish, characterised by exposed wooden beams, custom iron wardrobe and staircase leading up to the mezzanine above. With a generous floor plan, unadorned white-washed walls and an abundance of natural light, the space is at once raw and calming. Ashton's Blinds in Thornbury provided custom, automatic window treatments; "All the blinds are electrical, so at night all I have to do is press a button."
Keith's favourite spaces vary from season to season. In the cooler months he spends his time in the main floor living room, but when the weather warms he's drawn to the upper level where a multi- season oasis exists.
Once upon a time, building rooftops were dreary, inhospitable places used to scatter HVAC systems or elevator equipment—but here, Keith has created a sophisticated and lush outdoor living area in which to wine and dine his guests. Specifically chosen decor items were selected for their weather durability as well as aesthetics. Cohesive loft themes like exposed brick, architectural beams and modular elements ensure the terrace vibe is akin to the interiors. Strategically placed lighting adds to the ambiance—what a wonderful vantage point to view the sun as it dips down over the Escarpment.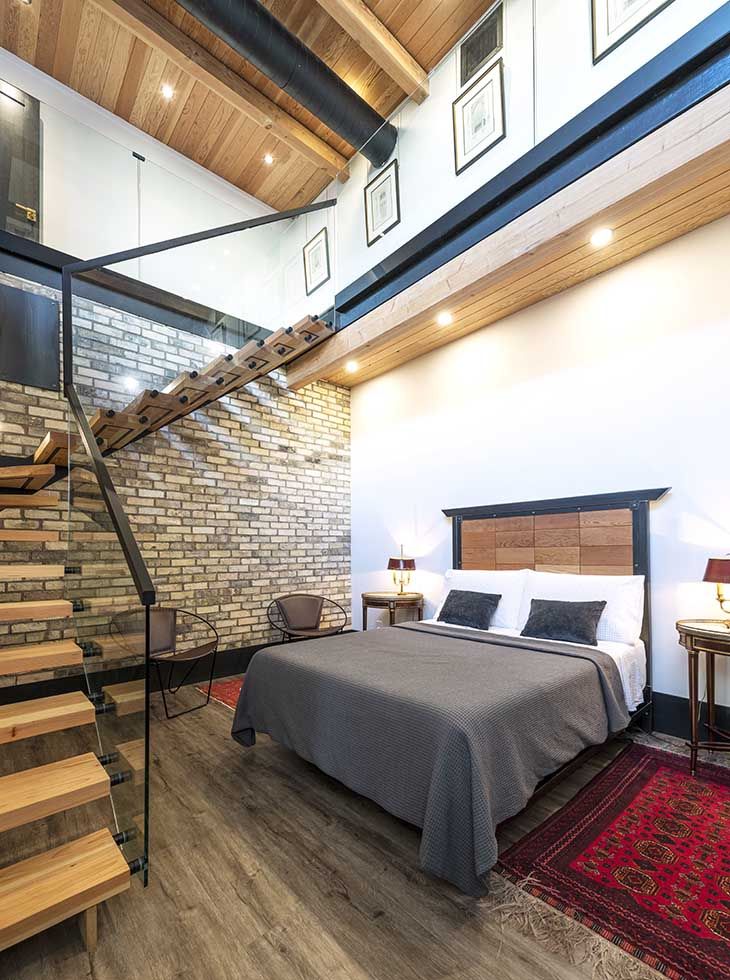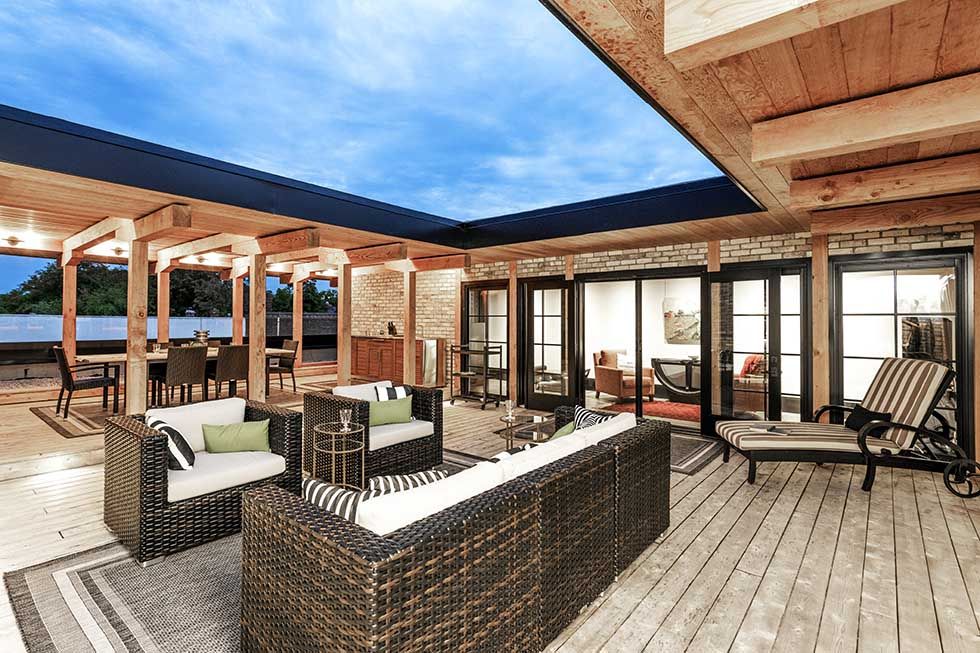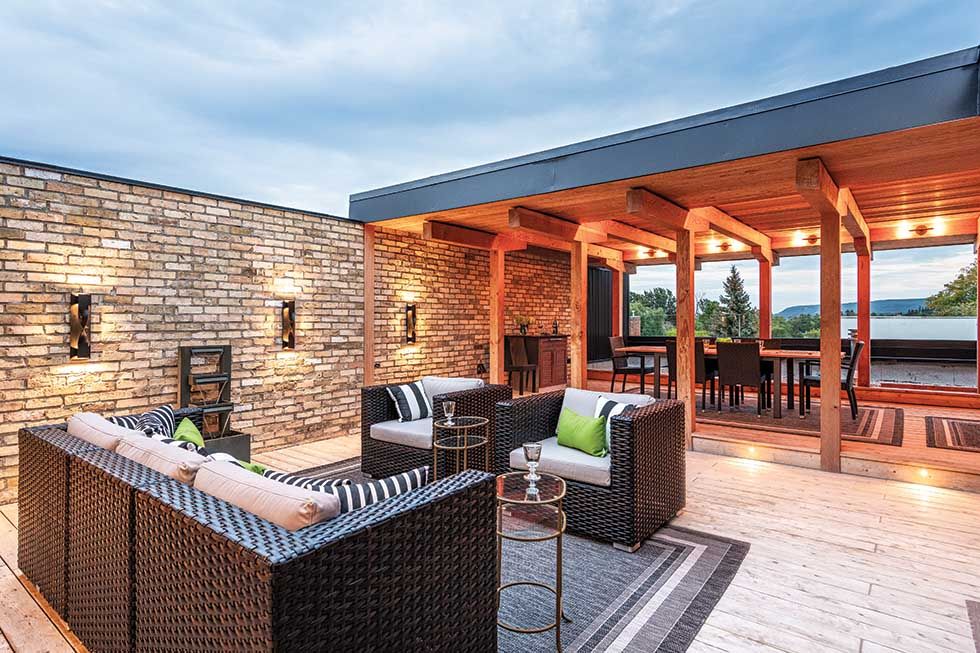 Like many small towns, upper floor residential options in Thornbury's downtown area are all but disappearing. "I purchased with a view to helping bring more retail to the main street of Thornbury," says Keith. "I had a tentative agreement with the Loft Gallery to relocate from Clarksburg to Thornbury from the time I bought the building." With a conviction to revitalization, Keith has completely transformed this formerly drab and cramped apartment—the mix, both of indoor and outdoor living spaces, reveals an authentic, modern apartment perfect for Keith's lifestyle, while the vivacious Loft Art Gallery below continues to thrive. "It's a more noticeable building, whether you like it or not," laughs Keith, referring to the large trompe l'oeil scene that adorns the second story façade, painted by artist Susanna Lamy. "Some people love the mural on the front, some don't. But I really wanted to add to the vibrancy of downtown. If I'm going to live here, I want it to be spectacular for me, but also, I wanted to make a valuable contribution to the town." In other words, an ideal blend of old and new ideals—a place where he can actually walk, shop, dine and interact, while harbouring an intimate, private abode just steps away.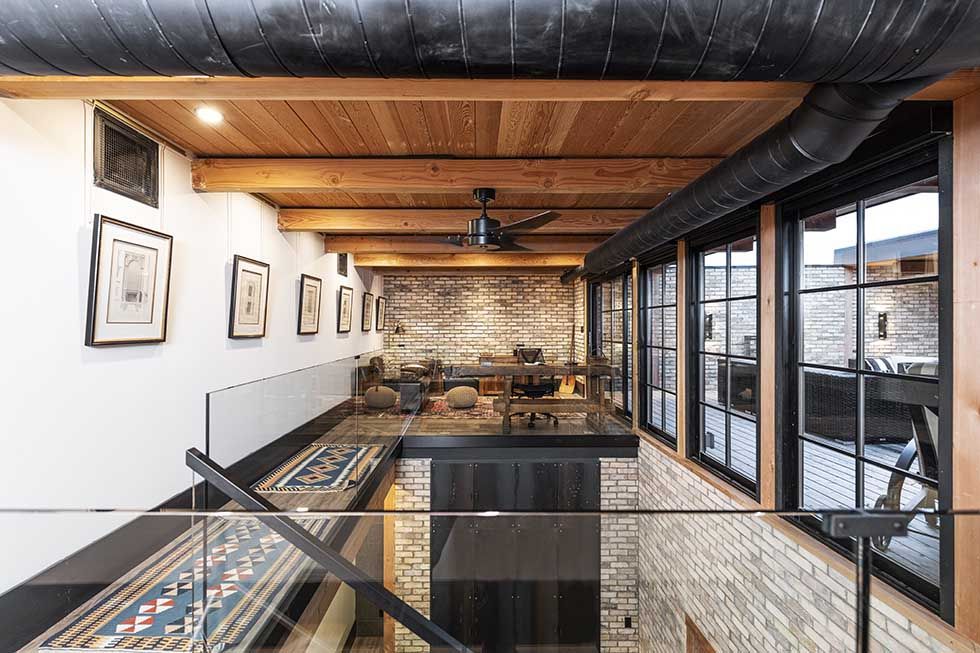 Source Guide
General Contractor BRIAN MCNABB CONSTRUCTION
Structural Engineering BARILL ENGINEERING LIMITED
Shutters Window Treatments ASHTONS BLINDS
Custom Metal Roofing + Exteriors METAL PLUS ROOFING
Custom Metal Furniture + Art DESIRON CUSTOM METAL
Mural Artist SUSANNA LAMY, ARTISTI-CO
Tile Setter STEVE RYAN
Windows + Doors DECOLA WINDOWS + DOORS
Architectural Metal & Glass DENNIS RISK, MCR INDUSTRIES
Elevator ESTATE ELEVATOR INC. ELEVATORS + LIFTS
Electrical CLEARLITE ELECTRICAL
Custom Concrete BALUX CUSTOM CONCRETE PRODUCTS
Custom Stonework BAYSIDE MASONRY CHANTICO FIREPLACES