PUSHING BOUNDARIES
By Deena Dolan
For 20 years, Mark Berens has been following his passion of painting. It's been a journey—he graduated from Ontario College
of Art in 1999, and presented his first show that year. Working in a Newmarket sign shop, he expanded his knowledge base of production and business while painting part time. In 2002 Mark moved to Whistler, armed with confidence but no work to show, he boldly approached the largest gallery in town stating, "I moved across the country to hang in your gallery." He received a "show me what you've got" response and immediately got to work. A month later his professional career was launched. He learned some tough lessons initially but smartly moved locations and to this day his work continues to be shown at Art Junction Gallery in Whistler. That's an accomplishment.
Asked how he describes his style, Mark replies, "Group of Seven with a modern twist." His work definitely has an impressionist approach—appearing to be a photo from a distance, three-dimensional up close, utilizing transient effects of light and colour. Like the pioneers of the movement, Mark prefers to paint in the open air—en plein air—rather than in a studio. The results are evident in his work. There's an awareness of light and colour and the shifting pattern of the natural scene. Brushwork is critical, rapid and broken into separate dabs in order to render the fleeting quality of light and swirls of movement.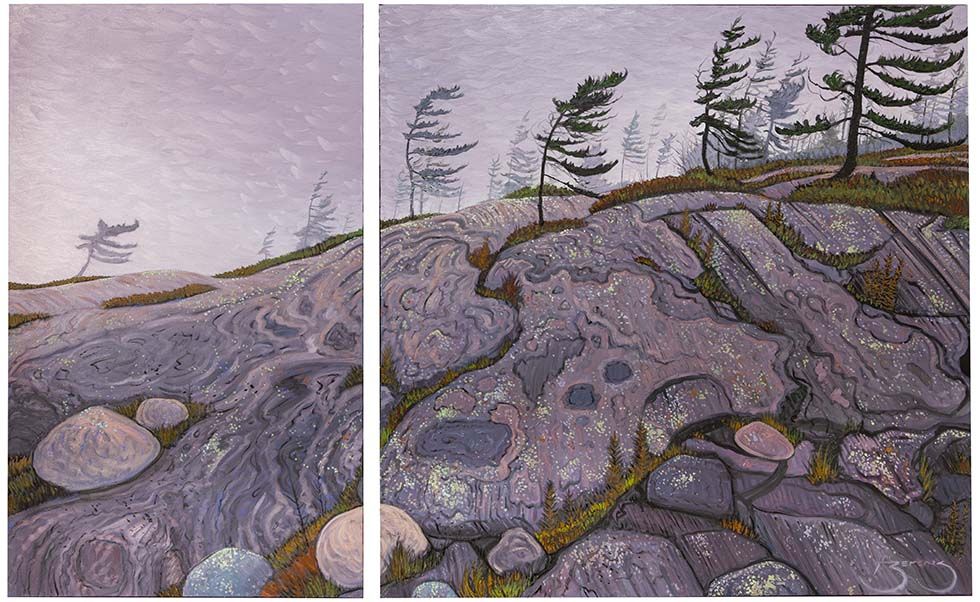 It's mesmerizing. Working quickly with lots and lots of paint applied thickly, is a signature of the Impressionistic movement. Colour is key to producing Mark's signature brand of innovative and enthusiastic compositions. It's everywhere. His shadows and highlights are boldly depicted in colour and absolutely capture one's eye. Mark's canvases convey painterly illusions of movement and spontaneity that strike me as momentary and fleeting yet at the same time seem present and lasting. Delightful. 
Growing up, Mark was always in the presence of and surrounded by a world of art. Both sides of grandparents were artists and both parents. Encouragement was constant. Awards were common place. I asked to see an early work of Mark's—a depiction of water, with a thick impasto application of pure, intense colours—the reflection on the water's surface appear as substantial as any object, in any scene, anywhere. "Water—I want my water to be the best in the country," Mark offers. And he means it. He is also determined to continue the tradition of encouragement he received growing up and is passing it on to his young daughters. Inspired by their playfulness, the three of them regularly gather in his studio, splattering paint, laughing and leaving a mess on the floor.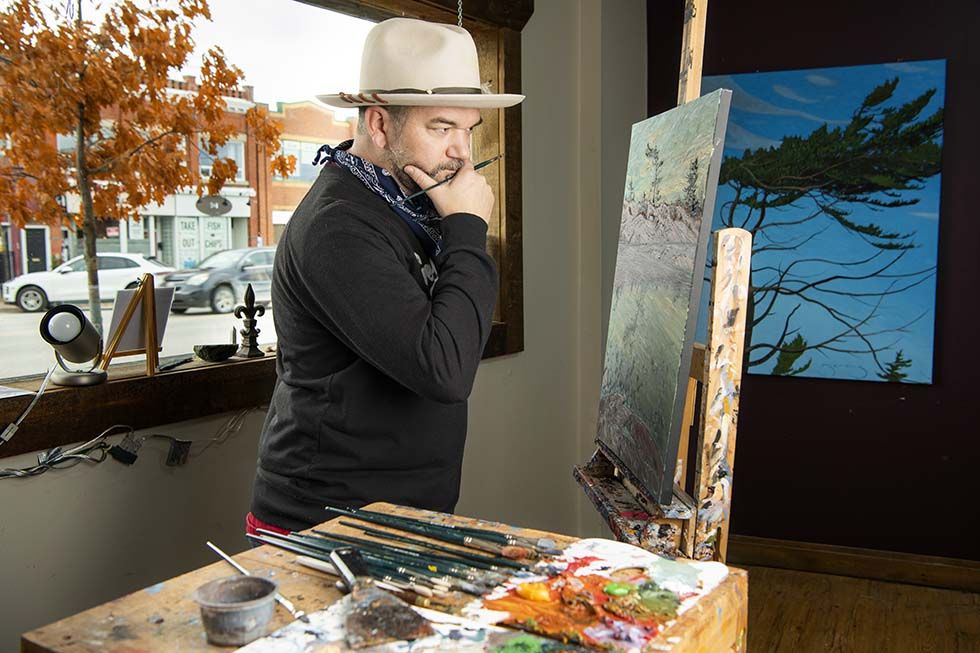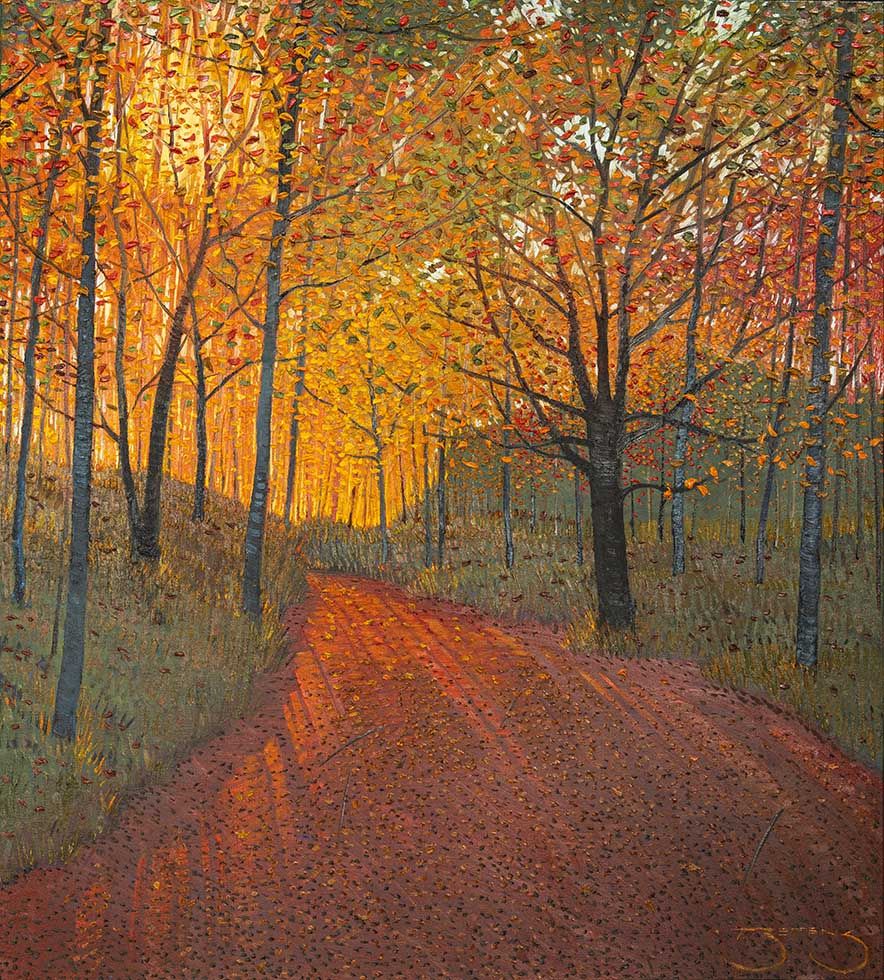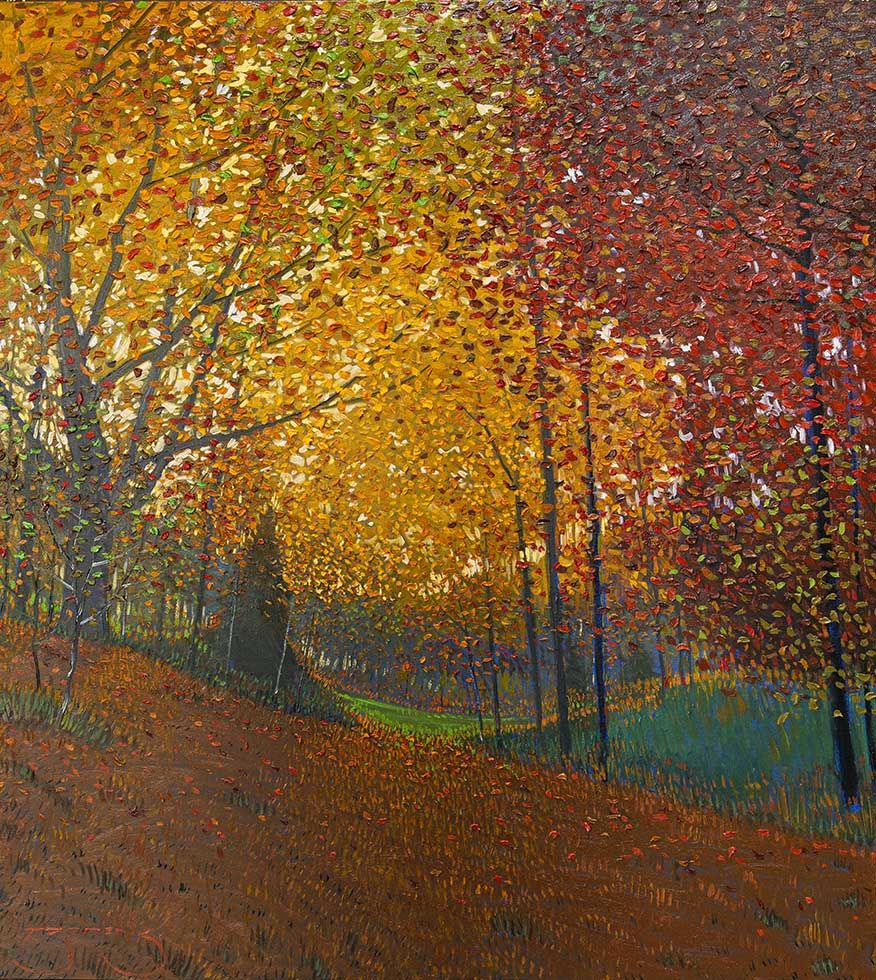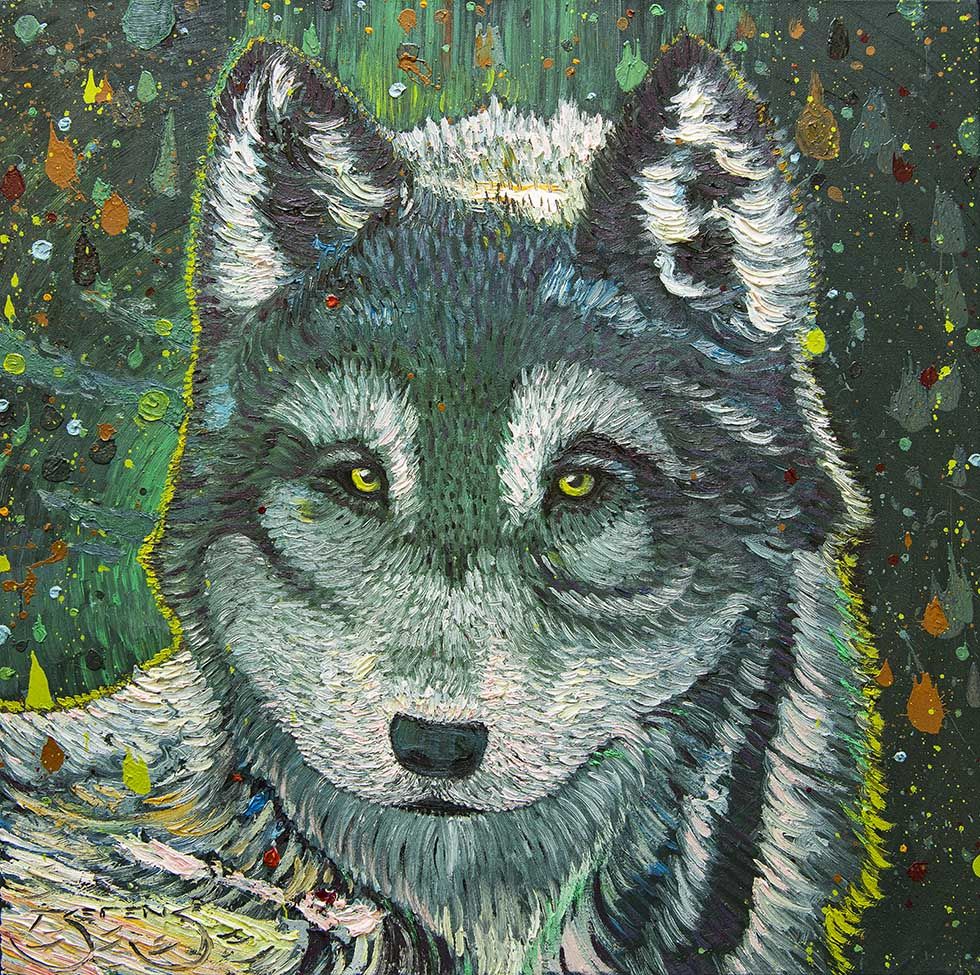 Certainly, influenced by The Group of Seven, Mark also credits Tom Thomson, Georgia O'Keefe, Lucian Freud and Maud Lewis with having played a role in his development as an artist of note. And, he appreciates the talent and work of local artists like Paul Mantrop, Margarethe Vanderpas and Peter Rotter.
Mark has a small, working gallery in Downtown Collingwood and his art is displayed in galleries across Canada. "Commissions are cool," smiles Mark and adds an aside, "It depends on the client."
Always looking ahead at what's next, Mark admits, "I'm hard on myself. I have pretty strong opinions," he says with a smirk. He loves to travel with his paints and is part of the painting group Untamed Things along with past Escarpment cover featured artists, Andrew Peycha and Jonathan Houghton.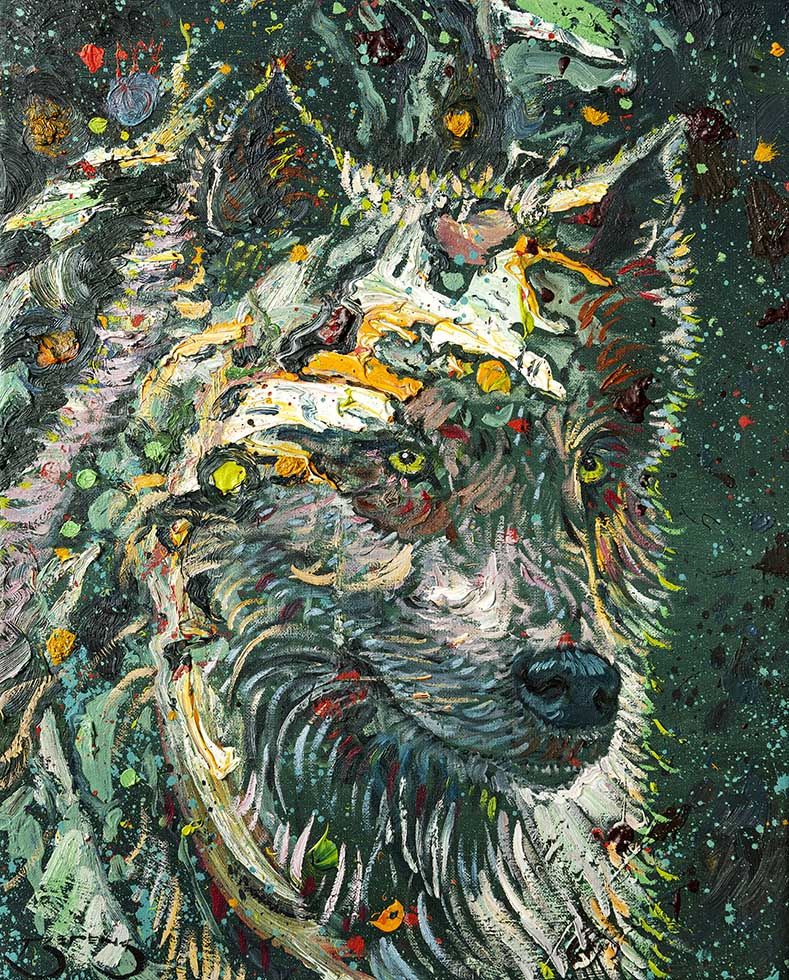 They share a set of related approaches and techniques. "Some of us were just up north, plein air painting within the original locations on the Montreal River where the Group of Seven painted on their very first adventure together. We're having a show in February at the new Nottawa General which will have a gorgeous upstairs gallery."
A critical thinker, Marks strives to always be different and to follow his own creative path. "What's next?" Not ever wishing to be a 'one trick pony', he pushes boundaries and continuously strives for a variety of genre. His Red Tail Hawk painting, featured on the front cover of this issue is an atmospheric composition that he refers to as his neon wilderness style, came about somewhat as an experiment. Playing with colour and texture, he was improvising and splattering the canvas recklessly, with abandon, "bam, bam!" Then suddenly out of nowhere, he began to see the hawk head slowly emerging—boom—now that's my definition of the creative process. It certainly works for Mark.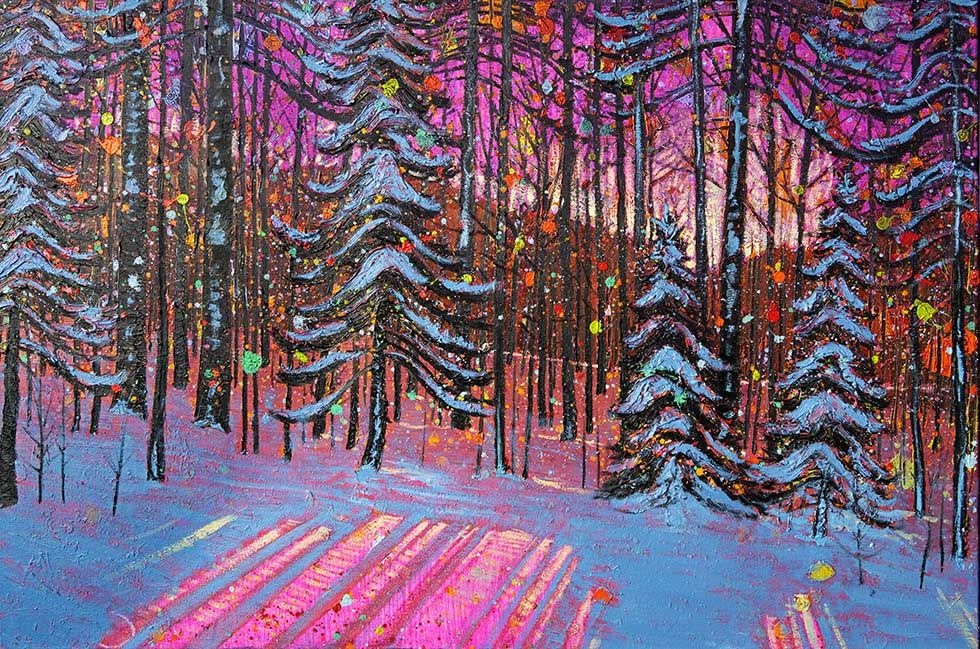 FIND MARK BEREN'S ART:
209 Hurontario Street, Collingwood
Matilda Swanson Art Gallery, Clarksburg
Bright's Gallery, Village at Blue Mountain
Art Interiors, Toronto
Crescent Hill Gallery, Mississauga
Koyman Galleries, Ottawa
Zwicker's Gallery, Halifax, NS
Art Junction Gallery & Frame Studio, Whistler, BC