Fairway to Heaven
By Marc Huminilowycz, photography by Clay Dolan 
It was June when Oakville couple Jennifer and Jim Hardy finally moved into their newly-built retirement dream home at the Georgian Bay Club. Modern and bold in design with clean lines, extensive glass, dark grey concrete panels, peaked black steel roofs, and natural wood accents, the house is distinguishable from other luxurious neighbouring homes, which vary in style from mountain contemporary to craftsman, to traditional to modern.
The couple, both originally from North Vancouver but met in Ontario, began their building journey with their Oakville residence in 2014. In 2021, they started planning their Georgian Bay Club home. With Jennifer's masterful interior design and décor skills, "just right" building materials, fixtures and accessories were carefully selected. Coordinating with architectural designer Steve Hamlin and builder Coulter Dawe and Associates, the project progressed steadily, while materials such as flooring and tiles, plumbing fixtures, cabinetry, and furniture were accumulated by Jennifer and stored—patiently awaiting their installation and debut.
"The process started with architectural designer Steve Hamlin asking us to first lay out in circles the size and perspective of rooms and spaces we had in mind, and eventually, after some modifications, creating a final design that would be submitted to the Club for approval," says Jennifer. "With certain architectural restrictions to adhere to, including the roof line, we needed to remove some square footage to come up with a final plan. We essentially found a house design that we liked and squished it."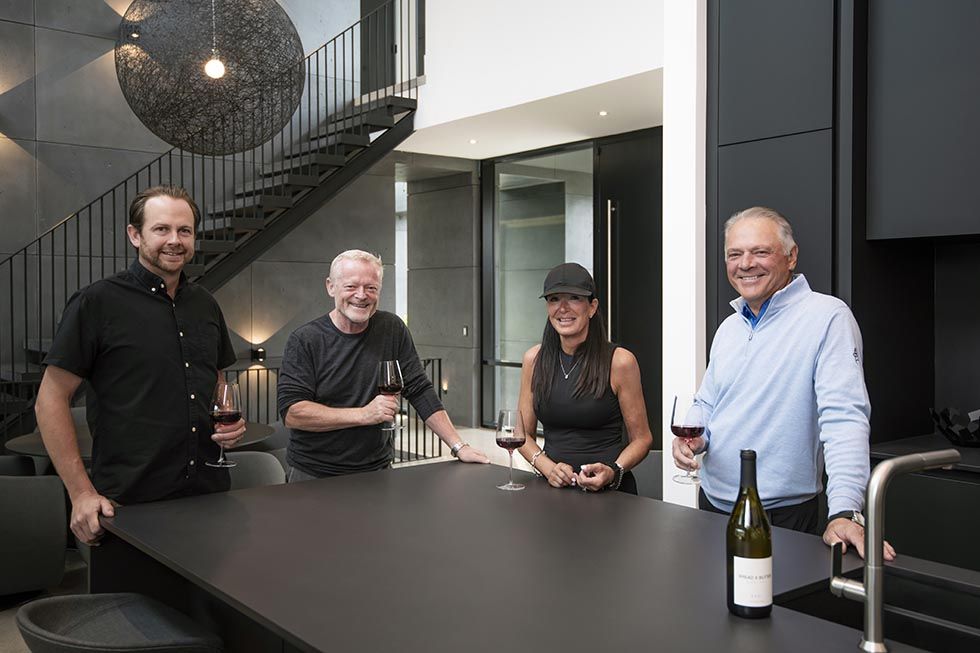 Stepping through the majestic ten foot-high by six-foot wide black fibreglass main entrance door, you enter a large, light-filled area that Jennifer calls "the lounge", with a great wall of dark grey Urban Concrete panels that extends outside through expansive floor-to-ceiling thermal glass. The sizeable windows overlook a landscaped southwest-facing patio with wood burning fireplace, outdoor appliances and a pool. The outdoor furniture, made of marine-grade rope, compliments the couches and chairs in the lounge, living room and family room. Combined with the concrete panel treatment, the effect brings the inside outside, and sets the stage for the look and feel of the rest of the home.
"With Patrick Coulter as my sounding board for brainstorming ideas, we came up with an integrated approach to the design of our house, with common elements bringing everything together," says Jennifer. "As we did with the interior and exterior, the furniture, design and décor continue to flow through the house, with textured furniture in charcoal, grey and ivory white, and bits of black in all the rooms and spaces. All the hard surfaces are matte black or Urban Concrete." To enhance the overall ambiance, the main and basement floors of the home feature ivory-colored concrete. This exceptional concrete is made from carefully selected imported aggregate and sand, meticulously poured, ground, and polished on-site. What's more, it incorporates radiant in-floor heating, ensuring the utmost comfort for the home's occupants.   
To the left of the lounge is an expansive eating/entertaining area featuring a sleek and uncluttered kitchen with matte black Dekton countertops. Dekton products, known for their durability, scratch resistance, and inviting warmth, are utilized both within the home and in the outdoor patio area. Adjacent to this is a dining room next to a showcase wine storage area that Jennifer calls, "my little wine wall". This leads out to a comfortable sunken living room with a fireplace, overlooking the gardens, with a black grand piano to the side. The centrepiece of the living room is a live edge, white-washed coffee table created locally in Meaford by Tree Green Team.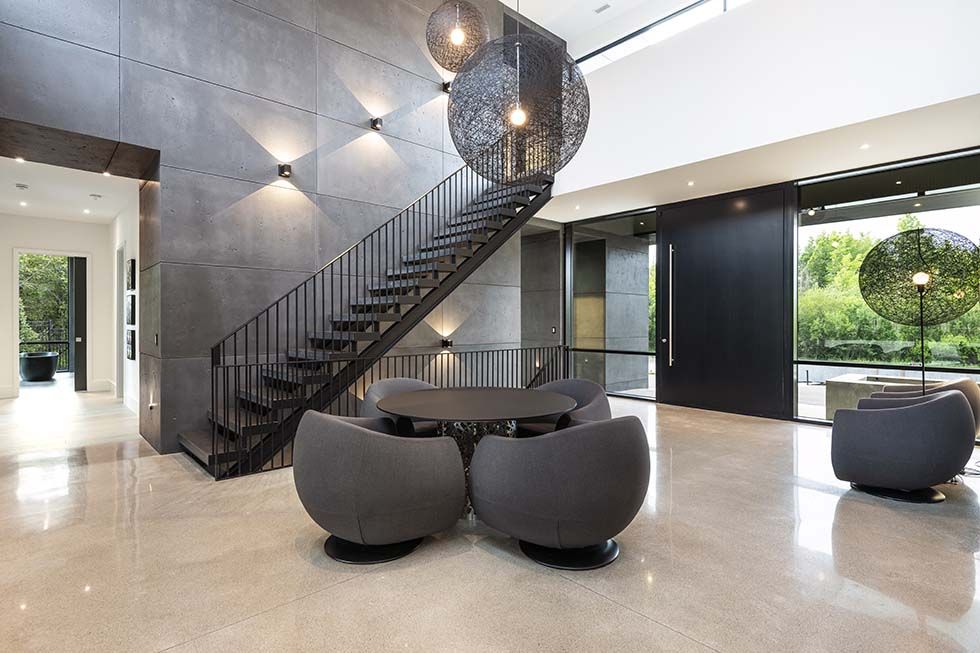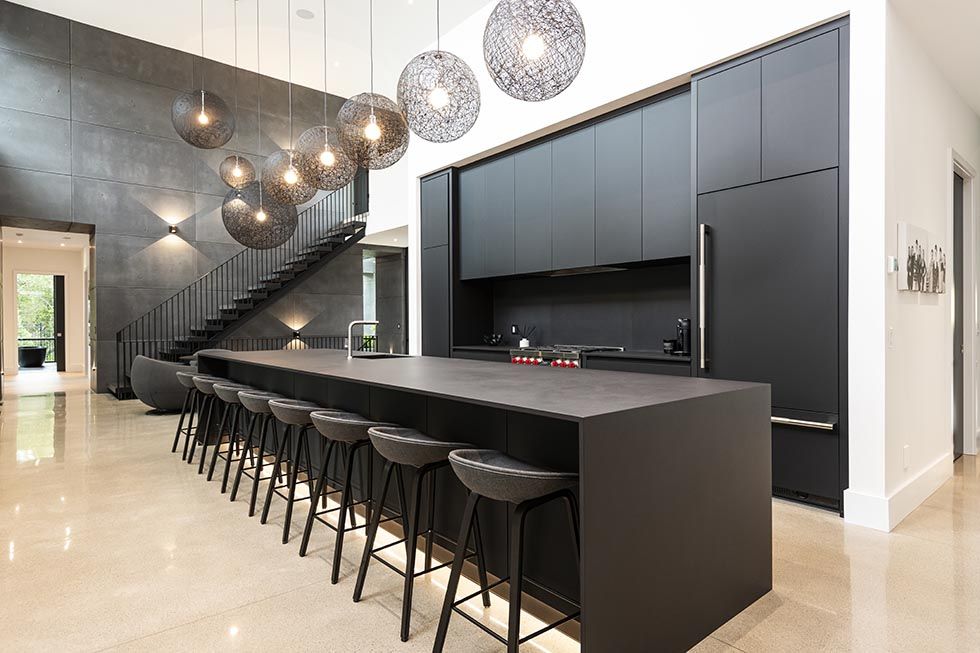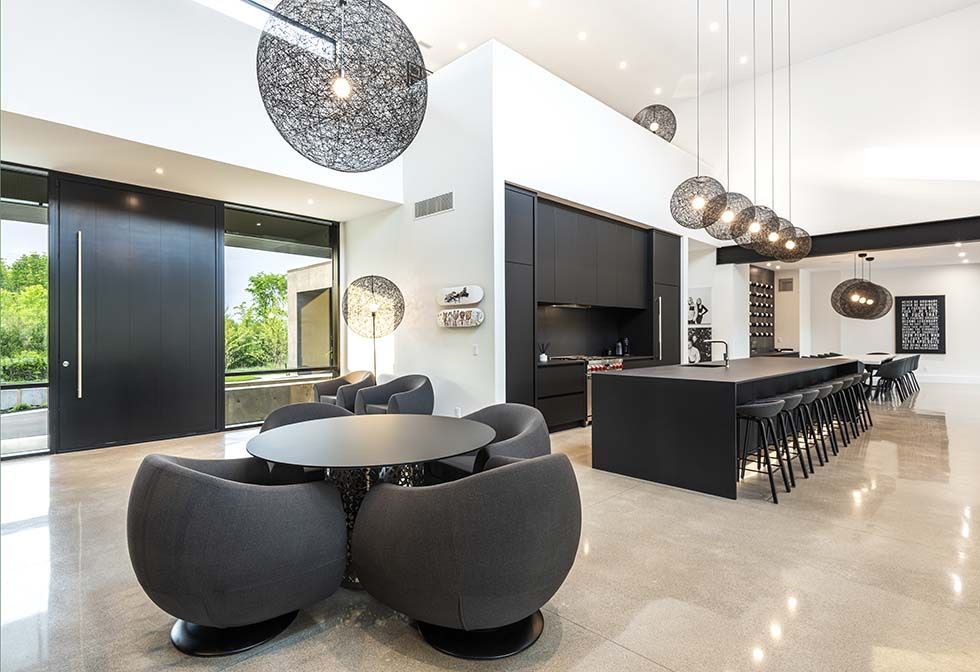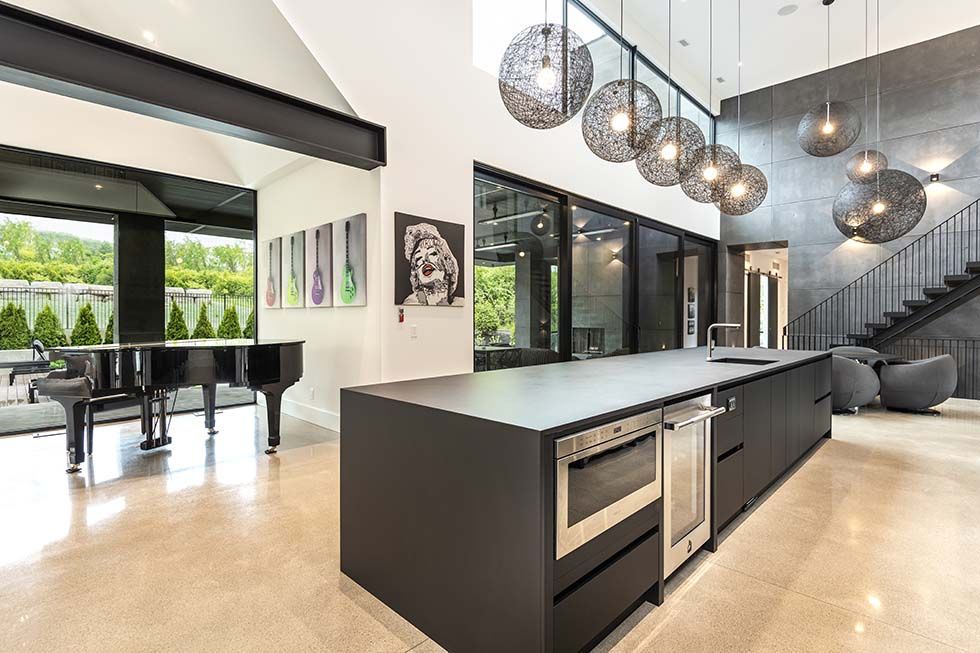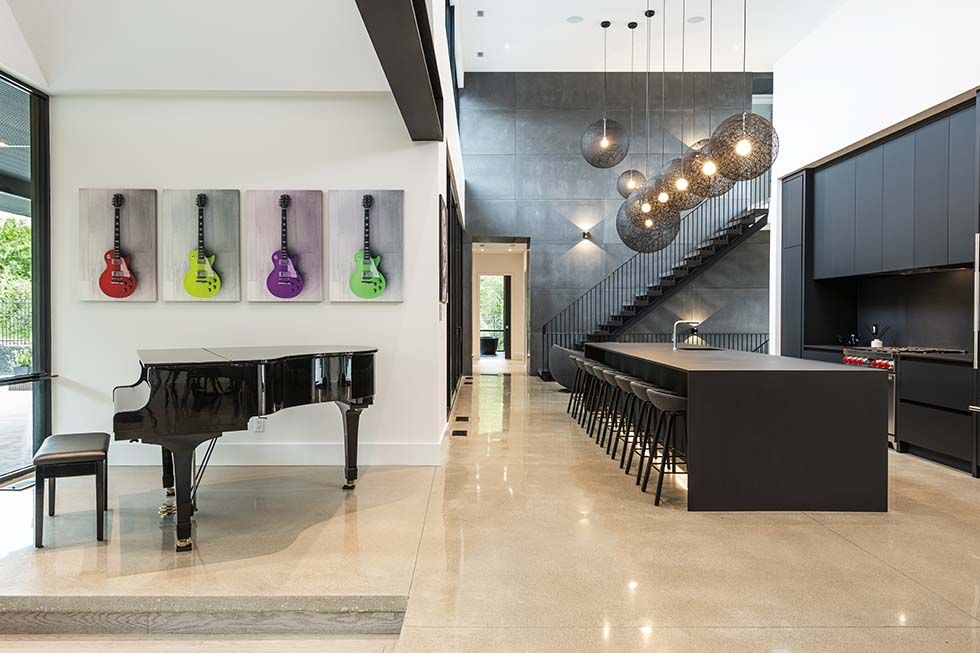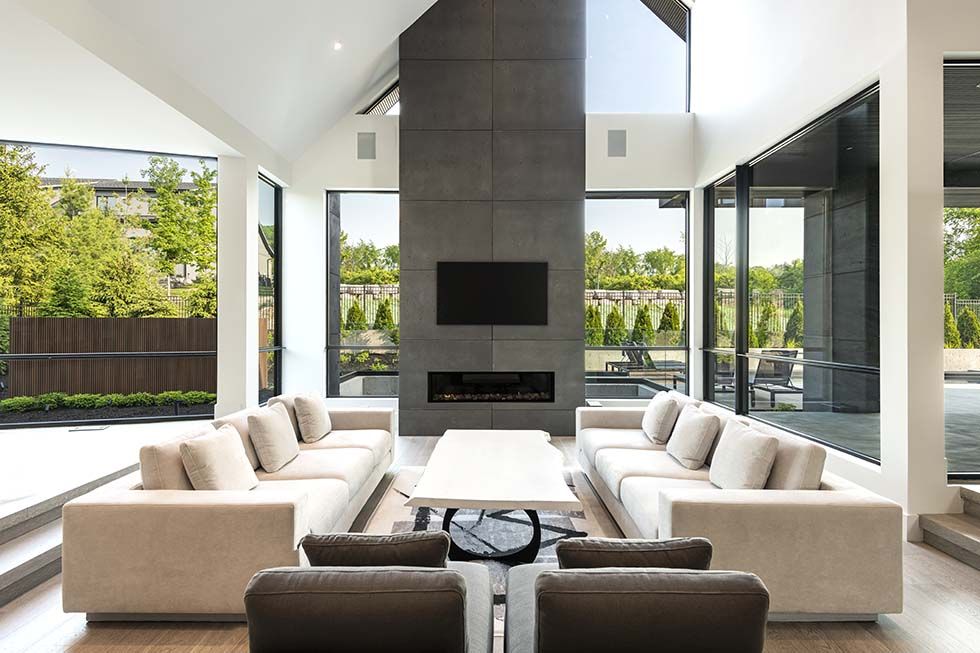 The home encompasses a total of six bedrooms, thoughtfully integrated into its design. On the main floor, is a luxurious master suite, while the second floor boasts three bedrooms, with one of them fondly referred to by Jennifer as the "junior master." The lower level is home to two additional bedrooms. Each of these sleeping spaces harmoniously incorporates themed design and décor elements, exemplified by the presence of stylish black brick walls in the powder rooms. The junior master and second floor bedrooms feature private decks and windows strategically placed for optimum light and privacy. Throughout the home, there are plenty of storage spaces, including linen closets. The entire home and its advanced tech features were integrated for automation by Red Brick Security.
The lower level of the home is clearly designed for family play and relaxation. As Jim is an avid golfer, one room is adorned with an indoor golf simulator provided by InHome Golf. This remarkable feature includes a floor-to-ceiling screen, enabling players to immerse themselves in a virtual round of golf. From driving off the tee to precise approaches, skillful chipping, and perfect putting, individuals can experience the thrill of playing at renowned golf courses from around the globe. In keeping with the theme, a couch from the couple's Oakville home was reupholstered in a whimsical golf tee pattern.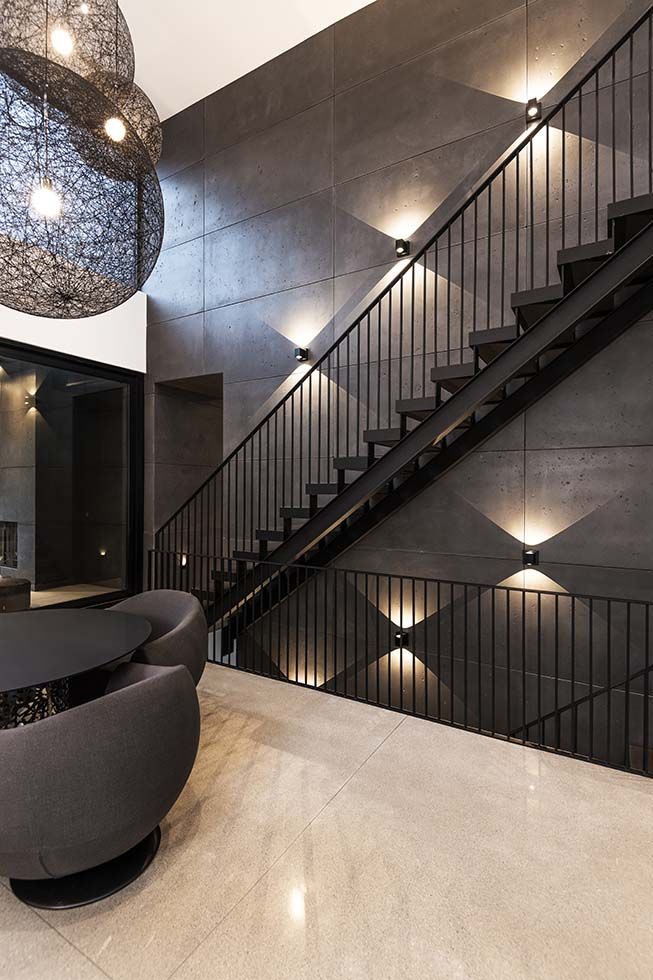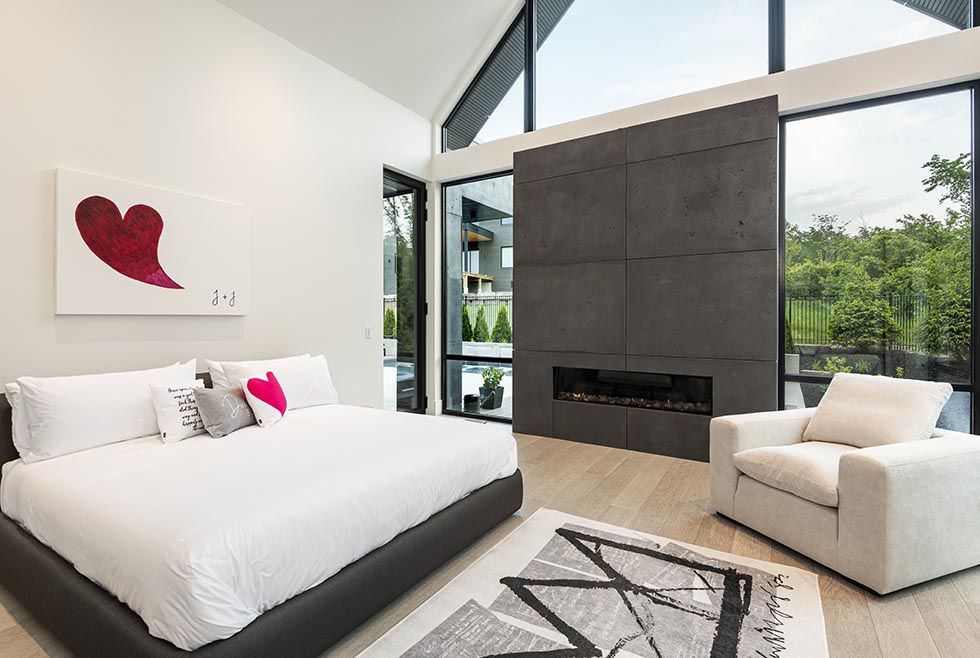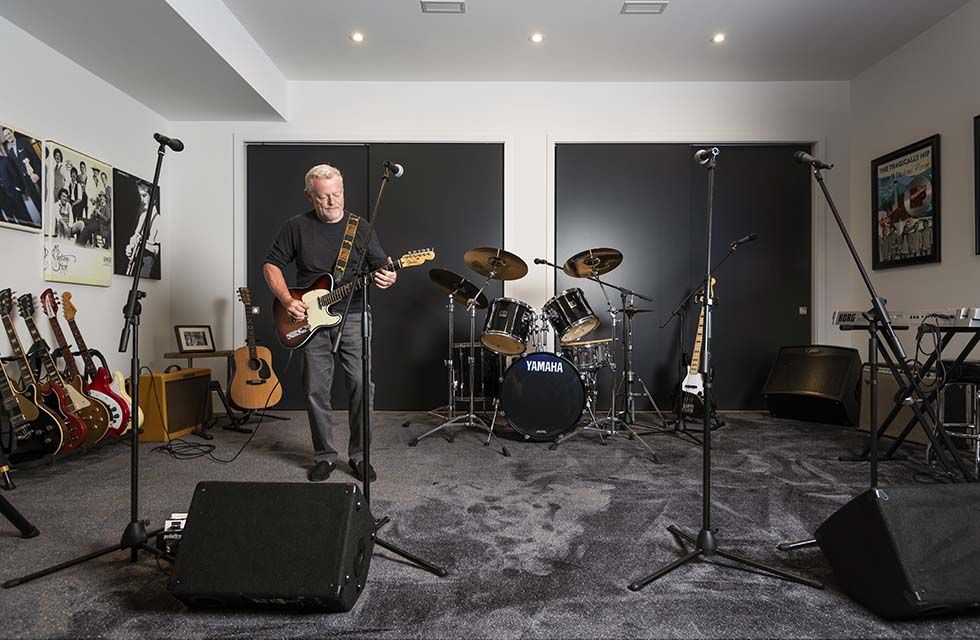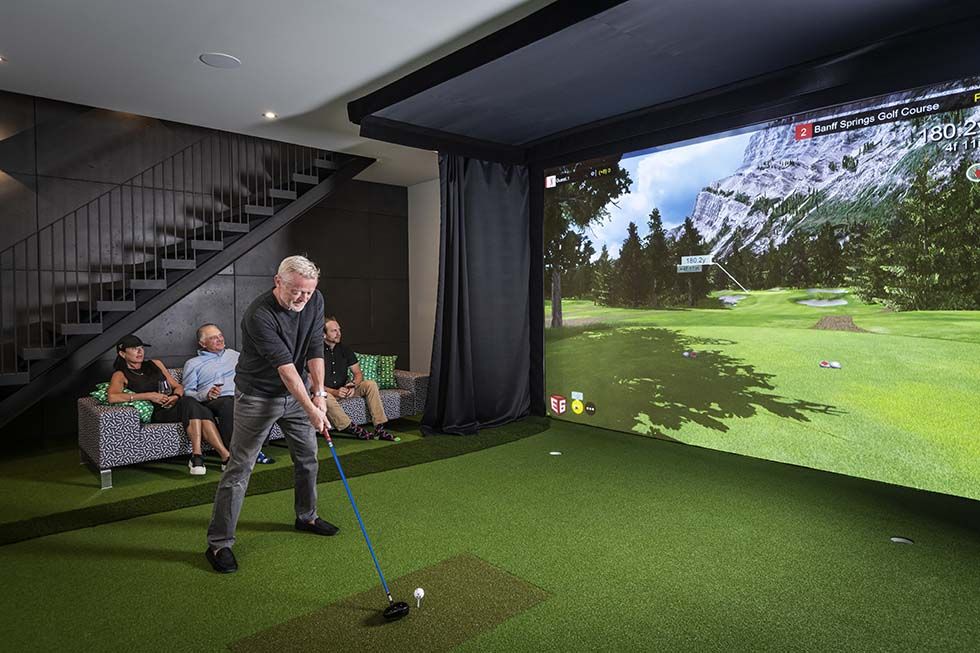 Right next door is a room devoted to one of Jim's big passions—music. The rehearsal room, fully equipped with a drum set, amplifiers, speakers and microphones, also contains a large closet filled with Jim's collection of acoustic and electric guitars (needless to say, he's an accomplished guitarist). Adorning the wall is a captivating photo capturing Jim's band in front of Toronto's iconic El Mocambo Tavern. This particular venue holds great significance, as it served as the backdrop for numerous gigs dedicated exclusively to fundraising. Through their passionate performances, they successfully raised millions of dollars for charitable causes. Out from this room (which can be closed off during rehearsal sessions and opened for sing-along karaoke parties) is a main relaxation space containing comfortable chairs and couches in front of a fireplace, with a fully-stocked bar and a table shuffleboard game.        
When it came to selecting design accessories and art, Jennifer made a deliberate choice to bypass store-bought items. Instead, she opted for personal memorabilia that hold sentimental value, symbolizing her life with Jim and their five children. "Everything we put up, with the exception of a few fun/colour/mood pieces, is either family photography or art that our kids made," says Jennifer. "The drawings by my son, a very talented tattoo artist, are both unique and whimsical. Our daughter is also artistic. It all has meaning to us."
Builder Patrick Coulter, whose partner Jason Dawe worked directly with Jennifer and managed the construction on-site, describes the Hardy home as a truly contemporary building; "a one-off". He explains, "Jennifer was passionately involved in the design and décor of the home, totally focused on the project all the way through, carefully selecting all the materials, fixtures, lighting, furnishings and accessories to make it her own. As to the home's design, it's the most contemporary building the Georgian Bay Club has ever allowed. With the marketplace evolving, I think it's a nice signal for the Club as a whole."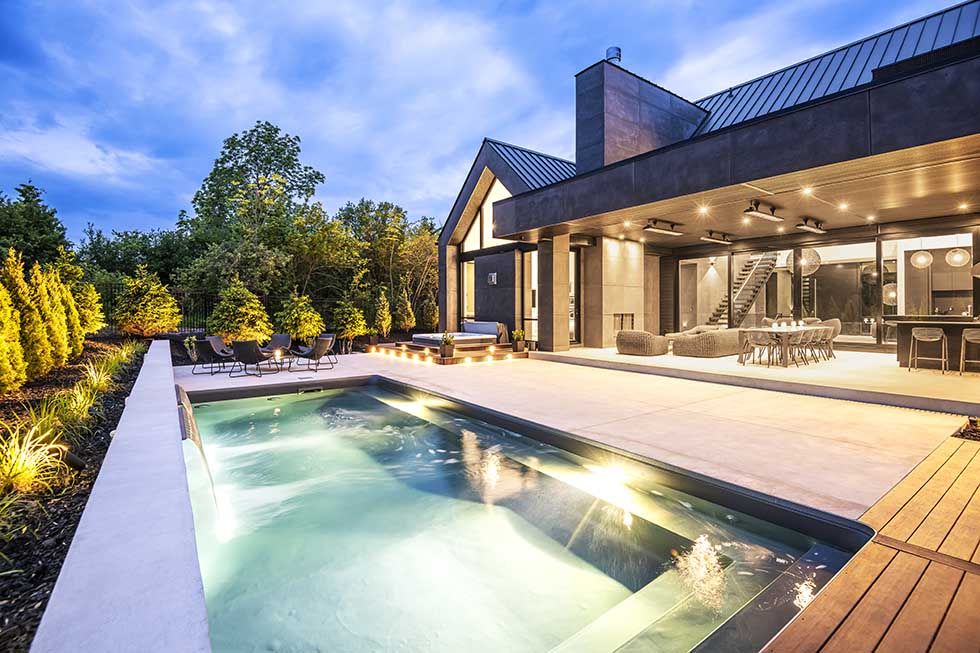 For Jim, the project was a labour of love. "Building our home has truly been a love story," he says. "Being an observer all the way along, I can say that our new home represents Jennifer—her talent, passion, and incredible style, inside and out. She has spent thousands of hours picking every surface and every piece of furniture, searching for parts, and working with the builder throughout the project."
Embracing her role as a dedicated homemaker throughout her adult life, Jennifer has taken on various responsibilities with zeal. Not only has she meticulously designed and overseen the construction of their Oakville home, along with a couple of renovations, but she has also expertly orchestrated numerous family and business events. Proudly reflecting on her contributions, Jennifer shares, "My husband is a retired Chief Investment Officer and CFO. As with all my past projects, with our new home, I have really considered myself the CEO."
Having dedicated months to meticulous planning and overseeing the construction process, Jennifer and Jim are now filled with excitement as they embrace the relaxed and serene lifestyle of Southern Georgian Bay during their retirement. It's a rewarding culmination of their efforts, and they eagerly look forward to this new chapter of their lives. "We originally thought about settling in Kelowna, BC, but decided since most of our kids are in Ontario, that this is the place for us to be."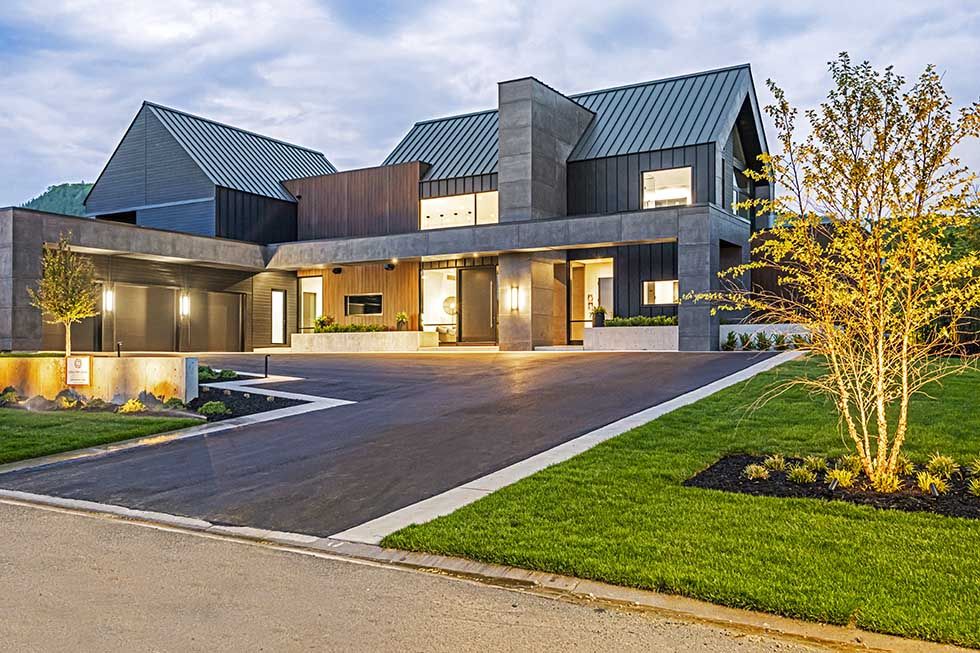 Source Guide   
Builder – Coulter Dawe & Associates 
Architectural Designer – Steve Hamlin 
Stone Masonry – Urban Concrete Design 
Fireplace – Ontario Hearth Ltd. 
Windows – Tiltco Architectural 
Kitchen Cabinetry – Modernplus Kitchen and Bath Design 
Window Coverings – Gline Inc. 
Appliances – MacDonald's Furniture and Appliances
Entertainment and Alarm System – Red Brick Group Inc.  
Bathroom Cabinetry – Modernplus Kitchen and Bath Design 
Bathroom fixtures – Taps Kitchen and Bath/Baril Design
Tile & flooring – Ciot Inc. 
Light Fixtures – Klaus Neinkamper/Moooi
Furniture and Accessories – Klaus Neinkamper/Joshua Creek Furniture/Tree Green Team 
Landscaping – Cedar Springs Landscape Group/MacDonald Landscaping