Escape from the City: A Tale of Two Families
Words by Marc Huminilowycz, photography by Clay Dolan
This is the story of two Toronto couples and their families who, faced with the confines of city life and a sudden desire to break away to greener pastures, chose to put down roots in our region. Linking the two is a successful local builder and his designer partner who tuned in to their needs, desires, and differing visions of a better life to help them create places they could truly call home.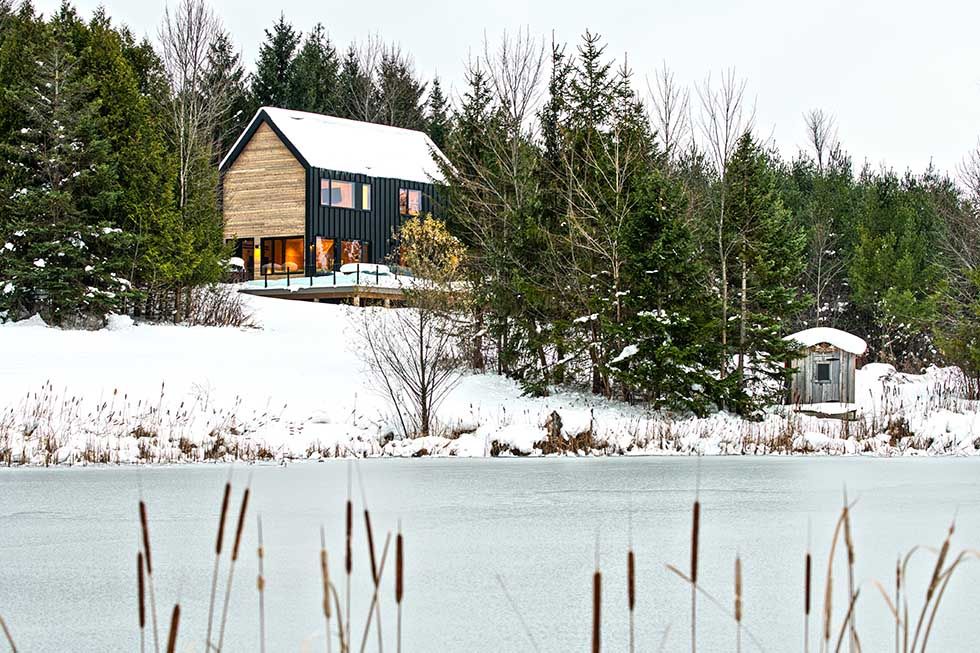 Scandinavian Cabin Retreat
For many years, Toronto real estate professionals Lindsay and Will Jephcott and their four children loved getting away from the city to unwind. The hundred-acre country property near Uxbridge, Ontario, had been owned by Will's family for over one hundred years. But a few years ago, the family moved from the property. This left a gap in the Jephcott family's lives, so the couple went looking for a similar tranquil and private experience for their children.
"We decided it was time to get the hell out and find our own property in nature, with no possibility of development in sight—a place where we could turn off and enjoy family time together," says Lindsay. "The arrival of COVID in 2020 sped things up for us. After some health issues in our family, we discovered to our shock that our Lawrence Park home had a major mould issue, so we needed to rent until the problem was resolved. We didn't want to get stuck renting in the city during the pandemic, so we decided to move up north, and started exploring."
The Jephcotts first started to look for acreage near Creemore, where they had been renting, but soon discovered that they were out-budgeted for the space they were looking for. "Our search kept getting pushed out farther west, until we found a beautiful, private 40-acre property west of Meaford near Walters Falls," Lindsay recalls."It was perfect for our active family. Here was a place where we could hike, snowshoe, ski, and swim in a spring-fed pond right from our doorstep. And there was a large barn which offered many opportunities."
Although there was an old log cabin on the property, Lindsay and Will decided to build a new home tailored to their desire for simplicity, comfort, and an outdoor lifestyle for their growing family. They chose local builder Blake Farrow and his wife Marina Farrow, an interior designer with Farrow Arcaro Design in Collingwood, to help them build and realize their vision.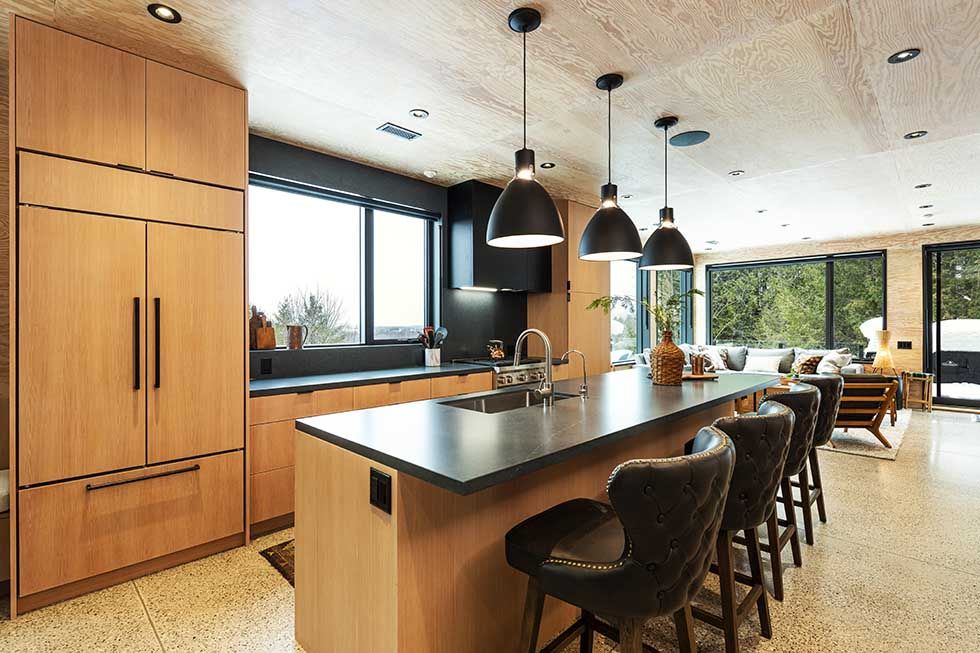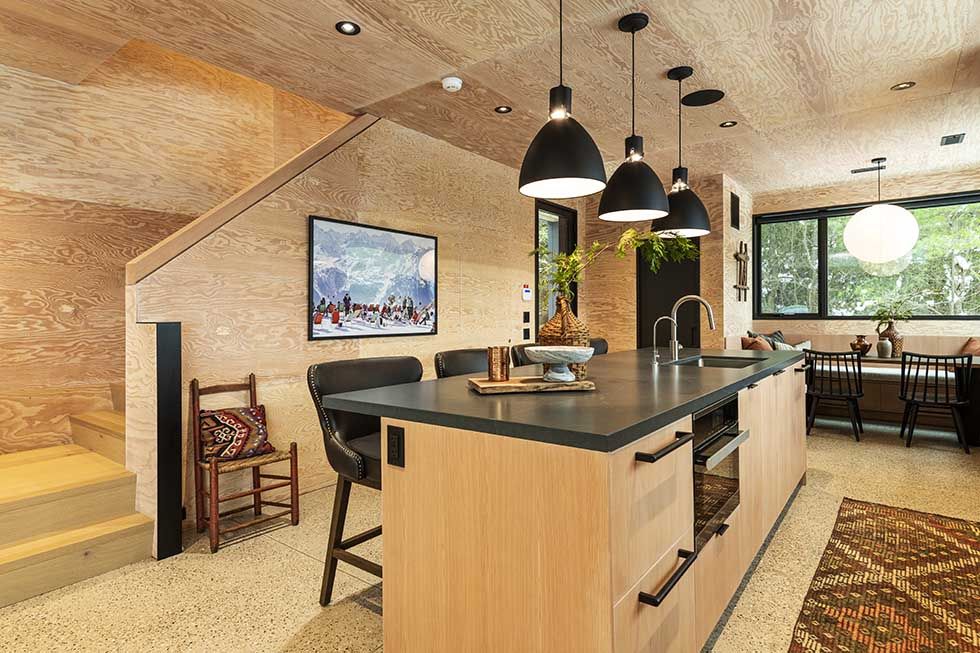 "What we were looking for was a home that was compact, efficient, self-sufficient, and not too big—just three bedrooms and one bathroom to encourage the family to spend time outdoors, while encouraging sharing among our kids," says Lindsay. Following their unpleasant experience with mould in their Toronto home, the Jephcotts decided to avoid potential water issues by omitting a basement altogether. 
"We wanted the house to look understated, cool and different, so we agreed with Blake Farrow on a simple and space-efficient 'Scandinavian cabin' design with minimalist décor," Lindsay adds.
Blake describes the construction; "On the outside, the roof and walls are all clad in colour-impregnated steel that's durable and maintenance-free, and at each outside entranceway, we embedded walk-off grates to remove snow and dirt from boots after a day of outdoor activity. On the inside, we went utilitarian, squeezing every inch of space we could."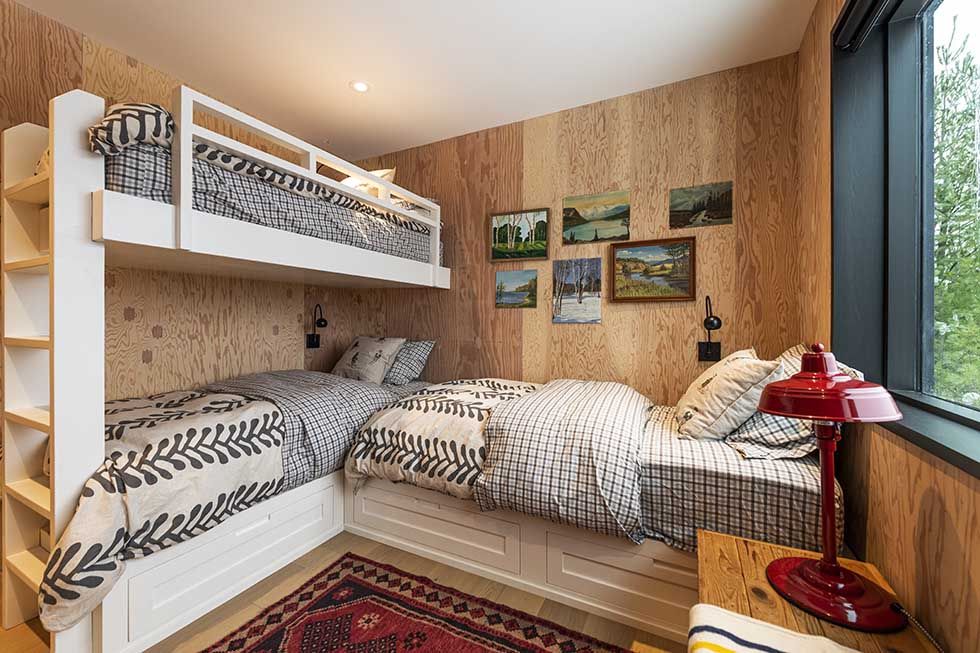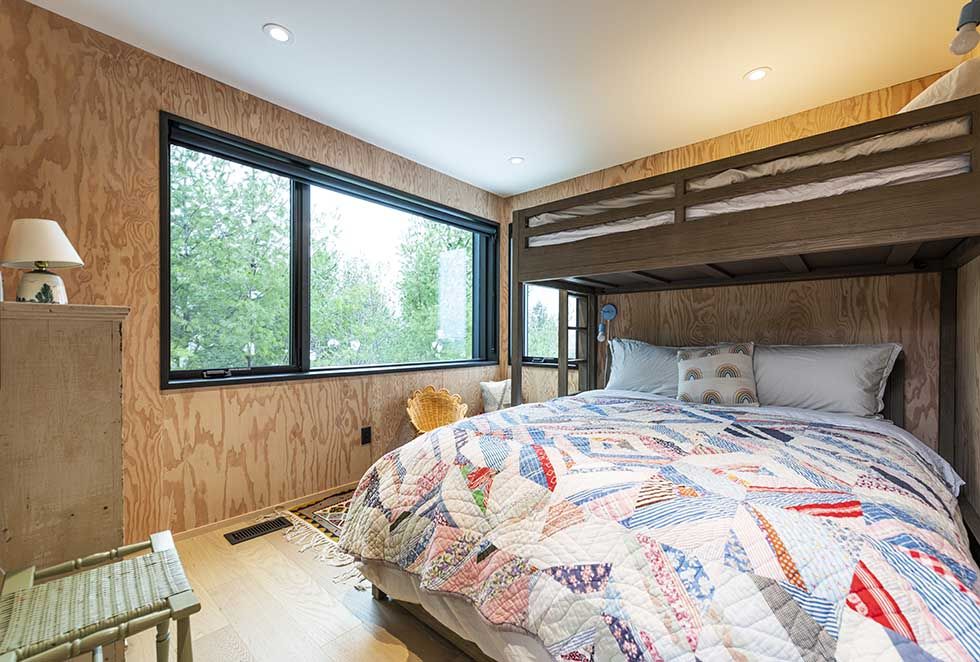 Touring the Jephcott home, simplicity and efficient use of space are evident everywhere. A unique stepladder imported from London, England serves as a design showpiece, while providing access to storage spaces. The modern kitchen features matte black countertops, sleek cabinetry and hidden appliances. Radiant heat concrete floors throughout the main level warm the entire two-storey home, augmented by a Scandinavian-style Stûv wood-burning fireplace in the living room.
The most striking feature of the interior is the treatment of the walls and ceilings—hardly an inch of drywall can be seen. Instead, clear, sanded plywood sheets sealed with a natural wax product imbue fascinating textures and warmth throughout the home.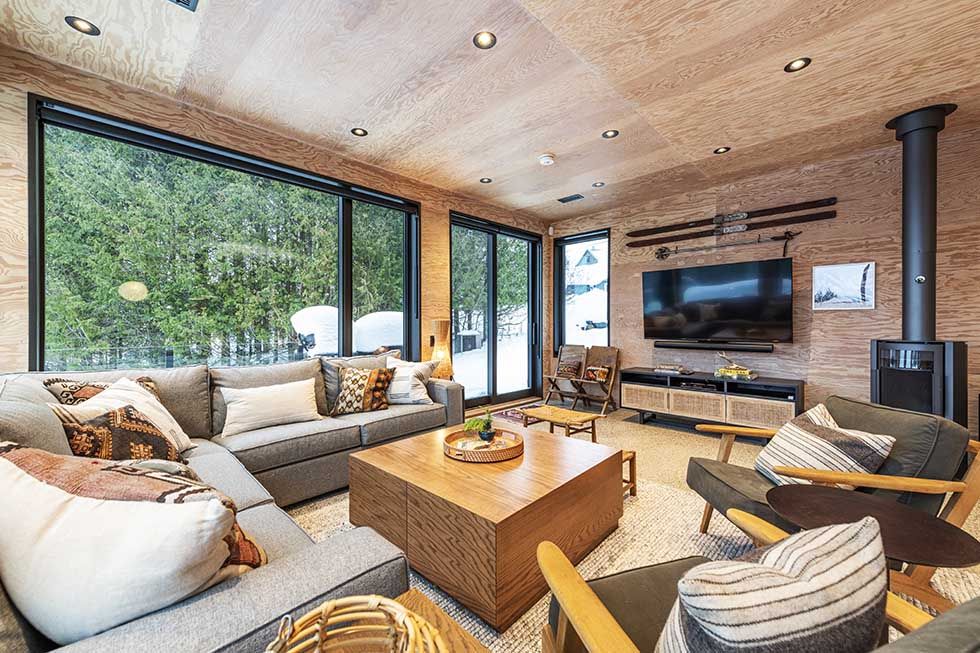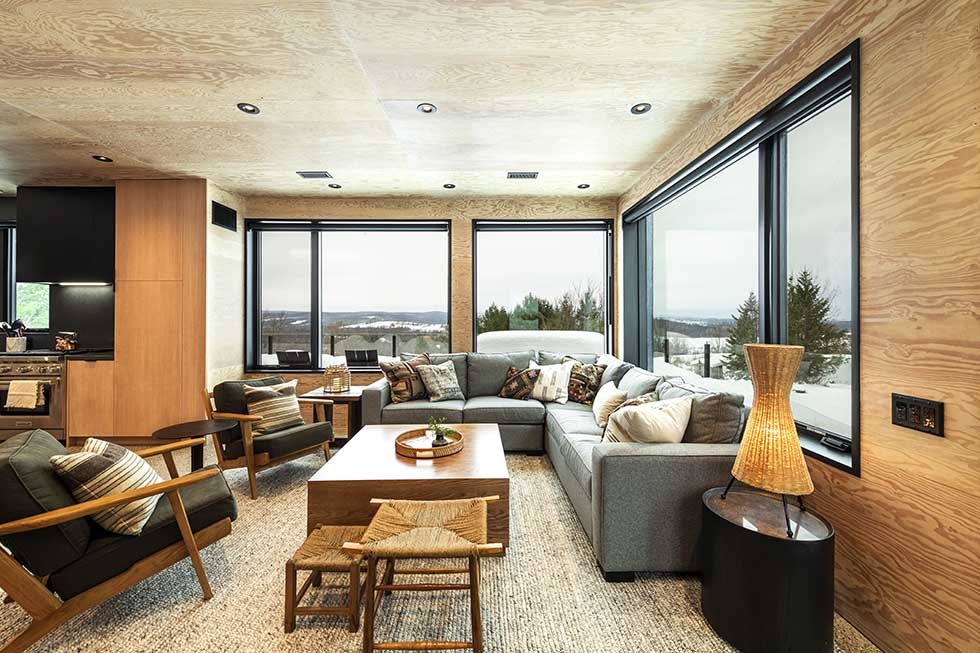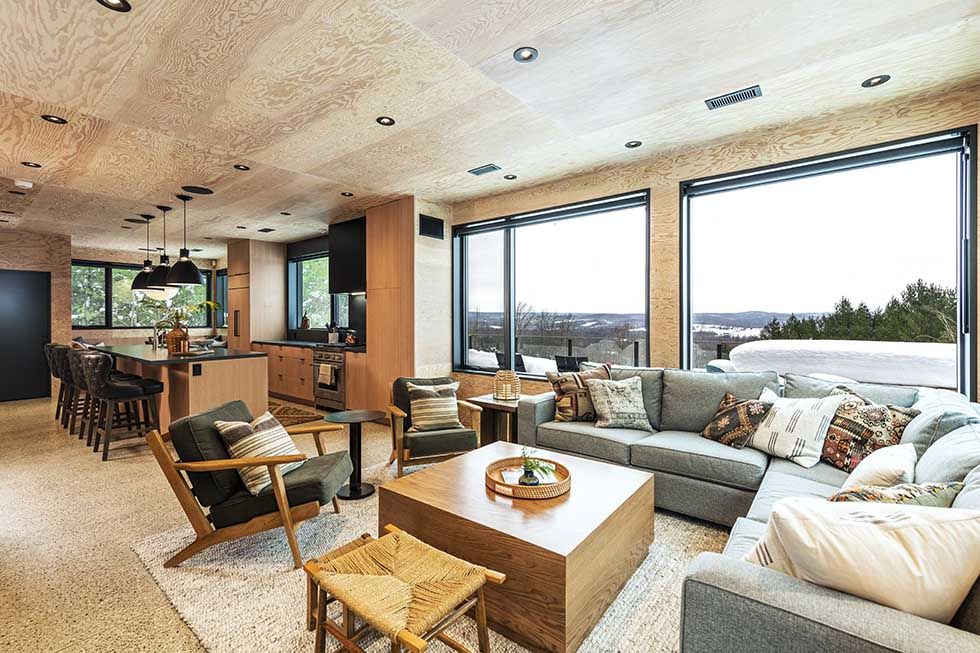 "We tied in natural elements with antiques like Moroccan rugs, an antique dresser, vintage skis, and a Slim Aarons photo of a ski scene in Europe," says Lindsay. "These were combined with a few personal touches like watercolour paintings and a cool-looking, moon-shaped paper lantern to give our home a feeling of warmth, comfort and coziness. And our strategically-placed windows provide natural light along with magnificent views to the natural surroundings. They are our art." Overall, the style of the Jephcott home could be defined as "Hygge", a word in Danish and Norwegian that describes "a mood of coziness and comfortable conviviality with feelings of wellness and contentment."
The Jephcotts are loving their natural retreat, enjoying it on weekends and holidays for now, mainly because their four children are in school in Toronto. Down the road, they have big plans for their country property. The next project could be fixing up the immense barn near the house to either keep animals, rent or convert to an event space. "We have a large pond fed by an aquifer, plenty of clean drinking water, lots of sugar maple trees, a sugar shack, and all the wonderful wild apples that we could ever eat. With our simple and comfortable home and lifestyle, I think we're pretty much self-sufficient," says Lindsay. Asked if her family would permanently relocate here from the city in the event of another pandemic or other catastrophe, she replies, "In a heartbeat."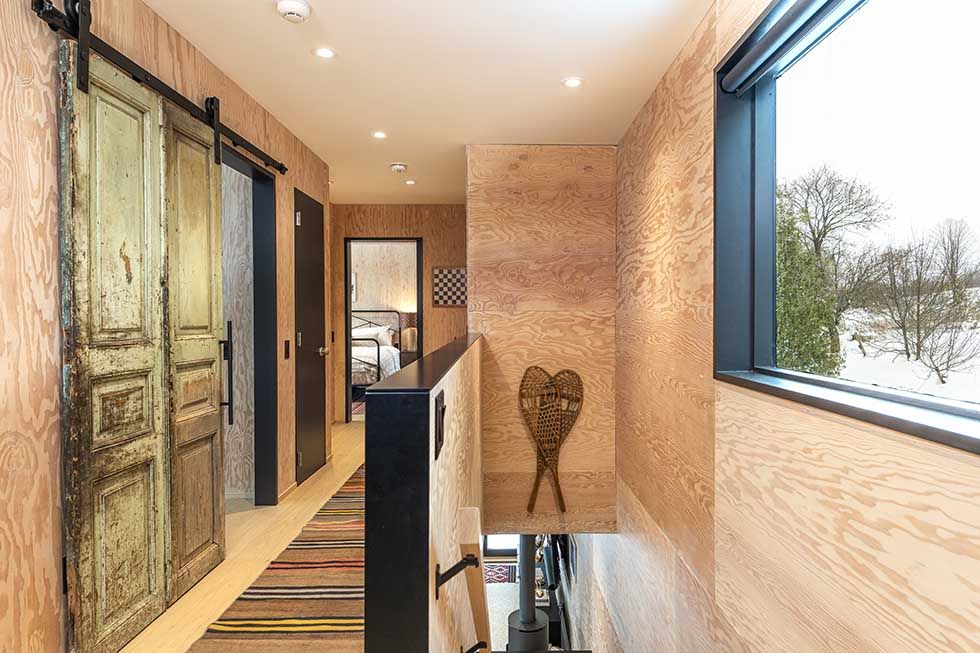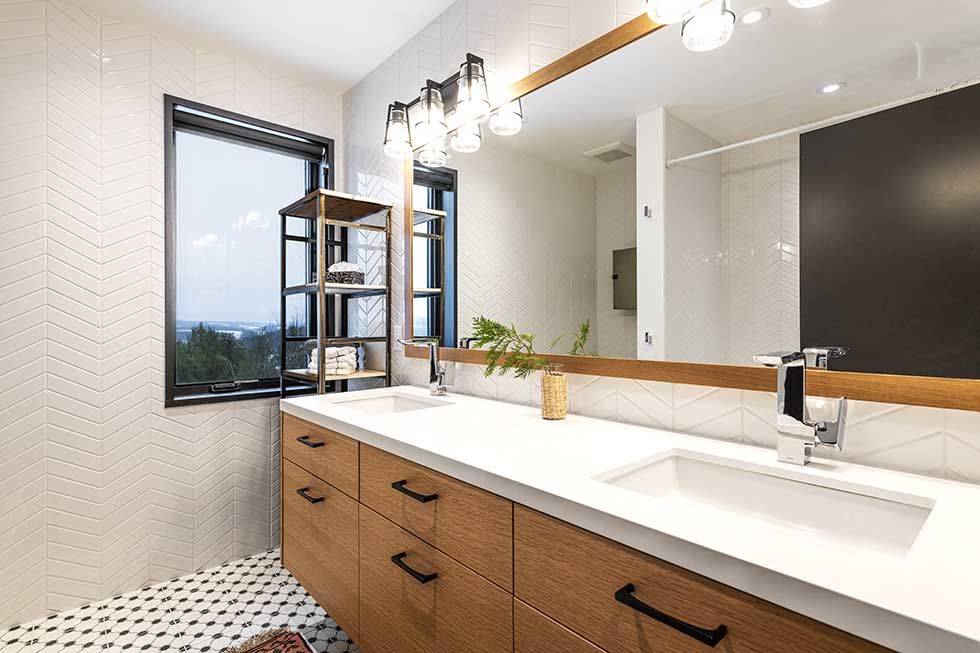 A Nineteen-Seventies Chalet
Styling by Farrow Arcaro Design
It was the very beginning of COVID-19. Emily and Sean Rucker, a successful professional couple living in Toronto, found themselves driving north to escape the city. Emily was pregnant, and they were towing a U-Haul filled with furniture and personal belongings from their tiny downtown condo, headed for the temporary sanctuary of the 1970s ski chalet at Blue Mountain they had purchased a couple of years earlier. Prior to the pandemic, the Ruckers were happy living the professional downtown lifestyle, with good jobs and a condo near the Rogers Centre. In 2018, the Ruckers decided to cash in on what they thought were peak prices, sold their downtown condo and decided to rent.
"We were sitting on the proceeds of the condo sale and were thinking about getting back into the market at some point. But the prices kept going up and we were having a hard time justifying paying $700,000 for 500 square feet," says Sean. Then, one day, driving back from a weekend cottage they were renting, Emily and Sean realized that, instead of buying a new home in the city, they should buy a cottage, rent it to make some money, and use it themselves during the "shoulder" seasons.
Online searching revealed a unique 1970s chalet for sale, just steps away from Blue Mountain Resort. As it turns out, the home was built in 1978 for avid skier and local personality Joseph Balogh, who often entertained guests (including his good friend, the legendary Jozo Weider) with his famous après ski goulash parties.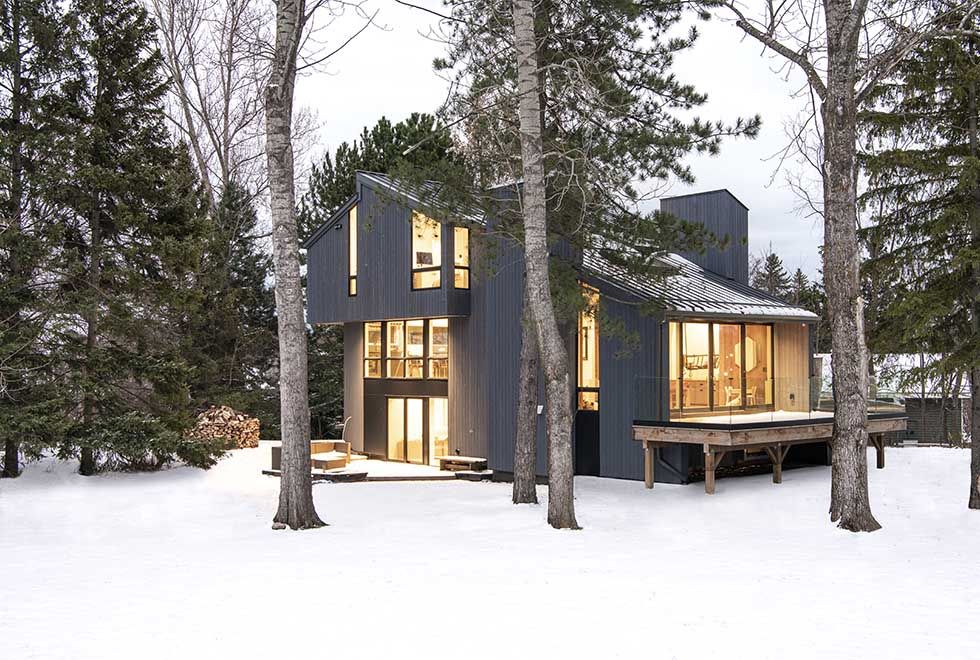 The Ruckers were so passionate about the chalet and its provenance that, despite only an online description and a video of the property to go by, and two other bids in place, they put in an offer sight unseen. "We were immediately drawn to the character of the home, hence our hasty purchase," Emily explains. "The multi- level layout, interesting angles, nooks, and many windows are what make it different."
To the couple's delight, their offer was accepted. Over the few next years, Emily and Sean rented the house in the summer and during ski season. But a recurring roof leak, unresolved despite numerous attempts to repair it, rendered the home unrentable.
And then the pandemic hit. "Emily was pregnant, we had just signed a lease for a new apartment, and we were freaking out because we really didn't want to be in an apartment building at the time," says Sean. With both their offices closed and remote work the new reality, the Ruckers decided to move temporarily to the chalet instead, believing that the small- town, lower density location would be a safer place in which to start their family.
And so, the Ruckers made their getaway to Blue Mountain. "We made the move temporarily to figure things out. But when Shopify, Emily's company where she is a UX designer/manager, announced that they were going remote permanently, my business partner and I did the same," says Sean, who co-owns a tech start-up that creates software for professional sports teams' mobile applications.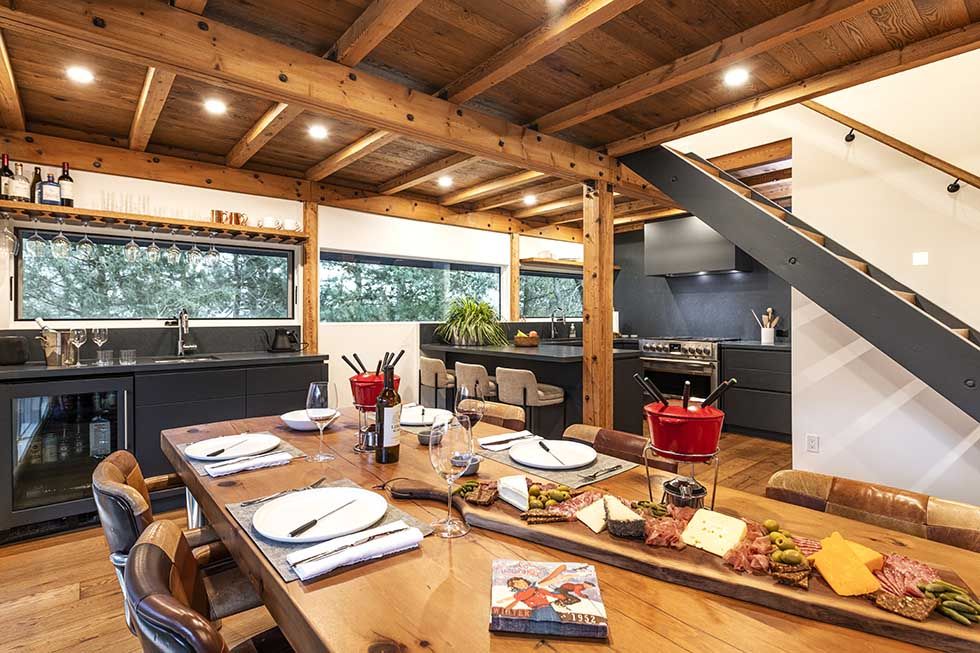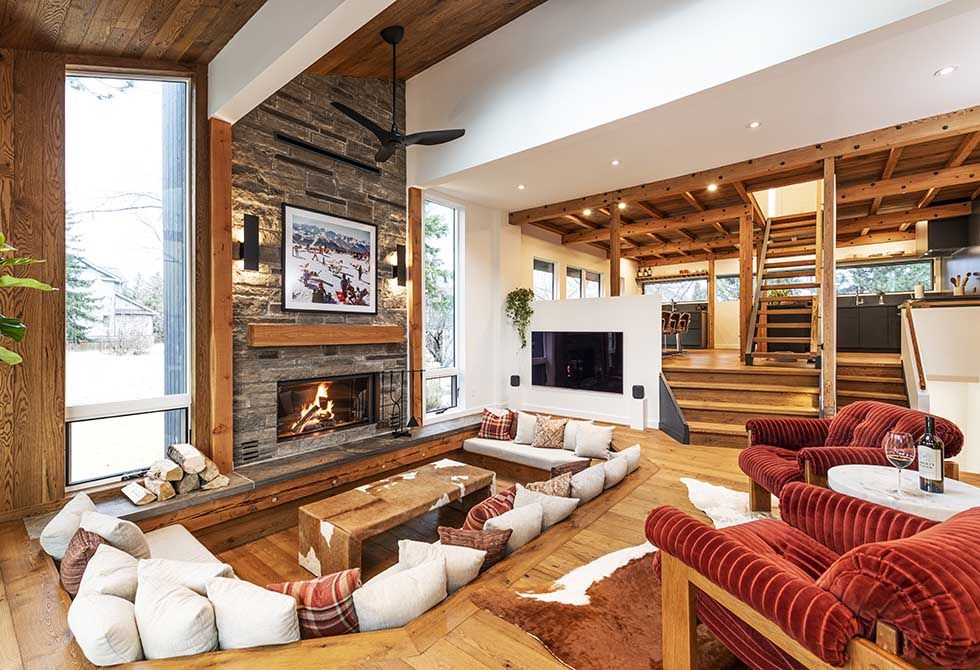 With permanent remote work now possible, Emily and Sean decided to leave the city for good and make the chalet their home. Their daughter Zoey was born in Collingwood Hospital that year, and the couple realized that the old building needed some serious repair. "The place had a lot of problems," says Sean. "Besides the biggest one, the leaking roof, it was poorly insulated and draughty. You could feel cold air when you put your hand close to the windows in the winter."
The couple interviewed three local contractors for their renovation, and chose builder Blake Farrow. "We liked Blake and felt that he had a good understanding of what we wanted to do with the home—to keep much of the original character, but bring it up to modern standards," says Sean. "And we also wanted to work with a designer, so when Blake introduced us to his wife Marina, an interior designer with Farrow Arcaro Design in Collingwood, we knew we had found the perfect team to help us realize our vision."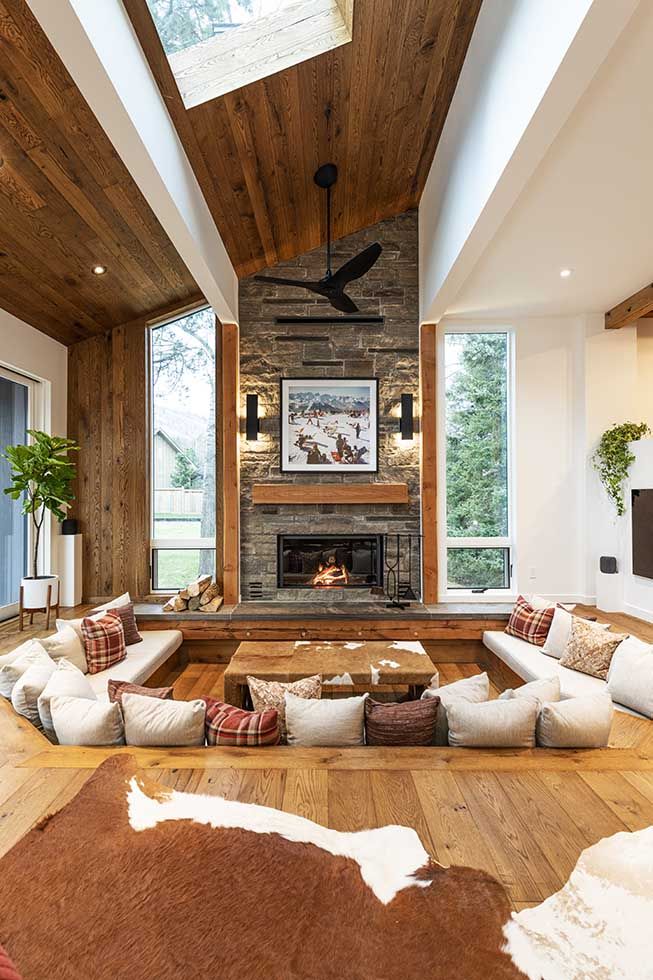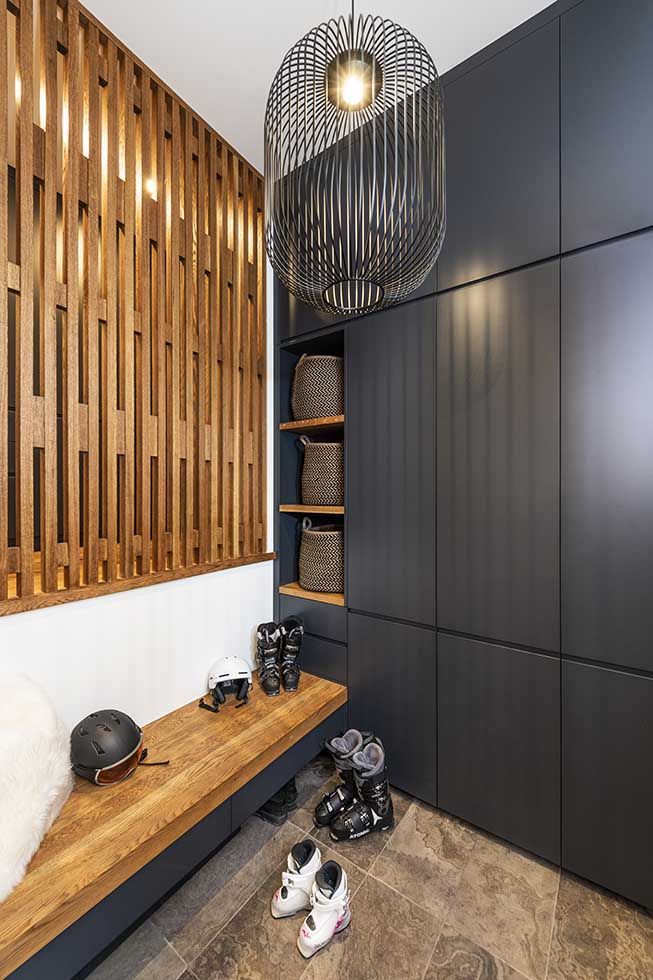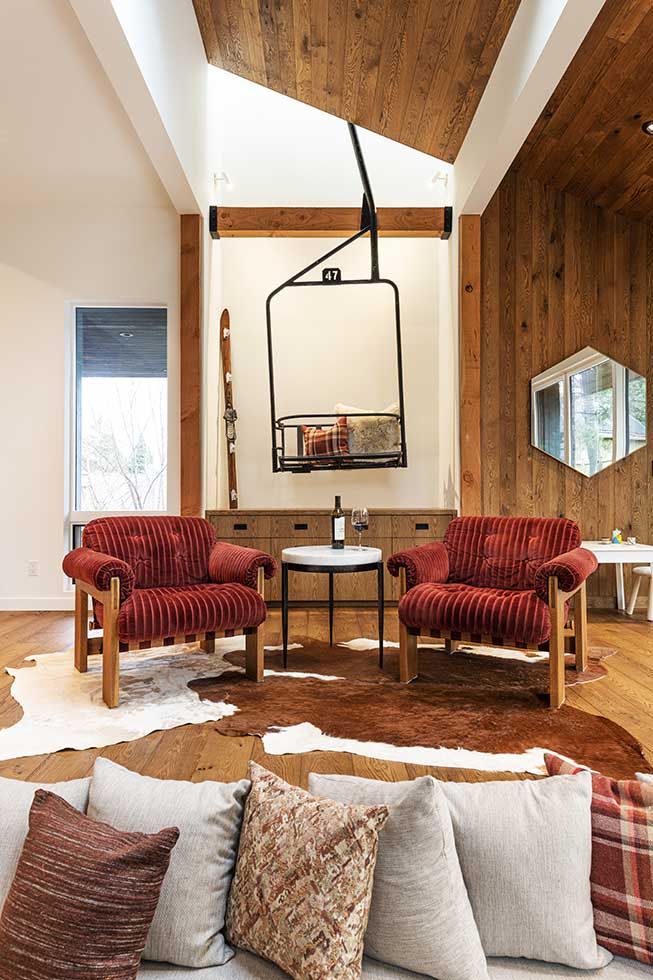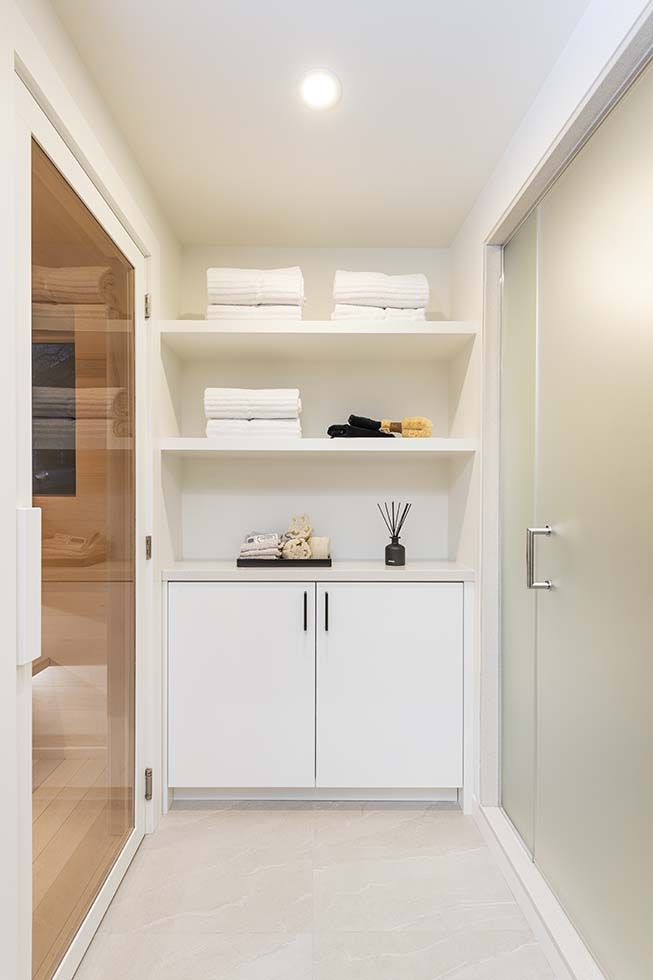 First things first, the leaking roof was finally repaired. The chalet's centrepiece, a living area featuring a 1970s-style sunken living room, where family and friends would cozy up in front of a fire, was rebuilt while maintaining all of its original character. Stylish and energy-efficient Kolbe windows and locally-manufactured oak floors were installed here and throughout the home, and the sunken area was updated with new seating and a modern fireplace to replace a vintage one which Blake Farrow described as a "pizza oven".
The basic structure and character of the rest of the chalet remained virtually intact, but reconfigured to modern standards, according to Blake Farrow. The building "envelope" was thoroughly sealed, insulation was added, and the complex existing spaces were reworked for better liveability and function. "Full credit to Sean and Emily for wanting to merge the edgy design features of the past with the conveniences of the new," says Blake. "A fascinating amount of space was utilized. It was an interesting project, and we were all in."
"We're really into entertaining and wanted our home to be warm, inviting, unique, and functional. We did our best to accommodate big groups for dinners, sitting around the fire, and for sleepovers," says Emily.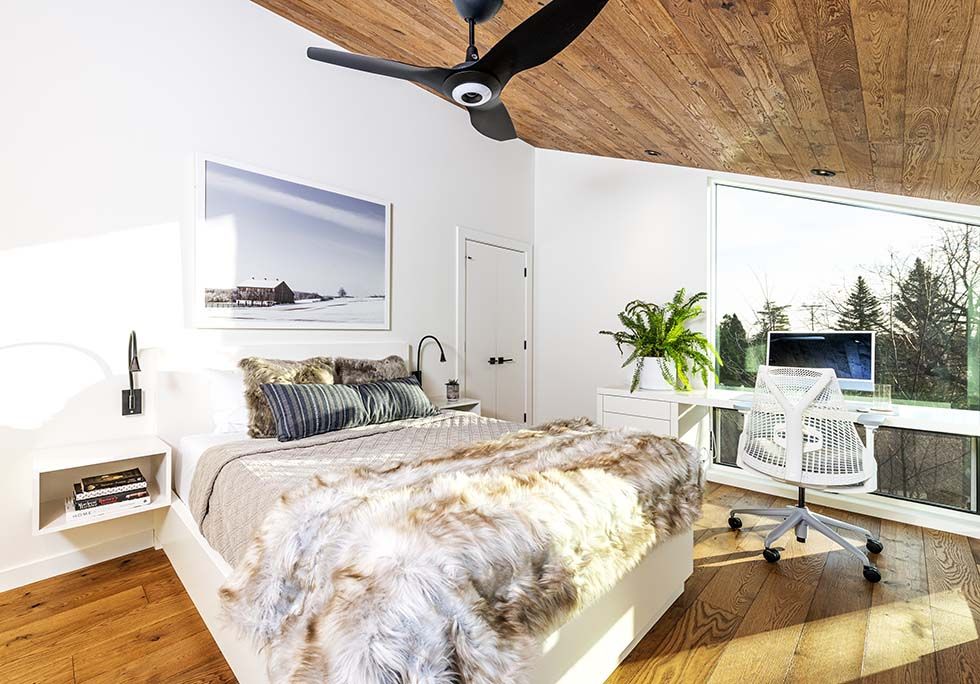 Throughout the home are examples of how the existing spaces were remodelled while preserving the feel of the old chalet: a large, refinished original dining room table; original wooden support beams doubled up to meet building code; a modern and functional kitchen with separate wet bar and walk-in pantry; ski equipment storage by the main entrance; a master and second bedroom (doubling as work stations) with "nook beds" under a skylight (for daughter Zoey, visiting kids and, occasionally, the family dog, Charley); in the lower level, a bedroom (with fireplace) resembling a modern hotel suite, and a gym and sauna.
With help from designer Marina Farrow, the Ruckers filled their renovated chalet with features that would pay homage to the original owner's vision. Next to the sunken living room and fireplace stands a vintage two-seater chairlift (likely from the North chair lift at Blue), ready to elevate skiers up the mountain for a day of fun.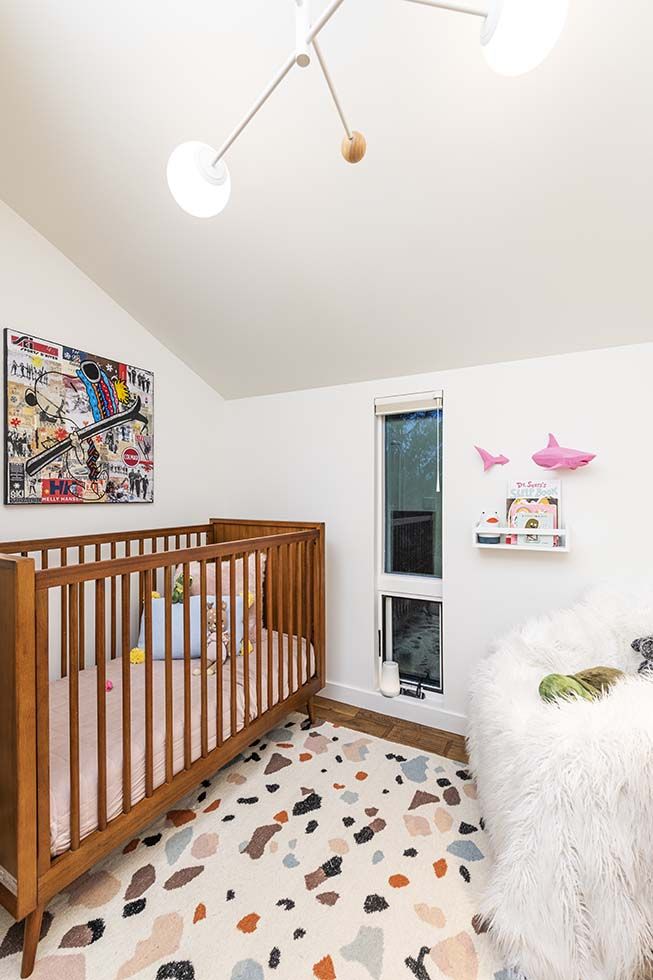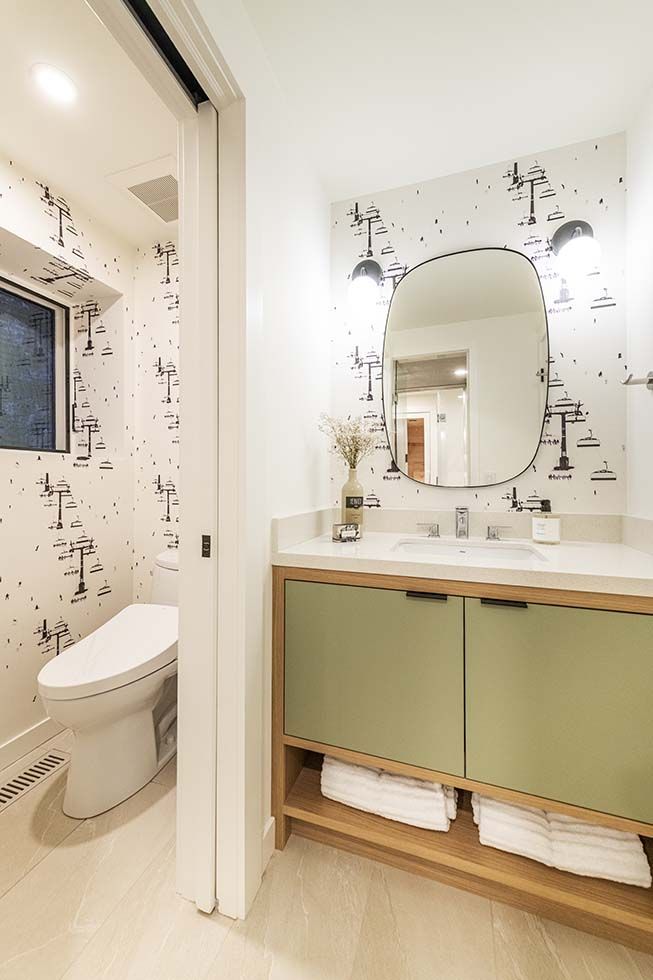 "We bought the chalet fully furnished, complete with cutlery, plates and even a bowl of chips," Emily recalls. "We knew that some of the solid wood furniture pieces were irreplaceable—mid- century design, over-sized and super comfortable. The opportunity to refinish them gave us a perfect way to marry the old and the new in a way that feels cohesive." 
Describing themselves as outdoor enthusiasts, Emily and Sean are thoroughly enjoying their renovated chalet and all of the outdoor adventures available to them in Southern Georgian Bay.
"We worked with an incredible team of contractors and designers who helped us bring our home to its full potential. And now, we love being able to walk to the ski hill, shops, and restaurants, and maybe spend an afternoon exploring the towns nearby," says Emily, whose parents, as well as several of the couple's friends, have also moved up to region.