Proscht!
by Kate MacLennan photography by Clay Dolan
There's no place like home—except, perhaps The Alphorn Restaurant in Craigleith. Just ask the thousands of skiers, families, and staff who can't stay away. 
I swear on all that is honourable that The Alphorn Restaurant is a family establishment, but this story must begin on the topic of beer. More accurately, the more than 50 international beers, and the many dedicated patrons, skiers and racing teams who, for decades, have chosen to après at the Alphorn and endeavour to sample every single one.
"The beer passports started because I've always liked different beers," explains Mark Houston, who co-owned the Alphorn with Bill Boismeir from about 1997 until 2021, and still works the bar many weekends. "I used to go to the LCBO and find something I'd never heard of to serve, and we'd call it 'Mark's Mystery Beer'. Then Bill came up with a plan to  turn it into something different with the passport program."
It's a simple enough idea—customers get a tick in their 'passport' for every beer they try, and when they've tried all 50, they get a free t-shirt. It caught on. "We thought it would last two or three years, but it's been 15 or 16 years now. We've got three individuals who have completed over 20 passports, and I can't tell you how many people are in the double digits."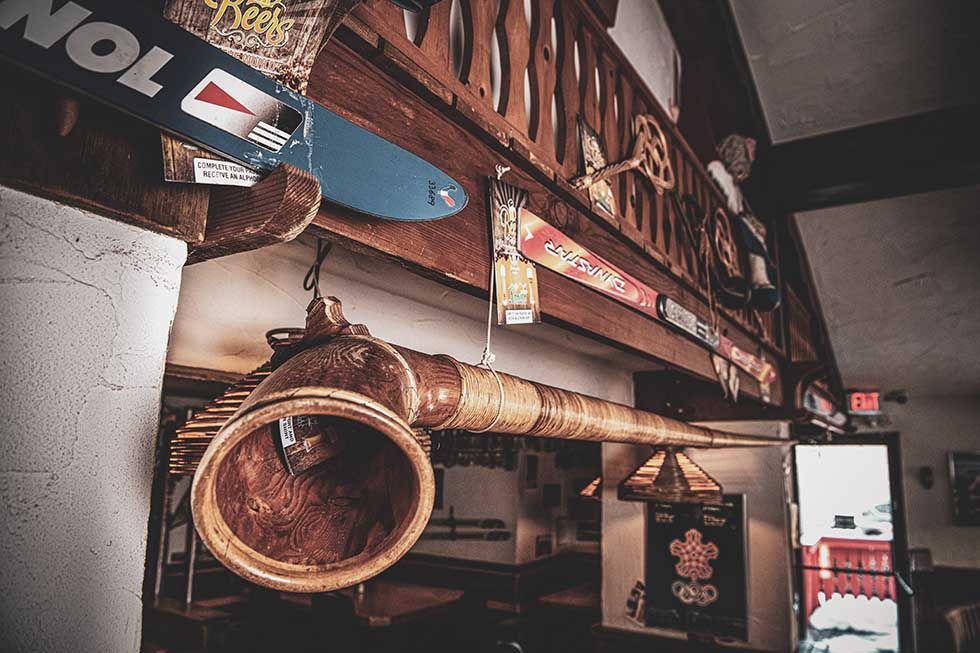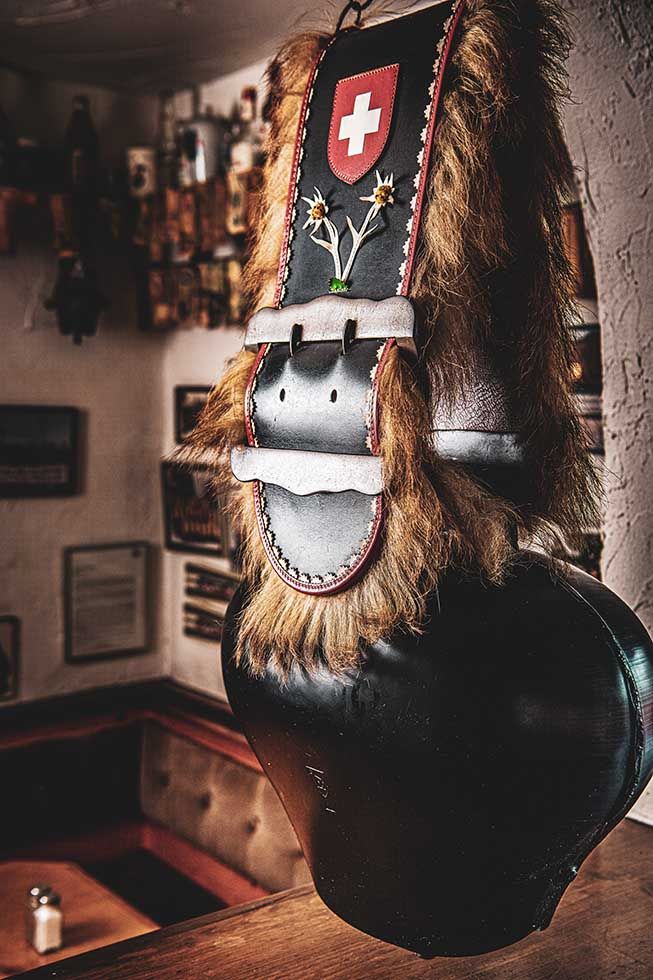 Then there's the booze—specifically German apple schnapps. When you hear the clang of the huge cow bell that dangles from the ceiling in the middle of The Alphorn, it signals that someone has bought the house a round. And yes, the big bell gets rung regularly—as do the smaller bells at individual tables. Mark explains, "It's a tradition in Switzerland. In the bad old days, you'd ring it to order a round of drinks for your table. Jean Pierre modified that for here."
Jean Pierre "JP" Zingg, founded The Alphorn Restaurant in 1977. Back then there were few restaurants in Collingwood, let alone a Swiss themed eatery. Zingg had emigrated from Switzerland and had been a sous chef at the CN Tower restaurant before discovering the Blue Mountains and deciding the area was missing Wiener schnitzel and fondue.
Ownership of the Alphorn has changed hands three times since Zingg sold in 1997, but the menu—virtually unchanged for more than 40 years—is as reliable as the white stucco walls, wooden tables, and other original décor. The authentic cow bells once dangled from the necks of herds that travelled to and from the high meadows of the Swiss Alps—some have the names of their farms etched on them. The horn—yep, an actual alphorn—also came from Switzerland, and in pre-covid times was a major attraction for children looking to make a lot of noise.
The restaurant has become known for good-naturedly poking fun at Houston's mother-in-law on its roadside sign, and the Alphorn's famed birthday song has serenaded hundreds of people into their next turn around the sun. Then there's—the rest. Think: beer passports tucked in every nook of the cozy bar, signs of beers of the world, flags, giant Swiss watches, taxidermy animals and fish, and scads of ski paraphernalia including old skis, autographed photos of famous racers and local teams, racing bibs, and much more.
"The junk on our walls is real junk that's been collected over the last 40 years," says Houston with a laugh. "Nothing ever comes down, but more stuff goes up. In Switzerland skiing is almost a religion and JP used to watch ski racing on TV back when nobody watched ski racing. So, we've had a lot of ski racing celebrities come in through the years like Ken Reid, one of the Crazy Canucks, and Todd Brooker. Skiers just don't come to Collingwood without going to the Alphorn."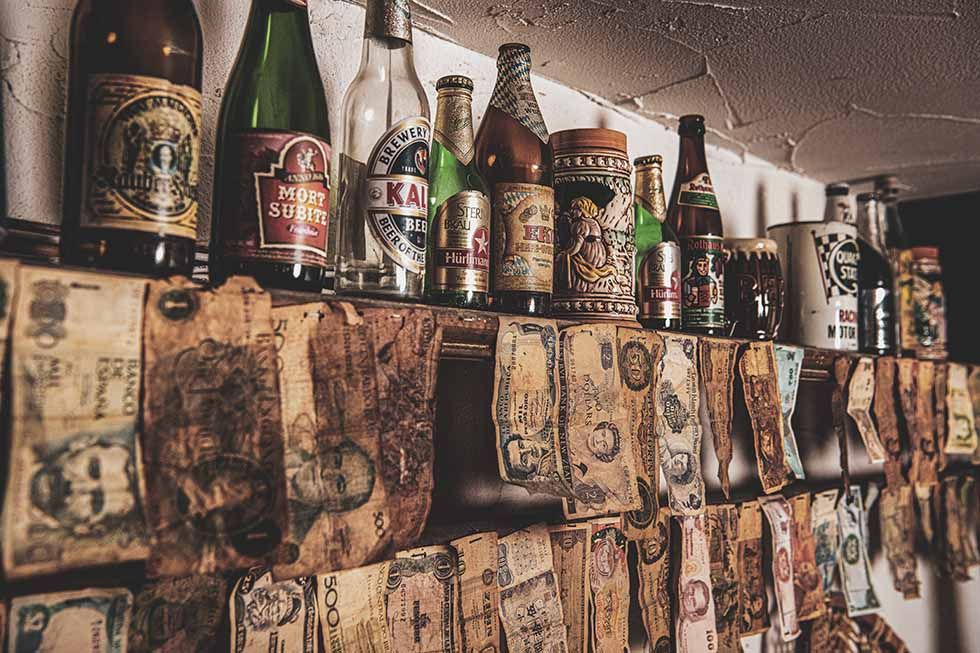 Dave Campbell, former head coach of racing programs and current alpine manager overseeing on-snow programming at Craigleith Ski Club, has been going to the Alphorn since he was a kid, and confirms it's still a go-to place. "This coming March we're hosting the World Cup Ski Cross Finals, so we recently had a meeting of FIS guys from EU and the track builders. The Alphorn is the spot for the coaches and athletes to go."
Tradition runs deep at the Alphorn; "So many people have celebrated life events here and I can think of at least two couples who are both grandparents and who had their first date at the Alphorn. I have lots of customers who came in as little children who bring in children of their own now," says Mark, then pauses. "You know, I use the term customers but that seems wrong. They're friends. And they feel like they own the Alphorn because they've been coming here for so long. It's a part of people's lives."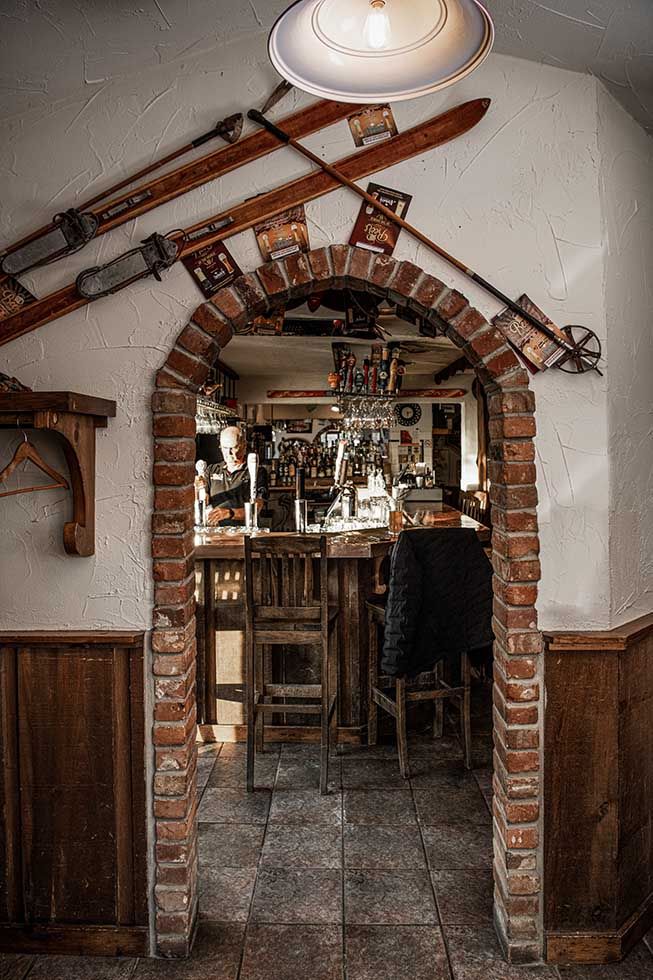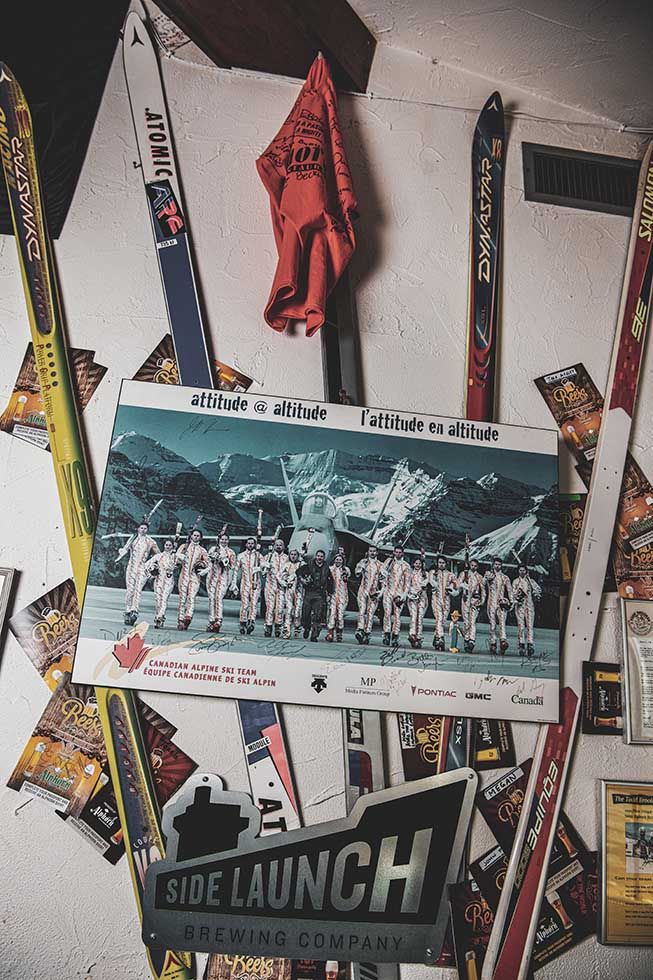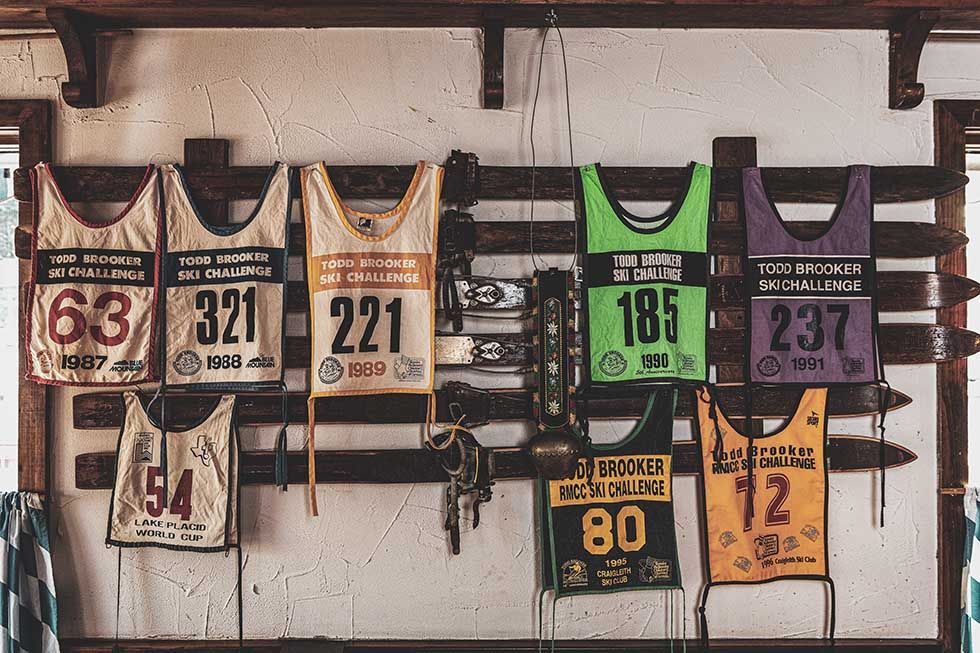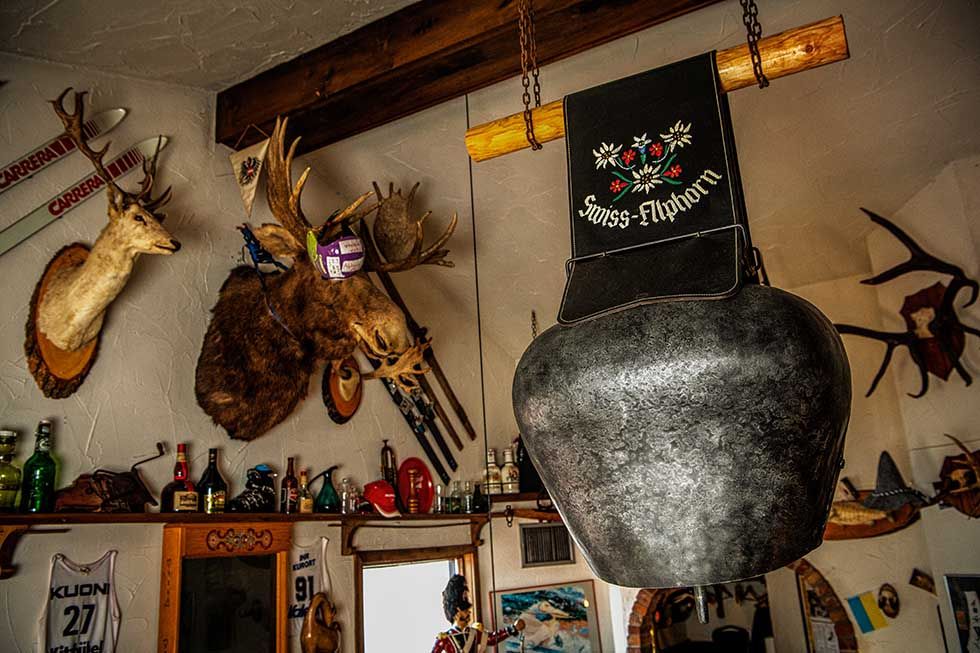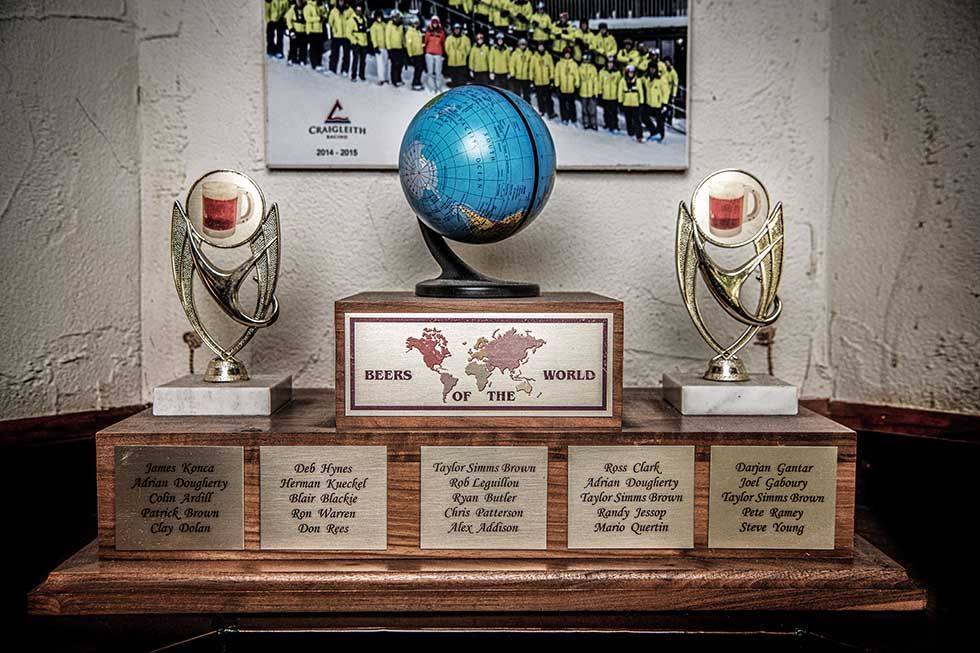 Behind the scenes the atmosphere is equally familial. Several staff are into their third decade working there, such as Wanda, a server who keeps a notebook of customers' names until she knows them personally. Others, like Matt in the kitchen, have literally grown up at the Alphorn; he started when he was 14 and now is almost 40. It seems that everyone who crosses its threshold finds their way back, time and again. The question is, why?
"It's different than a regular restaurant," offers Campbell. "The servers make it fun and take the time to get to know you. The atmosphere is always upbeat. It's got that family comfort level vibe, but it also gives you that European skiing feel."
Chad Griffith, head of operations for Aragon Restaurants, which took over ownership of the Alphorn in 2021, explains, "It's like walking into somebody's ski chalet. There's no sales pressure, just eat what you want to, drink what you want to, and they'll shake your hand on the way out."
Houston hits the nail on the head, though, "From the moment Jean Pierre hired me to start working there 35 years ago, it has always felt like home."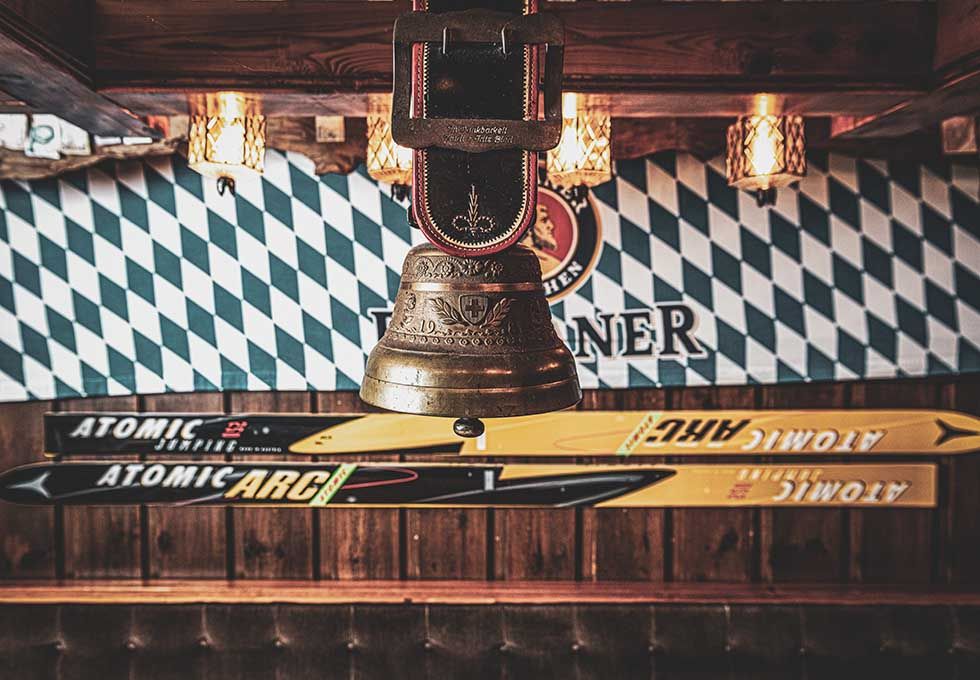 The essence of a home is an emotional connection and a sense of belonging. It requires memories, like the one Campbell shares about the ski team filling the bar on cold winter nights, when closing time would come around and the owners would "just lock the doors and if you were inside you could stay." Like the one Griffith recounts of when he was 20 years old, living in a rental cottage across the street from the Alphorn, and regularly crossing Highway 26 to try to fill out his passport. Like the one I have of a few weeks ago, when I took my five-year- old there for the first time. I watched him, his eyes wide as he sipped a frothy chocolate milk and took it all in—the ultimate game of 'I Spy'—to later proclaim it his favourite restaurant in the world and ask, repeatedly, to go back. To create a vibe like this takes time, which, against the odds, the Alphorn has had on its side.
"The restaurant industry is hard work and profit margins are very low. That's why the corporate restaurant model works, because they're doing it 200 times everything to spec, but I just didn't want to see the Alphorn turned into an East Side Mario's," says Griffith.
Neither did Houston, Boismeir, or anyone else who's experienced it. "When it came time for us to sell the restaurant it was important to find someone who wanted to keep the staff on and the traditions the same," Houston says.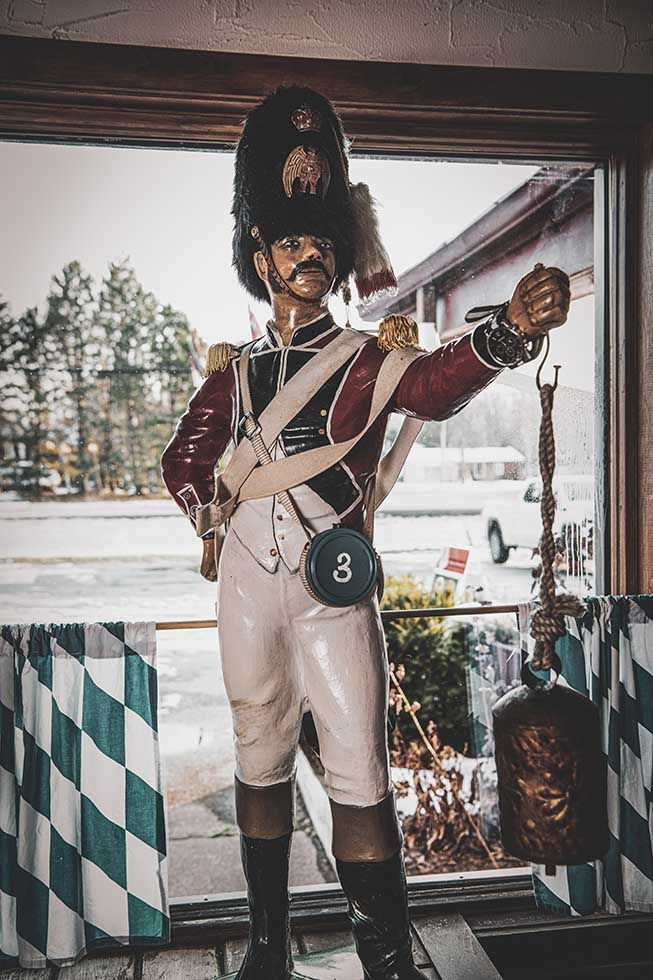 The reality is that development is encroaching upon the Alphorn from the east and the west, and there are plans for its demolition down the road. But its immediate future appears certain. "That was the drive behind buying it." Griffith says. "The goal is that it stays the Alphorn, so you will always know what you're going to get."
Well, maybe not exactly what kind of beer you'll drink on every visit, but always the comfort of knowing the choice is yours. Just like at home.