Vert-I-GO
By Cara Williams, Photography by Clay Dolan
Blue Mountain Resort has one of the largest cohesive trail systems in the area. And because the hiking trails range from beginner to advanced, adventurers of all ages are rewarded with gorgeous views of Georgian Bay, Collingwood and the Niagara Escarpment.
Whether you're in the mood for a leisurely stroll or a leg burning workout, Blue Mountain Resort's interconnected network of hiking trails has something for everyone. Wind your way through the forest and discover the tranquility of canopy cover or a cascading stream—here, you'll find beauty in the journey, not just at the summit. Download the Blue Mountain App before heading out for trail maps, weather and safety information. Stroll on for a guide to our favourite spring hiking trails!
HISTORICAL HIKES
Weider Way
Difficulty: advanced
Length: 0.92km
Walking time: 30 mins
Honoring Blue's founder Jozo Weider, this trail begins at the base of the mountain and connects with the Memory Lane loop. Here, you'll be presented with two options—whether you turn right or left, you'll end up summiting just south of the Open-Air Gondola.
Time Line
Difficulty: beginner
Length: 0.63km
Walking time: 15 mins
This trail takes visitors on a linear journey with historical info-graphs that chronicle the story of Blue. Hikers of all ages will enjoy learning about how this small farming community was transformed into Ontario's largest ski destination. The fully accessible path is stroller and wheelchair friendly, and parking is available near the trailhead at the top of Blue.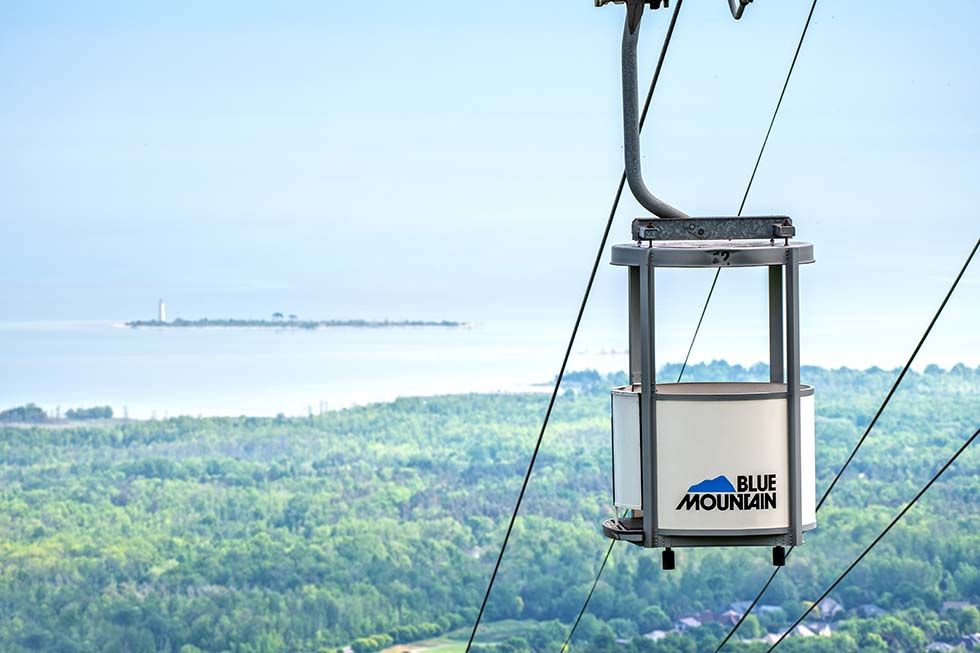 1940
Difficulty: advanced
Length: 0.88km
Walking time: 40 mins
The North end is known for its steep ski hills and the hiking trails are just as challenging. 1940 heads straight up the northern most side of Blue. A quick hit of strength and conditioning, your lungs will thank you once you reach the summit.
The Grind
Difficulty: advanced
Length: 2.27km
Walking time: 80 mins
The ultimate leg burner, The Grind is a favourite among endurance athletes and those seeking serious cardio conditioning. This multi-use trail winds along the southernmost edge of the resort and features a steady climb to the summit. From here, one can truly grasp the potential recognized by founders of Blue over 80 years ago.
HIKES FOR THE WHOLE FAMILY
Sunny Side Up
Difficulty: beginner
Length: 0.6km
Walking time: 15 mins
Connected via Time Line History Trail, Sunny Side Up is a short hike that takes you south along the top of the resort and offers a bit of shade and canopy cover. At the southernmost point of the trail, the oversized Coca Cola Muskoka Chair is the perfect place to rest and enjoy incredible unobstructed views of Georgian Bay.
Enchanted Forest
Difficulty: beginner
Length: 0.55km
Walking time: 20 mins
This lovely loop explores hidden valleys and meanders past one of Blue Mountain's first beginner ski areas. Let the forest enchant you as you travel along this magical trail—keep an eye out for hidden forest shelters, gazebos and ancient ski huts along the way.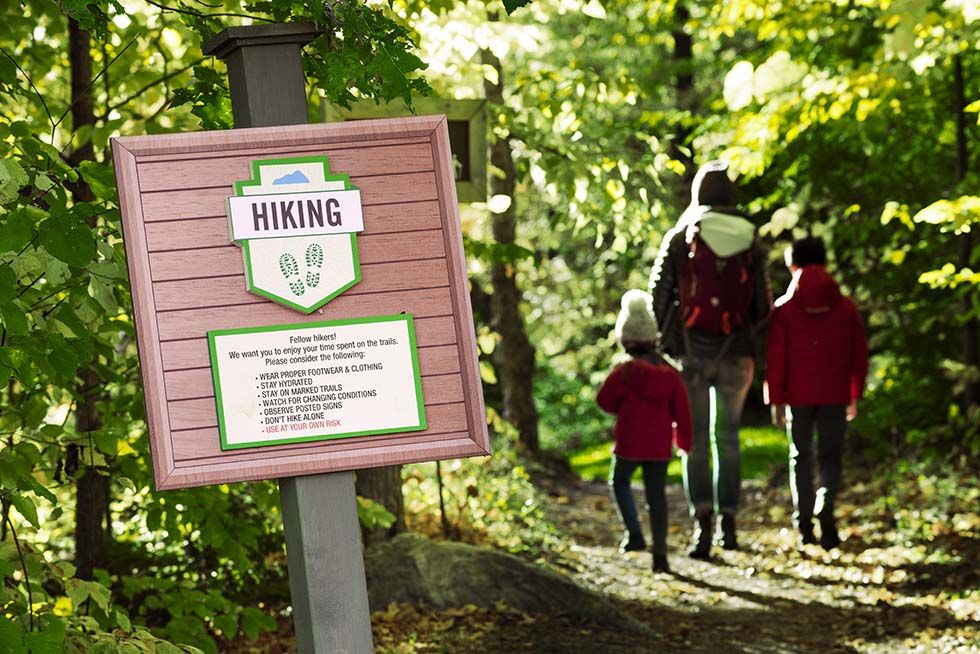 Cascade
Difficulty: advanced
Length: 1.2km
Walking time: 40 mins
A well-maintained trail, Cascade weaves through vibrant foliage, alongside a babbling brook, culminating at the top of Blue. Featuring wooden bridges (including Blue's inclusive Rainbow Bridge), easy to navigate stone slabs and log steps, once at the top you'll enjoy the full scope of the cascading waterfall, for which the trail was named.
Village Way
Difficulty: intermediate
Length: 1.3km
Walking time: 40 mins
This unique trail starts at the top of Blue Mountain's Adventure Park and winds its way beside attractions like Ridge Runner Mountain Coaster, Woodlot Low Ropes, Canopy Climb Net Adventure and Timber Challenge High Ropes. You'll know you're almost at the top when you encounter the switchbacks that define the upper third of this path.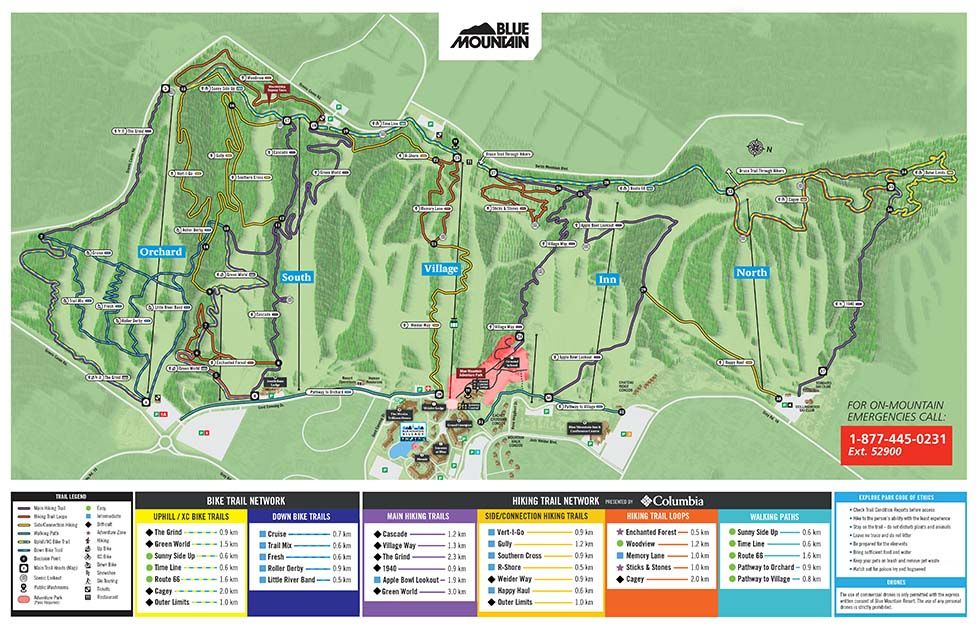 Apple Bowl Lookout
Difficulty: intermediate
Length: 1.95km
Walking time: 50 mins
This is the ideal trail for selfie-seekers and sight-seers alike. Apple Bowl Lookout trail features two breathtaking pit-stops that allow you to reflect on the enormity of Georgian Bay.
BONUS HIKE
Green World
Difficulty: advanced
Length: 3km
Walking time: 90 minutes
The longest hiking trail on Blue Mountain, Green World criss-crosses 3kms of tree islands and open ski trails, making it one of the most interconnected paths on the Escarpment. Green World is considered a multi-use trail with up-hill bike traffic permitted on the lower half. After your energizing hike to the top, why not enjoy an Open-Air Gondola ride down—you've earned it!
Southern Cross
Difficulty: intermediate
Length: 0.89km
Walking time: 20 mins
This side trail pulls double duty as one of Blue's most picturesque ski trails. Tall rock walls line the path before ducking into the woods for a short mountain exploration. Hikers can access Southern Cross via Cascade and follow the trail up towards the Orchard summit.
KNOW BEFORE YOU GO
The trail network at Blue Mountain Resort is marked with different colour blazes according to the trail you are on and the direction of trail traffic (up-hill or down-hill traffic). Blazes are rectangles of white paint, usually about 15cm high and 5cm wide located on trees, fence posts, or rocks.
Download the Blue Mountain App before heading out for trail maps, weather and safety information.
If you lose the trail, return to where you last saw a blaze and look carefully for the next blaze. Always follow proper blazes and stay off closed sections of trail.
You must have a paid pass to use Blue Mountain Resort hiking trails and Open-Air Gondola – 5×7 and Ikon passholders have access to the trails year-round.
Walking times are approximate, and based on 15 minutes for every kilometre of horizontal distance, plus 10 minutes for every 100 metres of ascent. Allow for additional time to account for the slowest hiker in your group.