If you've ever spent ten minutes describing in detail that you're looking for a 'thingamabob' that fits onto a 'widget', you've probably been advised to go to Hindle's Clarksburg Hardware. If you've taken that advice you've probably been told, quite authoritatively, that what you want is a self-locking deck cleat—and you've probably asked if you wanted it in black or galvanized.
Story and photography by Zak Erb
When James and Patricia Hindle drove into Clarksburg that morning, they had intended to purchase a grocery business but it was the hardware store down the street that caught their eye. It was June of 1971, and the building at 189 Marsh Street had served as the village hardware store for the previous 42 years. A good long spell, by anyone's reckoning. The industrious new owners set to with a will. They quickly began acquiring inventory, matching nuts to bolts and shooting the breeze with the locals. Hindle's Clarksburg Hardware, now on the eve of their 50th year, hasn't slowed one bit. Inventory continues to roll in, nuts and bolts are matched daily (except on Sundays), and so much breeze has been shot it's in danger of being declared extinct. 
Retail space at Hindle's comes at something of a premium, the shelves are full to bursting with everything you could possibly need—ever—and there's a garage or three out back just as amply supplied. Despite the shortage of floorspace, there's a wooden chair propped up right in the middle of the store, for the comfort of those who pop in for a pair of wool socks, and stay for a chat. It seems everyone pops into Hindle's at some point. The bell above the door chimes steadily throughout the day. One gent needs his kitchen knives sharpened (a buck a knife, closest thing to razor sharp), the next lady is looking to have a pane of glass cut (which is complete even before she's finished browsing kitchen utensils). When I visit, Ralph Fisher stops in. Ralph's been coming by ever since Hindle's opened, and he tells me "If you can't find it here, you probably never needed it in the first place." I find no cause to disagree with him, as I survey the mortar and pestles to my left, the dozen shades of Tremclad to my right, an infinite array of pipe fittings ahead, and the teetering stack of syrup pails nearby.
There are businesses who present themselves as quaint and folksy as part of a marketing strategy. Perhaps with a tasteful display of rusty old tools, or by mounting their contactless pay kiosks on a slab of live edge butternut. Then there's Hindle's, where 74-year-old James will spryly snatch a 4-foot crosscut saw (rust free and razor sharp) off the wall, just for the pleasure of bucking up a log or two out back with a prospective customer. Hindle's, where the cash register will only register cash, and won't operate at all unless it's being cranked by hand.
The register is but one of many charming, eccentric curiosities. "Not for sale." says James of the ancient steel Bevin boxing bell he's just rung. "It's ten pounds!" he hollers, as I struggle to lift the largest nut in the place. Of the weathered baby carriage in the front window; "I used to ride around in that, I could probably still fit in!" Then there's The Dress. Oh, The Dress. In the back room, shimmering majestically, hangs an old wedding dress. It somehow seems right at home as it dangles gracefully between the fan belts and an old steel lathe. "I picked that up at a demolition job!" calls James. And that's the only explanation given. For 38 years James has enjoyed a second career demolishing rickety buildings, neglected silos, and more massive beaver dams than you can shake a stick of dynamite at. Business was booming until changing legislation blew the cost of independent operation sky high. Unable to justify the expense, James got out of the demolition game. The Dress, besides being a show stopping conversation starter, serves as a reminder of his glory days in the demo biz. He clearly misses the excitement, but remains squarely on his feet thanks to his family and the store they run together.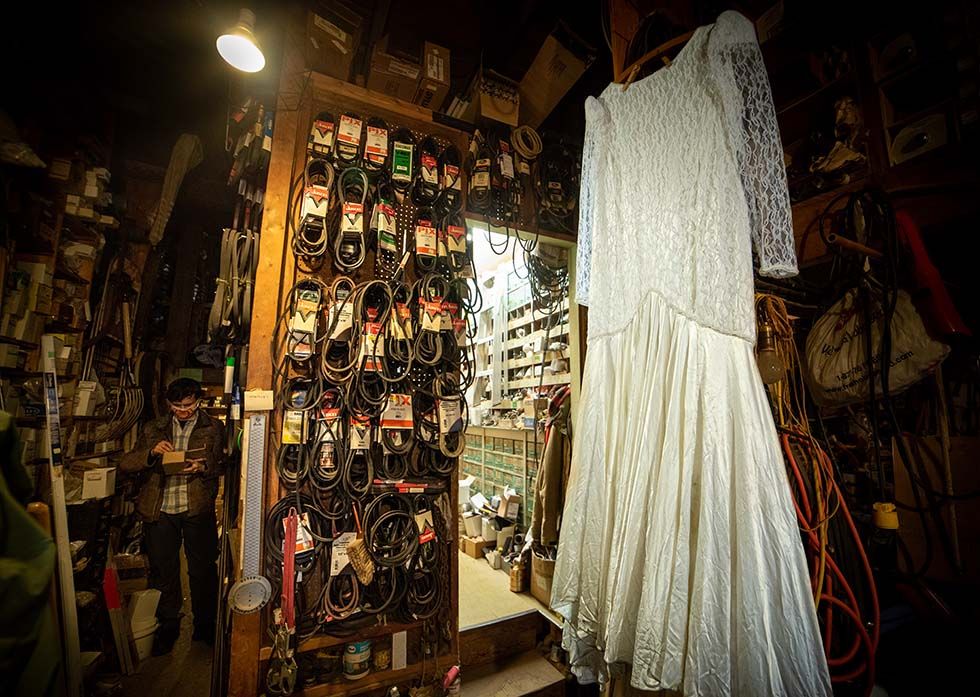 "Without Pat's help we could never have made it, and we're very lucky to have Carol here." The
trio certainly make a dynamic team. All three have an uncanny ability to locate specific products in the—loosely organized store. As he tours me through the basement, I ask James how he manages the vast inventory—a question I suspect he's heard once or twice before. "Who says I do?" he laughs. "I can fool some of the people some of the time." He then gifts me a 3/16 knurled brass nut. Thinking to stump him, I greedily request a miniscule bolt to match. He does not respond. Instead he chides me for not knowing what a pump leather is ("Shame on you!"). After which he walks through the basement, up the narrow stairway, past The Dress, across the storeroom and heads directly towards a tiny drawer, which he opens. Without a moment's hesitation he reaches in, extracts a single bolt, hands it to me and ambles off, grinning. It fits, of course. 
I watch as James belatedly updates his sign to read "Hindle's, 49 years". By the time June rolls around it'll be due for another update. Fifty years of greeting their customers by name, shooting the breeze, and matching nuts to bolts. Just about everything in the retail world has changed in those years. As greater stores rose and fell, toppled by big box and online, Hindle's trucked on, earnestly practicing the values which once drove the gears of retail. As a hardware store, gathering place, and unofficial museum, Hindle's has given much to the community, and the community has given right back. "It's a wonderful community here, and we appreciate it" says James, "without [your] support we couldn't be here, and we'd just like to say a very hearty thank you." 
Hindle's is no marketers' homage to small town ideals—it's the real deal—an increasingly rare breed. So, as the store rounds the corner into fifty, I say here's to fifty more years of Hindle's Clarksburg Hardware.