By Deena Dolan Findlay         Paintings by Jonathan Houghton
Beside the iconic Gayety Theatre in downtown Collingwood sits a tiny art gallery, Art by Houghton. If you glance in the opposite direction you might miss it—pay attention and the works displayed in the large, front window will most likely stop you and hold your gaze for a few moments. Your heartbeat will calm. You'll feel yourself relaxing and most likely smiling.
Jon Houghton's work has a mesmerizing effect. His statement paintings reflect an uncluttered graphic style and skillful use of limited bold colours. While his subject matter is often arrestingly simple, others feature perspective challenges executed with a draftsman's eye. Jon's inspiration ranges from seasonal local landscapes to road signs to scenes of downtown Toronto. "I've always had a problem creating a unified body of work," says Jon. "So my plan has been to just paint anything and everything that I think would make an interesting painting." Looking at his wide array of subjects, I find his assortment and mixed-bag range of themes to be refreshing. Add in his subtle sense of humour and one quickly understands that he is definitely not a 'one-trick pony' painter.
Working solely with oils on canvas, the freshness of Jon's work is the result of using a limited palette, very little paint and lots of brushes. There is no mixing solvent (turpentine) used, so his workspace is completely clean and free of the noxious odour which is generally present with oils.
Jon grew up and went to public school in Thornbury, then attended Lakefield College for High School. His father, who died when Jon was just seven, had been an art lover and hobby painter. Through him, Jon was exposed to the works of iconic Canadian painters like Robert Bateman. In his early years, Jon's artistic interests were focused on drawing (animation a nd illustration). However, in wishing to explore those areas as a career, he was told he needed a fine arts degree. To that end, he enrolled at Mt. Allison, where he painted for the first time. "I'm not a great academic student," explains Jon. "I wasn't super happy. I did well in art but the focus was more on content than technique. It just wasn't the right style of instruction for me at that time and I didn't really realize what I needed." So, after three years, searching for more, he applied for a three-month educational art stint in Greece. Loving it, he ended up staying and studying for 10 months (one of which was spent in Tuscany). It was there that he honed his current technique of what he defines as selective, graphic realism. "Before Greece, my work was sloppy and loose, but while studying at the Aegean Centre of Fine Arts, everything tightened up."
When I asked Jon to explain this, he said he learned to control the paint and developed his own dry brush method of layering opaque colours without mixing turpentine or glazing medium, in order to achieve his own smooth style. Back in Canada, Jon studied for one year at OCAD University and then returned to the Southern Georgian Bay area and opened his own studio/gallery in downtown Collingwood, Art by Houghton. That was 10 years ago. His dream to become a full-time artist had come full circle.
Jon paints a wonderfully diverse variety of subjects. "My subject matter is still all over the place," he chuckles. "I know the subject matter that's been the most popular over the years and try to always have some of that available. And, some of the most popular stuff has been paintings where I was trying something different, like painting the Thornbury pier or the Craigleith road signs. So, I make sure to have some of those paintings in my inventory before painting something like a transport truck in the ditch or someone driving a lawnmower down the sidewalk. Sometimes I can hear people walk outside my studio window and say, 'What possessed someone to paint THAT?' and it makes me smile. It's like a confirmation that I'm being artistically true to myself." Jon has painted the Craigleith road signs (Hwy 26 by The Craigleith Heritage Depot) hundreds of times. "It was kind of a funny thing. I did the first one for the Square Foot Show at the Loft Gallery, Clarksburg location, several years back. It was considered kind of weird but it sold immediately. I have hundreds and hundreds of photos [of those signs] on my computer—winter ones, summer ones, different lights and different skies." Jon always has his cameras with him, ready to record whatever hesees that's funny, pretty or interesting, like his dog-with-the-goggles painting: Doggles. He photographed the dog sitting patiently in a vehicle at the Craigleith General Store several years back and has produced a couple of varied painted versions of that goggled dog since.
I asked Jon if he considers painting to be fun or work. He thoughtfully explained, "It's definitely fun. But it's got to be work, too, if you're going to do it for a living. Some paintings are more of a struggle than others. There are paintings that I'm excited about working on when I get up in the morning and some that I kind of dread. I know the next stage of this painting is going to be a bit of a slog. Having a studio with set hours has really helped me with the work side of it. It helps me to paint (almost) every day, whether I'm feeling it or not. Some days, coming home from the studio, it feels like it's been a day of work. I've painted until I'm physically and mentally tired, which is a satisfying feeling. But after painting almost daily for 10 years, I'd say I'm having even more fun now than when I started."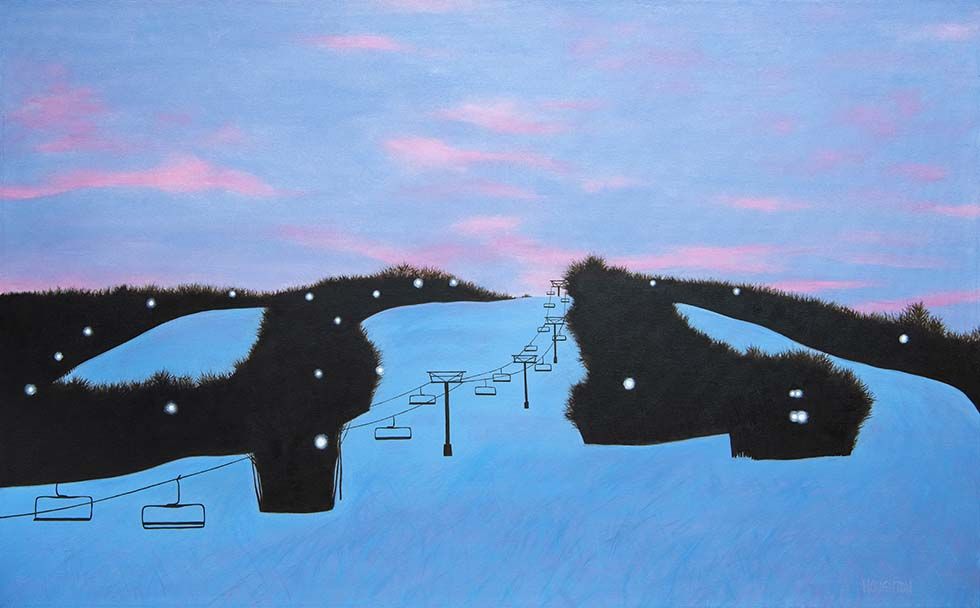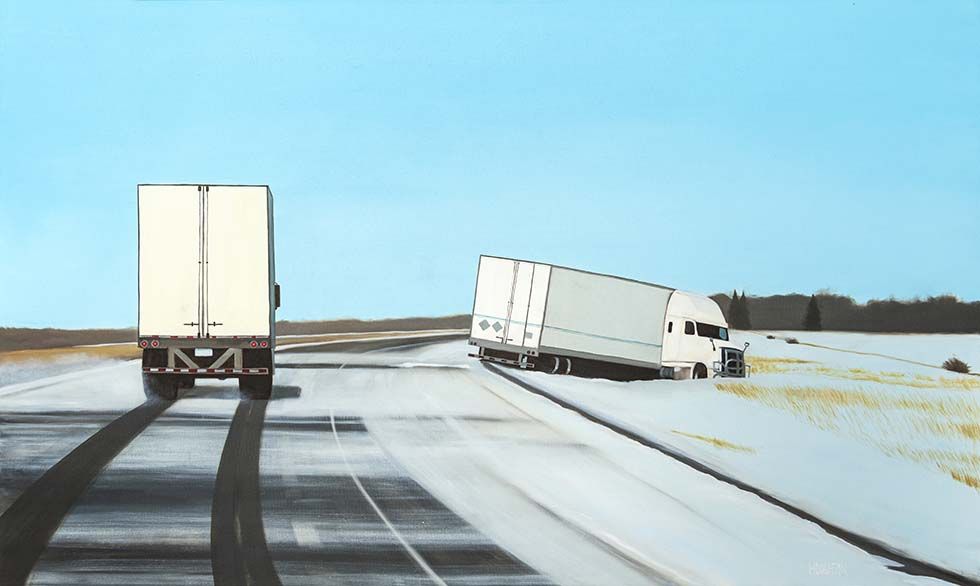 When asked about the challenges of the business side of being an artist, Jon said it's definitely been a journey. "The gallery started as a 'pop up'—in between tenants for the tiny retail space. I was able to sell a few pieces right away, so decided to make it permanent."
For the first six years, there were spells of selling nothing—particularly during July. Ultimately, though, the location has proved to be a good one. "Things are going well right now," says Jon. "Business is good. I've been lucky that the business side of it of it has sort of developed naturally out of the paintings I wanted to paint. Earlier on, I was a little more concerned with painting what I thought people would want to buy. I don't feel like any of those paintings were disingenuous, but now I feel a little more freedom to also paint stuff that might not be as marketable, which I feel is where some of my more creative ideas come from.
Very down to earth and refreshingly humble, Jon is finally comfortable with admitting he is a successful artist.
Jon Houghton's work can also be found at Matilda Swanson Gallery in Clarksburg. He's participated in the Toronto Outdoor Show for five years, and Toronto's One Of A Kind Show, which is online this year.
Jon has a goal to produce a solo show that would feature larger works, but right now is completely content with the status quo and comfort of painting every day in his Collingwood gallery.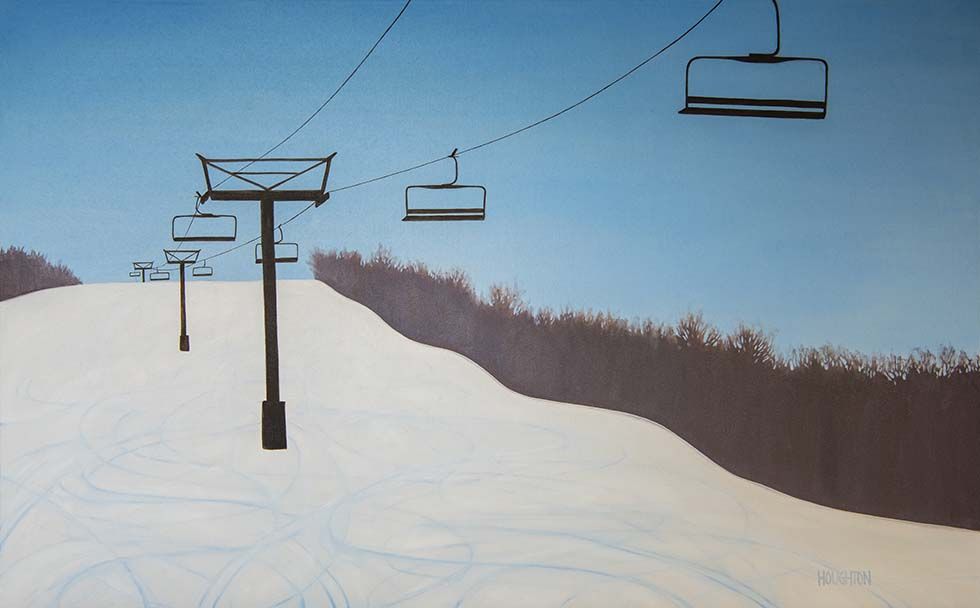 Art by Houghton, 161 Hurontario Street, Collingwood. To purchase a painting or commission a custom one, contact Jon at houghton11@gmail.com or 705 443-7519. Also showing at: Matilda Swanson Gallery, Clarksburg.