Words and photos by Clay Dolan. Map courtesy of the Bruce Trail Commission. Scott Langley, Cartographer.
When prospectors were drawn to Eugenia in 1852 for an expected gold rush, they may have felt foolish when they found only iron pyrite. They did however, discover one of the most picturesque water falls in the region.
Now, a popular destination, the Eugenia Falls hike is a unique section of the Bruce Trail, especially in the Spring when the falls are really flowing. This 6km round trip hike is moderate to difficult—offers amazing views, challenging climbs and and many photo ops.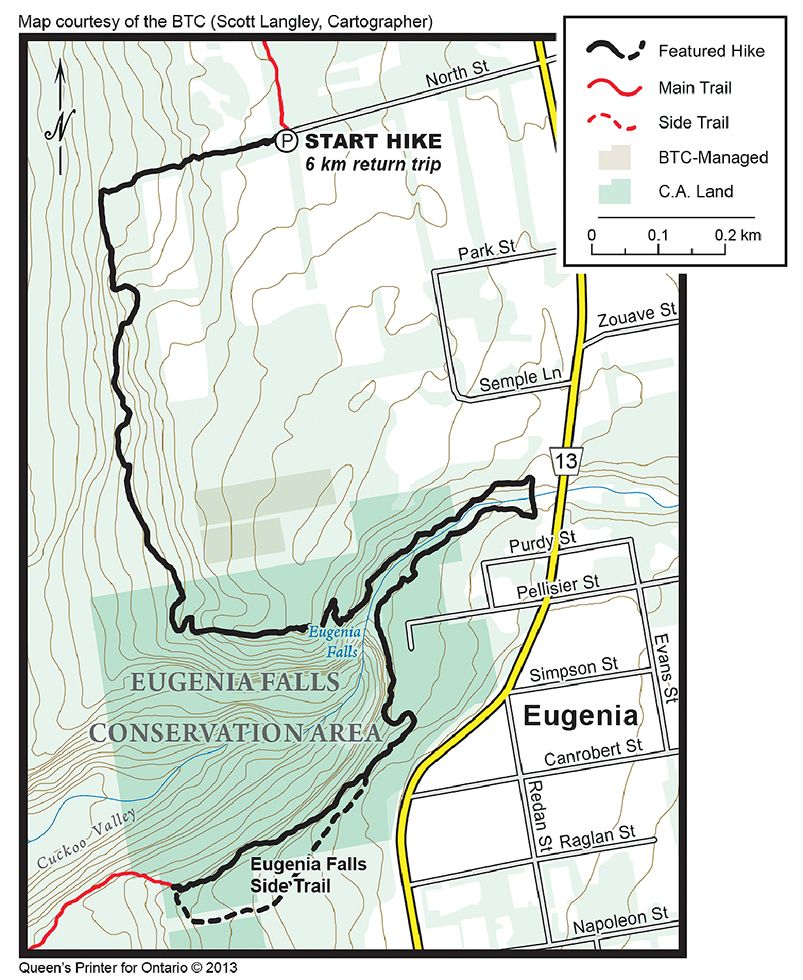 Although the trail is well travelled, the rocks and clay can be quite slippery, with a 30 meter drop into the gorge it is best to take care. The most difficult section of this trail is at the beginning, with several climbs and descents throughout the beautiful forest of the Eugenia Falls Conservation Area. There are a few rest points along the way conveniently located at higher locations, which provide hikers with a bird's eye view of the Cuckoo Valley.
After a good hike, you will be standing at the top of Eugenia falls where the headwaters of the Beaver River tumble over the edge of the Escarpment. Here you will also encounter a stone arch, the mark of the end of an old tunnel once dug in an attempt to harness the energy generated by the river. The water flow is now controlled by a hydro-electric dam further upstream, creating a tall narrow waterfall.
From here, hikers will follow along the west side of the river then cross over at a pedestrian bridge in the town of Eugenia. Don't miss the quick turn back into the forest once you have crossed over the bridge. On the east side of the river there is a stone wall that hugs the edge of the gorge. Grab your camera, there are many breathtaking view points of the falls along this wall. From here, you can head down the 400 metre side trail loop.
There are a few different ways to reach the falls; we chose to feature the longer version for its physical challenges. To get to the start of this hike, head south of Kimberly on Grey Road 13 toward the town of Eugenia. Turn west onto North Street; this road will come to a dead end where you'll find parking and the Bruce Trail sign. Be sure to follow the white blazes, wear layers; bring water and your camera.|E|