RECIPE | Black Angus   PHOTOS | CLAY DOLAN
Prepared by Chef Tyler Cunningham
Ontario lamb is presently in high demand as our society becomes more diverse in our meat choices and educated as to where our meat is originating. The lamb offered at Black Angus is locally born and raised by chosen farming families dedicated to a high-quality product.
It's time to stoke up some coals & flex your grilling skills once again. This recipe should satisfy all of your carnivorous desires that you've been missing out on. This dish is Inspired by the flavours of Spain and hits all the senses—Fresh, Crisp, Smokey & Spicy!
What you need…
1 x 5-pound Chorizo spiced boneless leg of lamb, from Black Angus Meats
¼ cup olive oil
Harissa Chili paste
1 cup dried chilies of your choice (I used Arbol for this batch)
1 cup boiling water
1 clove garlic peeled + smashed
1 tsp Ground cumin
Juice of half a lemon
Salt to taste
2 tablespoons olive oil
2 tbsp. Italian parsley, chopped fine
Salsa Verde
1 tablespoon capers
2 anchovy fillets
3 cloves garlic (peeled, green germ removed)
1 cup plus 2 tablespoons extra-virgin olive oil
¼ cup fresh parsley, chopped
¼ cup arugula, chopped
¼ cup basil leaves, chopped
¼ cup fresh cilantro, chopped
1 tablespoon tarragon leaves
1 tablespoon fresh chives
1 tablespoon fresh sage, chopped
1 tablespoon fresh rosemary, chopped
¼ teaspoon sea salt
Coca flat bread
1/2 cup warm water (110 degrees)
1/2 teaspoon active dry yeast
1 tablespoon extra-virgin olive oil, plus more for bowl and brushing
1 1/3 cups all-purpose flour, plus more for dusting
3/4 teaspoon salt, plus more to taste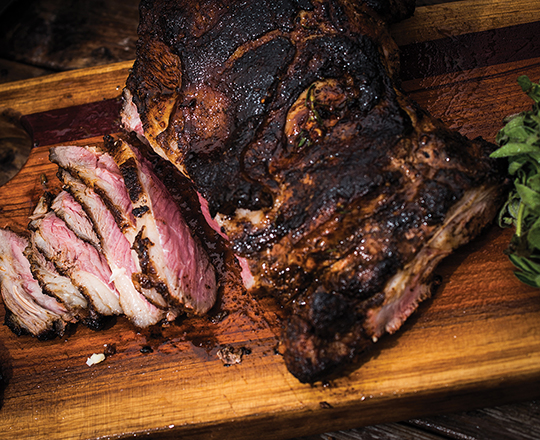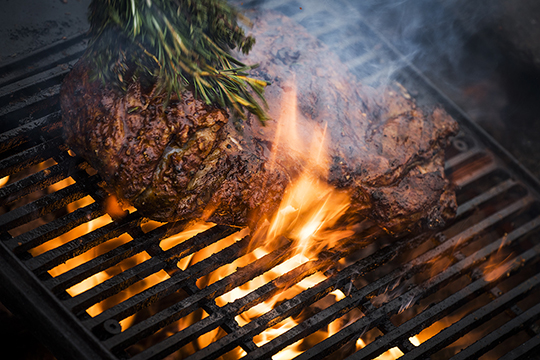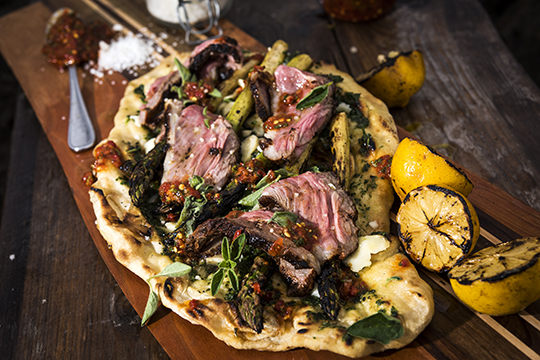 Assembly
160 gr Mahon cheese
sliced thin 2 bunch asparagus
3 lemons
¼ bunch oregano leaves
extra-virgin olive oil
coarse sea salt, to taste
Harissa
The Harissa can be made on its own and kept in the fridge and used as an everyday condiment until you are ready to grill your lamb
Place the dried chilies in a heatproof bowl and pour the boiling water over top the chilies. Let sit for 20 to 30 minutes until the chilies are softened. Reserve chili water.
Once chilies are softened, cut top off the chilies and remove the seeds from inside. Add to the bowl of a food processor or blender, along with the garlic, lemon juice and cumin.
Purée, slowly pouring in the olive oil to thicken the sauce. If desired add 1-2 tablespoons of the reserved chili water to thin the sauce a bit. Season to taste with salt and extra lemon juice.
Once blended add the chopped Italian parsley
The Harissa will keep on the counter for a few days to develop and ferment slightly before refrigerating it will last for a few weeks in the fridge.
Salsa Verde
The salsa, in this case, will be used as the base to your coca bread. It may also be prepared days in advance. This sauce is very versatile and can be used with any grilled meat, veggies or cheese
Rinse capers in cold water, then drain. Soak anchovies in cold water for 5 minutes, using a mortar and pestle (or a small mixer if you are in a hurry), smash the capers, anchovies and garlic with 2 tablespoons of the olive oil until smooth. Transfer to a large bowl. Add all the herbs and remaining olive oil. (The mixture should be chunky, not oily.) Season with sea salt.
Chorizo spiced Lamb Leg
Put oil in a baking dish large enough to hold the lamb. Turn and rub the lamb so it is evenly coated with the oil and Marinade let the lamb return to room temperature before cooking.
The Coca Bread
Pre-Heat a charcoal grill to medium-high heat (you should be able to hold your hand about an inch over the cooking grate for 3 to 4 seconds).
Place water in a medium bowl, and sprinkle yeast on top; stir to dissolve. Let sit until foamy, about 5 minutes. Add olive oil, flour, and salt; combine. Turn dough out onto a well-floured surface, and knead until smooth and elastic, 1 to 2 minutes. Place in a lightly oiled bowl, cover with plastic wrap, and let stand in a warm place for 30 minutes.
Turn dough out onto a lightly floured surface. Divide into 4 equal pieces, and roll out each into a 1/8-inch-thick round. Then set aside.
Grilling the lamb
Put the lamb flat on the grill. Cook the lamb uncovered on the grill for about 15 minutes. Turn and cook 10 to 15 minutes on the second side. For medium or well-done meat, cook longer.
Let the meat rest 10 to 15 minutes before serving.
Assembly
After the lamb is cooked and resting. Lightly brush both sides of each coca bread with olive oil, and place the rounds directly on the hot grill. Grill the flatbread until golden brown, about 2 minutes per side. Remove from grill, spread the cocas liberally with the salsa Verde and season with salt. Add thin shavings of the Mahon cheese to the bread while still warm.
Lightly coat the asparagus spears with olive oil. Season with salt and pepper to taste.
Grill over high heat for 2 to 3 minutes, or to desired tenderness then arrange on top of your coca
To char lemons on the grill: Rinse the lemons clean. Cut the lemons in half crosswise.
Pop out and discard any visible seeds. This is a kind service to your fellow diners while enjoying their lovely grilled lemons.
Set the lemons cut-side-down on the hot grill. Cook until the lemons are heated through and charred on the cut side, about 3 minutes. Ideally, you'll cook them without moving them so they char nicely,
Slice the lamb thinly and arrange on top of asparagus on each coca bread then garnish with fresh oregano, harissa, sea salt and a liberal dousing of very good olive oil.