Young Gun
By Cara Williams, photography by Sylvain Champagne
Superbike racer Ben Young has once again etched his name in the history books by securing an unprecedented third consecutive Bridgestone Canadian Superbike Championship. 
In a storybrook ending, it all came down to the last lap—the culmination of a thrilling season of superbike racing for Blue Mountains local Ben Young. In the final weekend of the Bridgestone Canadian Superbike Championship (CSBK) at Shannonville Motorsport Park in mid-September, Ben was locked in a heated battle with rival Alex Dumas, sitting just five points behind in the overall standings going into the weekend. After crashing the day before, Alex managed to get the holeshot and maintained his lead throughout the race. But as the final laps unfurled, Ben's pace increased, and the gap between him and Alex dwindled. On the final lap, Ben overtook the leader as they entered turn four—the very spot where Alex had suffered a crash just a day earlier. He then held off not one but two retaliation attempts, ultimately clinching his fifth consecutive victory and, in the process, securing his third overall Canadian Superbike Championship. 
Born in Scotland, Ben moved to the Blue Mountains at the age of 14 with parents Lynn and Scott and older sister Robyn. From the beginning, family played a significant role in Ben's racing. "It seems like every year it just keeps getting better and better," says Ben. "My family is still very involved. My mom cooks all the food for the guys, and my dad helps with the tire changes and the fuel, which is nice because it's important to have people around you that you trust." 
Ben's journey to becoming a three-time Canadian Superbike Champion was not without its challenges. He started his racing career in the competitive world of amateur racing, working tirelessly to hone his skills and gain recognition. His natural talent and dedication quickly caught the eye of sponsors and racing teams, paving the way for him to enter the professional circuit. In 2014, Ben Young made his debut in the CSBK, competing in the Pro Sport Bike class. His performance was nothing short of spectacular, earning him the "Rookie of the Year" title. 
When we first wrote about Ben back in 2019, he spoke about the monetary cost of superbike racing: "Not having the money to invest in it was frustrating. At the end of 2018, we decided to go all-in and put our money into the bike. We won a race and came second in the next race by just 0.1 of a second, so it really shows what advances to the bike can do." 
Ben secured his first CSBK Championship in 2019, at which point the Ben Young Racing team went all out, raising funds and securing vital sponsorships. The 2020 season was put on hold due to the pandemic, but once racing resumed, Ben clinched his second consecutive title in 2021.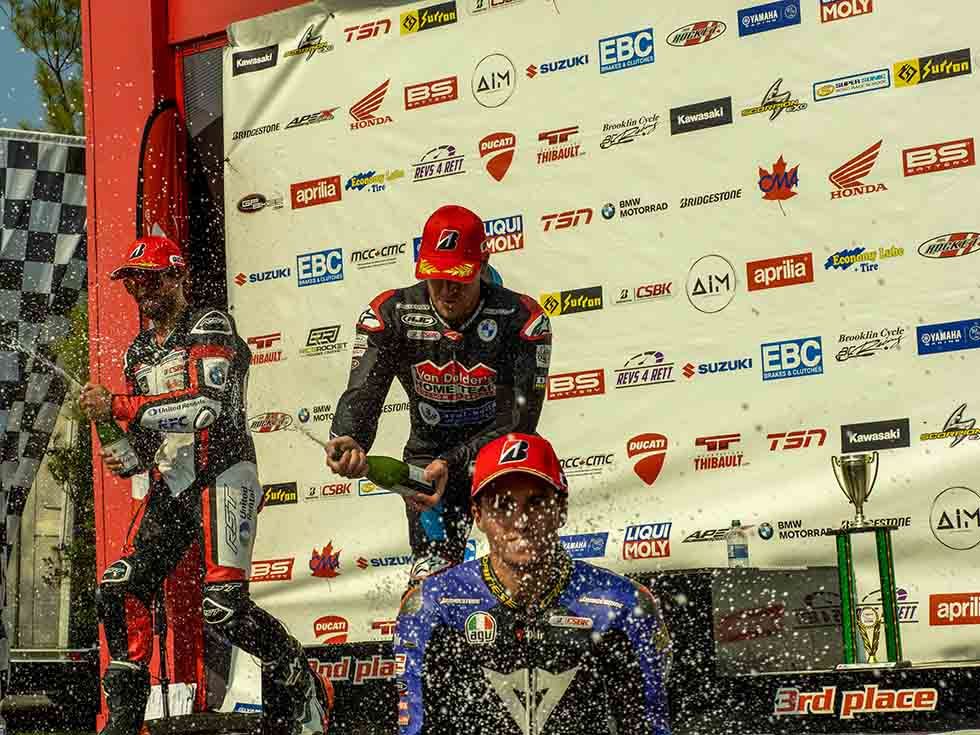 What truly sets Ben apart is his consistency in the sport—winning a championship is challenging, but defending it is even more so. 
Ben's outstanding results, combined with his ability to handle the bike with precision and finesse, attracted even more attention from sponsors. His partners for the 2023 season include BMW Motorrad Canada, Van Dolder's Home Team, Scot-Build Developments Inc, Parts Canada, HJC Helmets, Alpinestars, Hindle Exhaust, Clearlite, Primitive Patterns, DP Brakes, alphaRacing, Vass Performance Cycle, Cartier Racing, and Bickle Racing. 
"Thankfully, I am now able to make a living at this," says Ben, who can be seen overseeing various custom home projects across Collingwood and the Blue Mountains with Scot-Build Developments Inc, a family-run custom home builder renowned for their Scottish longhouses. "I still work with my dad, because I love it, and what else am I going to do during the weeks and winter. In terms of racing, this year has been a really big year for us. CSBK changed the tire supplier from Dunlop to Bridgestone, and Bridgestone is very involved in motorsports, so we were able to race at Daytona thanks to them— they've opened a lot of doors. So that's helping us. And it also helps when you have really good weekends like last weekend." 
What truly sets Ben apart is his consistency in the sport—winning a championship is challenging, but defending it is even more so. Looking ahead to the future, Ben notes, "I'm now 30, and my partner and I want to have kids in the future. It's tough to make a plan, but I'd like to keep racing and push to the top." 
Whether he continues to dominate the superbike racing scene or explores new avenues within the sport, one thing is certain: Ben Young's legacy as a three-time Superbike Champion will endure for generations of racing enthusiasts to come. E
To stay up-to-date on Ben Young throughout the year, visit www. BenYoungRacing.com, www.facebook.com/BenYoungRacing, and on Twitter and Instagram: @benyoung_86.