Throughout the course of my ski career I've been involved in several research and development initiatives with various snow sports companies like Columbia Sportswear and Kombi Gloves. It can take years to engineer change as well as a hefty budget and commitment from both the company and the testers. So when I was approached by Tecnica Group and asked to join a global focus group to develop a line of women specific Blizzard skis and Tecnica ski boots, I jumped at the chance. For years, women's ski equipment was marketed to women but not really designed for us. "Shrink it and pink it" as the saying goes–basically companies were creating smaller, softer versions of the men's gear, with traditionally feminine graphics and colours in place of their masculine counterparts. Blizzard Tecnica was out to change the game. And I was excited to be involved.
According to the Snowsports Industries Association (SIA), $1.4 billion was spent on women specific gear in 2015-2016. That's 31% of total sales in the U.S. Clearly there is a demand for women specific ski equipment but I began asking myself what makes a ski or boot right for women? And just because the equipment is labeled "women specific" does this mean it should work for all of us, universally?
Our initial meeting in Park City, Utah was led by Blizzard Tecnica US Marketing Manager, Leslie Baker Brown, and co-chaired by Mariaelena Rizzieri, a former Italian World Cup ski racer who holds a degree in finance and marketing. Mariaelena was hired specifically to head up this global women's initiative. Throughout the weekend we talked about everything from colour trends to cold feet. We established a name—Women to Women—and a mission statement; "Women to Women is a global Blizzard Tecnica initiative with the mission to specifically design authentic women's products that will take all committed and passionate skiers, regardless of ability, to new levels of confidence, excitement and freedom." We talked a lot about what we felt was missing from women's equipment, as well as fit, sizing, and how to communicate with women.
The focus group members represented different corners of the industry: Tracy Gibbons is a former US Ski Team member who now owns a ski shop in Washington State, Jen Scott is a nurse who teaches women's ski clinics at Alta on the weekends, Keely Kelleher is a former World Cup Downhiller and now runs a successful ski camp for girls. In total there were 9 of us present at that initial meeting and I would learn that there was a European component having similar meetings on the other side of the pond. Each of us was asked to represent our area of expertise, our demographic, ski ability, body type and our home mountain/club. I was the sole Canadian… so, you know, no pressure. The Italian quotient partnered with the University of Verona and conducted biomechanical research that was focused on the basic anatomical position of women on their skis. As Mariaelena explains, "Based on our findings we challenged and will continue to challenge our product development teams to specifically design and build authentic and relevant products for women."
We spent an afternoon with a group of world-class boot-fitters, including my long-time friend Cam Powell, from Sporting Life in Collingwood. This initiative is called Project 165 (165 is the Pantone colour of Tecnica orange). Four years ago this select group was asked to design their dream boot from scratch. The end result was the Mach 1 collection, which have been on the market for over three years and have been extremely successful. We talked about the issues women have with their feet, as well as what women want in a ski boot. After our discussions Project 165 worked with Tecnica's product development team to develop solutions. From Merino wool liners to a fully integrated heating system (with USB charger), the new line of Tecnica women's boots is the perfect marriage of function and comfort. Project 165 also developed a patent pending CAS system, which has two meanings: Custom Adaptive Shape, and Cuff Adapter System. In only 8 minutes this system heats and forms the cuff of the boot to the shape of your leg to increase or reduce the volume as needed —a game changer for people like me with narrow ankles and heels. In the past I've had to add fit kits and padding around the ankle, instep and achilles. CAS cools down in 3 minutes, which means you have seamlessly customized boots in about 11 minutes.
"I was honored to be included in Project 165," explained Cam. "Over the past 27 plus years of boot-fitting it was nice to have a voice and be heard. We all came with a bucket list of what we thought should be included in the redesigned boot. Project 165 has been a great journey."
In the summer of 2016 a group of Blizzard Tecnica athletes travelled to Chile for initial on-snow tests and then joined the original focus group back in Park City that December. Here we had a chance to see the changes sparked from our meetings a year before. "We introduced a women-specific design that basically takes what we've learned about carbon to make a ski that's lighter without compromising performance,"explained Leslie Baker-Brown. "And moving forward we've got somenew shapes and side cuts that are a little more user friendly in terms of initiating a turn — not that they were hard in the past. You wonder, 'How can they make this better?' But they just keep doing it. Its kind of fun."
Blizzard's Alight series of women specific skis are high-performanceand specifically designed to carve the perfect turn on groomed snow. The versatility and range lets you pinpoint the precise size and model for the way you ski: your ability level, terrain choice, and type of snow. Our discussions and subsequent feedback also went directly into redesigning the freeride skis utilizing Carbon Flipcore, a lightweight technology made up of stiff layers of aluminum alloy (technology which has since been adopted by Blizzard's unisex skis). At the heart of the Black Pearl and Sheeva series is a wood core, which ensures stability athigh speeds without the bulk. They added carbon fiber tips and tails witha subtle rocker so the front and back have less contact with the snow, for added float and liveliness. Cosmetically, a beautifully iridescent feather replaced the dream catcher of the previous years models. Regarded as the top women's ski on the market, Blizzard capitalized on the success ofthe Black Pearl, introducing the Black Pearl 98, Black Pearl 88 and BlackPearl 78. The number corresponds with the width under foot, and witht he progression to a wider ski, women now have the option to enjoy the Black Pearl on every aspect of the mountain (or hill).
Blizzard and Tecnica aren't alone—in fact, almost every hard-goods manufacturer is investing heavily in women's gear. K2 launched the Phat Luv series and smaller brands like Coalition Snow only produce women's ski and snowboard gear. But one google search will tell you that Blizzard Tecnica is now leading the way in this category, thanks in part to Women to Women and Project 165.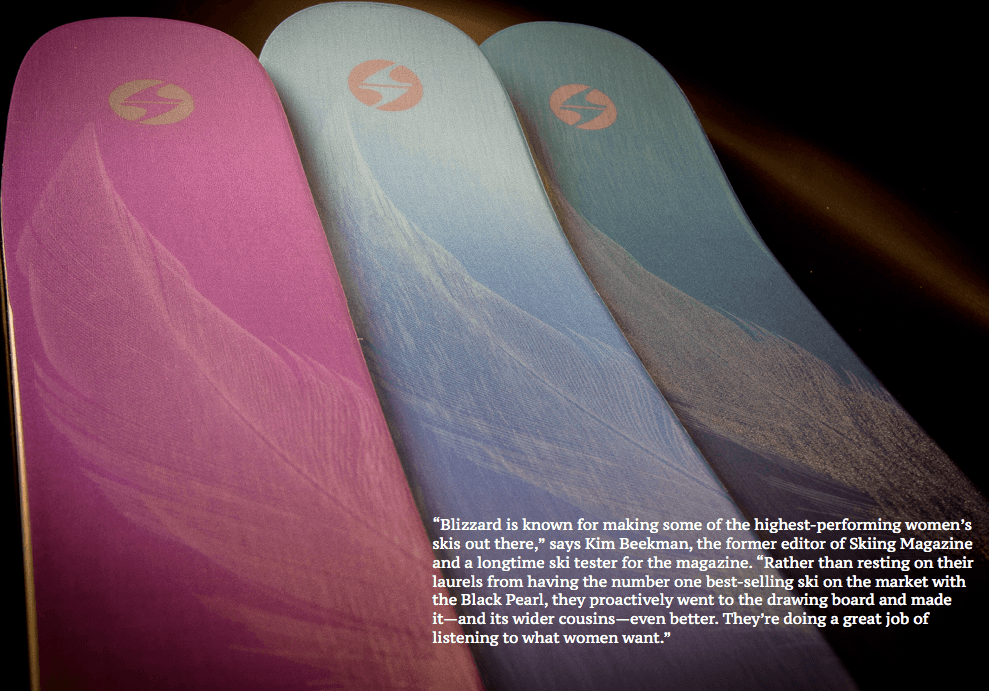 On-snow testing with the Women to Women focus group, and endless conversations about what works and what doesn't work, has led to the creation of a collection of women specific skis that are built for performance and play.
In addition to developing and redesigning gear, the Women to Women movement aims to foster and grow the community of women skiers through initiatives focused on education that aim to break down barriers for women who wish to get into the sport. With a website (womentowomenski.com) that includes not only ski tips, but fitness and health articles, we can also learn things like what to expect when shopping for skis or boots—what to look for, how should a boot should feel on the foot.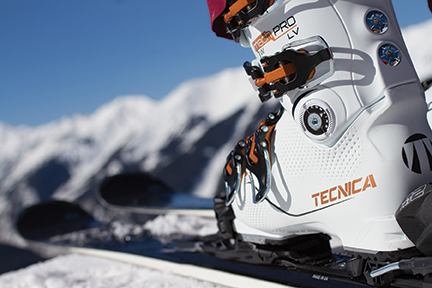 "This is a long-term project," explained Leslie Baker Brown. "Our company is committed to doing this forever. The next phase is pushing this out to the female skiing community — educating, empowering, and drawing them into the sport. It's a more 360-degree approach. It's not just 'Here's a boot, here's a ski, we're done.' It's a lot more than that."
In 2017 Tecnica boots won numerous industry awards including Skier's Choice in Powder Magazine, Editor's Pick in Freeskier Magazine, and Best in Test from Ski Magazine. Blizzard took home some impressive hardware with the Sheeva 10 and 11 winning Skier's Choice in Powder Magazine, Editor's Pick in Freeskier Magazine, Gold Medal in Ski Magazine, and the Black Pearl series winning a Gold Medal in Ski Magazine, and Editors Choice from On The Snow.
Cara Williams is a former world-ranked professional Big Mountain Freeskier & Ski Cross athlete. She spent over 10 years coaching and guiding with Extremely Canadian Steep Skiing Clinics in Whistler, South America and Europe and now, is the SOD Head Coach at Georgian Peaks Ski Club. Cara also worked as PR and Communications Director at Mountain Sports International, a Utah based sports marketing company and since moving back to Canada, is now the Editor-In-Chief of Escarpment® Magazine.
For more information on Women to Women and the shared experience as well as athlete and focus group profiles go to   womentowomenski.com