By Cara Williams. 
You don't have to be a skier to know that ski instructors were akin to celebrities in the 1970s and 80s. Back then, one of the most desirable professionals in the world, apart from maybe a Pan Am pilot or Playboy bunny, was the ski instructor. And Blue Mountain Resort was teeming with these larger than life characters—genuine ski-gods of the mountain. 
In the heyday of Blue Mountain's ski school, the best instructors were more than teachers, they were entertainers. Long-time Blue Mountain local turned Mountain Ambassador, Tom Servinis remembers how his idols would lineup atop Mogul Alley (now Legacy) and "advertise" their skills and skiing prowess by ripping through the moguls and chunder, in the hopes of wooing a student or two. "Legends like Joe Rotundo, Donny Lowes, Hans Gruber, Jurg Gfeller, Bob Kerschbaumer, Dutch Mills, Freddy Chambers, Ron Westlake, Lynn Warll and even former Guest Services Director, Paul Thrasher to name a few were mainstays at these ski-offs," remembers Tom. "I would stand at the bottom and watch them in awe." 
One of the top skiers of the era, Ernie McCulloch (dubbed the idol of Trois Rivieres, QC) had already solidified himself as a legend, having taken the win at the 1949 Quebec Kandahar Cup over the French, who were considered unbeatable at the time. In 1950 he achieved the "grand slam" of North American skiing by winning the United States National Giant Slalom Championship, the North American Championship and the Harriman Cup. Winner of virtually every other major alpine title in Canada and the United States, Ernie was voted "Skier of the Half Century" in 1950. Shortly afterwards occurred an unfortunate error which deprived Canada of our greatest skier for the 1952 Olympics. As in most other sports at the time, the difference between a "professional" and an "amateur" in skiing was vague. Practically every top skier at the time taught skiing, so to qualify for the Olympics, FIS (Fédération Internationale de Ski) decreed that if an athlete did not teach for ninety days leading up to the event, they would be eligible to compete. Unfortunately, no one thought to tell Ernie about it until the Olympics were eighty days away, and as a result, he was barred from competing. Following the 1952 Olympic Winter Games in Oslo, Norway, he demonstrated his dominance by defeating the reigning Olympic gold medal slalom medallist, Stein Ericson and Austrian Othmar Schneider at a race in Stowe, VT.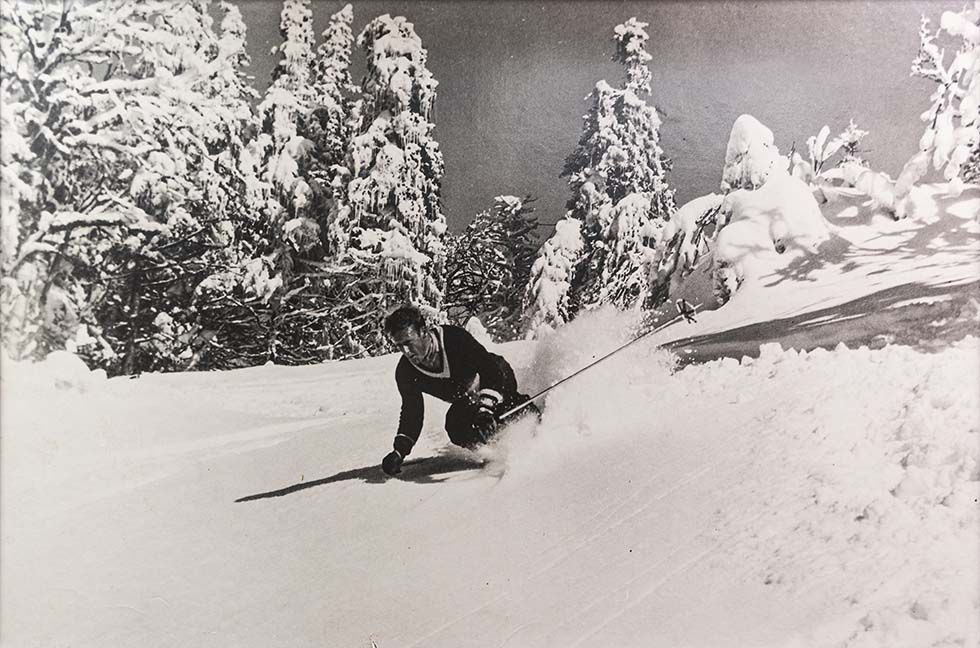 Ernie McCulloch dancing through the powder.
Ernie's career as a skiing instructor was only slightly less remarkable than his racing career. Affectionately known as the "King of Tremblant", Ernie joined the Mont Tremblant Ski School in 1951, became the ski school's Director in 1954 and remained there until 1969, when he left to become Director of the Blue Mountain Ski School. 
"Ernie was a God in skiing," says Bob Kerschbaumer, former ski instructor and genuine legend in his own right. "He wrote the Canadian Ski Instructors Alliance manual. If you wanted to get your level 4 you had to go and teach with Ernie for a while. When he was talking, you listened. When he spoke it was gospel."
It's understandable then, why having a ski instructor (especially one with credentials like Ernie) was both a status symbol and a wise investment—among Ernie's pupils in the early 1970s was a teenaged Todd Brooker. Like a true rock star, Ernie was said to live off Labatt's 50, hamburgers and cigarettes. "It didn't matter what Ernie did the night before," remembers Bob. "Whether he was drinking all night, the ski school was always on the hill at 8 am led by Ernie. Showing up late was a no-no. The old Mogul Alley was called Mogul Alley for a reason—it was nothing but moguls in those days. Ernie skied first and he wasn't slow—if you couldn't follow him, you were a 'wimp' and he'd call you out. He was a straight shooter." 
Before long Ernie's ski school had gained notoriety in the international ski community. John Hethrington, who handled the marketing for Blue Mountain, also happened to be the VP of Marketing for Benson & Hedges Tobacco. John was responsible for bringing the Pro Ski Classic and the Labatt Pro Challenge, which were attended by legends like Switzerland's Josef Odermatt, American Spider Sabich and France's Jean Claude Killy.
Throughout the 1970s, Blue's ski school flourished and featured only the best ski professionals of the time including Assistant-Director Freddy Chambers, Terry Bramham, Peter Birney, Mary Fujino, Jan Anderson, Allan Ashton, Larry Caruso, Coral Robinson, Paul Henderson, Scott Greene, John Dent, Heli Vogrin, Lynn Warll (who became the ski school Director in 1979) as well as Bill and Sue Skelton, parents of Dan Skelton, current President and COO of Blue Mountain. Fellow French-Canadian Don Bilodeau took the ski school reins from McCulloch in 1976, when Ernie and Freddy went on to run the ski school at Georgian Peaks.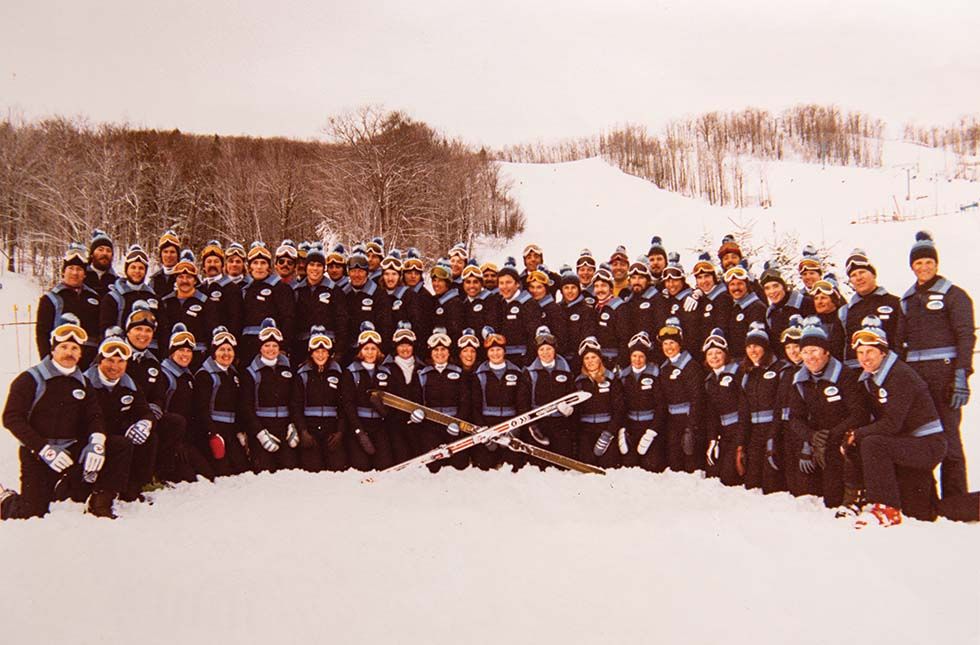 Blue Mountain Ski School under the direction Don Bilodeau, circa 1977 
"To us it didn't matter if you were making a million bucks, or living in a tiny cabin at the side of the ski hill like I was," remembers Freddy Chambers. "Everyone was equal when we strapped our skis on. It was all about making turns. Skiing is one of those special sports that once you've experienced the feeling, it's hard to walk away from. I'mthankful that Ernie McCulloch started me on this path. They called him 'the King' for a reason. He taught me a lot about the sport."
Over the years the allure and prestige of being a ski instructor has perhaps waned, but the memories are alive and well for those who lived in the era of the ski-instructor-god. A year or so ago Tom Servinis had a chance meeting with Freddy Chambers in Collingwood. The two got to talking, reminiscing about the "good 'ol days". Both agreed that it would be wonderful to get the "team" back together, so to speak. 
Tom picked up the phone and began calling on his former idols of the Blue Mountain ski school, proposing a 'Legends Ski Day'. "I didn't even check with the mountain," laughs Tom. "I just wanted to pick a date that we could all get together and go skiing." Once President & COO Dan Skelton got wind of Tom's event (which he fully supported) Blue Mountain became an official sponsor, offering participants' lift tickets and even springing for lunch.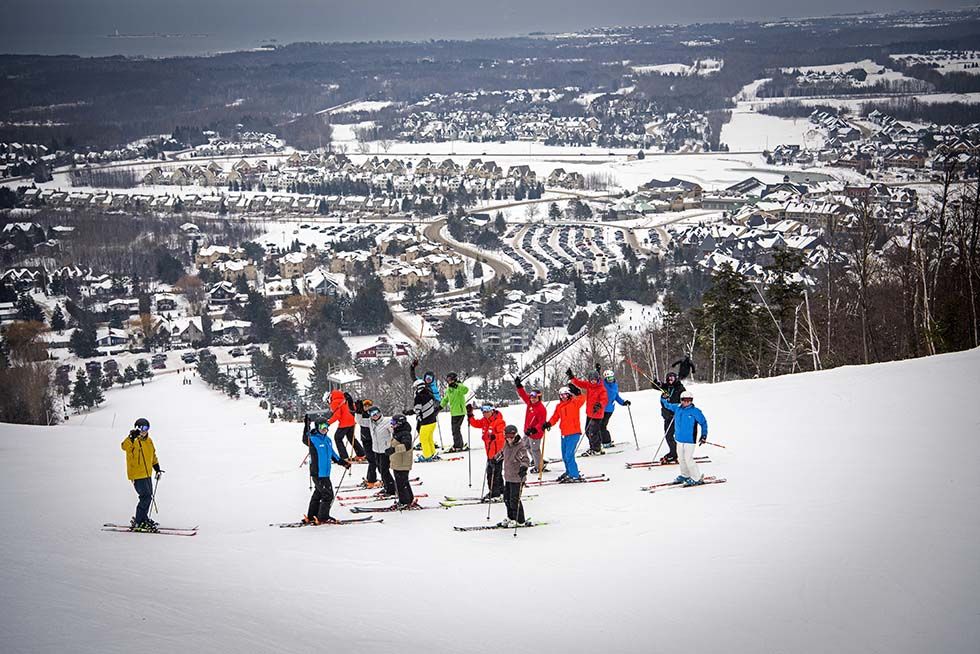 The first official Legends Ski Day took place on January 29, 2020, and was attended by nearly 50 original members of Blue Mountain'sski school.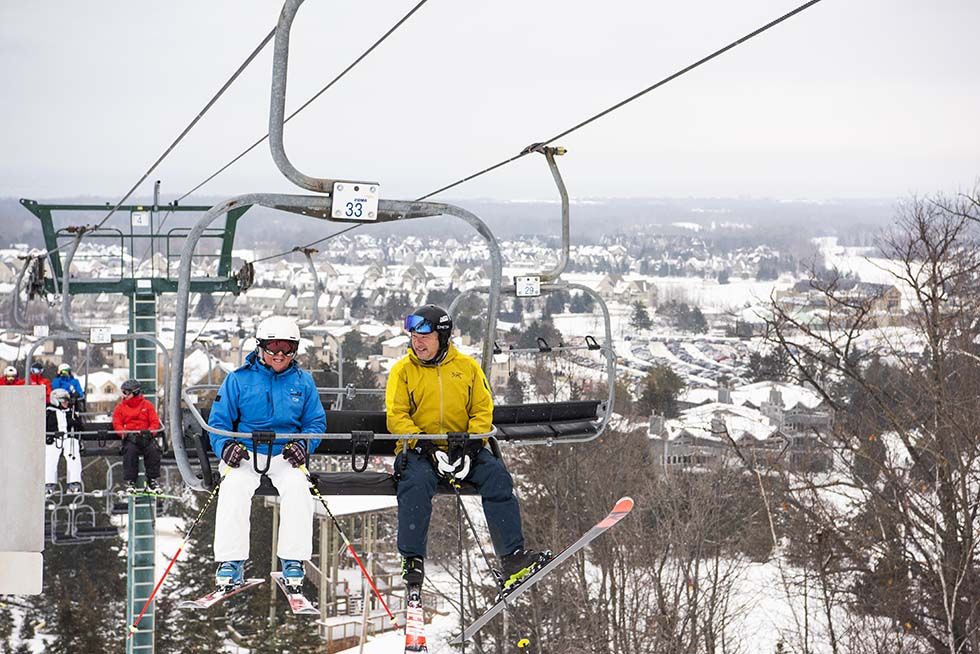 Tom Servinis and Dan Skelton, Blue Mountain President & COO riding Graduate Chair.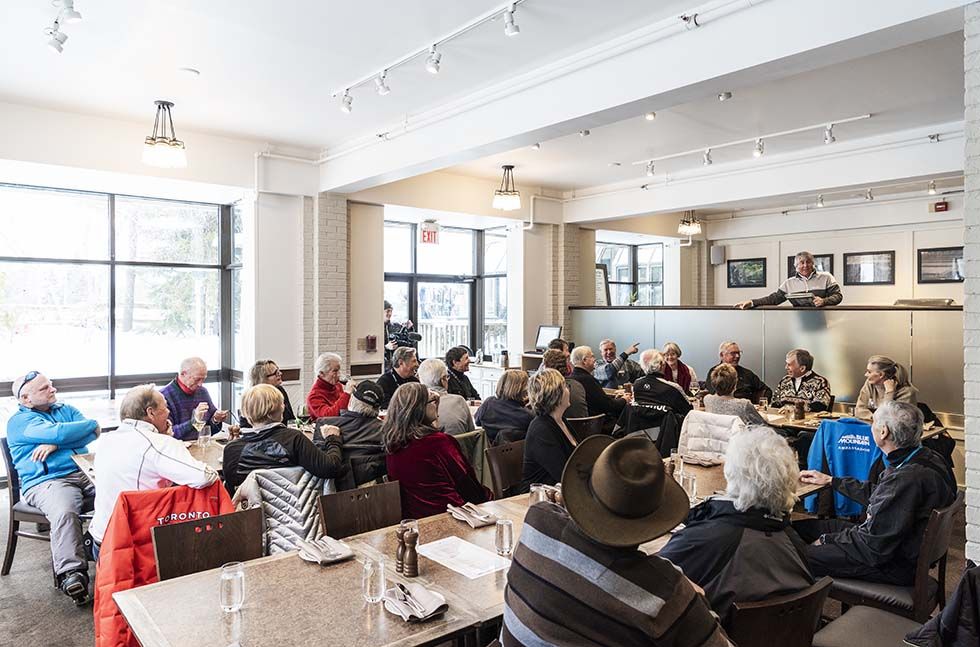 Tom Servinis speaks to the Legends at The Pottery Restaurant.
The first official Legends Ski Day took place on January 29, 2020, and was attended by nearly 50 original members of Blue Mountain's ski school. Unfortunately, their fearless leader Ernie lost his battle with cancer in 1987, at the age of 62. "We all met at the bottom of the Graduate Chair at 10 am," says Tom. "Everyone arrived on time, we were all so excited. The air was electric—it was like having Ernie McCulloch with all his ski school there." Beginning with a "glory ski" down the aptly named run, "Legacy", the "Legends" then shared laughs and memories during lunch at The Pottery Restaurant. "I hope we have made Ernie McCulloch proud," said Tom, speaking to the impressive gathering. "I'm glad I didn't have to fire anyone for crashing the lift line or misbehaving in the ski school. I wanted to give you guys a perfect 10 but then I remembered Ernie used to say, '10 is reserved for God, but I'm a nine and a half.'"
"It was very touching," remarks Freddy Chambers. "Looking back, you forget the windy days the rainy days and only remember the powder days and the amazing people. People were coming up and saying hello who I haven't seen in a long time. I've had two knee replacements and my surgeon told me that if I mess up then he won't know what to do with me, so unfortunately, I couldn't ski that day. But it was fun to remember how Ernie danced down the hill. When I think of him and the way he skied, he had rhythm—a lot of people are good skiers but that guy danced. He was simply gifted."
"For me, it was nice to see faces that I hadn't seen in ages," says Bob Kerschbaumer. "People in the ski school would come and go, so it's beautiful when someone organizes an event like this, we get to see some of the people we haven't seen in years. It's a great thing to have reunions like this." 
"Blue Mountain did such a great job at the Legends Ski Day," says Tom. "They really went above and beyond to honour the old days and keep the memories alive. Even President and COO Dan Skelton said a little something at the luncheon." 
With recollections like these it's no wonder many of these legends still ski over 50 days a year. "I still ski every day," says Bob. It's Tom's 50th season at Blue Mountain and both legends have ski passes for every season to prove it. "Talk about great memories," says Tom. "Where has all the time gone?"