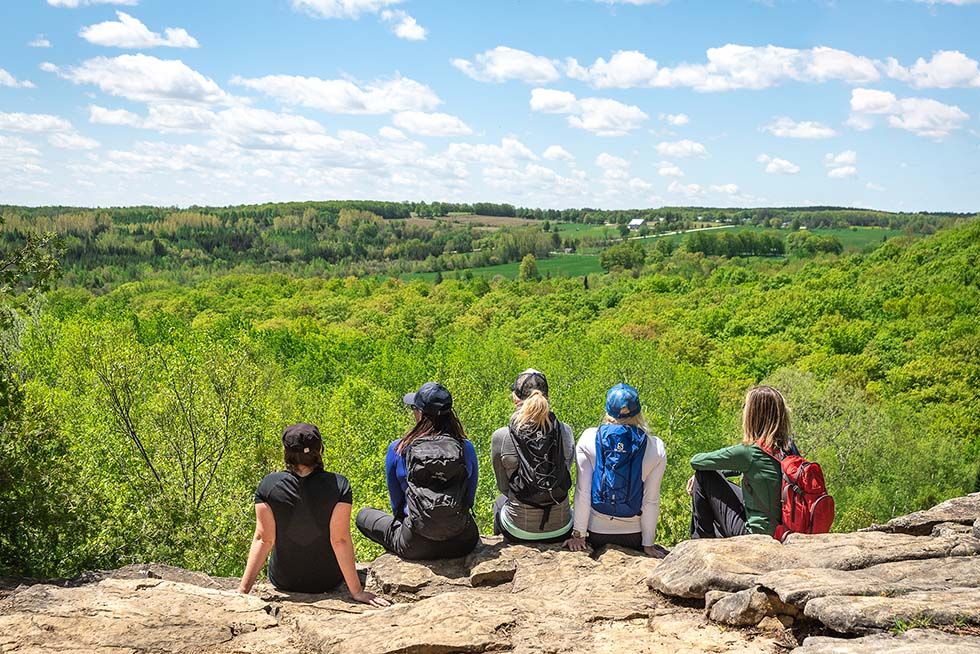 Words & Pictures by Heather Goldsworthy
We huddled beneath the event tent, staying close to the middle despite the fact that no matter where you stood you were bound to get wet. Voices raised to be heard above the sound of the rain ticking away on the tarp, we wondered aloud—would anyone come? Would all this planning and organizing be a wash? And then the first car pulled into the parking lot and a couple of smiling faces joined us. And then another, and another. Soon the tent was crowded with a couple dozen women, voices animated and excited as they introduced themselves to each other. Nobody seemed to care about the downpour or the slightly cooler than normal temps on this early Saturday morning. The weather wasn't going to put a damper on our plans. Clearly, we weren't the only ones who had been looking forward to being part of something like this. 
The Collingwood Women's Hike Crew started, as most ideas do, from a combination of personal desire and identifying a community need that had yet to be satisfied. In my own immediate circle, we had a solid crew of 4-5 women who got together often to hike, bike and explore. We were in a bit of a rut though visiting the same go-to trails and, while they were beautiful spots, we were keen to explore more of the escarpment and go on longer adventures. At the same time, we were often hearing from other women that they would love to get out more too but for various reasons didn't—new to town and hadn't met anyone to hike with, knew some trails but didn't feel confident in navigating new ones, or just needed the added incentive of having people to get out with. A clear need was being identified and Nicole Kertcher, one of our crew, put out the idea of starting a women- specific hike group for the region. A solid champion of community, Nicole had initiated something similar a couple years back; the Collingwood Ladies Ride Crew, a facebook group that organized a weekly ladies trail ride. The group had made a significant impact on helping women grow their riding network so why not do something similar for the hiking community?
The Collingwood Women's Hike Crew, open to all women and female-identifying people, hosts group hikes at least once a month on a Saturday or Sunday morning. The hikes, led by Kertcher, Chloe Greenhalgh and myself, explore a different section of the Bruce Trail from Nottawasaga Bluffs and Kolapore, to Beaver Valley and Hoggs Falls. The summer hikes are roughly 10km and of moderate difficulty making them inclusive to a wide-range of women regardless of age, trail experience and fitness level. You can expect to be out between 2-3 hours depending on the chosen trail and whether there are sections that we will want to stop and spend time exploring such as a waterfall or beautiful lookout. The group started with a commitment to host five hikes over the summer of 2019, but as the leaves began to turn there was a lot of interest in the hikes continuing so the group now hikes together year-round and has added some full-moon night hikes.
Kertcher, the territory manager for Salomon footwear and bags, also had some ideas on how to make the initiative even more community oriented. At the hikes, members can demo Salomon hiking shoes and hydration packs, in turn supporting local shops Skiis & Biikes, VO2, Sporting Life, and Squire John's who carry them. The summer hikes also showcase a local business that supports a healthy, active lifestyle— such as the Collingwood Kombucha Company who came with samples of their small-batch kombucha and talked about gut health. Members have also come together to support other women in our community— fulfilling a Christmas Wish List for a mom and daughter through My Friend's House over the holidays, volunteering as hike leaders for the upcoming 'Hike or Bike for Hospice' event that supports the Georgian Triangle Hospice, and a 'Gear Up' outdoor clothing swap is in the works which will give members the opportunity to share their extra hiking equipment and technical clothing with other members who need them so everyone has the gear they need to get outside and explore.
All hikes are managed through a Facebook group, and the hike details are also posted on Instagram. The idea with the Facebook group is that not only will people be able to come out for the organized group hikes, but the page is a forum for members to connect with each other to plan other hikes, meet other active and outdoorsy women, and build their play network. The group already has over 300 members and there is always room for more.
As we waited for the last few people to arrive, the sky began to brighten and by the time we reached the trailhead the heavy raindrops had turned to a warm, light mist. For the next few hours we had the trails to ourselves—just a group of women spending time in nature, connecting and learning about each other, and exploring this beautiful place we get to call home. Join us!