Superhero Athletes Raise Almost $24,000 for Beaver Valley Outreach
The Blue Mountains, October 29, 2020 – A group of teenage athletes from the Georgian Peaks Ski Club has raised $23,835 for Beaver Valley Outreach (BVO), a local non-profit organization with programs and services for children, families, senior, youth and individuals in The Blue Mountains.
The initiative, named BVO Challenge 2020, was organized by 15-year old skier Duncan Armstrong. With the help of 30 Georgian Peaks teammates, he organized and led individual and team challenges such as weightlifting, running, planking, skate-a-thons and surf-a-thons in August and September to help BVO with funds during COVID-19.
"Last summer, when I was volunteering for BVO, I realized that they weren't getting any funds because of COVID, so I organized a challenge with other Georgian Peaks athletes, incorporating physical activity to help BVO get donations and reach our goal of $20,000," said Duncan Armstrong. "To raise money, I developed an Instragram page, and also reached out to athletes through club communications. At first, we didn't get too many people, so I started direct messaging them, saying I really wanted them to help out. We also got a lot of social media shares and media attention in the community."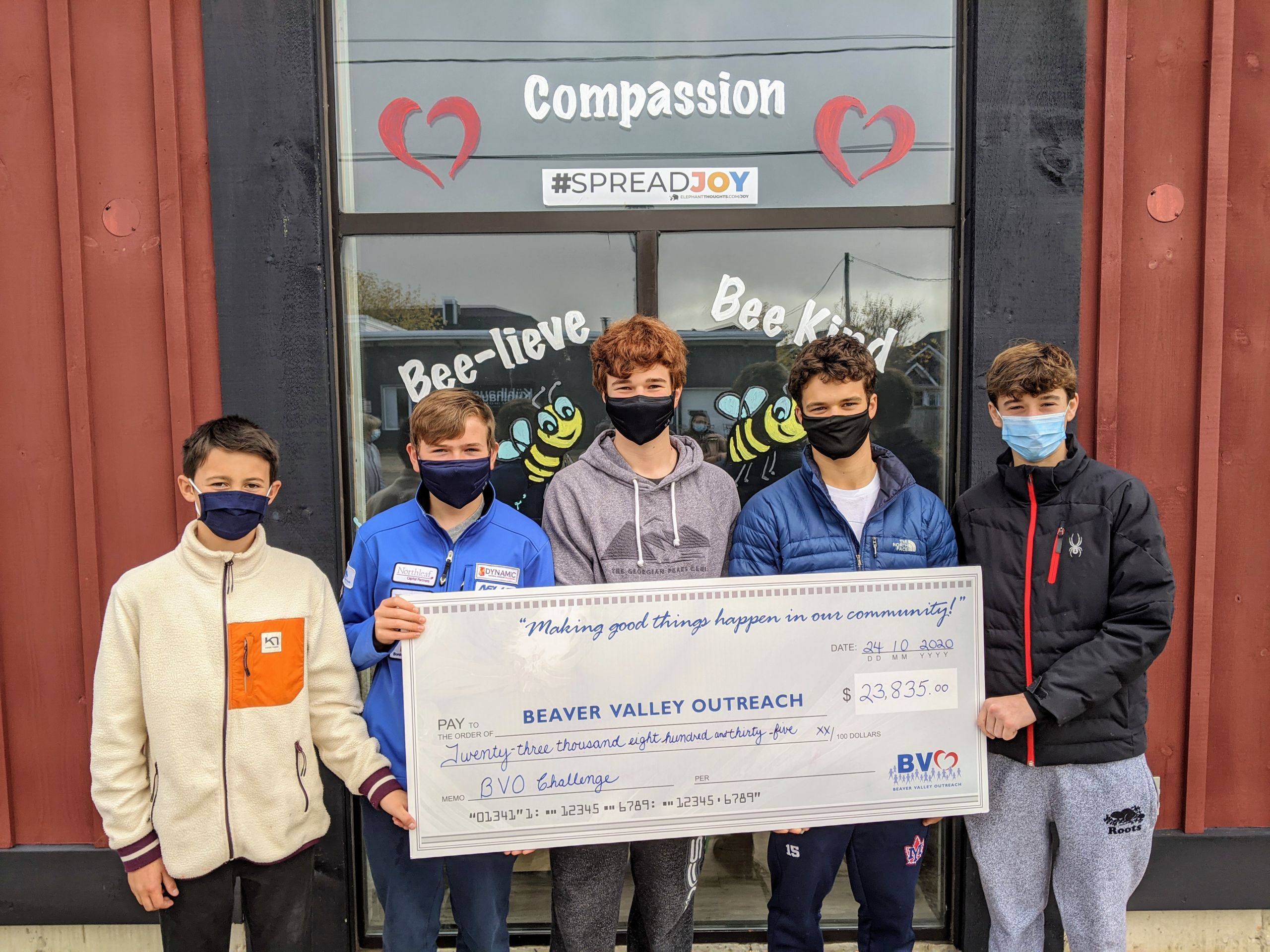 Photo (L to R): Jasper Williams, Brody Wells, Tadas Valadka, Duncan Armstrong, Beau Leone
During the presentation of the cheque to BVO, Board Chair Cathy Innes expressed sincere gratitude for the team's efforts. "We are lucky to have such a wonderful group of young athletes in our community. They saw a need and challenged themselves to do something about it," she said. "They are a great example for us all."
For more information, please contact Cathy Innes at boardchair@bvo.ca or Catherine Sholtz at 519-599-2577