by Cara Williams with Shannon Miller & Krista Allen    
Photography by Jody Wilson & Clay Dolan
It's freezing outside and while the thought of going for a run may seem ludicrous, before you retreat to your treadmill (or couch), consider this: training outside any time of year, but especially during the year's shortest days, unlocks a plethora of mental and physical benefits. Forget trying to get yourself to the gym—cold weather running is free, convenient, and will help you stay active and healthy, both mentally and physically, this winter.
Local endurance athletes Shannon Miller and Krista Allen are seasoned veterans when it comes to running—the pair finished second in the 2018 Everest Challenge at Blue Mountain, having each climbed the hill a whopping 20 times. Both full-time teachers and mothers of young children, Shannon and Krista understand the struggles that many of us face when trying to squeeze exercise into an otherwise busy day—add snow, ice and frigid temps, and many of us would rather go back to bed—these two inspiring ladies are lacing up and heading out.
"The trails are much quieter in the winter and the sunrises are stunning," says Krista. "Most of the time I run first thing in the morning, to accommodate the family schedule, but the evenings in winter can be beautiful too." Last winter Krista completed 117km of the Beaver Valley section of the Bruce Trail over a few weekends. "The conditions went from 'better than summer' (because the snow was firm and packed) to kilometres of trudging through crotch deep snow."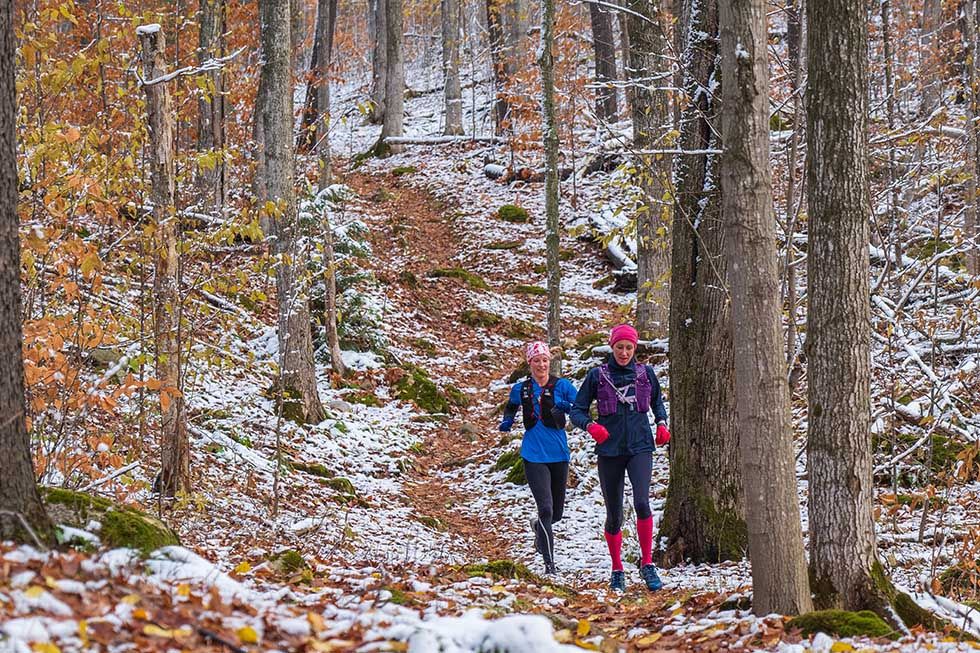 To ensure you reach your goals Krista and Shannon encourage training with a specific target in mind. "Consider picking a spring race to help keep you accountable," says Shannon. "Find some adventure buddies and plan to run together. It can be really exhilarating running in a blizzard or fresh powder!" These cold winter days build character—the kind you can use in the late stages of a long run. But steer clear of high-intensity running below -15°C. "Approach it like a non-competitive workout as you run the risk of irreparable lung damage."
In the spring, summer and fall, Krista and Shannon will often head to the "trails less traveled" to avoid congestion, parking headaches, and overwhelming the trails. "However, having done this in the winter and ending up slogging for kilometres in deep snow, we're more likely to choose trails that are more likely to have been tracked out," says Krista. "Occasionally, these trails in the winter will be less technical and can be traveled more quickly than during the summer due to the high volume of snowshoe traffic smoothing them out."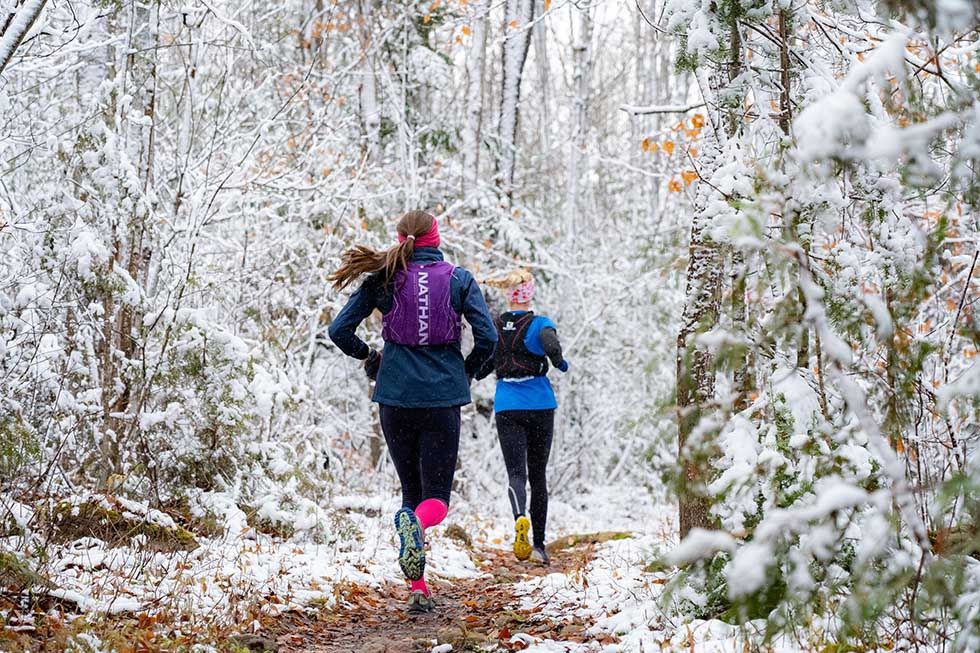 KRISTA'S FAVOURITE WINTER TRAIL RUNNING ROUTES
ROUTE 1
PRETTY RIVER 8KM
Pretty River Valley Provincial Park is located in The Blue Mountains less than 10km west of Nottawa. Head south on Simcoe Country Rd 124, then turn right onto Sideroad 33/34 Nottawasaga. After 5.4km this becomes Pretty River Road. Follow for 2km and park along the roadside—the trailhead is on the north side of the road. You'll start by following a short section (<100m) of blue side trail (Pretty River Access Trail)before you veer left onto the main Bruce Trail. The trail follows the Pretty River as it climbs gently up the Escarpment. There are a couple of bridge crossings before the climb starts to steepen (be careful, they can be slippery!). You'll pass a couple of side trail turn offs (Pretty River Side Trail and the John Haigh Side Trail) before a 90 degree right turn as you approach the top. Turn right to stay on the white trail. You'll pass by the Russ McConnell Side Trail as you continue toward the bluffs, which provide three separate locations with beautiful views. You'll pop out at the end of 6th Sideroad (which is not maintained, therefore driving to this spot is not advised).Turn left on 6th Sideroad for 500m, before you turn left onto the Russ McConnell Side Trail. This side trail will take you back to the main Bruce Trail, where you will turn right and return on the same trail you started on. This route can be lengthened by adding the John Haigh Side Trail, where you'll pass the highest point of the Bruce Trail and descend 2nd Line to the intersection of the main Bruce and turn right to meander through the Petun Conservation area.
ROUTE 2
LOREE FOREST 6 K M
Less than a 10-minute drive from Thornbury, the Loree Forest is a heavily trafficked loop trail in The Blue Mountains. The trailhead is in the hamlet of Loree, on 21st Sideroad. Here you'll find angle parking. Take the gravel ATV road up to where it intersects the Len Gertler Side Trail. Here you can choose to head either left or right. The Len Gertler Side Trail makes a loop with the main Bruce Trail to create a 6km loop. Note that the Bruce Trail no longer traverses the top of Georgian Peaks Ski Club; it ducks into the forest before you approach the ski club from either direction. This route has very little elevation gain—the trail is wide and easily travelled.
ROUTE 3
6th STREET EXTENSION6 km
(technically 12th Sideroad)
If all else fails: if the trails are too wet/icy/snowy/closed/or it's hunting season, 6th Street is always there for you! Accessed via Grey Rd. 19 in The Blue Mountains, this is not a through road in the winter, so it's not very busy with vehicular traffic. It's a local favourite for a quick, close-by, effective, butt-burning workout! There is limited parking on the south side of the road near the intersection of Grey Rd. 19/Osler Bluff Rd. The road is gravel, and begins climbing right away. There are several pitches as you head up. Just past Mission Road, winter maintenance ends, so for the last couple of pitches you may want some spikes or snowshoes for additional traction. Among our crew, the hill has an official and an unofficial summit; where the road intersects the Bruce Trail at Scenic Caves Nordic Centre; or for some added vertical, continue on to the top of the next pitch (however, this last bit is less-traveled and is still unmaintained in the winter). Once you've high-fived your training partners for a climb well done, turn around and descend on the same track.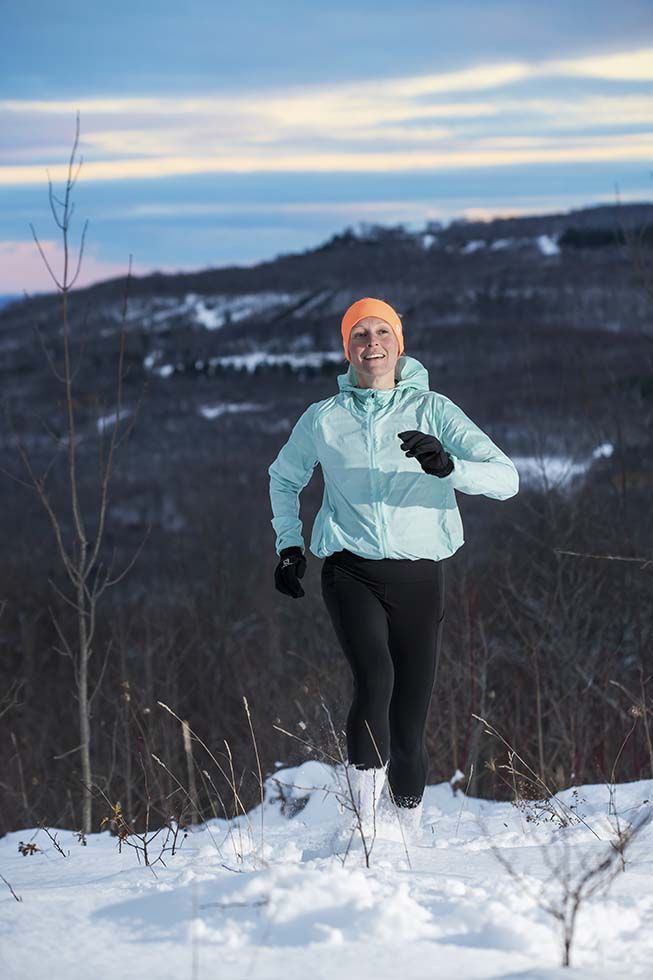 Disclaimer: Be sure to obey parking signs, be careful not to obstruct traffic and keep an eye out for No Trespassing signs.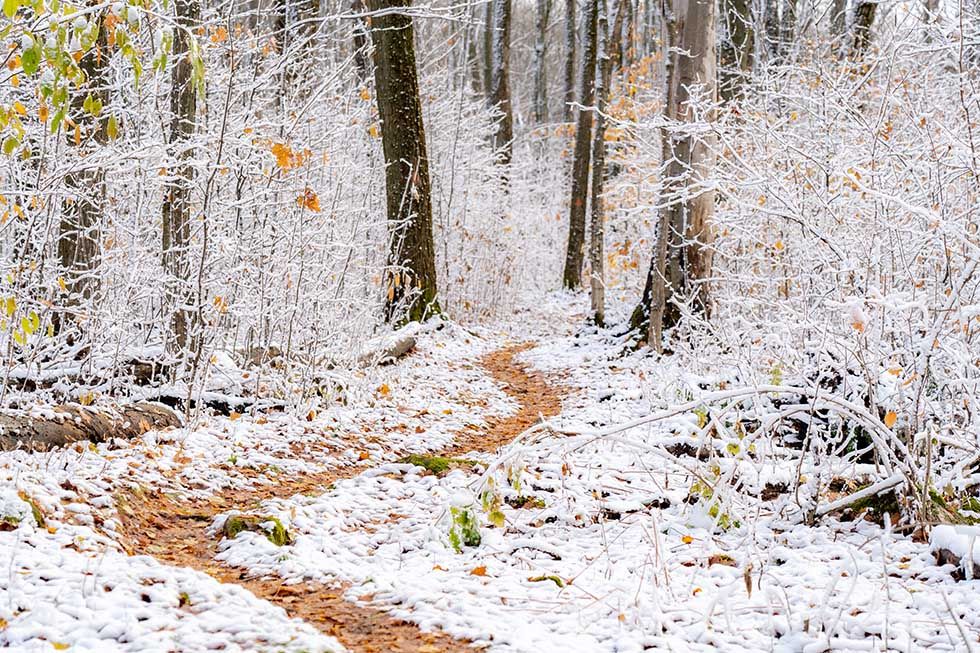 A mother of two boys, Shannon Miller's love of winter running stems from the hardcore feeling she gets when being out in the elements. "I love the quiet and stillness of running in fresh snow. Oddly, I love breaking trail in deep powder—and when I'm finished, I love the feel of rosy cheeks, itchy thighs and frosted lashes." When armed with the right gear (and frame of mind), Shannon says running through a fresh snowfall can be downright magical. Here are ten expert gear tips to make the most of your winter run.
SHANNON'S TOP 10 GEAR TIPS FOR WINTER RUNNING
1.  A buff or face covering is a must-have for the sub-zero temperatures. Frostbite is real!
2.  Layers that can peel or zip away as you warm-up and put back on as you cool are key when it comes to running in cold weather.
3.  Wear Gore-Tex socks and/or shoes (I wear both), and consider spikes for your shoes in icy conditions. Some brands screw into your soles while others attach to your footwear like Katoolah MICROspikes.
4.  Wear pants with wind-stopper material on the front thighs for warmth (look for running specific or Nordic skiing pants).
5.  I wear my Mountain Hardware Ghost Whisperer down jacket 70 percent of the time. The
coat weighs under eight ounces and is easily compressible into a pocket, so if I'm not wearing it, it's in my pack.
6.  Consider investing in a pair of running snowshoes (I like Atlas Run brand).
7.  Don't rely on your phone for a safety plan—let someone know your route especially when you begin to add mileage.
8.  Consider your fuel choices and whether
it will freeze—if you're carrying a hydration pack place the tubing under clothing and close to your body to avoid a frozen hose.
9.  If you're running in daylight, remember that there are plenty of clear days in winter. Don't forget sunglasses, sunscreen and/or a brimmed running hat.
10.  Reflective gear is important with the dwindling daylight a good headlamp is better. Light equals speed.