by Cara Williams, Photography courtesy of Sportsnet
UPDATE: Given the new provincial restrictions amid the recent surge of COVID in Ontario, Sportsnet, Scotiabank and the City of Owen Sound have decided to postpone the 2022 Scotiabank Hockey Day in Canada festival until Winter 2023.
Celebrating Canada's game The pinnacle event of the festival from coast-to-coast-to-coast, Scotiabank Hockey Day in Canada is the country's biggest single-day hockey broadcast, reaching over 10 million viewers. This year, the scenic waterfront city of Owen Sound will have the honour of hosting. Held over four days, Georgian Bay will serve as the stunning backdrop for the festival, while showcasing Owen Sound's vast history in the sport of hockey.
The pinnacle event of the festival will take place at Harrison Park, with a marathon 12-hour live broadcast on January 29th. During the lead up, the city will host dozens of events including a gala banquet, celebrity/ alumni hockey game, on-ice clinics, school visits and more. Hockey Day in Canada will culminate with the Owen Sound Attack hosting the Guelph Storm at the Harry Lumley Bayshore Community Centre.
Ryan Leslie, host of the Calgary Flames' Hockey Night in Canada, grew up in Owen Sound and has a strong kinship with the city. "My great grandfather was the vice-president of the Owen Sound Druggists' Hockey Team," laughs Ryan. "They were city champs and I have a great photo of that team in my man-cave. My grandfather was also a pharmacist and coached hockey. After every game he'd welcome the players back to his pharmacy for a pop. I know how much this would mean for my entire family. So, for me to be able to come home and be a part of this is fantastic. I'm very proud to be from Owen Sound and historically this will go down as one of the bigger days in our city."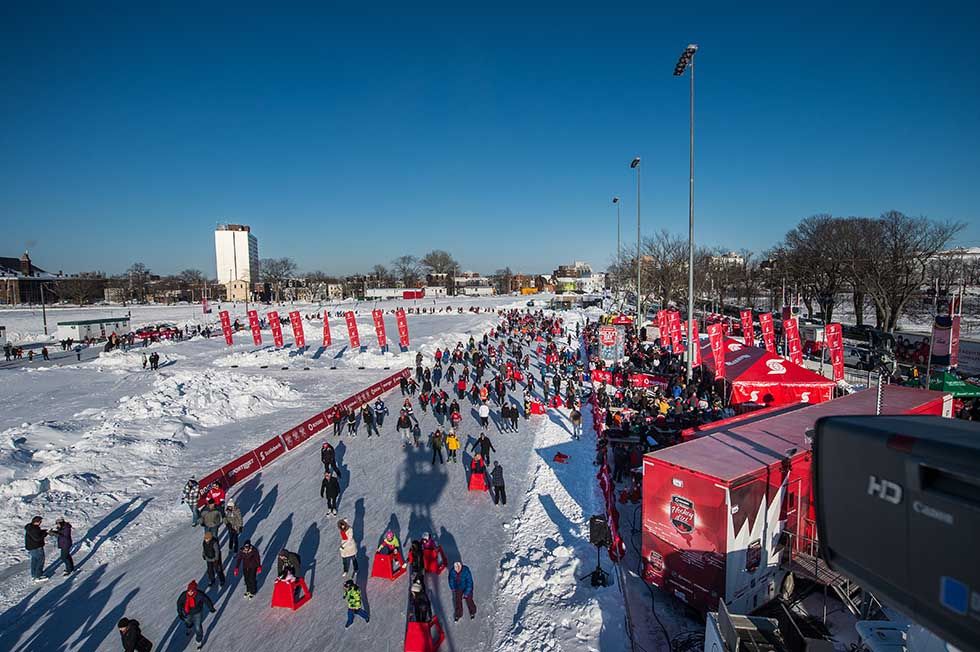 The sport of hockey has a long and storied history in Owen Sound—some references suggest organized hockey began in the 1880s, however there are records of games beginning in the early 1900s. The year 1924 marked a new high point as the Owen Sound Greys played Calgary for the Canadian Junior Hockey Championships Memorial Cup. Fans reportedly gathered outside the office of the Owen Sound Sun Times, where a lantern projector had been set up. Telegraphed information about penalties and goals were flashed on the wall of the building across the street. It is estimated that more than five thousand residents gathered that day to witness history as Owen Sound won its first National Hockey Championship. 
Believe it or not, every incarnation of Owen Sound hockey has brought the Championship trophy home to the shores of Georgian Bay; the Owen Sound Orphans won the 1942-43 OHA Intermediate Playoffs; the Owen Sound Mercurys won the Senior Amateur Allan Cup in 1951; and most recently the Owen Sound Attack earned their first OHL Conference Championship Memorial Cup in 2011. With a track record like this, naturally many players have gone onto success in professional leagues—legends like Brian Perry, Benny Grant, Doug Brindley, Jim Schoenfeld, Jack Lynch, Jamie Storr, Sean Durzi, Maksim Sushko, Dan Snyder, Theo Peckham and of course Nick Suzuki, all started here. At the beginning of last season, the Owen Sound Attack had 67 alumni actively rostered with teams, including 14 in the National Hockey League (NHL), 17 in the American Hockey League (AHL), three in the East Coast Hockey League (ECHL), 11 in Europe and 22 rosters with Canadian Universities (U Sports).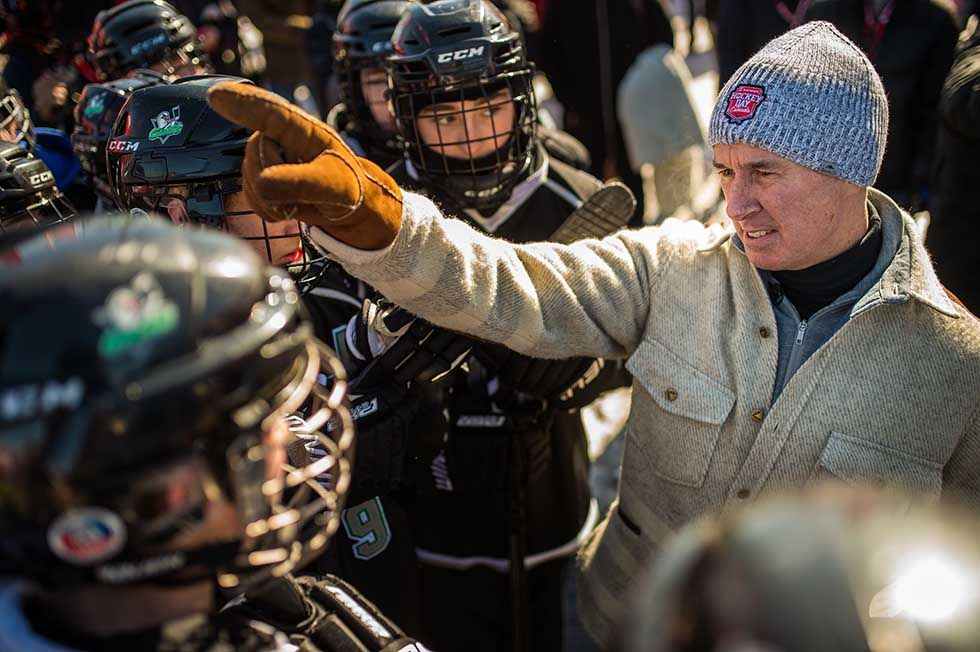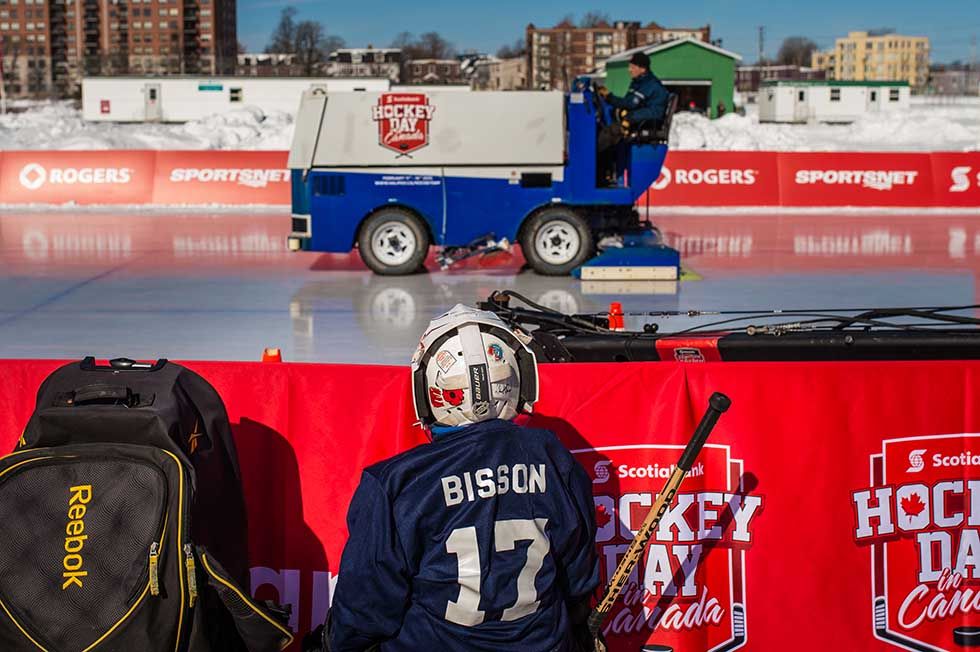 Legendary broadcaster and host of Hockey Day in Canada, Ron MacLean is no stranger to the city—he hosted Hometown Hockey in Owen Sound back in 2015. "This town is filled with such history from Danny Snyder to Kirk Maltby to Mark Giordano," said Ron. "To see what Owen Sound represents on a nightly basis is amazing—it makes for easy story telling. I'm a little younger than Harry Lumley's time but when I came to Owen Sound for the first time to referee hockey, the fact I was there to referee at an arena that had Harry Lumley's name attached to it was a big deal."
Undoubtedly the most decorated hockey player in local hockey history, Harry "Apple Cheeks" Lumley was born in Owen Sound on November 11, 1926. A prodigy goaltender, Harry became the youngest regular goalie in the history of the NHL, when at the age of 18, he was named the starting goaltender for the Detroit Red Wings. During the 1949-50 Stanley Cup Playoffs Lumley led the Red Wings to victory, boasting three shutouts in the playoffs. In 1954 he won the Vezina Trophy for being the goaltender who allowed the fewest goals, and throughout his career he would play for the New York Rangers, Chicago Black Hawks, Toronto Maple Leafs, and Boston Bruins. In 1980 Harry was inducted into the Hockey Hall of Fame, and in 1983 the Harry Lumley Bayshore Community Centre opened on the eastern shore of Owen Sound Bay— known to locals as "the Lum".
Hockey Day in Canada, however is about much more than just the players and the game—it's about coming together as a community and celebrating a Canadian tradition. The four-day event will also highlight Owen Sounds' well-known cast of off-ice characters, including pilot Billy Bishop and iconic painter Tom Thomson. "How does that happen," said Ron. "You have the number one fighter pilot, you have the number one painter and you have great hockey players. I don't know how we are going to fit it all into 12 hours of broadcasting. We need 12 days of Owen Sound to do it justice."
The festivities kick off on Jan. 26 with a Music of Hockey Day event featuring local and national artists, including Dave Bidini, Jake Clemons, Emm Gryner, Stephen Stanley, Sportsnet's Tara Slone and former NHL player Bryan Trottier. School visits and on-ice hockey clinics, courtesy of the Toronto Maple Leafs and NHL Alumni, will take place on Thursday. Later that day Sportsnet's Jeff Marek and Elliotte Friedman host a live taping of 32 Thoughts: The Podcast from Heartwood Concert Hall in Owen Sound's River District. Friday begins with the NHL Hockey is for Everyone Breakfast hosted by Andrew Ference and a chance to view the Stanley Cup, followed by a day filled with hockey as high school teams face-off in both boys and girls divisions. The day caps off with the Scotiabank Hockey Day in Canada Celebrity and Alumni Classic featuring well-known NHL and Owen Sound Attack Alumni.
Owen Sound's Harrison Park will come alive on Saturday as Sportsnet host Ron MacLean kicks off the day-long live airing. Headlined by hockey matchups featuring all seven Canadian NHL teams, the national broadcast will celebrate Owen Sound's rich cultural landscape, diversity, and love for the game. The day features on-ice clinics and information sessions, while the city will also be host to a U Sports women's hockey game between the Waterloo Warriors and Windsor Lancers. The evening broadcast will move to the Harry Lumley Bayshore Community Centre, where the Attack face off against the Guelph Storm.
"It is wonderful to be able to showcase our Owen Sound and Grey- Bruce community and it is wonderful to be able to showcase the history and some of the stories we grew up with around the hockey game and around the arena," said Ian Boddy, Mayor of Owen Sound. "There should be lots of stories to be had."
Scotiabank Hockey Day in Canada 2022 promises to shine the national spotlight on Owen Sound and celebrate the community's rich cultural landscape, diversity, and love for the game of hockey. A full schedule of events, ticketing, and volunteer information is available at owensound.ca/hockeyday