Words . Cara Williams
I know from experience that mountains (yes, even the smaller ones) have a way of taking hold of you and not letting go. Like most ski towns, Blue Mountain Resort attracts like-minded, outdoor enthusiasts who are drawn to the lifestyle and of course the skiing. In the past being a "ski bum" meant eating ramen for dinner, sleeping in your van by the river, and working an assortment of odd jobs—the payoff being inexhaustible access to skiing and snowboarding.
The Escarpment may be the exception as each year more people are making the permanent move—some are on the brink of retirement, while a younger generation of recent University graduates have decided to begin their professional lives right here. Whether they consider themselves ski bums or not, one thing remains unchanged–if they can get paid to be on the mountain, they've hit the collective jackpot.
In 1970 Tom Servinis rented a chalet at Tyrolean Village with 20 of his closest friends. A novice skier, Tom had fallen in love with the sport the previous winter at the Don Valley Ski Centre. The relatively gentle hillside at Milne Hollow near Lawrence and the Don Valley Parkway featured three lifts – two rope tows and one Poma. "I had borrowed lace up boots and skis with bear-trap bindings," recalls Tom. "My buddies and I would play tricks on each other and laugh when we fell. On my very first run I ended up in the river! But I loved skiing—right from the beginning I loved it." Tom skied every night after work that winter. By the end of the season he had mastered all three runs and was ready to progress. "My first run at Blue Mountain was on Apple Bowl and I crashed about six times on the way down. But it was fun and it beat sitting on the couch all weekend watching football."
That first season at Blue Tom and his bachelor friends made the drive north on Friday nights, they would ski all weekend and head back on Sunday evenings, exhausted and happy. "I bought my first pair of skis at Eaton's," remembers Tom. "They were certified by Gordy Howe! I'm pretty sure Gordy Howe never skied in his life, he was a hockey player." By all accounts Tom was hooked and sealed the deal by becoming an early member of the Toronto Ski Club in 1971 for $25.
During the 1970's Blue saw many improvements including snowmaking, installation of night skiing lights and the construction of the South Base Lodge. Recognizing the potential, Tom bought a piece of land in Swiss Meadows atop the north end of Blue and built a small house. The iconic sloped roof ski chalet was dubbed "The Beehive" and every weekend Tom and his friends packed the place, sleeping on couches, filling bunkbeds and even crashing on the kitchen floor. "We got stuck every night," laughs Tom. "Every single time we drove up, we got stuck!"
An avid tennis player Tom started coming to Blue in the summer, playing on the courts at the Blue Mountain Inn. Craving a spot closer to the base (and a drive home that didn't require tire chains) Tom sold the Beehive and built another classic-style chalet on Mountain Road, right across from the Inn. "Being close to the mountain is everything," explains Tom. "Back in the day Apple Bowl was the centre of life at Blue Mountain. Even when I go away skiing somewhere, I want ski in/ski out. I don't want to get into a car and drive."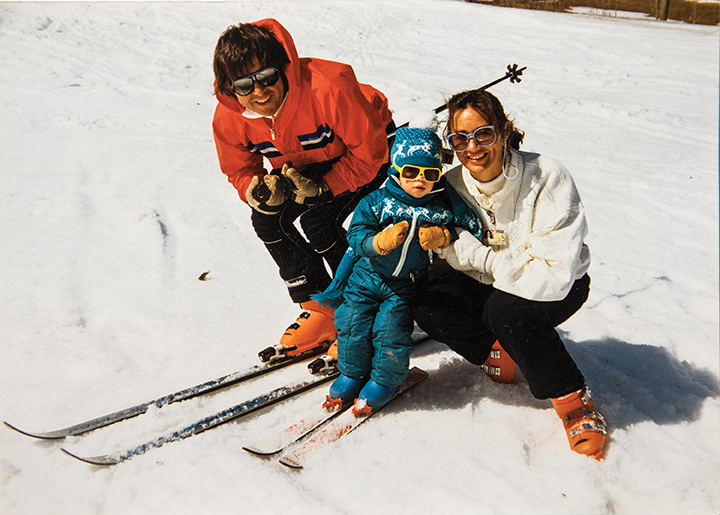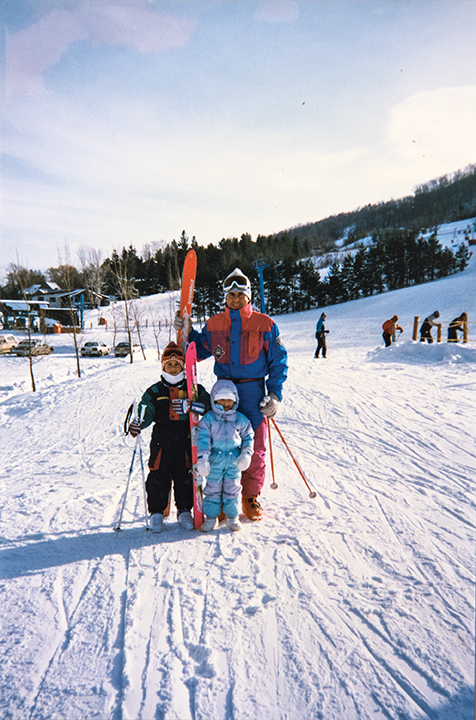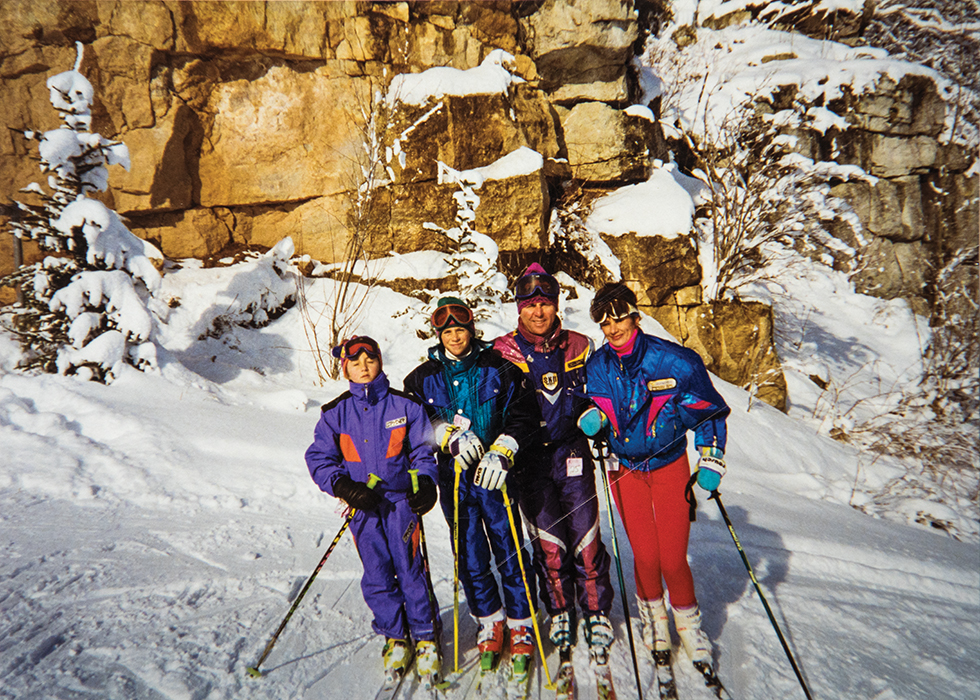 Tom met his wife Linda on one such ski trip to Aspen. A match made in ski heaven, Linda also lived in Toronto and had several seasons at Blue under her belt. "She used to come up with the High Park Ski Club," remembers Tom. "On the bus!" laughs Linda. "We used to park right in front of Tom's chalet." The couple married in 1981 had two children, Tryan and Morgan. The growing family quickly outgrew Tom's bachelor pad and built a family chalet at the base of the old Apple Bowl chair. Tom and Linda recently retired there and enjoy being steps away from the new epicentre, the Village at Blue. Tom especially loves buckling up his ski boots in the comfort of his own mudroom and walking the dozen or so steps to the Graduate chair. "He starts every morning with checking the weather channel," laughs Linda. "That's true!" says Tom. "It's important to know how to dress. You've got to be ready for the elements, and of course, look good too."
Clearly this grizzled veteran has experience and knowledge to share—five years ago, Tom officially signed on as a Blue Mountain Ambassador. "I was so used to chatting with people in the lift line and sharing my favourite ski runs so it was a natural progression for me," explains Tom. One of the earliest Ambassadors to Blue, there are now over 15 trained Ambassadors who share the responsibilities and duties. "It's an important job, especially on the weekends when people don't know where to go and what to do." Tom begins every day with two or three runs so he knows the conditions before beginning his shift. He also guides on-mountain tours and advises on grooming and snowmaking.
"People will ask me, 'what's it like out there?' But every day can be different at Blue Mountain. One day could be powder, the next day could be hard pack, and then you've got the wind. It's important to have a few warm up runs to get your skis into it. Once I do that, I know what technique to use, whether to go fast or go slow. You really can't tell just from looking up at the bottom." "The weather can be different from the south to the north," adds Linda.
Things have changed in the nearly five decades since Tom and Linda began skiing at Blue, but one thing remains constant—their love of the sport and lifestyle. "The demographic is completely different than it was 25 or 30 years ago," explains Tom. "We have people coming here from all over the world. And not only that, the ski teaching techniques have changed so much so there is a higher rate of success for first time skiers. We have one of the best ski packages in the world at Blue: it's called the Newbie Program and includes rentals, beginner lift ticket and all-day drop-in lesson on Easy Street. As you progress you go onto the Graduate Chair and after you master that you go to Happy Valley, and then you're into it! We never had anything like that. My friends and I taught ourselves and we used to fall all over the place."
The next generation of Servinis' are about to hit the slopes; "We're blessed with a new grandson now, Tyler," smiles Tom. "I can't wait to get him on skis, but of course his dad Tryan wants to get him on a snowboard." "I know who's going to win that one," laughs Linda.
Much like Tom and Linda, 25-year-old Rachel Billo heard the call of the mountains and wound up becoming a full-time resident of Collingwood straight out of University. "When I was growing up, every opportunity I had to come up here, I was here: summer, weekends, during reading week," remembers Rachel.
"So, when I finished school in Waterloo I knew that this is where I wanted to be because it felt more like home than my actual home."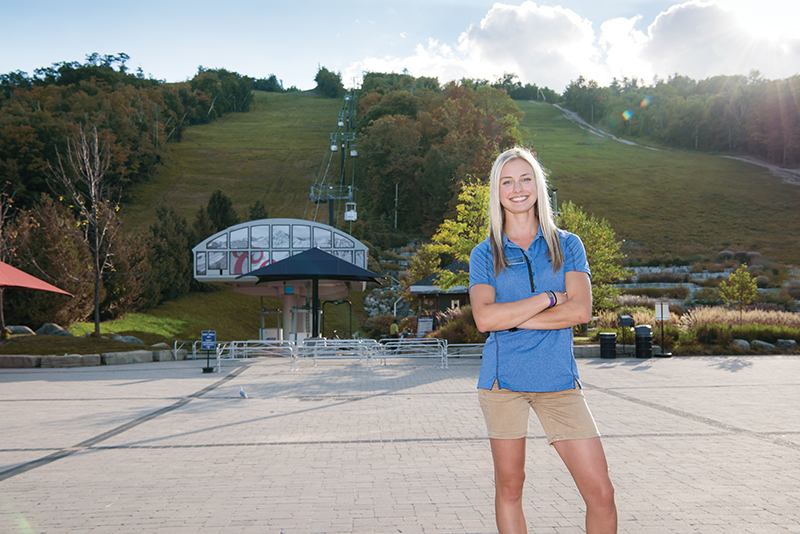 Five years ago, Rachel packed up and took residence at her parent's chalet at the base of the south end of Blue. She quickly procured a job with Blue Mountain Resort and through diligence and hard work she moved through the ranks. She now holds a year-round position as the Recreation Services Supervisor. "I just wanted to be a part of this," says Rachel. "I'm a skier, hiker and biker and I love the lifestyle that Blue Mountain promotes—not only working hard but playing hard too."
Like ski bums of yesteryear, Rachel works more than one job, moonlighting as a server at Northwinds Brewpub in the Village and saving for her first home. But unlike many in the nine to five grind, Rachel has countless opportunities to strap on her skis; "I usually go night skiing right after working at Blue and before heading to Northwinds," says Rachel. "I ski early on weekends and try to sneak in some lunchtime laps during the workweek. My department at Blue often schedules our one-on-one meetings on the chairlift, which I love."
Many who seek employment at a ski resort do it for the experience, lifestyle, and community that is born out of the tight knit fabric of this industry. The work/play routine has undoubtedly enhanced Rachel's life; "When I lived in the city I went to the gym a lot," laughs Rachel. "Living and working here keeps me healthy, energized, and I'm excited to go to work each day. I get to share and promote my passion for physical activity, the outdoors, and this area with others." Much like Tom and Linda, Rachel has witnessed Blue grow and evolve since she began skiing here over a decade ago; "The resort has become busier, especially outside of peak seasons. The ever-expanding activity offerings, conference business, restaurants, and events have elevated Blue to a truly year-round destination and have created more full-time positions and employment opportunities. The support of a larger umbrella company has also helped Blue execute its innovative ideas, thereby improving our efficiency, productivity, and ultimately, the guest experience."
After spending time with Tom, Linda and Rachel, it's obvious that not everyone with a legitimate career has to spend the day indoors with a stunning view of a computer monitor. Making it in a ski town is mostly about making it TO a ski town. Once you come, you know. No matter your age or skiing/snowboarding ability—if the mountains are whispering to you in your dreams, it might be time to answer the call. |E|