words . cara williams         photos . mark zelinski 
By day Ben Young can be found at one of half a dozen Scot-Build Developments custom homes jobsites around Collingwood and the Blue Mountains, but when the weekend arrives, Ben dons a different type of hard hat, throws a leg over his BMW S1000RR and hits speeds of up to 300km/h. Coming off a banner season, the unassuming 25-year-old is one of Canada's elite superbike racers, standing atop the podium at every Mopar Canadian Superbike Championship (CSBK) event in 2018, and winning his first ever CSBK race at Canadian Tire Motorsports Park, a multi-track motorsport venue located north of Bowmanville. Despite its growing fanbase, Ben still has to explain his sport to layman.
Superbike racing is a category of motorcycle racing that uses highly modified production motorcycles, as opposed to MotoGP in which purpose-built motorcycles are used. CSBK is the leading road racing superbike championship in Canada and the series typically operates between May and August. This past August Ben battled for the overall championship missing out on winning the National Championship but securing his personal best of 2nd place overall. Ending on a high note, Ben won the national Mopar Canadian Superbike Championship season finale aboard his #86 Scot-Build/Barrie Trim and Mouldings BMW Motorrad Barrie S1000RR, in what has been called the best Superbike race ever seen.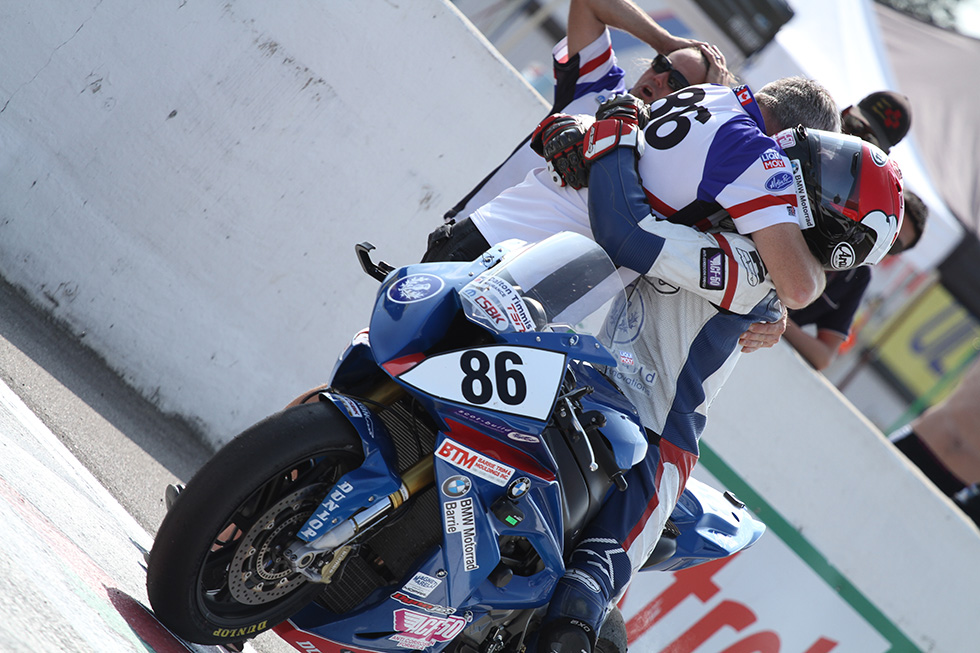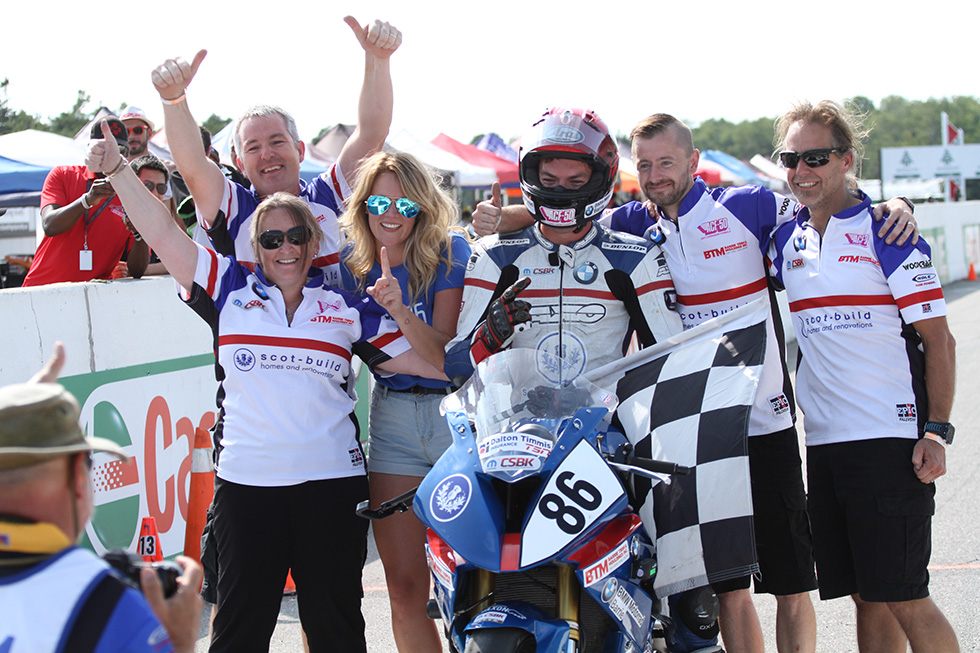 Born in Scotland, Ben moved to the Blue Mountains at the age of 14 with parents Lynn and Scott and older sister Robyn. "We have family near Caledon and we would come for two weeks every year and visit," explains Ben, (his unmistakable Scottish accent hasn't diminished much since moving west). "Always a highlight of our trips to Canada was skiing at Blue Mountain. My family loves Canada and when my parents decided they wanted a change of pace and a better lifestyle, we decided to move to Craigleith. We've lived in the Blue Mountains ever since, either in Thornbury and Clarksburg. We all love it here; this place has everything."
Scott, a former British Superbike Superstock racer, had Ben on his first motorcycle the young age of 4 years old. "When Ben was a wee boy his bedroom was covered with posters of the fastest road racers of that time," remembers Scott. "Ben and I used to lie staring at the ceiling looking at his posters saying 'one day you will be one of those racers on a wee boys ceiling'.
At Mosport in August when Ben crossed the finish line, that was the first thing I thought about." Throughout his superbike career Ben has appeared on posters, Coca Cola trucks, numerous magazines and of course on television, but winning a National Superbike Championship race was a dream realized. "The years of hard work, miles driven, time, money spent to get him there, it was worth every moment, worth every penny," laughs Scott. "I am so proud of his achievements and the person he has become as racing has been a huge part of that."
As Scott mentioned, money plays a key role in superbike racing. "I've always had good bikes," explains Ben. "I've just never had all the upgrades and unfortunately the way our sport is, it comes down to money and sponsorships.
"In skiing, for instance, you can buy the best pair out there and it comes down to the athlete, but for us, you need a really good bike and there are so many options on the bike."
Since the beginning family has played a big role in Ben's racing. "In 2014 I moved back to the UK for a year to race in the British Superbike Championship and I didn't have a great year," explains Ben. "I was almost ready to walk away from it all. I didn't have family with me and I found it rough." Perhaps not realizing how close he actually came to giving up on his dream, Ben's parents convinced him to move back and race in Canada.
"When Ben went to the UK it was tough and we knew it wasn't going to be easy because we were unable to be at the races so we watched on a computer screen," remembers Lynn. "Ben actually didn't tell us how tough it was for him with us not being there for him until not that long ago which breaks my heart. He didn't want to let us down as he knew how much it meant to us. It was hard. Racing is part of our life and family and we are all extremely proud of where we are today."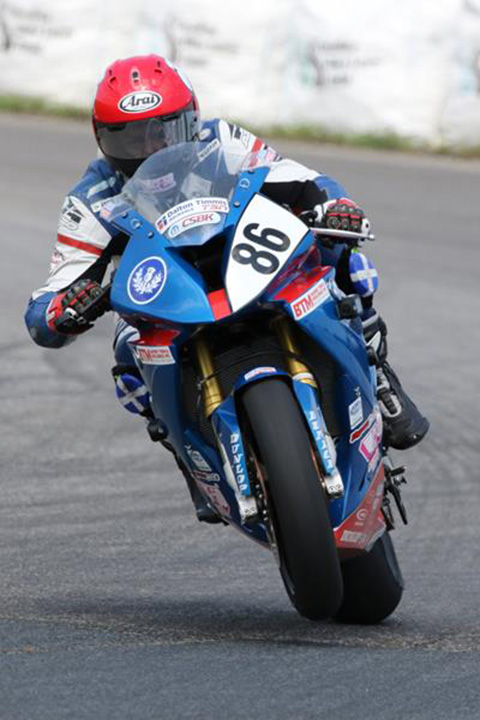 With the encouragement of his parents Ben moved his racing back to Canada and his family rallied behind him—Lynn and Scott came on board full-time, bringing much needed emotional support with them. Together the newly formed Ben Young Racing team began fundraising and securing vital sponsorships, including signing with BMW.
Each member of the family also plays a role in Ben's racing weekends; Scott is Ben's mechanic; while Lynn runs the pit board which relays vital information to Ben during training and races. "My dad also does all the tire changes, fuel, and my mom is the team chef, she does all the cooking: breakfast, lunch and dinner and takes care of us all. My sister Robyn comes out as often as she can. She just moved out east for the year and it won't be the same without her around."
"We have struggled in the past to have a competitive bike," remarks Ben, speaking again to the monetary cost of superbike racing.  "Not having the money to put into it was frustrating. At the end of last year, we decided to go for broke and put our money into the bike. We won a race and came second in the next race by .1 of a second so it really shows what advances to the bike can do." It had been 40 years since BMW's first CSBK win. In 1978, John Long of Miami, FL won aboard his BMW R90S. Ben made history, winning the race on his BMW S1000RR and celebrated with Long who Marshalled the event and dubbed it "the best Superbike race I've ever seen". *
After decades of watching Ben compete, racing has become a way of life for the Youngs. "It sounds a terrible sport to get into," laughs Scott. "But the race life is brilliant. The people you meet are incredible, its one large family. We have friends all over the world racing at the highest levels. It has shaped all our lives in the family. It made us who we are, never take things for granted, be kind to each other and other people, live for the day."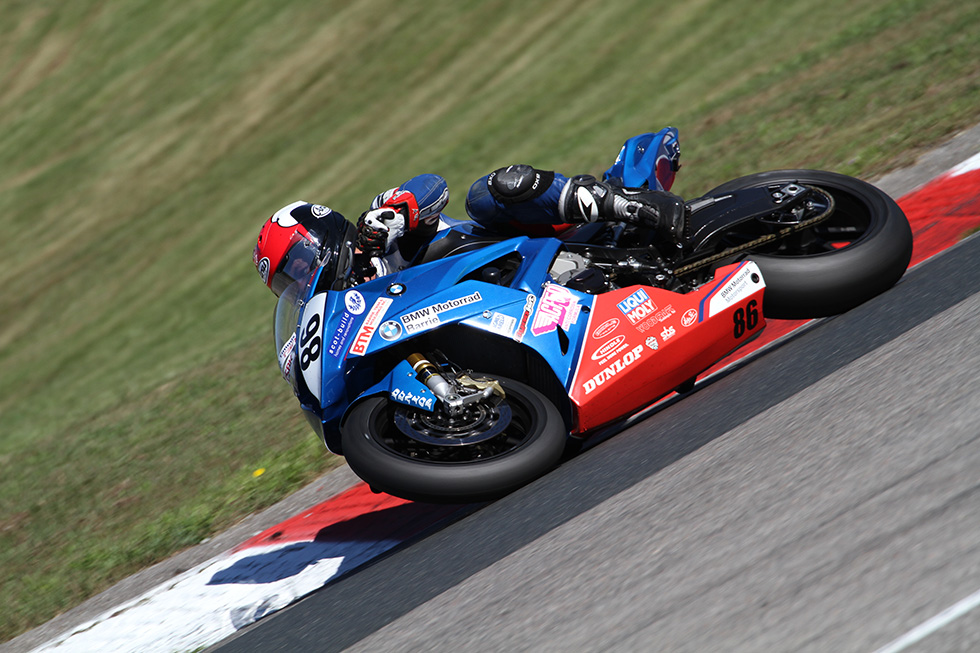 As for their own extended family back in Scotland: "We miss our friends and family but we're so happy here," says Ben. "My Dad does the same job here as he did in Scotland, and he used to dread getting up in the morning because it was so miserable. Rather than living for the weekend, he now enjoys his Monday to Friday life. After work we ride bikes, go for a hike… that type of thing. It's awesome."
"I'm really competitive," laughs Ben. "If I was finishing 10th place I don't think I'd be as into it, but knowing that I could be National Champion pushes me to go. For the past three years the goal has been to chase the National Championship and bring it home, unfortunately this year I came up short, but next year there is a really good chance for our team. Each year our bikes are getting better, and having finished second overall, we really made a statement to everybody that we're here."
Ben Young Racing thanks their sponsors the 2018 CSBK Championship season including; Scot-Build Developments, BMW Motorrad Canada, AXO Racing, Arai Helmets, Hindle Exhaust, Woodcraft, SBS, Motion Pro, Bickle Racing, Liqui Moly, ACF-50, Barrie Trim and Mouldings Inc.
Ben is a proud "Laps for Muscular Dystrophy" (Laps4MD) rider who has pledged to donate $1 for every lap he leads. These donations go to Muscular Dystrophy Canada to help make a difference in the lives of over 50,000 Canadians affected by a neuromuscular disorder.
The 2018 CSBK Championship season was televised on TSN and all races are available for viewing on YouTube. Go to BenYoungRacing.com for more information.