words | Kate Pettersen   photos | Heather Goldsworthy
The Blue Mountain area holds a special place in my heart.  For more than 25 years now, I have been making memories biking, hiking, running, skiing, golfing, eating and adventuring in the region; yet time and time again, I find local spots I haven't had the chance to explore. What was once a place to run around as a kid staying busy with friends is now where I find my happy escape from a busy career and life in the big city.
This summer I'm on a mission to spend my free time trying new things and most recently I embarked on the self-guided Pedal & Paddle Adventure offered by Blue Mountain Resort. If, like me you're passionate about outdoor adventure, cycling, great food or exploring charming small towns, this trip is for you!
Whether you head out with family, friends or on a solo mission, it's self-guided so the length and level of difficulty is completely up to you. The beauty of its "yours to create" style is you can choose to do a little more or a little less of the cycle and paddle portion and/or add extra stops to shop and eat along the way.
Read on for 'the Inside Scoop'.
The day starts at Blue Mountain Resort where you pick up everything you need; your map, gondola ticket, lunch voucher, paddling ticket and a bike rental (optional).  From there, you'll ride up the open-air gondola and don't worry about your bike, that comes with you too. Make sure to relax and enjoy the trip to the top because it's one of the most stunning views of the Town of Collingwood.
As you head out across the top of the Escarpment, you'll cycle through the rolling hills and picturesque country side, cruising past orchards with a stunning view of the bay as your backdrop. No matter which route you choose, you'll be heading towards Blackbird Pie Co., incentive cycling, my favourite!
We lucked into having perfect weather—hot and sunny with a nice breeze that made riding along the country roads even more relaxing. Depending on how hungry you are when you arrive in Heathcote for stop number two, you can head straight to your paddle adventure or have your lunch first.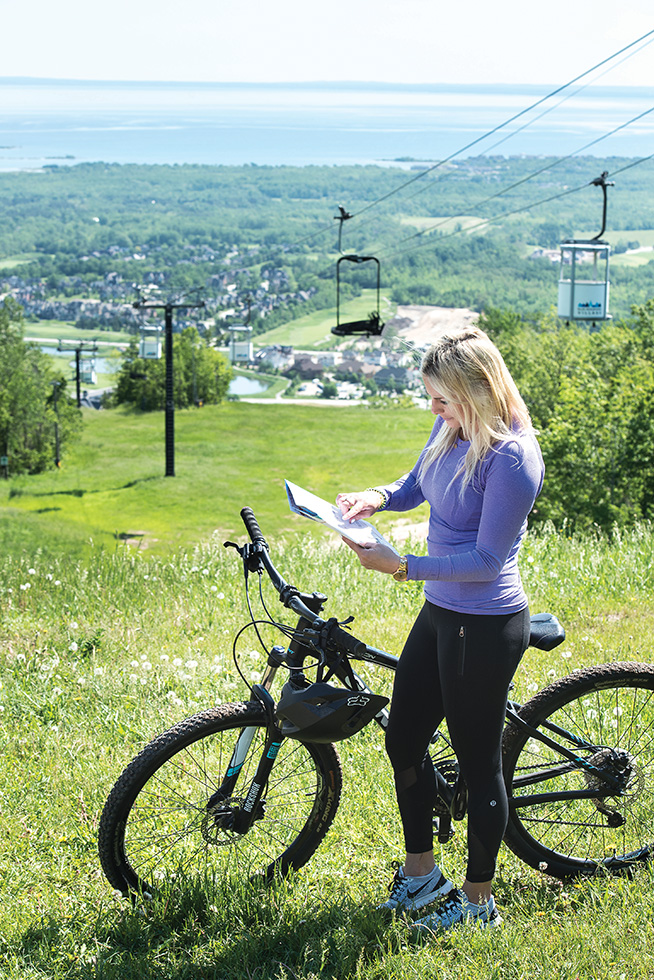 After taking a water break outside the bakery and smelling the fresh apple aromas, we couldn't resist heading inside. Here you'll be able to pick up your fresh picnic lunch and take a look around the charming hamlet of Heathcote. My insider tip, bring a backpack. You might want to extend your stay for some "to go" items.  With freshly baked pies and home cooked meals at your fingertips, it's easy to leave with treats you'll love.
From there it's on to the paddle adventure, located just a stone's throw away at Free Spirit Tours. Their team will get you set up in a kayak or on a stand-up paddle board for your hour-long trip down the beautiful Beaver river.  It's a tranquil experience and a great opportunity to press pause, sit back and enjoy the scenery. You'll drift past cows munching away on their lunch in lush pastures and creatures running wild in the beautiful forests. You can relax and float while chatting with friends or push yourself for a bit more of a workout (cardio all the way for me).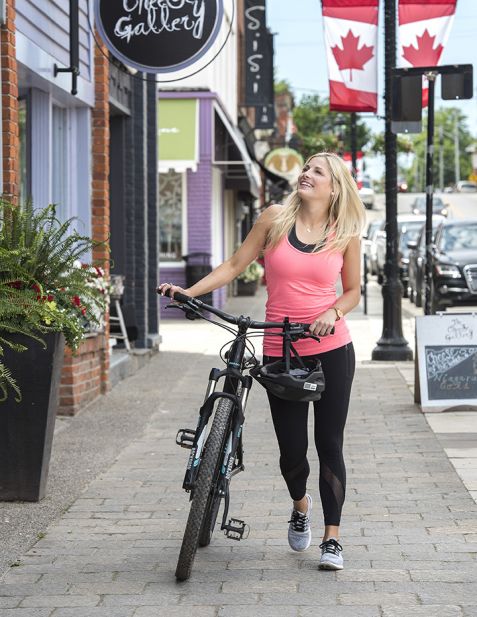 Once you reach the end of your paddle, staff will help you out of the water and then it's a gentle downhill ride into the Town of Thornbury. With cafes, clothing and antique shops lining the main street, you might be tempted to make a stop or three. For me, it wouldn't be a complete trip to town without a stop at Thornbury Village Cider House and Brewery. Their ciders are crafted using hand-picked Ontario-grown apples and made locally.  With the sun shining, the patio was calling my name! Their tasting flight is perfect for trying a selection of new ciders including my personal favourite, their Honey Apple Cider. Think sweet and savoury, meets crisp and fresh. It's delicious!
After that, it's a bit of a change of scenery as you pedal along the Georgian Trail passing through lush forests for a nice and easy cruise back to the resort. If you're looking for a little more adventure along the way you can stop by the historic Craiglieth Depot railway station and museum or cool down in the water at Northwinds Beach. And once you've finished the loop and arrive back at Blue Mountain, there are plenty of bars and restaurants to choose from for a bite to eat or a cold one, you deserve it!
Final grade…For me, summer is about making memories and this self-guided tour is the perfect way to relax and recharge while still fulfilling the need for a little bit of adventure. As the school year wraps up it seems fitting to give this activity an A+. *
The Pedal and Paddle Adventure runs daily- when gondola is open. www.applepietrail.ca for more information.