Words & Photos  | Heather Goldsworthy
Whether you're cruising the scenic country roads, pedaling the cycling routes, or exploring our historic downtowns; it doesn't take long to realize there is something truly special about Southern Georgian Bay's Escarpment. Long recognized as an outdoor lifestyle mecca, over the past few years the region has also been putting itself on the map as a culinary destination.
Lured by fabulous restaurants, coffee culture, vineyards, craft breweries, and food-centric events and tours; folks are flocking to the area to experience a taste of it.
When you're planning your summer adventures, here are a couple of taste-filled events to keep on your radar. August 12th, the Bighead ShinDig returns with their craft beer festival celebrating the beginning of the hops harvest. The 2nd annual Community Longtable Dinner, a celebration of local food and beverage, will be held in the T&K Ferri Orchards September 10th.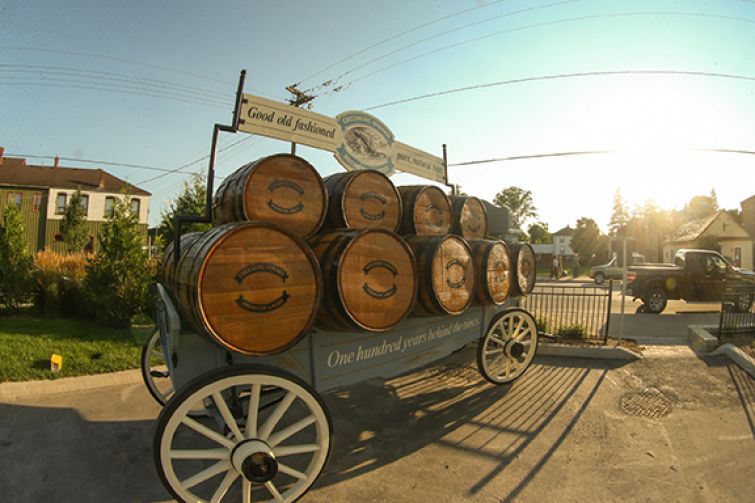 If you missed Creemore Springs' Turas Mor make sure to put it in the calendar for next year. Over 230 cyclists participated in the social ride through the rolling hillside to culinary stops throughout the Creemore area. Apparently some folks were having so much fun at the initial stop they were tempted to forgo the rest of the tour to stay on that patio! There is no question that Creemore Springs puts on a great party so make sure to check out their Copper Kettle Festival on August 26th. One of the province's original microbreweries, this year marks the brewery's 30th anniversary, and the all-ages street party promises to be a great celebration of Creemore Springs' role in launching craft beer in Ontario.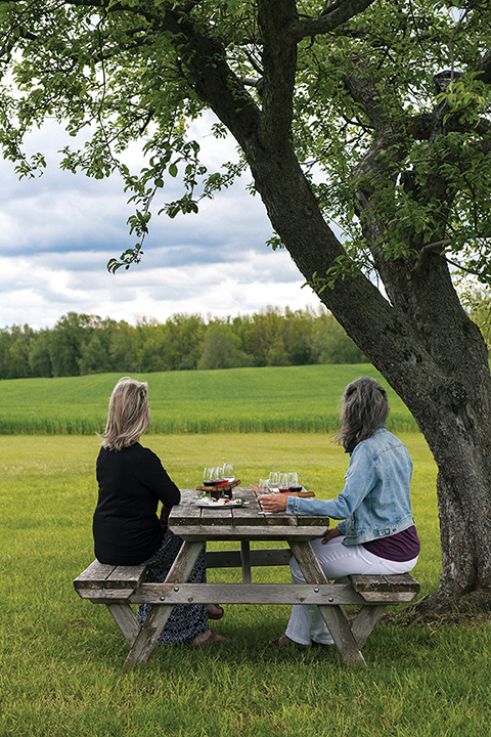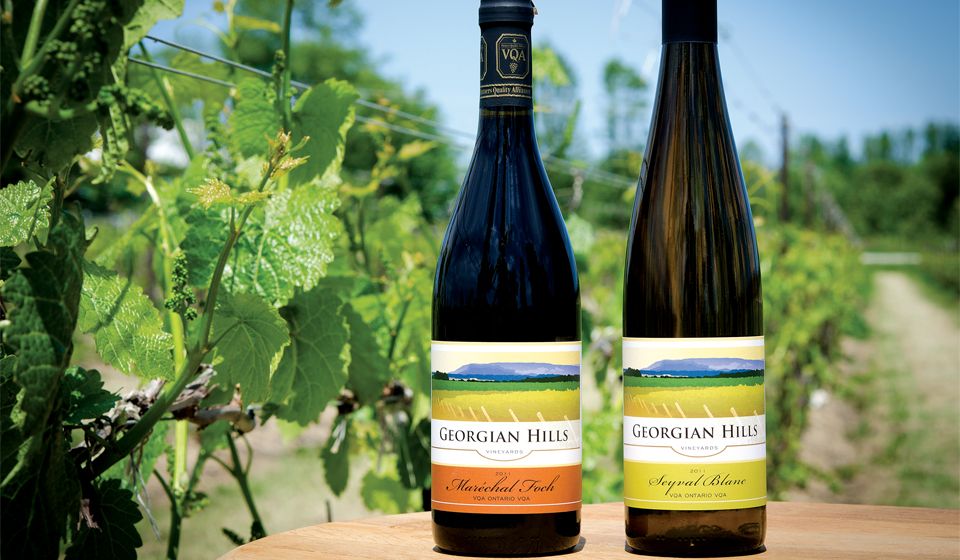 Enjoying the views along with the tastes at Georgian Hills Vineyards
New this year is Vinestock; a collaboration between Georgian Hills Vineyards and Oliver & Bonicini Cafe Grill that supports Big Brothers Big Sisters and high school music programs. Inspired by the natural amphitheater shaped hill at the vineyard, the idea came together to create a family-friendly event combining live music, great food, wine and cider which will be held July 30th.
Events and festivals aside there are endless opportunities to add a taste-of-place to your Escarpment experience.
Before heading to the park or beach, stock your picnic basket with salads, dips and wraps from Culinary Designs, freshly made sandwiches from the Wiliamsford Pie Company, or home-baked treats from one of the area's General Stores or farm gate markets.
When you're shopping downtown Collingwood, take a moment to explore the side streets and alleys and you'll be rewarded with some hidden gems. With an entrance tucked down an alley speakeasy-style, the newly opened Gibson & Co. offers wine flights giving you the opportunity to sip on smaller glasses of a selection of wines and learn about different varietals and regions. Rumour is they will be adding spirit tastings in the future and the bourbon-lover in me sure hopes that is true!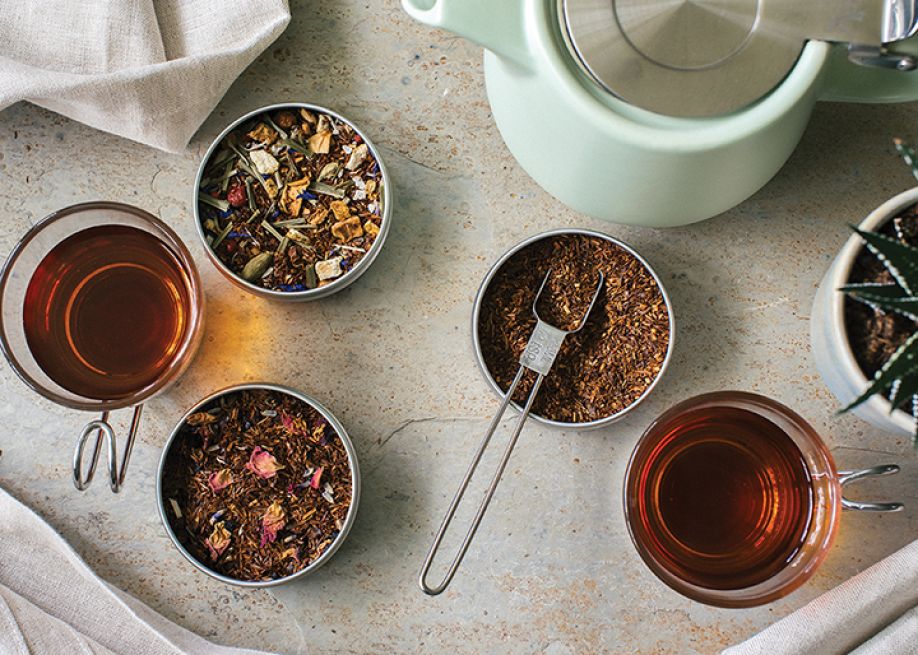 On the main street of town, Blue Mountain Tea Company offers a little slice of serenity. Simply inhaling the aroma of the impressive collection of over 130 teas and herbals is enough to soothe the soul. If you're having difficulty choosing I highly recommend the Thornbury Sunset Organic Rooibos. The Lively Olive tasting room is a great spot to visit and sample a variety of their oils, balsamics and condiments. The flavour combinations are endless and thankfully their staff are great at offering pairing suggestions.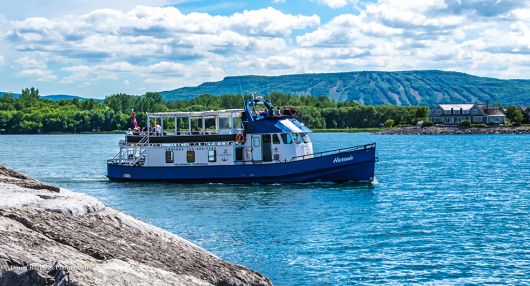 One of the biggest draws of the region is the Bay itself and on sticky summer days, the coolest place to be is on the water. Collingwood Charters offers cruises leaving from Collingwood Harbour and, a strong supporter of 'local'—they offer local wine, beer and cider at the bar and for their group wine and beer tastings, and dinner cruises are catered by the fine folks at Oliver & Bonicini so you can savour local fare while on deck.
As more and more folks are touring the area on two wheels local shops are finding ways to make their places more cycle-friendly. Many spots offer ample bike parking and, thanks to Collingwood Trails and Cycle Simcoe, Side Launch Brewing Company even has an outdoor bike repair station and you can book a tour to see how their beer is made, all while tasting their delicious lineup. Call 1.844.293.2337 to set up a guided tour. From buttertarts and fresh sandwiches to cold brewed coffee and craft beer, there are abundant opportunities to add some local flavour to your ride.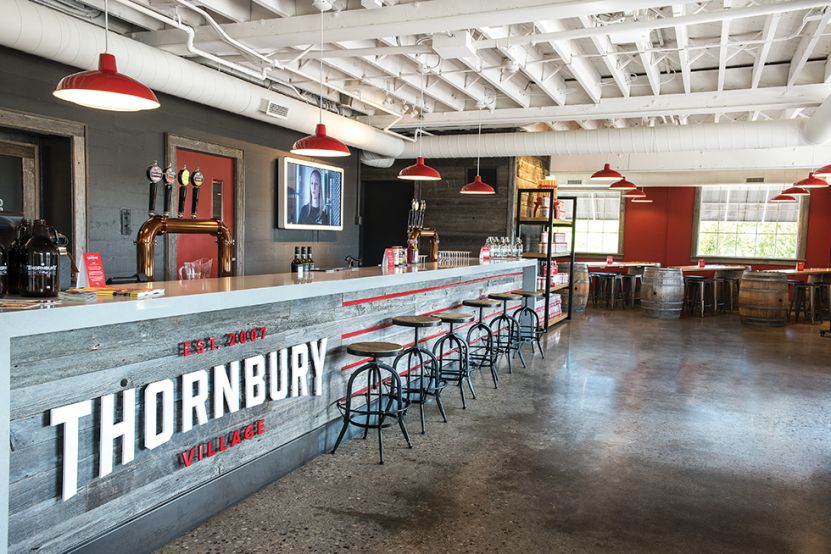 Whether it's a pit-stop or the destination, the patio at Georgian Hills Vineyards is a gorgeous spot to give your legs a rest, sip on some wine or cider and nibble on some charcuterie. Of note—in addition to their premium sparkling ciders, they are now serving their recently launched cider brand; Ardiel Cider House-Premium Dry Cider and Big John Hop Cider. When pedaling through Thornbury make sure to visit the Thornbury Village Cider House to check out their recently opened tasting room. Their large, sun-drenched patio is a prime spot to chill out and taste test a flight of their apple ciders or newly released craft beers with your crew.
If you're looking to wet your whistle without all the legwork, The Beer Bus offers handcrafted beer, wine and cider tours so you can experience all the area has to offer while having the transportation part taken care of. More than just a ride though, a tour on the little white bus is a fun and social experience with your guide sharing his knowledge about proper beer tasting techniques so you can make the most of your tasting tour.
Self-guided tours are a great option if you prefer to explore on your own timeline. The Apple Pie Trail offers something for everyone with adventures, shopping, culinary stops, and farm visits that celebrate the apple-growing history of the region. Use the Saints & Sinners Bootlegger's map to learn the scandalous role prohibition played in the area's history and visit some of of our wineries, breweries and cideries.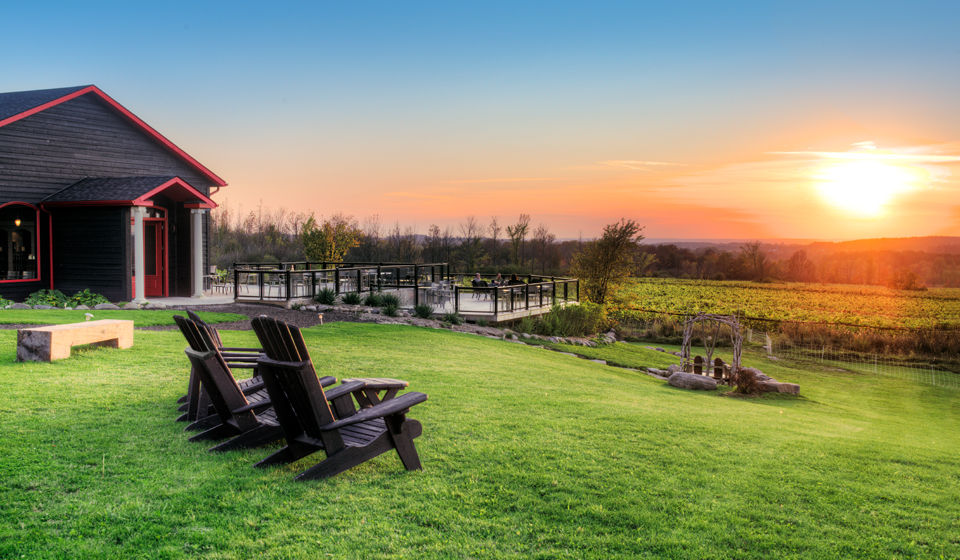 Photo curtesy of Coffin Ridge
Overlooking the crystal blue water of Georgian Bay, in the shadow of the Niagara Escarpment sits Grey County's first winery, Coffin Ridge—this destination is well worth a visit—you can retreat to the deck for a glass of wine and a vintner's plate made up of local artisanal breads and cheeses which have been specifically paired with the glass of wine you are drinking. Relax, thrill to the views and listen to music while enjoying the Coffin Ridge experience
What truly makes this area unique and a draw for visitors and residents alike is the beautiful union of active lifestyle, food, drink and natural amenities. There is something for everyone so get on out there, explore, and savour all that Georgian Bay and our Escarpment region has to offer. |E|
Heather Goldsworthy is a freelance photographer based in Georgian Bay. Her work explores our food culture and systems. Imageobscura.com