Words | Jody Wilson. Photos | Clay Dolan
Over the past decade, Southern Georgian Bay has established itself as a hot bed for all types of cycling. With a calendar full of local events, plenty of single track trails, long steep paved climbs and endless gravel roads, it's a playground for mountain bikers, road riders and now a new generation of cyclists; "gravel grinders" or "groadies".
Call it what you want: gravel biking, groad, allroad or even mixed terrain, the gravel boom is alive and thriving in our region. In the mid to late 2000's during the earlier years of carbon fiber road bikes, it would have been difficult to find anyone riding an expensive carbon frameset on anything but buttery smooth pavement. Fast forward to 2012 and a small group of locals were beginning to ride more robust cyclocross (CX) bikes on the Georgian Trail and the quieter gravel country roads.
In the history of the bicycle, the idea of riding on gravel or dirt roads is not new. When bicycles were first introduced in the mid 1800's they were used on cart paths, cobbled streets and country lanes. So that begs the question, what has changed since then? In recent years, gravel riding has been increasingly pushed by the major bike brands. Several companies quickly jumped on the gravel train, all developing their own version of a gravel bike. The end goal was to develop a bike that would perform on mixed terrain surfaces and feel stable, safe and comfortable for all-day riding.
Most modern gravel bikes have a taller head tube with a relaxed angle. Both allow for a upright riding position and provide more stable steering compared to that of a road bike. Typically, the bottom bracket on a gravel bike is closer to the ground to create a lower center of gravity, resulting in greater stability.The wheel base is also lengthened to provide for a solid base while rolling over unpredictable surfaces. It's normal as well, to see gravel bikes with a sloping top tube to allow for more stand over room. Disc brakes are now standard which allow for larger volume tires and different wheel sizes (700cc & 650b).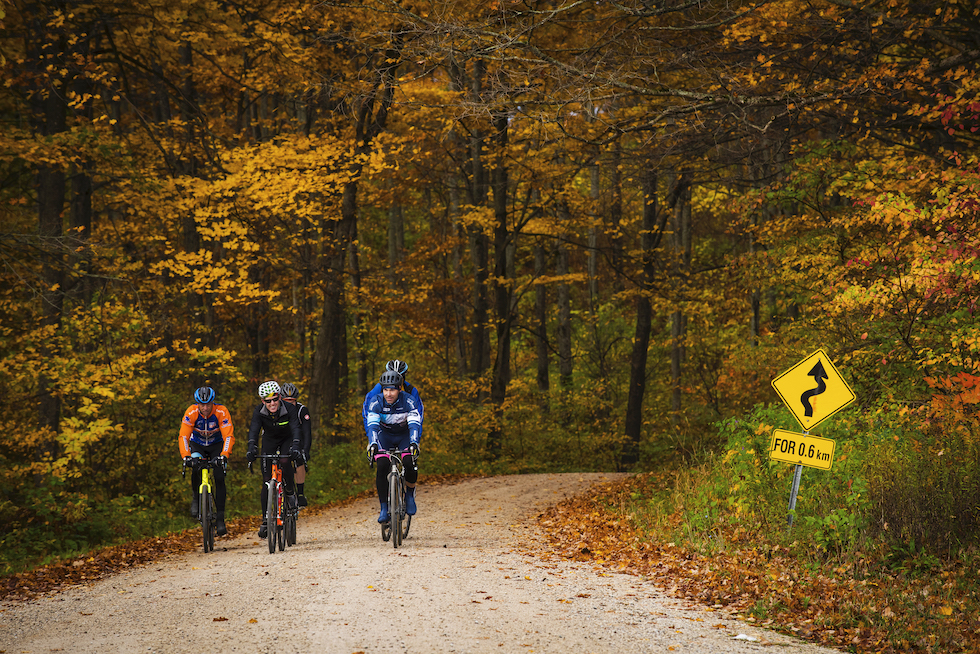 So, what draws cyclists to gravel roads? Its popularity can be attributed to a few factors—there's buzz in the cycling world that road cycling itself is beginning to slow down. Whether the blame can be placed on the doping scandals in the pro ranks or the safety concerns around vehicular traffic on local roads, cyclists are looking for something new.
Gravel riding brings with it a community of cyclists that love to simply ride bikes. Finding new roads, exploring with friends, stopping for coffee, finishing at a local brewery. It's camaraderie, it's lack of competition, it's quiet, it's slower. Spending time taking in the scenery, the fields, the forests, the seasonal scents, the clouds, the animals. Where road riding typically involves fast paced rides, gravel riding slows all of that down and creates a unique experience.
Our Escarpment is littered with numerous, hidden gem back roads—many are closed during the winter months and are referred to as "goat paths" due to the fact that they are typically less traveled, less maintained and more rugged—gravel grinders are drawn to the challenge and sense of adventure they provide. Many popular routes traverse along back county roads with wonderfully descriptive names such as Old Mail, Hidden Valley, Lower Valley and Lavender Hill.
Typical gravel routes in the area pass through small cross-road intersections like Duncan, Lavender, Little Germany, Epping, Loree, Rock Union and Redwing and Banks, most of which only see traffic from local residents as they come and go to work or to town.
Both the spring and fall are popular for gravel riding in Southern Georgian Bay. With sand and salt on the roads after a long winter, the spring presents an opportunity to venture outside and rediscover those roads after five months of hibernation. In September and October, the quiet back roads and the beauty of the autumn season draw out the gravel bikes after a summer of riding local paved routes.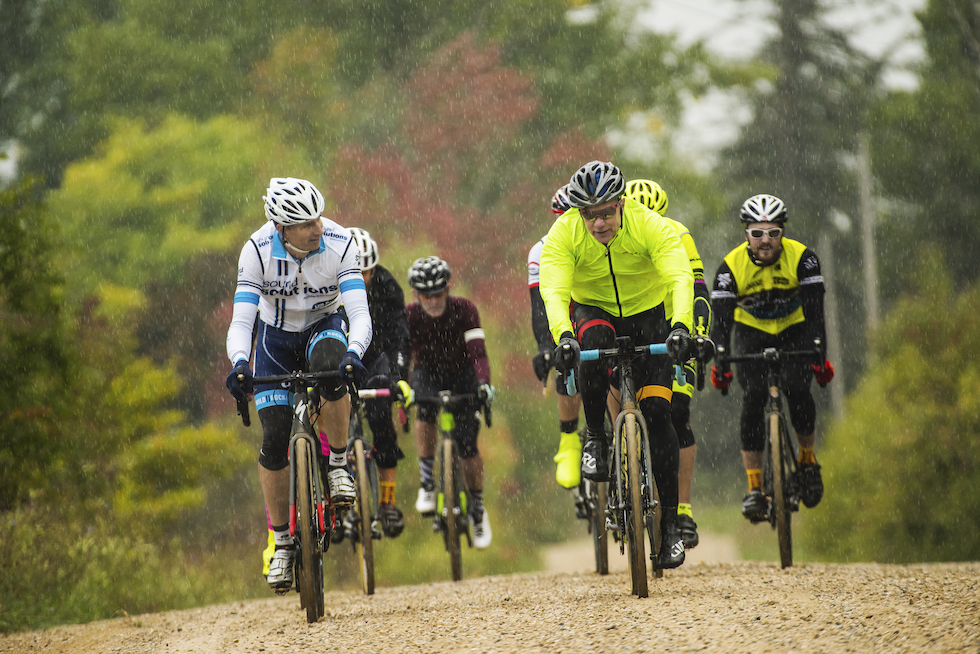 The growing popularity of gravel riding has led to the creation of many local gravel events such as The Growling Beaver Brevet. It was introduced in 2015 as a way to raise funds for the fight against Parkinson's and bring the gravel community together for one last long ride before winter sets in.
The event ranges in distance from 40km to 200km and begins in Collingwood. The routes take advantage of the quiet Georgian Trail, steep gravel climbs along the Niagara Escarpment, endless back roads snaking through the Beaver Valley and the scenic agricultural fields of Clearview Township. Along the way participants enjoy local cuisine from many popular general stores, cafés and businesses that support the cycling industry throughout the year. It's a celebration of the diversity of our region.
Other local events include Turas Mor (Creemore), The Eager Beaver (Nordic Highlands/Duntroon) and Sea Otter Canada's Scare Crow Gravel Race (Blue Mountains). Currently there are more gravel events in our area than traditional road or mountain.
Overall, we now have an amazing gravel scene with a community that attracts hundreds of cyclists to the region every year. The tourism dollars bring support for local hotels, B&B's, restaurants, general stores, shops, cafes and festivals. Gravel riding is doing its part to contribute to the betterment of our community by connecting people of all ages and backgrounds, improving physical and mental health and enhancing one's appreciation for nature. |E|