Words | Cara Williams.  Photos | Clay Dolan
After years of scouring The Blue Mountains real estate listings, Denise and Jeffrey Swartz came upon a modest, one-bedroom, waterfront bungalow and pounced. "We had been looking for years and missed out on a few properties," explains Denise. "This one ticked all the boxes—it was close to town, on the water, and it was really well cared for." The house had a relatively small footprint with an incredible waterfront, and unobstructed views over Georgian Bay. With two adult children, Jeff's first task was figuring out how to add at least two more bedrooms, while keeping the cozy, quaint feel of a beach house.
"The previous owners were artists of sorts—a talented couple—and they called this place 'The Beach House'," says Jeff. "I thought to myself, 'I can't tear this down.' "
"We had a budget so it wasn't like we could do anything and everything. It was a creative process to get what we want and stay within our budget. Of course, we absolutely did not stay within our budget."
"Jeff is an architect and has been working in design/build for years, but he has never designed and built something for our family," says Denise. "This is like the shoemaker finally getting shoes," laughs Jeff. The couple enlisted the help of local carpenter Mike Shaw, of Mike Shaw Carpentry and together they came up with a plan – they added a second floor, which solved the problem of the two additional bedrooms. "Years ago, I had completed a full renovation of the cottage for the previous owners," recalls Mike Shaw. "Jeff reached out to me when he and Denise purchased the home. Jeff and I would meet on a regular basis both before the project began and during the entire process to ensure their vision became a reality."
Mike's first job was to build a custom staircase which leads to the new second level, accentuated with a striking accent wall made with rough cut pine boards from Floorcrafters in Thornbury. "I saw this wood one day when I was in Floorcrafters and I really liked it. Mike actually built this wall before I even told Denise I was thinking about doing this. When she saw it, she loved it."
Jeff and Denise chose low maintenance finishings with earth-toned furnishings, accents and stunning décor items such as the boxwood balls, twin oval sculpted pot planters and (incredibly real looking) faux aloe plants from Lëuk bij Hermas. A wall of rippling white tiles line either side of the linear wood-burning fireplace and add movement and depth. "I wanted materials that reflected the outside," says Jeff. "We love the fireplace—the finish is American clay, which goes on like stucco and has a sandy texture which works in a beach house. Mike Shaw created the long concrete hearth that runs the length of the wall. It's truly a statement piece in this room."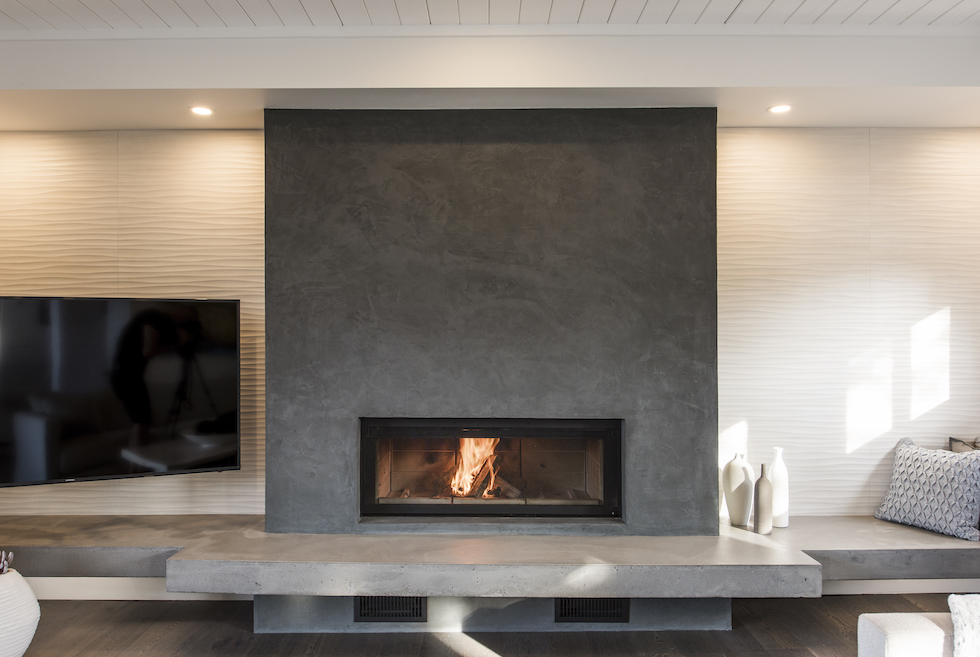 The well-designed and functional kitchen has remained virtually unchanged since the Swartz's purchased the home. "We kept the original kitchen because it was seamless," says Denise. "It fits in with the rest of the home, and it works for us." The couple also salvaged the original flooring, engineered white oak, and sourced additional planks from Floorcrafters in Thornbury. "This house is all about simplicity," adds Jeff. "And letting it connect with the outside."
"During the build I noticed how amazing the view was from every part of the house so I kept adding windows," remembers Jeff. "There's a view at every turn, and a connection to the water. Even in the houses I design, I'm big on natural light and a connection to the surroundings. Which is another reason why I wanted neutral furnishings and wall colours." The couple have reserved pops of colour for the various pieces of local artwork that adorn the walls of their beach house. A Margarethe Vanderplas print entitled "Summer Reflections", hangs behind the sofa in the living room. "This is a location I kayaked to along the north shore of Georgian Bay," recalls Margarethe, whose work is available at the Margarethe Vanderpas Studio in Lion's Head.
The second level landing offers even more views of the Bay. "The trapezoidal windows upstairs really provide an amazing vantage point. With architects, you picture things when you're staring at drawings but when you really get in a space you see things that you may not have seen in the design." Another of Margarethe's paintings entitled "Sacred Places, Agawa Rock" hangs above a pumice stone planter from Lëuk.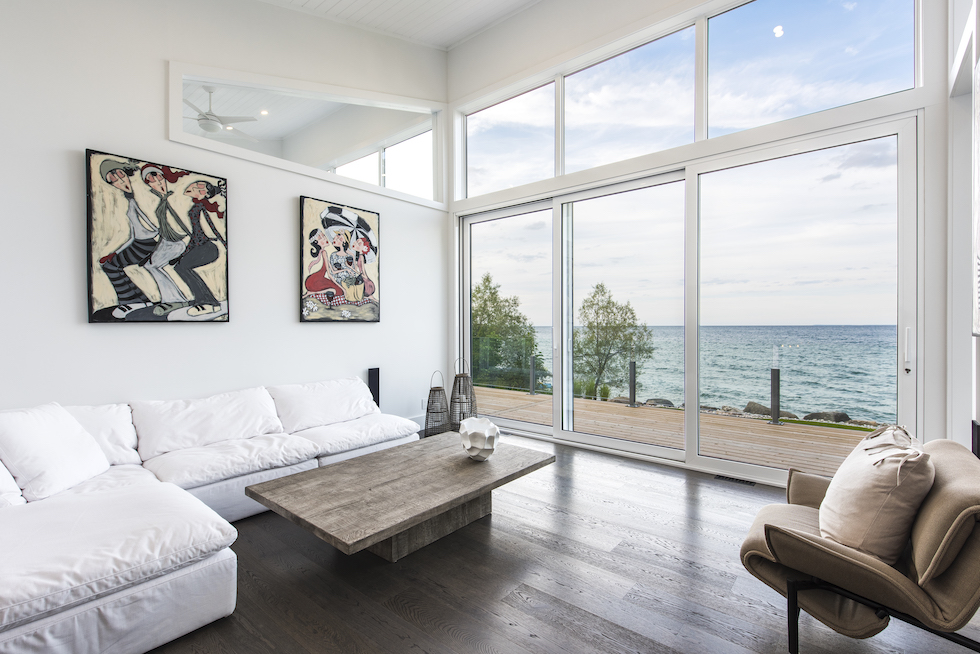 "When I was designing the renovation, anything that got in the way of the view of the water had to be removed," explains Jeff. "So, the divider between the kitchen and the sitting room is one long glass panel, with no support beams." Nine feet tall lift-and-slide glass doors provide easy access to the deck with supplementary windows above the door from Cedarport in Thornbury. "I had wanted to do a curtain wall, but it was too expensive so I had to come up with a way to get the look of all glass and not have a big steel beam between the doors and the windows so I came up with a concept of using a flat steel channel, so it actually looks like one unit. It was more of a cost measure, if anything, but it achieves what we wanted."
For the mid-level sitting room Denise and Jeff chose low profile furniture that didn't dare compete with the view. "We couldn't put anything in here that got in the way," laughs Denise. "A lot of the furniture we brought from our city home. The chairs were in our living room in the city – they're over 30 years old and they turn into a chaise. They're timeless and they work in the space."
The previous owner of 'The Beach House' was artist Anna Green, who moved to British Columbia after selling to the Swartz's. Denise and Jeff loved Anna's style, so much so they purchased all of her paintings that were hanging in the home. "We loved the feel of the house and how Anna and her husband had it decorated," says Denise. "The paintings are so perfect here, we had to buy them!"
The large sliding barnboard door on rails from Baywood Design in Thornbury leads to the master bathroom. Here a generous soaker tub and walk-in shower offer further unobstructed views of the water beyond. AJ Carter of Kasten cabinets built the dual vanity, from Jeff's own design. Like the rest of the home, the bathroom walls are painted in Benjamin Moore Decorator White while the ceiling is Benjamin Moore Chantilly Lace.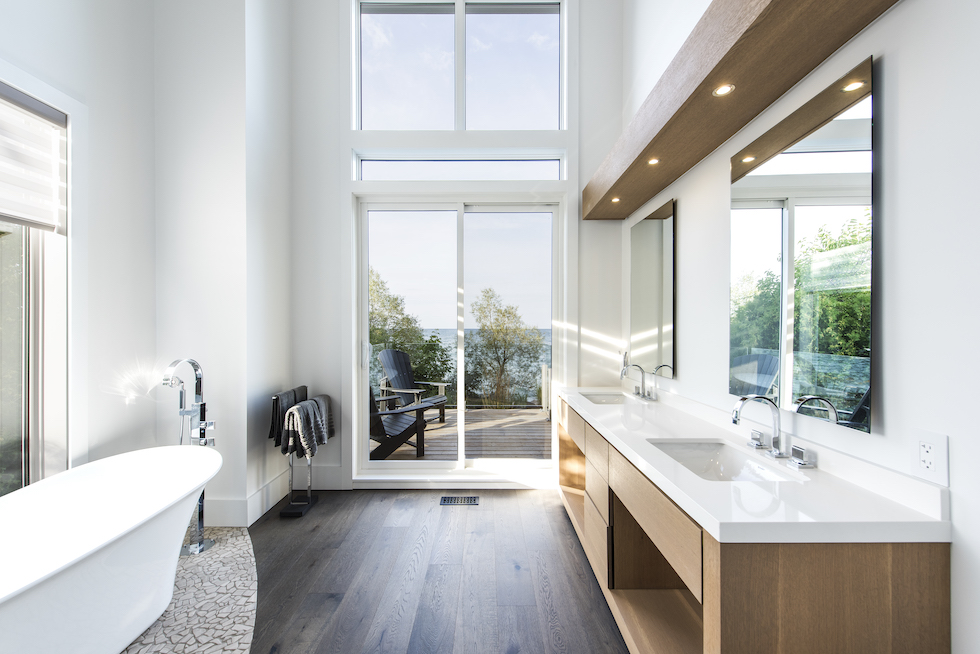 "Jeff loves the water," says Denise. "He loves seeing the water, hearing the water… even when we go away, he'll make sure we are as close to the water as we can be." "That's why we have so many doors and oversized windows," adds Jeff. "When we first built, Denise asked me why there weren't any screens on the doors and I told her we didn't need them because there are no bugs up here! The first week we lived here, we left the door open one night and the next morning the house was absolutely covered in fish flies!" Needless to say, Jeff arranged the purchase of custom screens the very next day.
In the master bedroom the couple chose earth-toned textural bedding to adorn the simple barnboard pedestal bed—a commissioned Lorne McDermott original painting from the Loft Gallery in Thornbury hangs above. "When we wake up, we see the most gorgeous sunrise," says Denise. "It's simply breathtaking."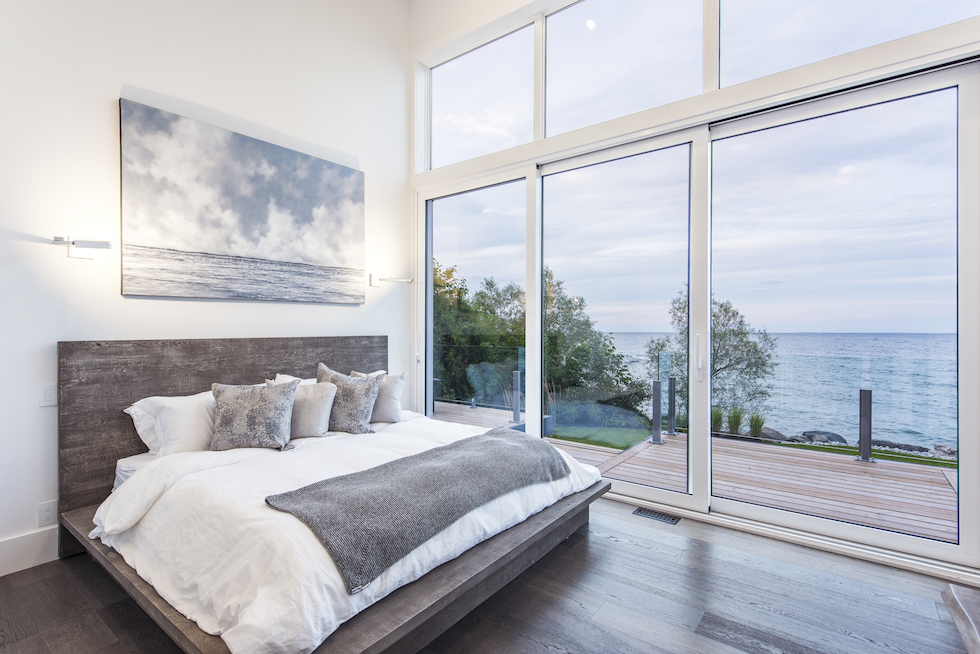 When it came to tackling the gardens, lawn and siting areas, Denise and Jeff enlisted Luke Williams of Williams Outdoor Inc. "He's such a great talent, he walked us through everything and was completely amazing," says Jeff. "Hopefully we'll have grandchildren here someday, so it was important to have a lawn." "We actually have too many choices of where to sit outside," adds Denise. "It changes with every season."
"The beauty of Jeff and Denise's vision for their Beach House is in the simplicity, clean lines, and expansive vistas that showcase the natural beauty of the Georgian Bay shoreline setting," says Luke. "I greatly enjoyed working with Jeff and Denise to carry this theme into the outdoor spaces as well. We selected materials that were conducive to living outdoors at the beach – these particular paving slabs not only fit the colour scheme of the cottage but also feel great under bare feet, especially the barn-board-looking Borealis slabs that resemble the warmth of wood yet with durability of a high-quality concrete paver. Stone steps and a large fire pit were carefully embedded into the existing boulder break-wall, which we worked on extensively to cleanup and re-enforce with additional granite rock."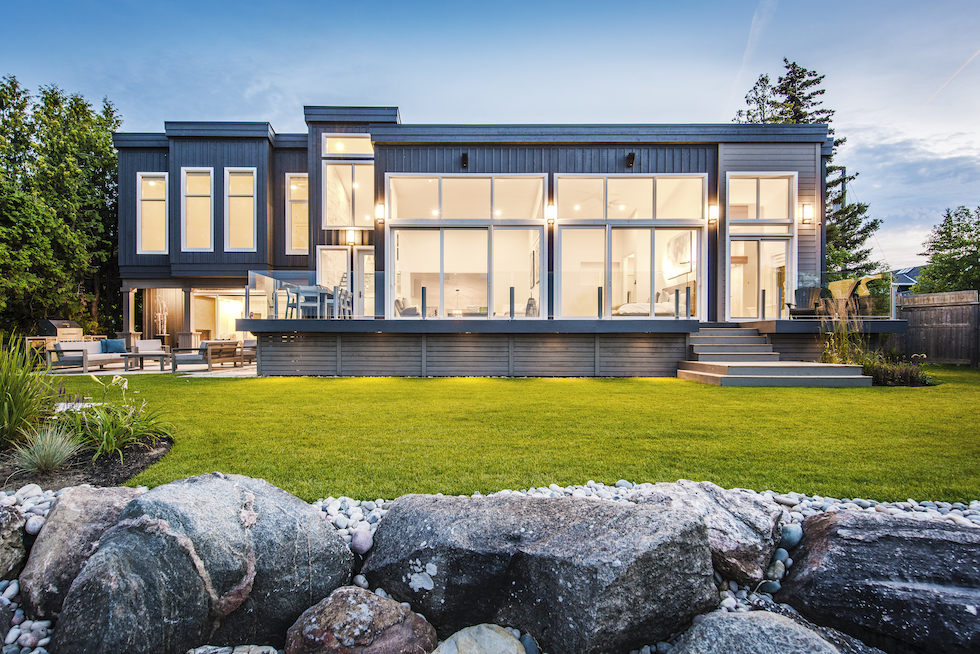 The stunning result of the Beach House is truly a collaboration of talents culminating from a clear vision. Jeff and Denise now have a welcoming, beachy, waterfront home of their own to share with the next generation of Swartz's. "There's a real history to this place," remarks Jeff. "It was originally built in the early '60's and underwent several transformations. What we have created has added to the charm of the house. We're so happy with how it turned out."
Source Guide…
Architect – Jeffrey M Swartz
Carpentry – Mike Shaw Carpentry, Woodcraft Custom Carpentry,
Andy Riddell Carpentry
Flooring – Floorcrafters, Thornbury
Cabinets – Kasten Co., Clarksburg
Railings – NA Metals, Toronto
Design & Select Décor – Lëuk, Collingwood, Baywood Design, Clarksburg
Home Hardware, Thornbury
Windows & Doors – Cedaport Window & Door Centre, Thornbury.
Additional Glass and Shower Doors – Northern Windows & Glass
Art – Anna Green – Matilda Swansen Gallery, Clarksburg
Margarethe Vanderpas Studio, Lion's Head
Landscaping – Williams Outdoor Inc.
Fireplace – Chantico Fireplace Gallery, The Blue Mountains