While Ontario may not be known for our "high alpine" we do have ample rolling hills that provide more than adequate terrain for ski touring and split-boarding. Vertical gains range from 500-1,000 feet and the lack of crowds and endless wilderness adds to the magic of backcountry (or in our case sidecountry) skiing. 
by Cara Williams, photography by Frank Shine
Ski touring (see also: skinning, skimo, backcountry touring, ski mountaineering, randonnée) is arguably one of the fastest growing winter sports and combines anaerobic uphill climbing with the adrenaline rush of downhill skiing. And the best part? Almost anyone can do it—if you're capable of a slow jog, you're a candidate for touring (at least the uphill portion).
Blue Mountain Resort has expanded the multi-use verbiage on The Grind to include skinning and split-boarding this winter. Matt Baird, Director, Slope Operations and Maintenance at Blue Mountain Resort explains: "Any passholder or ticket holder can skin up The Grind and access any of our open terrain, during operating hours when pass is valid. This is a great first step into this venue—I worked in California for a few years and ski touring/split-boarding was much larger there. This will be great for our clientele, especially those passionate about being outdoors and on the mountain."
Huge strides (pun intended) have been made in touring equipment technology over the past decade and a half since I first started ski touring. In the late 90s we had no choice but to use archaic, sloppy binding adapters like Alpine Trekkers (otherwise known as "Alpine Day Wreckers"). If you're looking to destroy your hip flexors, awkwardly dragging twenty pounds of bright pink metal and plastic on each foot while teetering six inches above the snow will do the trick. Today's gear is lighter and sturdier which boils down to more efficient skinning. And let's not forget, once you've summitted, you'll still want a reliable ski, binding and boot with which to enjoy the ride down. 
When Austrian ski manufacturer Blizzard/Tecnica introduced their Zero G series of touring skis and boots in 2016, their tagline read: "The days of sacrificing downhill performance for light weight are over." Zero G was designed first and foremost to ski well, with reasonable weight savings—good news for your hip flexors. In 2019 mountaineers Hilaree Nelson and Jim Morrison summited the 27,940-foot Lhotse Couloir in Nepal's Himalayas. The pair skied the 7,000-vertical-foot descent on Blizzard/Tecnica's Zero G Gear—a first descent heard around the world. Your Escarpment "sidecountry" adventures may be closer to home, but you can still reap the benefits of award-winning engineering that delivers the best downhill performance while not sacrificing weight and bulk.
The Georgian Peaks Club has seen a steep rise in the number of members and their guests who use the far right of the ski area (Freeloader and Champlain) for skinning. They even have a "ski-mo" (ski mountaineering) race category at their end-of-season Club Championships. "This is a great way to get out on the hill and maintain maximum physical distancing," says Jason MacArthur, Director of Member Services. "We are looking to build on our skinning and hiking trail programs as we anticipate people look for other alternatives to be outside with their families." To use these trails, you must have a valid Membership badge or a valid lift ticket that is visible. 
New to the sport? Let's get you up to speed—touring equipment is specifically designed to allow mobility when climbing as well as much needed stability for descending. Skins are essentially long strips of heavy-duty nylon, with mohair or synthetic fur on one side and a strong, reusable adhesive on the other. Once affixed to your skis' bases, the fur flattens as you move uphill, allowing your skis to glide, then grips the snow to keep you from sliding backwards after each step. Touring boots look and feel a lot like traditional alpine boots, but have adjustable cuffs that afford more forward movement while ascending. There are a variety of touring bindings on the market and technology varies depending on the type of binding; alpine-touring specific; resort/backcountry; hybrid bindings. Similar to cross-country or telemark skiing, touring bindings have a pivoting device that allows your heels to rise while keeping the toe of your boot firmly locked in place. Once you reach the summit, simply clamp the heel piece back onto the ski and enjoy the ride down.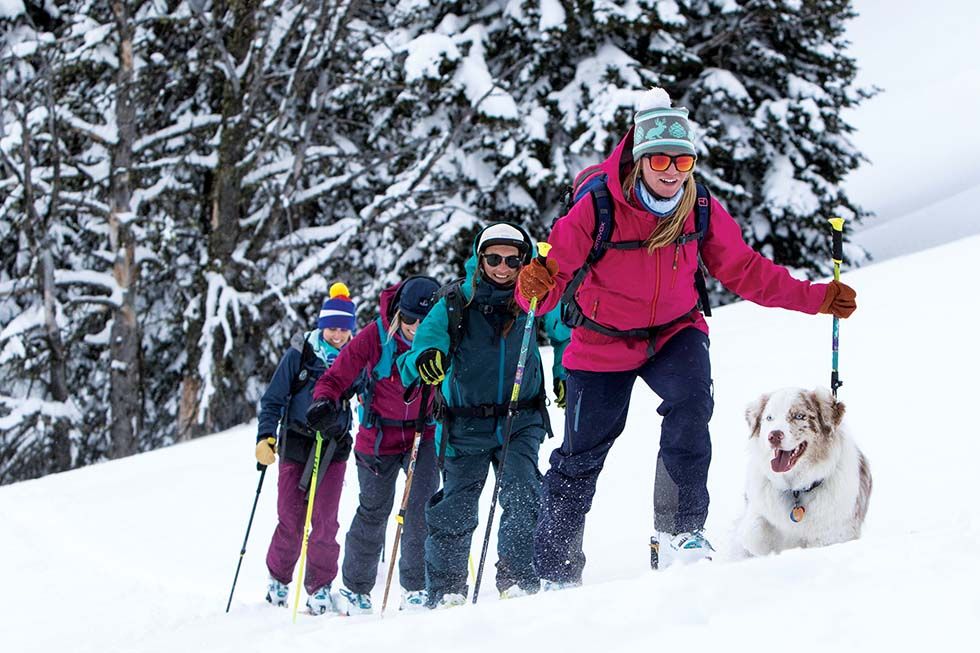 Skiers aren't the only ones getting in on the fun—snowboarders have the option of a touring split-board, which, as the name implies, is a snowboard that splits into two halves vertically to create individual skis. Attach touring bindings, affix your skins and you're on your way up. Once you've reached your destination and spot a good line, remove the skins, reconnect the skis and presto—snowboard! 
Touring in-bounds is one thing, but if you're heading into un-patrolled backcountry you need to arm yourself with the proper knowledge and tools to keep you, your partners, and others safe. This means proper education, basic first aid skills, and knowing how to use your gear. For touring tips, skinning techniques and information on Blizzard/Tecnica's Zero G Gear, log onto blizzard-tecnica.com and to purchase, head over to Squire John's in Craigleith.