Collingwood > Hollywood
Words by Mariah Owen, Photography by Anton Kulyk
The wind was gently blowing my hair as I called, "Lights, camera, action!" into my radio—I slow-motion walked out of Collingwood's Black Bellow's Brewery and onto the film set of Memory Lane. Okay, it didn't actually happen like that at all but it sounded really cool, right? As the director, writer, producer and star of my latest film, I was nervous. I've been acting and producing for years. I even started my own production company, GTE Productions, at 21 and have had films premiere all over the world; SXSW; Sitges; Cannes; and Fantasia to name a few. My work can be found in a variety of places including Amazon, Netflix and CBC. I've made movies before—many times—so, why did this time feel different? Oh, right… because this was my work, featuring my words. My vulnerability and ego were hanging in the balance. I took a deep breath and thought, "Well, it's a lot cooler than just sitting at home, so I might as well try it."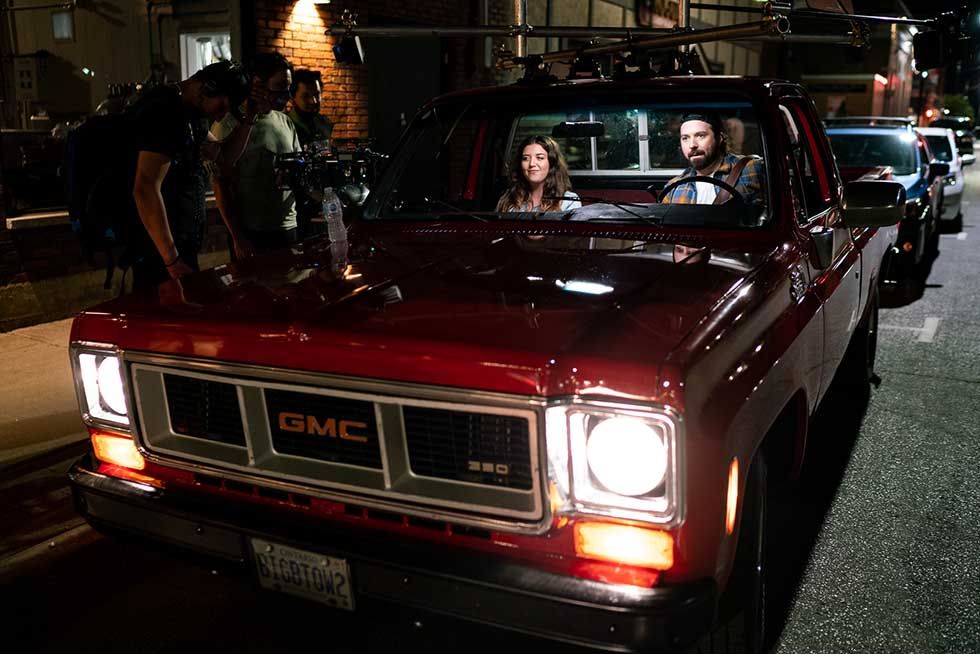 Memory Lane is a story of love and loss with the truthful realization that sometimes our greatest loves don't last. The backdrop of Downtown Collingwood was not only perfect for my film, but also the true inspiration for the memories that sparked me to write this project. But before I go into detail about how we filmed up and down Hurontario Street (in a 1970s era red GMC pickup with massive cameras rigged to the hood, roof and side doors), I would like to start at the beginning—March 2020.
Like so many artists, I returned home to Collingwood in the wake of Covid-19. I felt frustrated, uninspired and defeated. I felt like all of the hard work I had been chipping away at for years was taken away from me in an instant due to uncertainty and that all hope was lost. I know that sounds dramatic, because it was (remember that I am an "artiste" who plays professional make-believe for a living). I also hope you just laughed while reading that. Please laugh? Okay—moving on.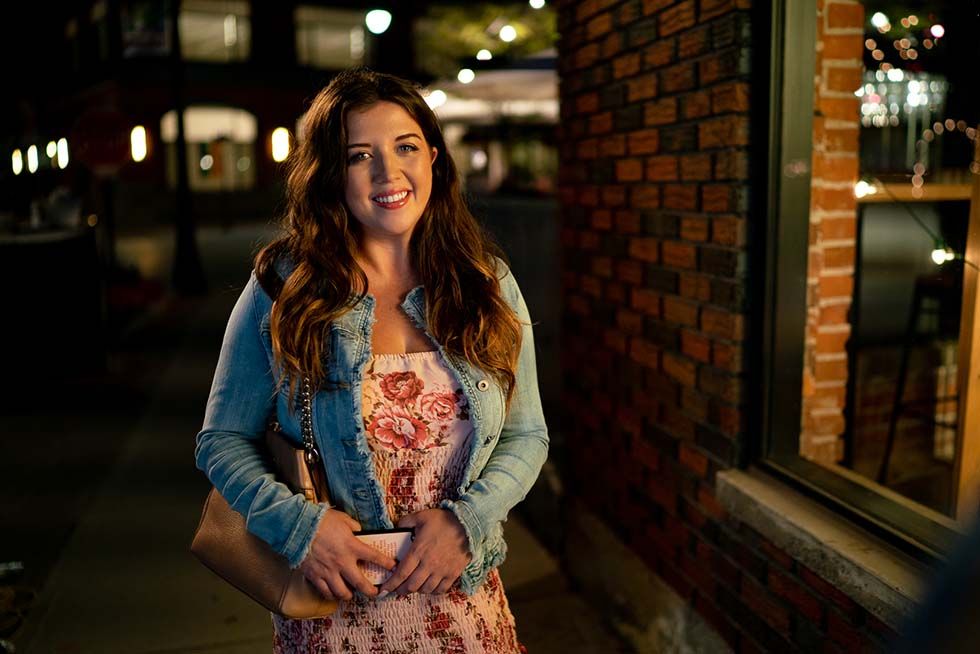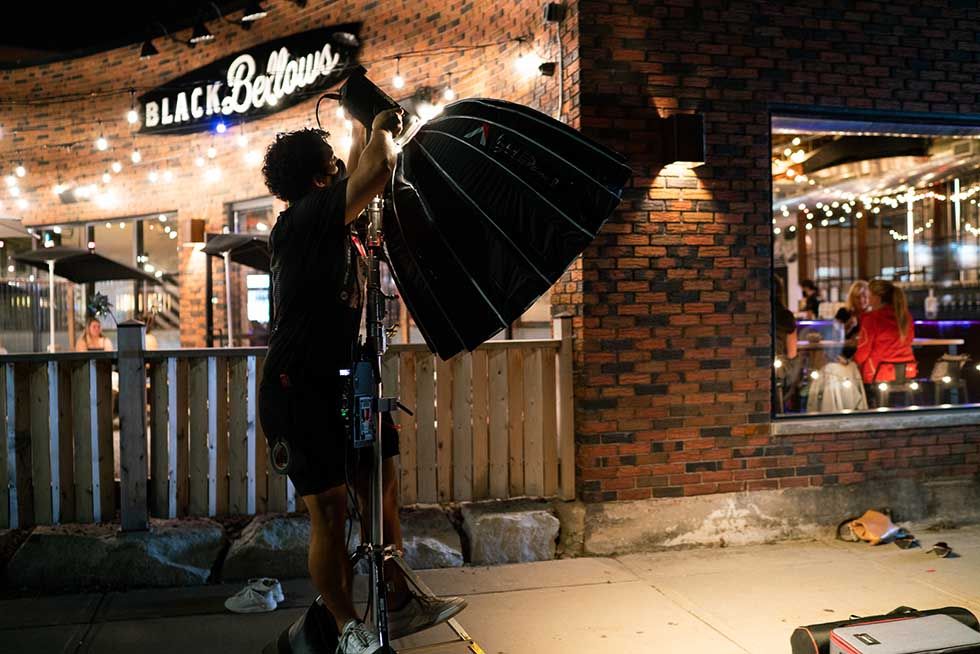 I've been lucky to call Collingwood home for as long as I can remember. I grew up swimming in the waters of Georgian Bay, spending every weekend training and ski racing at the Toronto Ski Club (TSC) and the Jozo Weider Alpine Race Club. I've lived, worked, played, won, failed, had my heart broken, gotten lost and dusted myself off many times in this town and I am so grateful for it. I can honestly say that Collingwood has shaped me into the artist and person I am today.
I had been telling people for years, "If you're not getting the work you want, then go out and create it!" As if it was so easy. It took a global pandemic and all the time to myself, alone in my apartment, for me to realize that I had been ignoring my own advice. I was suddenly riddled with imposter syndrome. Could I have something worth saying? Am I crazy? So, stuck in quarantine, at my kitchen island, I poured myself a glass of Cabernet, opened my screenwriting software, and stared at a blank page. I took a big gulp and began to write exactly what I was feeling. I'm not saying that you need wine in order to write but it definitely was my liquid courage to help write real and true about what was bothering me.
I then teamed up with local filmmaker Matt Tipold (RedTip Productions) and sound recordist Bart Sobolewski—together we created the film Disconnected. We shot the movie in a single day with fellow actor Nahanni Johnstone (Law & Order: SVU, Orange Is the New Black) who was isolated at her home, south of the border (she filmed via Zoom). I filmed at the very kitchen island I wrote the script on. This was my first time wearing so many hats; writer; director; producer; star. I also acted as the clean-up crew and caterer but that's showbiz, baby. Disconnected had its world premiere at the illustrious 2022 Mammoth Film Festival and was sold to CBC a few weeks later. The film will premiere on TV this fall and will be available on the CBC Gem app.
Collingwood's booming community of creatives isn't a secret, the town is exploding with new talents, studios, opportunities and storytellers. With inspiration all around, from the beautiful views of Georgian Bay and the Escarpment to stunning murals and art crawls, Collingwood is carving a new path and all roads lead to success and growth.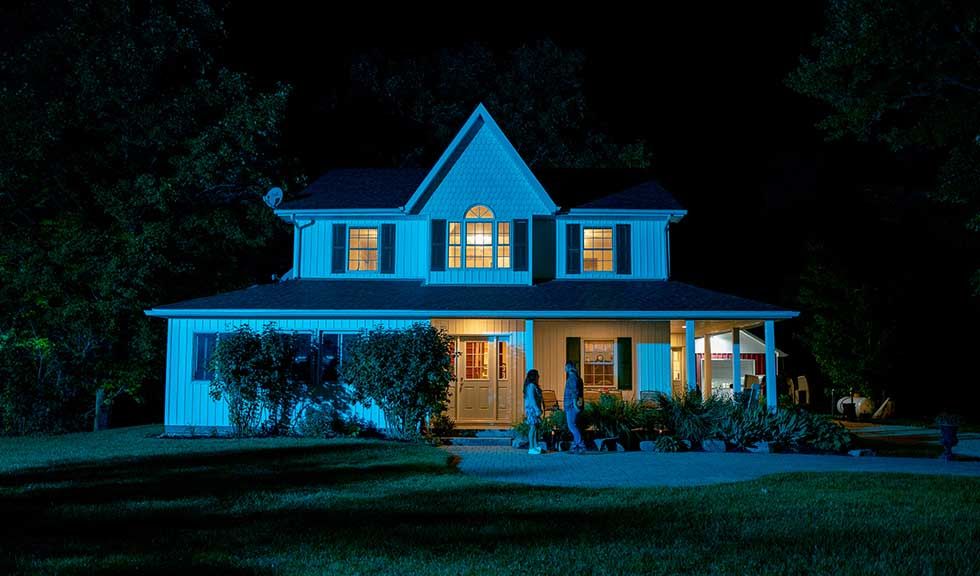 My first little toe-dip into the waters of multi-hyphenate creating/local collaborating, made me excited to do it again. And thus, Memory Lane was born. Once again, I sat down at my kitchen island (no wine this time), and wrote. I put my heart, and then some on that page. Fast forward to August 2021, when we were beginning production. This time, everything was more intense—we had a crew of 25 people, and were shooting at a variety of locations with back to back night shoots. We couldn't afford to waste a minute of darkness since the evenings are short. We were also filming Hollywood style on a Collingwood budget—meaning we didn't have the resources to close streets, buy- out locations, or to pay for extra production assistants at the side of the road. We were stretched pretty thin but we were working as a team. We even dealt with joyous patrons stumbling out of bars and onto our set asking, "Is anybody famous here?" I would answer, "If we were, you wouldn't need to ask me that."
All in all, Memory Lane is something I will be forever proud of. I spent so much time of the pandemic feeling alone but my experience of creating in Collingwood taught me that I'm not. I couldn't have made this film without my incredible crew, leading actor Kym Wyatt McKenzie (The Boys, Mayor of Kingstown), my family and neighbors (many of our background extras), and the people who took chances on me. I am blown away by the community I am so blessed to be involved with—this is one that not only inspires, but nourishes and supports.
In addition to the films I spearheaded, I've been lucky to work on several other projects filmed locally, including the Anna Hopkins (Shadowhunters, Letterkenny) directed film The Invitation, which was filmed in Wasaga Beach. I also directed a pilot for a show created by Mark Kristofic of S-Media, shot by Dom and Michael Bisson.
I could write another article full about of the people who helped me get here but I want to ensure that you, as a reader, understand the unwavering support of this community. This wouldn't have been possible without the help of local filmmakers Bart Sobolewski, Matt Tipold, Production Assistant Emma Williamson, realtor Shelby Elstone, Kirsten Schollig (who donated time in her studio), Tori Holmes Lane and the team at Black Bellows Brewery and the crew at Paula's Pantry who kept the lights on for us all night and made us the most beautiful treats. The management team at Holiday Inn Express ensured my crew was taken care of and my dear friend Kate Pettersen offered up her home too. We had OPP officers stop to check in and make sure we were safe and were happy to help with traffic control and finally, the town of Collingwood for their support from day one.
Lastly, whether you are in the world of filmmaking or not, I'd like to leave you with this, "If you want to go fast, go alone; if you want to go far, go together."
I am so excited for this new wave of artists, this burgeoning community and how it will only further Collingwood's growth to further solidify the mentality of #LoveWhereYouLive.