Shepherd's Flock
Words by Cara Williams, Photography by Kristie Woods
Lots of people, when they want to change their lives, talk about how they're going to move to the country and live more simply, off the land. When animal lovers Lynn Thordarson and Catherine Gaudet happened upon a pair of three-day old ram lambs that had been rejected by their mother, they leapt at the chance to care for them. The couple had recently purchased a 92-acre farm near the hamlet of Kimberley.
"We had just moved to the farm from Vancouver," explains Lynn. "We were deciding what to do with it." Many long days and nights were spent bottle feeding the twins, but before long the tiny pair had solidified their place in the family along with three horses, two dogs and a cat. "We loved having 'pet' lambs," laughs Lynn. It was then that Lynn broached the subject of shepherding as an occupation. Her grandmother had emigrated to Canada from Iceland at the age of 12 and Lynn has fond memories of the Icelandic wool sweaters and socks she would knit.
Decision made, Kimber Valley Farms was established in 2012, with the goal of breeding and rearing Icelandic sheep, as well as sharing the farm with others who are interested in a rural experience. A breed renowned for producing stunning wool, Icelandic sheep are also one of the few three-purpose breeds, providing meat, milk and fleece.
Punctuated by a stubborn and rebellious personality, Icelandic sheep have distinctly long coats and prehistoric looking spiral horns. A centuries old breed, they thrive in the most desolate and remote locales. As it happens the culture and climate of the Beaver Valley are extremely well suited to Icelandics—our long, cold winters make it difficult for troublesome parasites to survive. In ten short years the Kimber Valley flock has grown to 60 sheep, thanks in part to their protectors—a donkey named Shasta and a llama named Isaac.
"They're very friendly and curious," remarks Lynn as she introduces me to Bonny, Glory and Hullabaloo (yes, they all have names and are adorably approachable). "They're thought to be the world's oldest, purest breed, brought to Iceland by the Vikings in the 800s."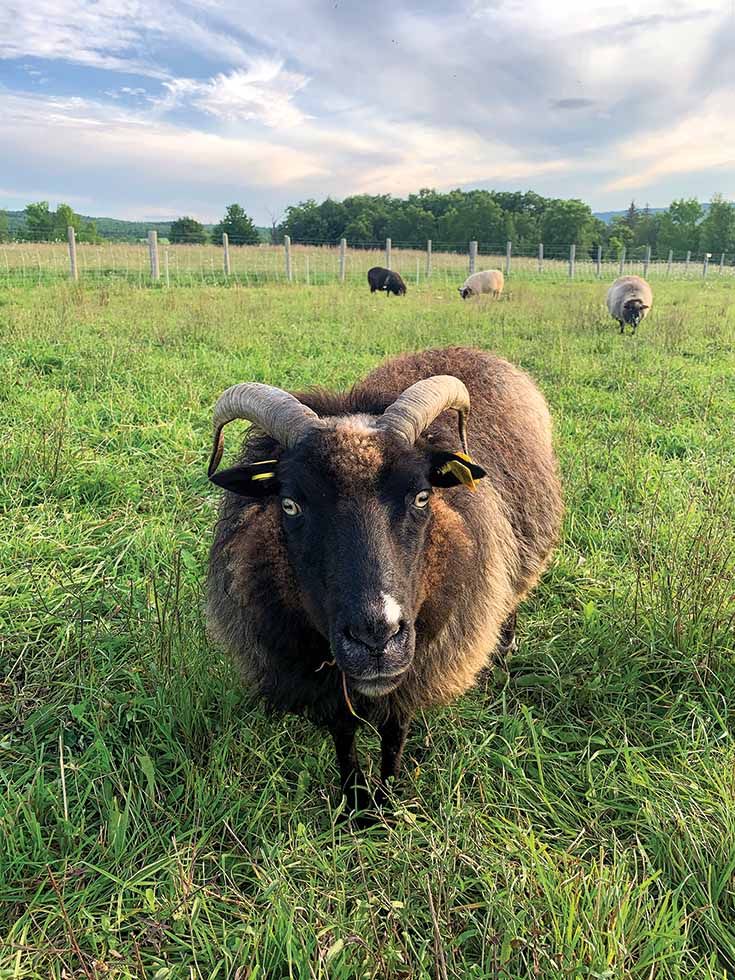 Because the breed evolved over a thousand years in relative isolation, they're hardy and unsullied. Their wool fibre has a wide colour range and produces yarn akin to a mohair, wool blend. The combination of strong, long fibres and short, fine fibres makes this one of the world's best felting fibres. According to Icelandic folklore, the Vikings wove the outer coat, or 'tog', into sails, tapestries, rugs, rope and saddle blankets, while the soft fine undercoat, or 'thel', which is similar in softness to fine merino, was reserved for baby clothes, underwear and finery. Over the centuries Icelandic fleece was favoured by many hand-spinners, knitters, fibre artists and felters— spinning the tog and thel together results in a lofty, lightweight but stout lopi yarn. Today, the fleece from Kimber Valley Farms' is used to create unique, one-of-a-kind, Icelandic wool products that support the farm-to-fashion movement, including their own yarn, rovings, fibreworks and custom knitwear.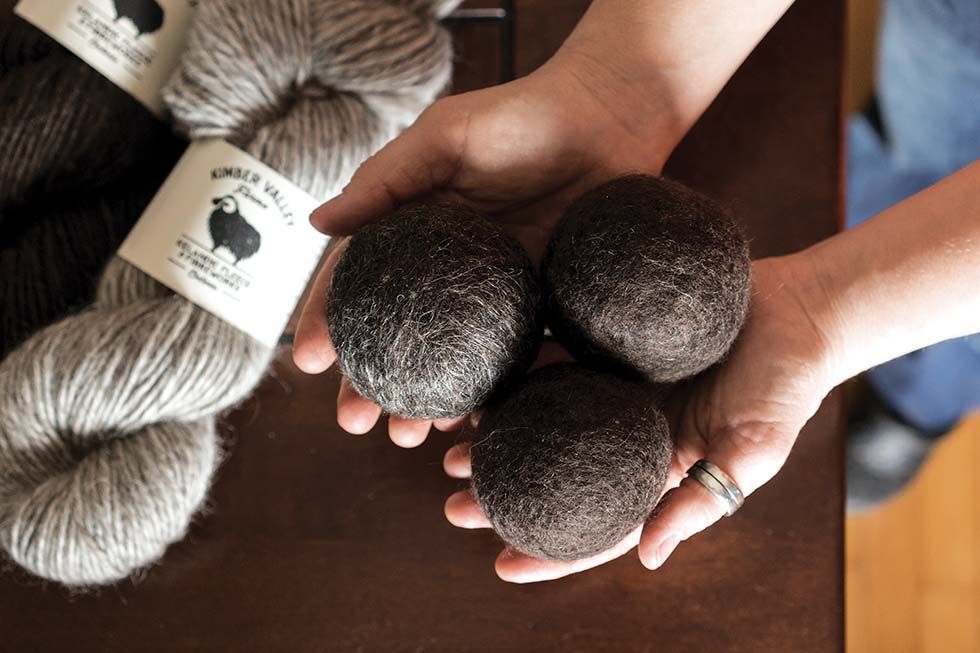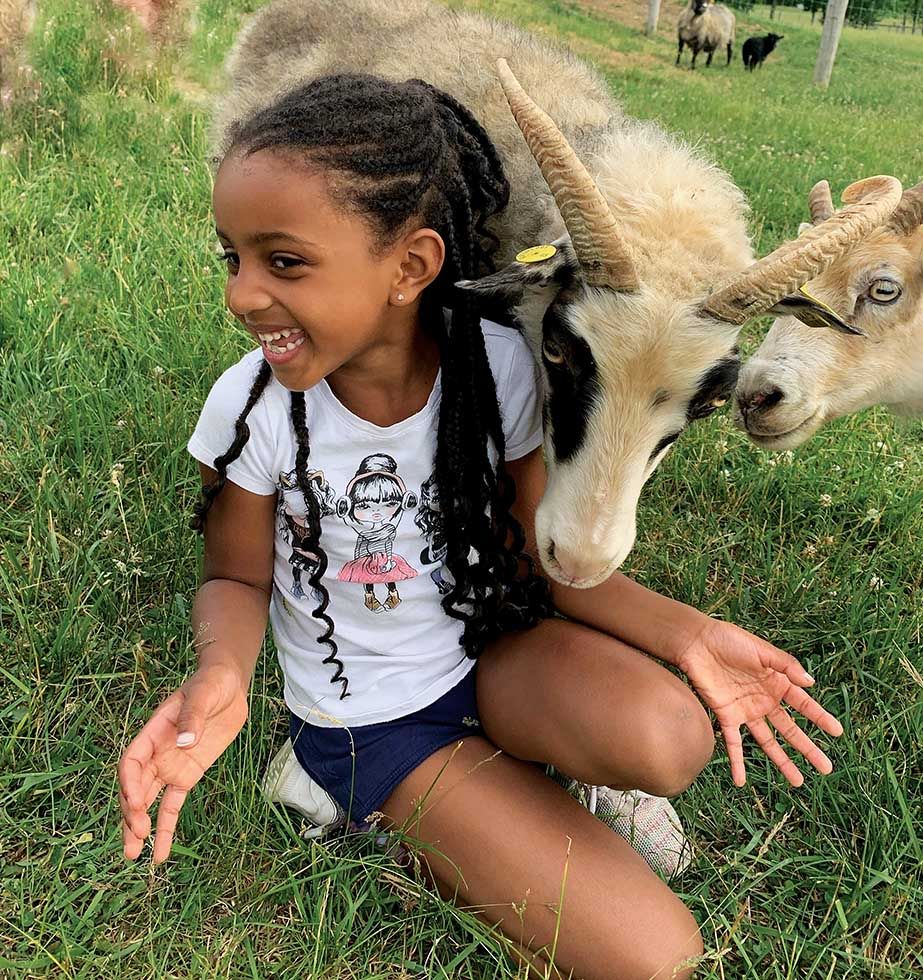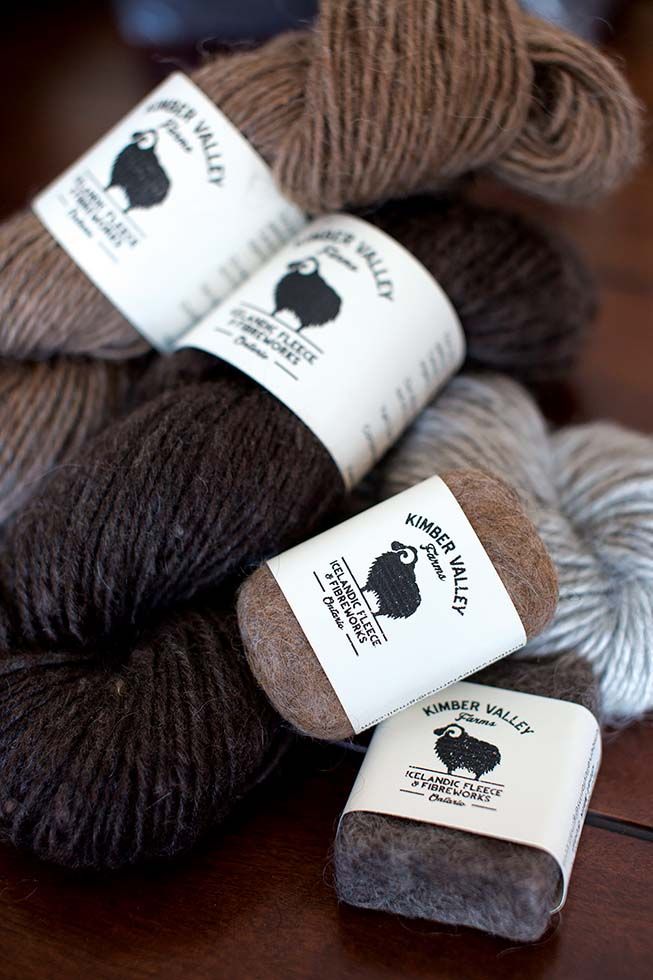 Out in the fields, Lynn and Catherine have learned to manage their thriving flock. "One of the biggest challenges we face is predators," says Lynn. "Namely coyotes. But in Iceland the sheep have no predators so they aren't fenced in, they're divided into sections by the rivers and the fjords. We want our sheep to live as naturally as possible, so they live inside and out, all year long. Outside of breeding season, our rams and ewes are in separate pastures and Shasta the donkey stays in with the boys. Donkeys can be very aggressive with canines and will strike out, chase and kick them." Isaac the llama keeps an eye on the females and if he senses danger, will round up the ewes and heard them into the safety of the barn. 
There are other perks that make Icelandics ideal for a small, sustainable farm like Kimber Valley Farms. Because they were bred to thrive on grass, Lynn and Catherine don't need to supplement their diet with grain. "We practice rotational grazing, which means we regularly move the sheep onto a new section of grass. This ensures that the pasture is not overgrazed, which can weaken the root system of the grass and allow weeds to grow. By moving them regularly, it ensures that we promote healthy pasture growth and that we have plenty of fresh grass to last the sheep through the season."
Lambing season begins in May, shortly after the first shearing of the new year. Icelandics are known to be ideal mothers and often give birth to twins. Because the breed is small, the birthing process is quick and typically without complications. "They are usually self-sufficient when lambing. Lambs tend to be small at birth but are lively and quick to get up to nurse. One of the reasons we shear before lambing season is because it's much easier for a newborn lamb to find her/his mom's milk if it doesn't have to dig through wool and poop tags to find it."
Lynn and Catherine have cultivated an undeniable love of farming and kinship with this unique breed of sheep. They take seriously their responsibility as stewards of the land and have pursued this enterprise with the goal of sharing their farm, along with wool products, on-site workshops and markets. They even offer a lamb sponsorship—a unique, tailor-made experience that results in a deeper understanding of supporting local. "We're always happy to have farm visitors by appointment and love introducing people to our animals. We sell our products from the farm through our website and at various fibre events."