Bulldog in the Bow
words | Cara Williams
Four years ago Meredith Megarry traded in the black & gold of the Collingwood Collegiate Fighting Owls for the blue and white of the Yale Bulldogs. This past May, Meredith graduated from Yale, with several accolades attached to her name: in addition to receiving an ivy league education, Mere (as she is know to her friends and family) also graduated as a very accomplished collegiate sailor, winning two national titles and receiving All-American athletic honourable mention.
Meredith got her first boat at the age of 10 and began racing at Royal Hamilton Yacht Club and Royal Canadian Yacht Club, later joining the Lake Ontario Optimist Team. She made the Canadian Youth National Sailing Team in 2012 and went on to compete at the Canadian ISAF Youth Worlds in Dublin Bay, Ireland. She won Ontario Female Sailor of the Year that same year. So when it came time for her to choose a post secondary education, it's no wonder Meredith looked to the best sailing schools in the world. "I researched schools that had varsity sailing teams," she said. "I also looked at ones that had strong academics. I visited Yale and met Zack Leonard (Head Varsity Sailing Coach at Yale) and I knew I wanted to go there."
Less than 15% of Yale students hail from outside the United States, and in order to be accepted Meredith had to test and score well on the dreaded SATs. Above and beyond good grades, Ivy League schools can be among the most expensive: the average tuition of an Ivy League is $52,000 per year. And even though Ivy League schools often award financial aid via endowments, bursaries, grants and scholarships, they do not award athletic scholarships. Meredith was not only recruited to Yale for sailing, but achieved the marks she needed to be accepted and subsequently was the recipient of need-based financial aid. Her hard work had paid dividends.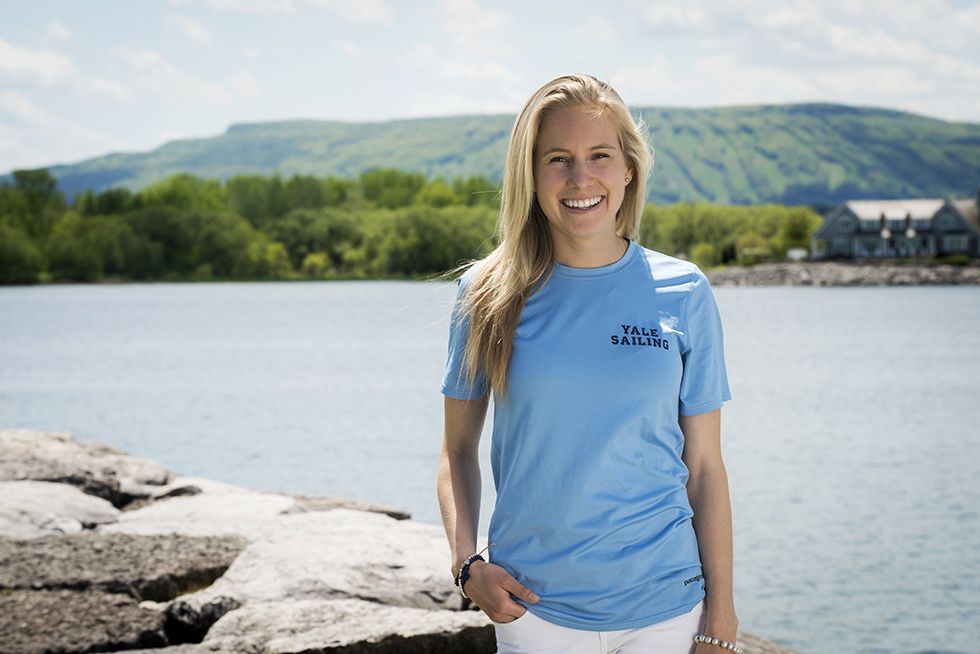 Yale Corinthian Yacht Club. So in case it's not abundantly obvious, yes, it is impressive that an 17 Steeped in tradition, US collegiate sailing began in the 1880s, with the formation of the year old sailor from Collingwood, Ontario was invited to enrol here. College sailing has grown to include more than 230 active colleges, and is a coeducational sport that that has proved itself the best incubator for the development of serious racers: collegiate sailors have numbered significantly among Olympic medalists and America's Cup competitors.
The Inter-Collegiate Sailing Association (ICSA) is the governing authority for sailing competition at colleges and universities. The seven conferences are divided as follows: Middle Atlantic (MAISA), Midwest (MCSA), Northwest (NWICSA), Pacific Coast (PCCSC), South Atlantic (SAISA) and South-Eastern (SEISA) and New England (NEISA) –the latter is the most competitive conference, and the one in which Yale competes.
The greatest athletes approach competition constantly anticipating their next challenge and their next move. In a tricky current against the toughest teams in the nation, Yale Coach Zack Leonard paired Meredith with well known sailor Ian Barrows from US Virgin Islands in their freshman year. "Of course I had heard of him," remarked Meredith. "And from the beginning, we just clicked in the boat." The pair would sail together for the next four years.
Photo | Clay Dolan
"Meredith always had a good sense for choosing the favoured side of the race course and maintaining a calm composure in the boat. She was great at adapting her body movements to changes in the conditions and keeping me mentally stable. I hope I get an opportunity to sail with her again in the future."
~Ian Barrows
Collegiate sailing isn't a fair weather sport, with rain or shine training in both spring and fall. "We were on the water Tuesday through Friday from 2:30-6:30pm and we would compete on weekends," recounts Meredith. "We often had weight and cardio training in the gym before and after practice." A big commitment in of itself, without adding the intense expectation of ivy league professors, and Friday nights at the campus bar. When I asked her if she ever felt like she was missing out on anything she replied, "It definitely crossed my mind and I did have some fear of missing out on the full college experience because we would be away almost every weekend: Boston, Rhode Island… we were constantly travelling. But I was always able to find a balance. The most challenging part was finding time to get school work done. I had more than a few late nights in the back of the team van."
In coed collegiate racing there is A division and B division and the combined score from both divisions determines the school's overall result. Meredith and Ian raced together for the duration of their time at Yale, along the way, picking up some hefty hardware. Their freshman year the pair helped Yale to win the National Team Racing Championship and National Coed Championship. In their sophomore year Yale won the National Team Racing Championships again with Ian and Meredith winning B division at the National Coed Championships leading to Yale winning the overall National Coed Championships. In Meredith's Junior Year Yale won the National Team Racing Championships again as well as the A division at the National Coed Championships. This past June Ian won the prestigious "Collegiate Sailor of the Year" award and in his speech he thanked Meredith for sailing with him through the years and "for always helping me out when I was in trouble." Ian's brother Thomas Barrows was a former recipient and went on to compete in two Olympic Summer Games. Ian looks to be heading that way, launching an Olympic campaign in the 49er class (two-person high performance skiff) with fellow Bulldog alumni Mitchell Kiss.
So what fuels a Collingwood girl to set her sights on an ivy league school? For one, Meredith comes from a family of overachievers. I know her Mom well –Adrienne Wood– who has been a staple in Ontario ski racing, volunteering countless hours and tirelessly working within the Provincial Sport Organization, Alpine Ontario for years.
These days Adrienne is helping local families in need of senior and disability care at Right At Home, with two locations in Collingwood and Barrie. Adrienne has recently become a grandmother with the birth of her daughter Kara's first child. Adrienne's son Morgan (who also understands the commitment of being a student athlete) ski raced NCAA with the University of Vermont. Morgan has also been competing with the Canadian Alpine Ski Team since his freshman year. Meredith cites her family as her inspiration, especially Morgan who graduated from UVM the same day as Meredith's Yale commencement.
"Morgan skied while completing his degree, which is impressive. He showed me the ropes, so to speak and I really look up to him," explained Meredith. In preparation for this article I reached out to Morgan to see if he cared to comment on his sister's exemplary collegiate sailing career. Here's what he wrote:
"From an early age, Meredith always strived for excellence, both athletically and academically. Admittedly, I thought her early success may have resulted from lack of challenge, whether on the race course or the classroom, or perhaps just early development. However, as Meredith grew older, and challenges became more daunting, it became clear – success through effort and commitment was a conscious choice Meredith would make each and every day. Her arrival at this level of athletics and academia comes as no surprise to me, as Meredith hasn't committed years, but rather a lifetime to realizing her goals. I couldn't be more proud of my sister, and look forward to watching her thrive wherever her path takes her."
                       ~Morgan Megarry
Armed with a degree in Environmental Science from one of the most respected schools on the planet, Meredith's immediate post-graduate plans are to enjoy some well deserved time off and travel the world (without holding onto a jib). Afterwards, she hopes to practice sustainable architecture in the United States, utilizing her student visa's Optional Practical Training (OPT). This is a period during which students are permitted by the United States Citizenship and Immigration Services to work the country for up to three years. Whatever she does with the next chapter of life, I look forward to hearing about her successes and adventures and wish this inspiring young woman all the best. |E|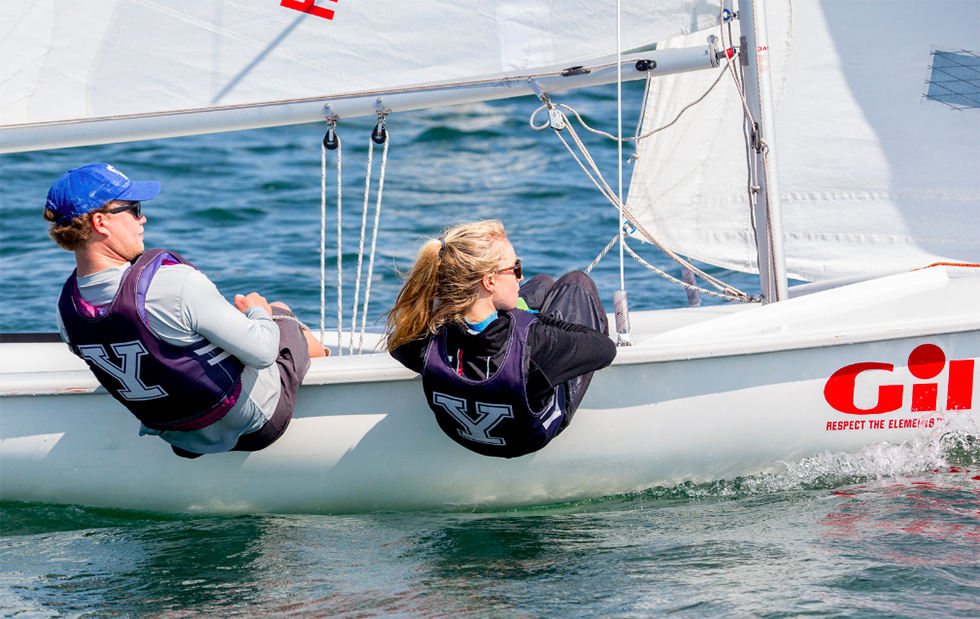 Action photos | Cynthia Sinclair
Ian Barrows and Meredith McGarry race for yale in the 2016 Coed National Championships in San Diego winning gold.