JOY RIDE
One thrill of mountain biking is cycling over rough terrain, but the local off-road community has encountered some extra challenging obstacles, forcing it to change its course.
Story by Kate MacLennan, photography by Jody Wilson
Imagine transporting yourself back an astonishing 450 million years—to a time preceding the existence of humanity and the majestic reign of dinosaurs—when Earth was dominated by the supercontinent, Pangaea. It was during this era that certain geological processes were set in motion, ultimately leaving behind the remnants of an ancient Paleozoic sea floor, now known to us as the Niagara Escarpment. In geological jargon, this impressive Escarpment, or 'cuesta,' is a ridge comprising gently tilted layers of rock, featuring a long, gradual slope on one side and a comparatively steep cliff or scrap on the other. In the realm of mountain biking, it can only be described as a paradise waiting to be explored.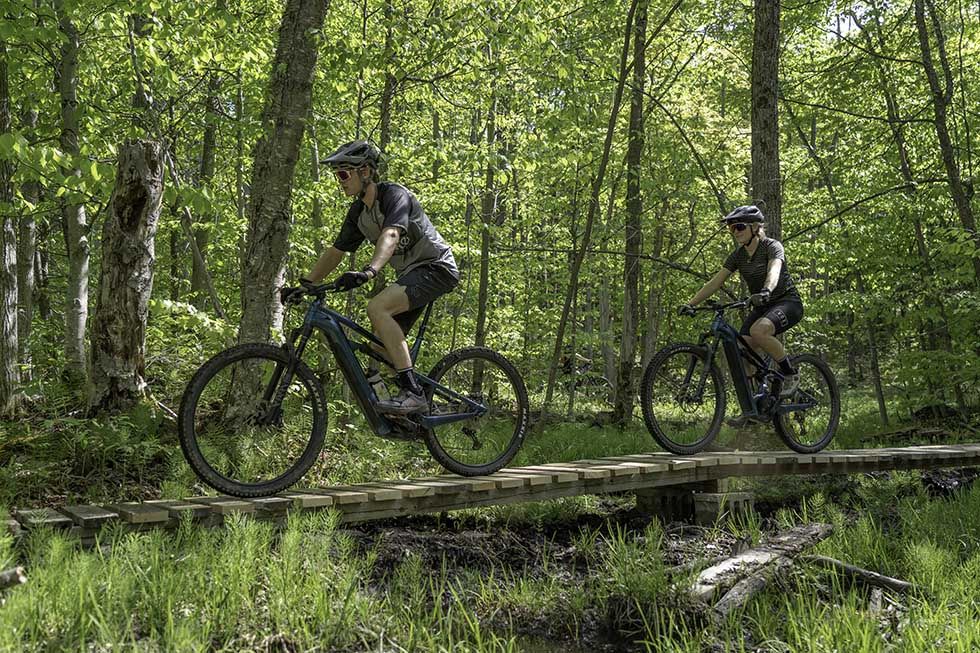 Mountain biking is a hot topic these days, especially in these parts. While the sport isn't new, it has certainly come a long way since the early 1990s, when I would straddle my Raleigh Big Horn after school and rip around on the Escarpment near Owen Sound. I had no idea how ineffective that bike was for the task at hand; stock tires; cantilever brakes; no suspension. It even had a kickstand (ridiculous), and never once did it occur to me to wear gloves or a helmet (even more ridiculous). All I cared about was being out there in the fresh air and surrounded by nature, rolling over roots and rock, and hitting the same loops over and over to see if maybe this would be the day I could make that climb without having to get off my bike, or take that corner without braking. The endorphin rush and the freedom were intoxicating, and the experience sparked a passion for the outdoors and for biking that has never waned.
The 1990s were just as formative for Chris Wall, Director of Community for Collingwood Off Road Cycling (CORC). Around the same time that I was discovering mountain biking, he was calling it a wrap on years of ski racing and playing high school football in Minesing, looking for a new activity, bought a mountain bike. "Mountain biking was still kind of new then, and it basically consisted of riding service roads," Wall recalls. "Then me and some other guys, we thought, why don't we create a section of trail so we don't have to ride service roads."
By the time he was in his early 20s, Wall was actively building an elaborate trail network behind Snow Valley, naming all the runs after Seinfeld episodes (think: "Can't Stand Ya").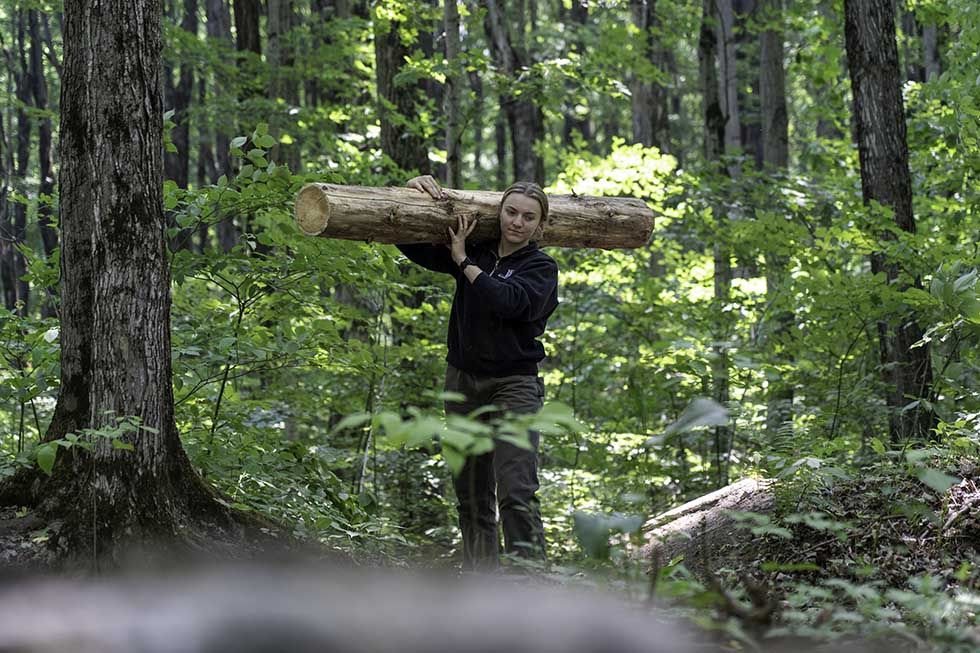 "It was like art, and the forest was like a blank canvas where I could paint my vision of what it should all look like. What I see when I build is not what another builder would necessarily see. I loved walking into the woods and going, 'Ooh, I could see the trail going through here, then there's a really cool, naturally occurring feature over there… so now do I get from here to there without going in a straight line, because straight lines are boring," he says, laughing, then adds, "Some of those trails are still there. A guy who lives there told me he rides 'Mr. Marbles' all the time." Chris's passion for the outdoors—including hiking and mountain biking—led him to Collingwood, which has some of the highest elevation in Southern Ontario and where there was a nascent mountain biking scene.
Erik Lehmann, a teacher at Collingwood Collegiate and Director of Trails for CORC, grew up in Owen Sound and remembers watching the evolution of downhill skiing at Blue Mountain, but also observing a subculture of skiers who would mountain bike during the summer. "It was mostly guys in their 30s to 50s riding in packs back then. When CORC started six years ago, part of the mandate was to create an open environment for people to access mountain biking without barriers. That's one of the biggest shifts we've seen now with mixed groups, women's groups, and complete families riding bikes together on these trail networks. The coolest thing, to me, is we're seeing groups of kids showing up, finding their buddies, and riding together," says Lehmann.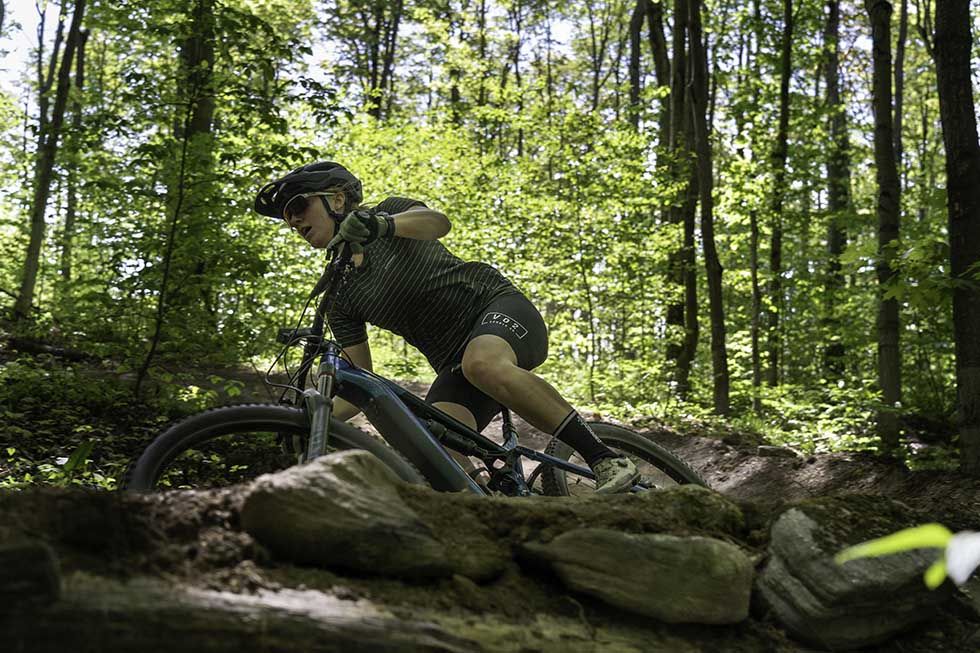 To be clear: an impressive single-track trail network had been developed around Collingwood and beyond for many years before CORC existed. CORC grew out of that scene as a social club, and helped to establish some organization for the growth, and enhance it by bringing different levels and generations of riders together. Today, mountain bikers from Southern Georgian Bay of all ages and abilities can all rhyme off the hot spots: Kolapore, Highlands, Duntroon, Copeland, Dufferin, Horseshoe Valley and the famous—now somewhat infamous—Three Stage, in Pretty River Valley Provincial Park.
"Three Stage is not the place you want to go to learn," says Wall, despite the fact that 15 years ago he took his partner, Nicole Kertcher, there when she'd just started mountain biking.
"That was my first introduction to being clipped-in, which was the root of the problem [clipping-in refers to the connection between a cleat bolted to the bottom of each shoe and your bike's pedals]. I fell and broke my arm," laughs Kertcher, a Territory Sales Manager for 5-Star Sports Canada. "It's definitely not somewhere for a novice rider. You want bike handling skills and technical skills to ride in there because it doesn't take long to find yourself in deep without realizing it. It's really narrow and turns back on itself. It has rocks and roots and off camber, punchy climbs. It's just such a vast trail network. You can ride bottom to top, park at the top and just ride down, just do loops—it has everything a mountain biker is looking for and it's right in our backyard. If you live in Collingwood, within 20 minutes from home you can be at the trailhead."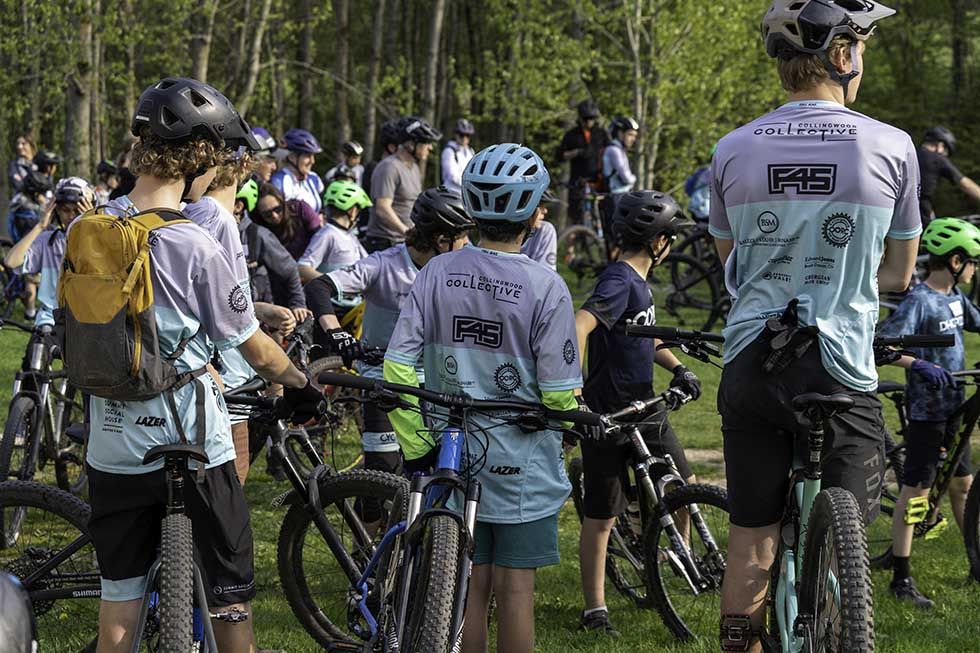 According to Wall, the Three Stage network is anywhere from 100 to 150 kilometres of mountain biking trail. It's known among the best competitive riders in Ontario for its upper loop, some 40 kilometres long. Nearby Trillium Hill, where Lehmann took kids to teach them to climb (mountain bike speak for "ascend") and descend, is known among the sport's newest riders as a key training ground. But this past May, many parts of Pretty River Valley, including Three Stage and Trillium Hill, became known for another reason: Ontario Parks closed huge swaths of trails that crossed into parkland, citing damage to sensitive ecosystems, and poorly designed infrastructure that poses risk to public safety—an action, they've said, that isn't necessarily permanent. But, they'd require a formal legal entity to be organized and taking responsibility for the trails before considering re-opening them.
Both Wall and Lehmann readily acknowledge that many places where Three Stage crossed park boundaries, its trails were unsanctioned. They'd been worried this news would come one day, but it still hit hard.
"I've ridden these trails for 25 years, some of them and, you know, they're historic," says Lehmann. "For the last 10 years there's been some threat of some trails being closed and discussion about who's looking after the trails at Three Stage. So, over the last five to six years we've put systems in place to help with that—we formalized the trail clean-up for Three Stage where we each took responsibility for a certain section of trail. We also made a formal agreement that we weren't going to cut new trail because that area had reached its capacity. I coach the team at the high school and the local race team, the Collingwood Collective, and I teach the kids a culture of staying on the trail; you don't widen the trail; you don't move rocks off the trail; and you ride single track. We have dedicated people who block off new offshoots that others have made on the trail because we don't want a spiderweb—we want larger loops. We have all this stuff working to keep the trails as natural as they should be."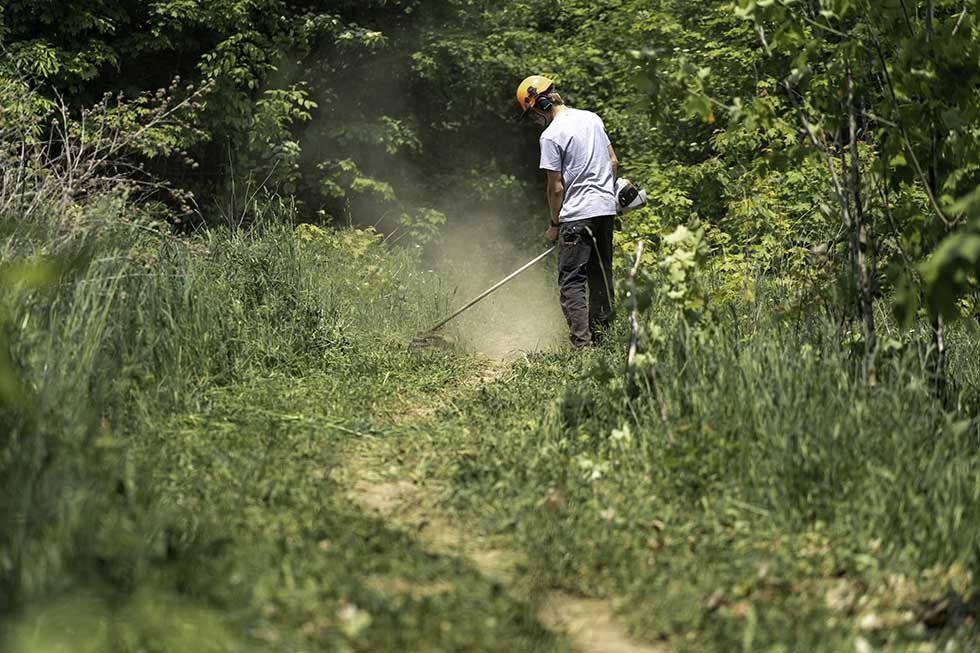 Closing trails that nurture a love and respect of nature in order to protect it presents a paradox for many mountain bikers. "Nobody I've spoken to wants to ruin an endangered plant species or disturb a bird that requires quiet during nesting," says Wall. "There's so much value in educating. It would be great to put up a sign that says, 'This trail is closed during these months because of this reason.' Then it becomes an informative moment and people understand. If you just put up a sign that says, 'Trail Closure' mountain bikers wonder why we aren't allowed into that area while hikers are—which is also just 20 metres from an active snowmobile trail."The closures hit the burgeoning mountain bike community doubly hard given Blue Mountain Resort closed its bike park a couple of years ago at a time when, Wall says, the spot was at a crux when it was really about to explode. Becki Relihan, Director of Resort Services at Blue Mountain Resort cites many factors for the closure—including the pandemic. "A significant reason for the decision at that time was the restrictions on different households being in the same gondola cart. Adapting the gondola operation and removing the bike racks allowed the resort to maximize access to the gondola."
The resort also took the opportunity to reimagine its mountain biking offerings. "Blue Mountain has been focusing programming on youth and child access to trail riding. An example of this is our Bike Skills Summer Camp. Our Bike Counselors incorporate riding on the mountain, navigating features such as bridges and berms, as well as bike maintenance and caring for your equipment into every child's experience. This program feeds into the number of people who will grow up knowing and understanding this activity, and how to participate in it safely, which ultimately grows participation in the sport," says Relihan.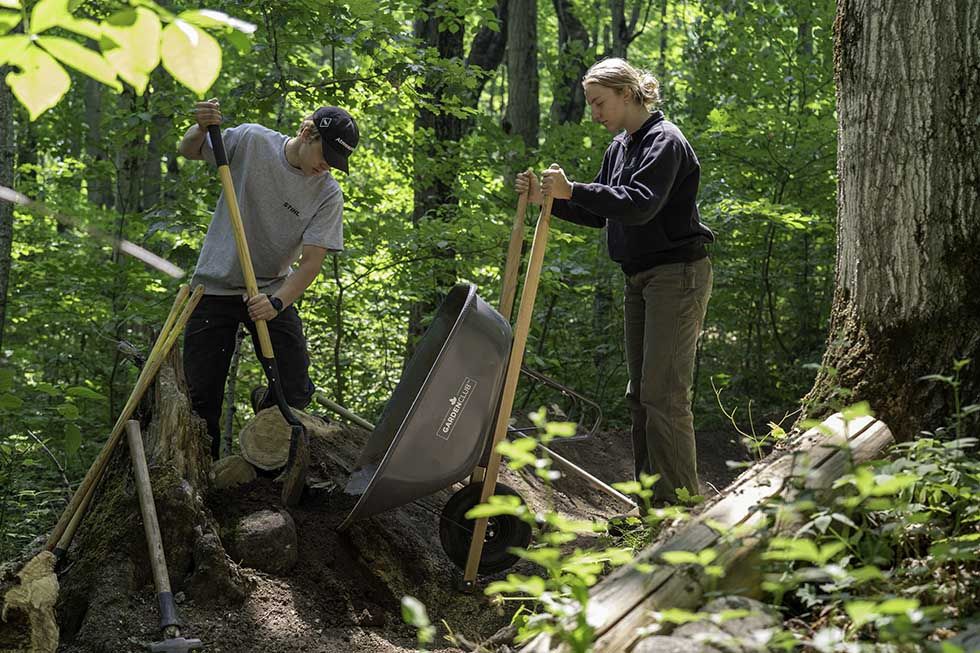 Around the world, the growth of mountain biking is showing no signs of abating. In the U.S., mountain bike trails are showing increases of 100% to over 500% compared to 2019. There, the market was worth $5.6 billion in 2021, and revenue is expected to reach U.S. $13.8 billion by 2029. More than 12.35 million spectators watched the Mountain Biking World Cup — staged in Switzerland and Italy — back in 2018. And, bicycle tourism is further propelling the global market forward. Whistler's annual Crankworx mountain bike festival, which brings together the best mountain bike athletes in the world to compete in elite-level competitions in a variety of disciplines, is the largest economic of all major events in Whistler. 
Martin Rydlo, owner of Duntroon Highlands Golf, is passionate about getting people outside and investing in mountain biking is part of his vision for the 300-acre property. "Some of the main trails CORC uses, and are improving upon, are on my property. We lend them equipment, or if they need wood for bridges et cetera, and we're supportive of making sure the area gets developed in the right way. It just makes sense," he says. Rydlo believes the province needs to review Three Stage as an operational park. "Out west there's a much more progressive way of setting up hikers and bikers to co-exist—you have to think about it when you're building trails, but they can co-exist."
He'd like to see the province review Three State as an operational park, thinking about trails, parking, and multi-usage across all seasons. "What's cool is Grey County is working on a sustainable tourism strategy with a firm, and trails and biking are part of that. A recent study of the area found that the number one reason people come to this area in winter and summer is to be on the trails. We need to be more proactive when it comes to trails, and there's a whole bunch of things moving in the right direction, but the governments are just starting to recognize this and Three Stage is just the battle front for it."
Lehmann's concerned that negativity around mountain biking will dissuade new riders, and frustrated for learners that Trillium Hill is now one of the trails that's been closed. CORC has been told there are areas of the forest Ontario Parks is willing to develop for mountain biking, both Lehmann and Wall expressed that the organization is very keen to get into open conversation and work with Ontario Parks to protect both the environment and mountain biking. "Whenever we're weighing any sort of environmental impact, we have to compare that impact to the benefit of our community. Just getting kids into the woods and off their devices is huge. We have a youth program on Monday nights with 60 kids in it, and we need trails that are accessible but also challenging to them. I used to teach a tech-based math class at [Collingwood Collegiate Institute] and got funding to take kids into the woods for a couple days. We'd look at the slope, of the trail, figure out enhanced drainage, and they had a blast," remembers Lehmann.
Trail building requires, knowledge, creativity, and is a critical part of the culture, he explains, as much to foster respect for the land and build community as to create the essential infrastructure for the cycling. While the Three Stage conversation evolves, CORC is looking at new places for trails, such as developing the Highlands cluster.
"True single track is non-invasive in the forest, as it is only about a metre wide. The International Mountain Biking Association has trail standards to follow and we take those into consideration and have their team come to work with us and give advice on sustainability and development moving forward," Lehmann says.
CORC has used machines to cut trail, but typically builds with a toolkit which includes a fan rake, loppers, and a Pulaski—a tool with an axe on one side and an adze on the other. Lehmann says his team hikes first and looks for existing natural lines, like deer track, then will cut small trees under three inches diameter when they can't route around them. A maple, he notes, is more likely to be left standing than a scrub wood, such as poplar. Other design factors include ensuring or creating proper drainage (riding on wet trails is a major faux pas as it damages both trail and the environment), avoiding bench cutting, and considering the paths of other trails in the area. "My involvement has really been about keeping the trails sustainable," he says. "But my motivation was really about getting youth involved and the social aspect."
Kertcher used to bike with a local women's riding group, but when CORC was established, the group also joined—as did more families and soon it was one big community. The organization's vibe is still super grass roots, she says. "It has a private club sense but it's more relaxed. The membership fee is $50, and the $5 registration fee to participate in bi-weekly post-ride socials goes to trail building. There's no element of prestige."
CORC used to have a policy not to ask bike shops to sponsor social evenings since they get asked to support local events all the time, but Lehmann says the shops came to them. "The feedback we get is that it's memorable to sponsor a CORC night. We have a really great community and in the last five years it's really come together—even the holdouts are members now," he says.
Clearly, this is not a case of build it and they will come. "Stand on the corner of Sixth and High Streets in Collingwood on a Saturday and you'll understand how much cycling means to this town—every car has a bike rack or someone is riding by. I want to see Collingwood identify as the cycling town it has become—it's not just a ski town anymore."