Words by Cara Williams – Photos by Clay Dolan
Inspired by the biological cycle of life, a new interactive mountaintop journey of learning and discovery has landed at Blue Mountain this fall—AGORA: Path of Light. A feast for the senses, this circular path through the forest atop the Escarpment offers us the opportunity to speak to the forest through a series of sound-responsive interactive lighting installations based on the five elements of air, space, earth, water and fire.
Running through October 25, the adventure begins with a moonlit gondola ride where you'll experience incredible unobstructed views of Georgian Bay, the Nottawasaga Lighthouse and the glow of Collingwood and beyond. Once at the top, you follow the southern trail to the entrance of AGORA where you'll begin the 3 kilometre trail walk along the Escarpment and through five unique illumination installations. Guided by the voice of the forest, you'll participate in a conversation with nature which tells the story of our land through the language of light. A chance to reflect, relax and reconnect, AGORA affects each of us differently while undoubtedly connecting us to each other and to our natural surroundings.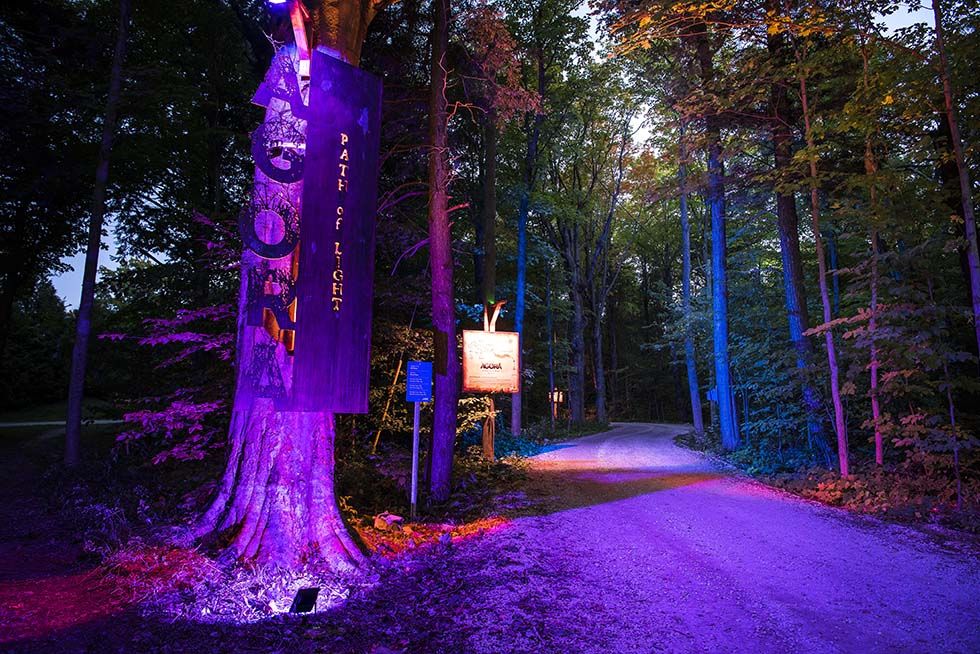 Creating AGORA was a journey in itself with some of the most talented creators from across Canada. The amazing result is the work of a team composed of Limbic Media from Victoria BC, leaders in interactive art and light technology; CASS Audio Productions, local experts in audio configuration and installation, Edesia Moreno Barata – Concept Designer & Stage Director, most notably recognized for her work with Cirque du Soleil; Marie Metaphor Specht – Poet and Spoken Word Artist; Jeff Monague – Ojibwe language professor; writer, Grey Cloud/James Carpenter – Anishinaabek healer and project advisor; along with the talented group at Blue Mountain. Together, the team has brought to life the spirit of the forest.
"We're very excited to unveil this unique outdoor experience; the result of a collaboration between an extraordinary creative team from all across the country," says Stacy Manning, V.P. Sales and Marketing, Blue Mountain Resort. "Beyond being a remarkable, multi-sensory adventure, it's also a tribute to our natural surroundings and the Indigenous people whose land we are stewards of."
As we continue to face social distancing guidelines, and how it relates to our mental and physical health, Public Health Authorities are encouraging outdoor activities like AGORA: Path of Light for healthy individuals—just as long as we give one another a wide berth.