Since I was a little kid, skiing under the lights at Blue has felt unlawful. I realize that it's someone's job to turn on the lights for the express purpose of allowing the public to ski after dark, but I still feel a little sneaky. Maybe it has something to do with the solitude and feeling of isolation; gliding stealthily along a quiet trail, zipping through shadows is such an incredible sensation—and because crowds are fewer at night, you can often ski an entire run without seeing more than one or two people. Although I've usually had enough runs by the time night skiing ends at 9pm, I've always been curious about what it would be like to keep skiing through the night. Last winter — as a part of the Escarpment Magazine 24 Hours of Blue Mountain (24h BLUE MTN) team—I found out.
Modelled after the remarkably successful 24h Tremblant, this local fundraising event at Blue Mountain Resort is presented by Freedom 55 Financial and benefits the Special Olympics and Collingwood General & Marine Hospital Foundation. Teams of six to 12 ski and/or snowboard as many runs as possible in a 24-hour period. With a stacked team of young(ish), talented ex-ski racers, and coaches, I knew our Escarpment Team had a chance at clinching the most laps, but 24h BLUE MTN is not just about having fun and going fast—this event is primarily about raising money for a very good cause, whereas winning most laps is more for bragging rights.
Ski racing enthusiast Michael Nay saw the potential of hosting such an event on the Escarpment; "The Tremblant event is hugely successful and attracts skiers from all over the world," explains Michael. "The event has raised over $28 million for charities since 2001."
Together with friend Frank Ables, the pair approached President and COO of Blue Mountain Resorts Dan Skelton, who green lighted the event for 2018. "Next on board were benefactors of the event; Special Olympics; and Collingwood General & Marine Hospital Foundation. It just made sense to work with these two charities that are involved in the sport of skiing one way or another." Both entities were extremely enthusiastic about the event. "Community support is the only reliable source of funding to purchase medical equipment and technology," explains Jory Pritchard-Kerr, Executive Director of Collingwood General & Marine Hospital Foundation. "It is through the generosity of our community that our physicians and staff have the tools they need to care for our full-time residents and the thousands of skiers and snowboarders that grace the slopes of South Georgian Bay every winter."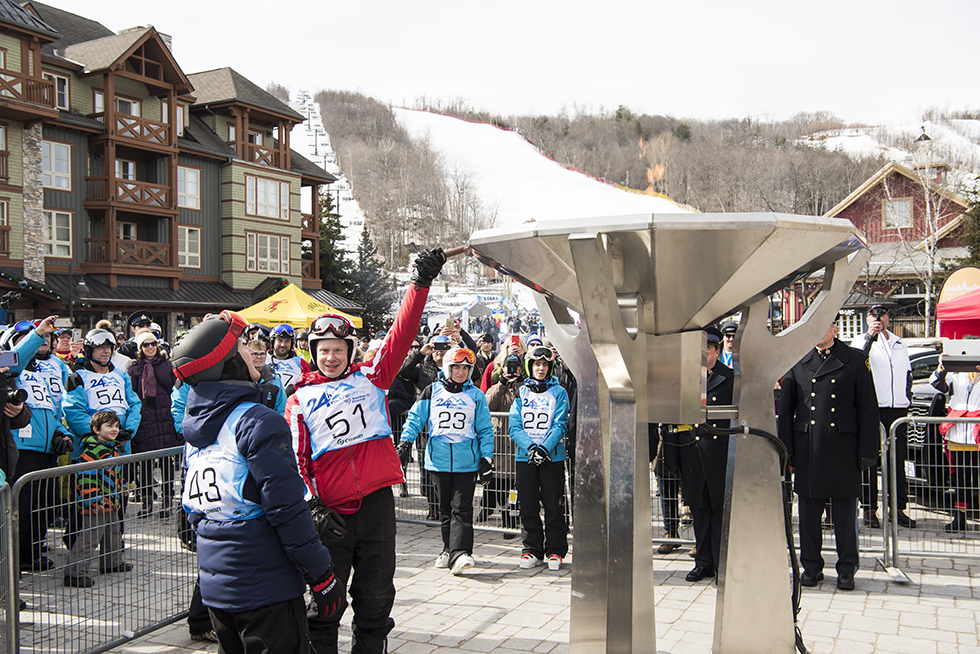 Olympian and Canadian Ski Hall of Famer Brian Stemmle, who has been a Special Olympics ambassador for over 25 years, flew back from the Olympic Winter Games in PyeongChang, South Korea for the inaugural event. "The Special Olympics is dear to my heart, and I know this event has a really bright future," says Stemmle. "I just see it getting bigger and better each year."
In the weeks that led up to the race, our team hit and surpassed our fundraising goal of $7,000, but fundraising didn't stop until the 24th hour, so there was plenty of opportunity to leverage our laps to gain a healthier bottom line. Because my family skis (during the day) at Georgian Peaks, I committed to the 9-11pm time slot. Team Escarpment Magazine was leading laps when I began my shift, but the race was far from over. If I felt sneaky night skiing in the past, the sensation was amplified as Blue Mountain closed the lifts to the public at promptly 9pm. A virtual ghost-mountain, I rode nearly every chair alone. Amplified also, was the speed at which I skied. In a 24-hour race, par- ticipants aren't allowed to tuck, but are allowed to crouch in order to generate speed.
Also, turning is optional. Early in my shift, I tried a few different approaches, looking for the most direct (and therefore the fastest) way down. I knew that during my two-hour shift, this should increase our team's lead. At first, I experimented with angling my skis slightly left or right, in order to hold a slight edge for stability, but after 7 or 8 laps I was used to the speed, and began riding a flat ski, which was quicker. It was also 200 times scarier, but I had prepared a sweet playlist and before long I was humming in more ways than one. I turned only twice each run: a right turn after unloading the Silver Bullet lift: and another right onto the designated race run, Smart Alec. Then it was straight down, crouching as low as I could legally get, praying that I don't hit a rut, simultaneously blowing both knees.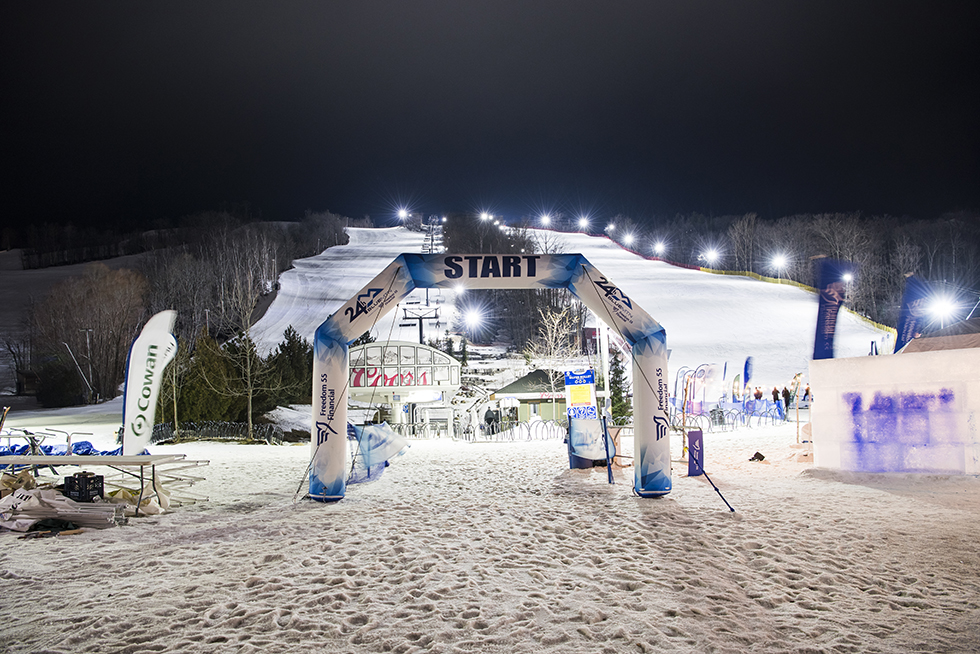 Blue Mountain's incredible "Black Ops" race crew regulated the event and kept everything running smoothly, along with Blue's patrol staff led by Becki Relihan.
Lap times were recorded via a transponder attached to my right leg. Each time I passed the tracking panel beside the Silver Bullet load area, my lap time was recorded. Live timing was available online as well as displayed on a tele- vision inside the Grand Central Lodge. Team Escarpment Magazine was in the lead when I began my shift and as Editor-In-Chief of this publication I felt a great responsibility not to screw it up. I was also expressly told by my boss, (and younger brother) Clay Dolan, "Don't screw it up."
As the night wore on Clay would intermittently text me my lap times, which were getting speedier. At around 9:55pm I was approaching the middle of Smart Alec when I noticed that the fenced corral, which slowed down competitors at the entrance to the lift line had been removed. There was now a straight shot directly into the load area… but there was a sweeping, very narrow right turn first. A handful of spectators that braved the cold that night, including my husband Dak, and two kids, were a blur of colour as I flew past at top speed, managing to slow down just enough to safely load the lift.
I received a series of texts on that chair ride. 9:56pm
Dak: "Well that was a little aggressive, don't you think?" 9:57pm
Clay: "You just clocked the fastest lap of the day."
I would hold the fastest lap for another hour, until my teammate Andrew Scott beat me by two seconds. He would later be beaten by two more Escarpment Magazine teammates Matt Vorps and Griffin Todd, who skied the graveyard shift of 1am-3am and 3am-6am respectively. By 11:59am, a full 23 hours and 59 minutes after our first racer, my brother Rory Dolan left the start gate, team Escarpment Magazine had accumulated 278 laps, ahead of second place team Blue By-Ya by 19 laps. Thanks to a last-minute donation so- licited by team member Andrew Scott, our team raised the most money with $11,861.02, just ahead of the Jozo Wei- der team with $10,747.62.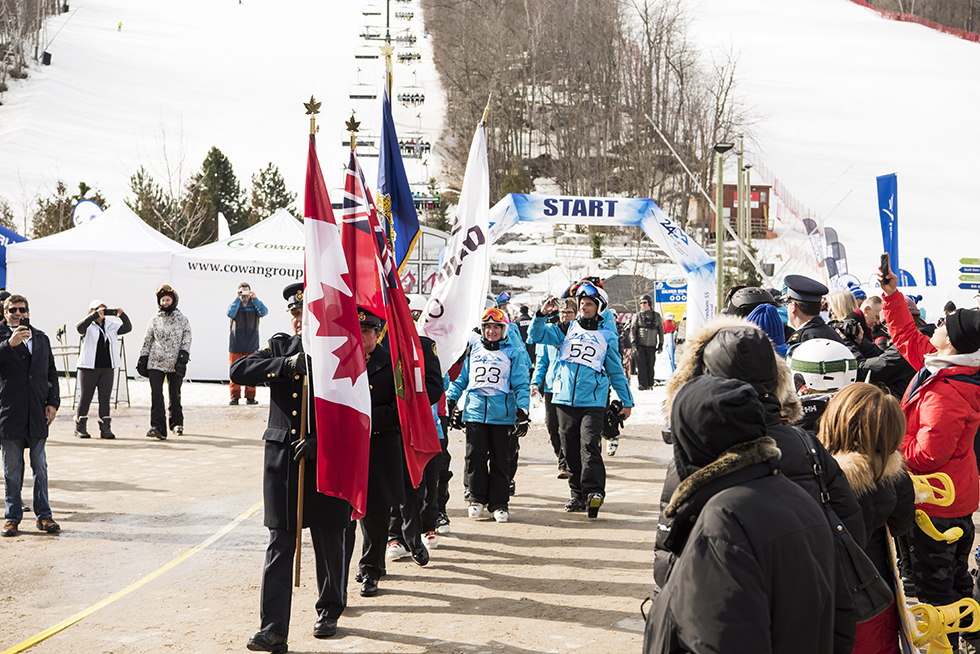 In total, the inaugural 2018 24h BLUE MTN raised $64,000, and the organizing committee is proud to announce 24h BLUE MTN is back for a second year backed by presenting sponsor Freedom 55 Financial. "At Freedom 55 Financial, we believe in supporting the communities where we live and work," says Abbie MacMillan, Vice-President, Freedom 55 Financial. "We're excited to return as presenting sponsor for 24h BLUE MTN again this year and are so grateful for the op- portunity to help make a difference in the lives of Canadians."
Taking place February 23-24, this year's event will feature a component of walking and running in support of Special Olympics Ontario and the Collingwood General & Marine Hospital Foundation.
"Last year 24h Blue Mountain provided $20,000 in funding to purchase new surgical equipment," notes Jory Pritchard-Kerr, Executive Director of Collingwood General & Marine Hospital Foundation. "We are grateful to be chosen as a charity partner again this year."
The fun starts at the Participant Welcome Reception with a Live Band Friday night, followed by the Participant Breakfast Saturday morning. The relay begins at 12 noon on Saturday, Feb. 23rd, as teams comprised of five to 10 participants challenge each other over the 24-hour event.
New this year, 24h BLUE MTN is incorporating a walk/run relay, which will take place on site at the Mon- terra Golf course on a groomed 4-kilometre trail. To get your team started, all you need is a Team Captain. If you don't have a team, you can still register as an individual and the event organizers will place you with a team. Sup- porters will also be able to make donations online at www.24hbluemtn.ca
"I can't think of a better way to celebrate our 50th anniversary, than to have the return of the 24h Blue MTN event," said Glenn MacDonell, President and CEO of Special Olympics Ontario. "The inaugural event last year was a huge success and I know that this event is going to continue to grow every year."
From inspiring opening & closing ceremonies at Blue Mountain's world-class village facilities, to non-stop friendly team competition upon its sensational snowy slopes and cleared golf paths, and uplifting pre and après ski activity camaraderie, 24h BLUE MTN is a memorable life-enhancing experience. I, for one, will be there—hopefully joined for a second year by Escarpment Magazine 24h BLUE MTN teammates Clay Dolan, Krista Allen, Graham Allen, Rory Dolan, Jenna Mielzynski, Carter Nicholl, Haily Dolan, Matt Vorps, Griffin Todd and Andrew Scott. |E|
Story by Cara Williams. Photography by Clay Dolan.