Navigating through winter with epicurean escapades.
By Stefanie Richardson
As we glide through these crisp months ahead, skis are waxed, fireplaces blaze and locals flood our wintery dressed towns, hot cocoa in hand. For many, this season's lure is the promise of thrilling outdoor adventures in all forms involving snow. Meanwhile, the outliers including myself, (I'm not a typical cold weather enthusiast) will bundle up, don hightop boots and borrow snowshoes, and will hit the trails all with the promise of a delicious reward somewhere along the way. Luckily for us, this four-season utopia holds no limitations for combining favourite activities with the ever-changing elements to create an epic, Winter memory. So, whether you're a local, a weekend warrior or simply passing through, might I suggest elevating your regular programming to include an excursion involving a locally owned small business in combination with a delightful, culinary twist.
Come Sip With Us
As we enter into the New Year, you'll want to take advantage of Collingwood's very own Whiskylicious, a 12-day festival that celebrates culinary artistry and Collingwood Whisky—which is all about perusing one's passion and real people who answer the call to explore and discover rich experiences. This fantastic event brings together local chefs, bartenders and restaurants who will each have their hand in creating unique, whisky-inspired recipes. New to the 2019 schedule is the 'Whisky Walk', a pub-crawl style event that will take place in and around the historic downtown core. This new addition gives six groups of up to 25 participants the chance to buy into a prix fixe option which will include a guided tour to six participating venues, an intimate meeting with each corresponding chef followed by a taste of their original whisky-inspired pairings. Grab your toque and mark your calendars for February 10—it's bound to be an evening of delicious discoveries and whisky magic.
Come Ride With Us
For over two years now, owners of the Beer Bus, Emily and Paul have been servicing the South Georgian Bay area with unique tours that highlight some of the region's best beer, cider and wine. Armed with an undying love for all things local, the two wanted to create a year-round experience that is both educational and enjoyable while showcasing the exceptional Ontario producers found within a 30km radius of Collingwood. Some may hit the slopes, and some may hit the bus—no judgment there.
Come Horse Around With Us
For owners Glen Sr. & Glen Jr., of Glendale Farms, the sight of snowfall means preparation for another season of entertaining, sleigh rides and hot cocoa. Well established for over 40 years, this family-run business knows a thing or two about staying toasty throughout the winter months. Whether you're in charge of date night, or looking for a picturesque destination to host a party, this quaint farm located on the cusp of Owen Sound offers much more than a cheerful sleigh ride. Imagine yourself in the heart of winter, trotting along aboard a festive sleigh, warming up in the sugar shack around the wood-fired stoves – all of which Glendale Farms can make happen. You may go for the journey, but you'll simply stay for the generous hospitality, spiced apple cider and the unseen views of Grey County.
Come Taste With Us
Combine fresh white powder, crisp dry air, two snowshoes, a frozen vineyard and an appetite for all things wine, cheese and factual – Grey County's very first winery, Coffin Ridge, knows just what to do. Thankfully for the loyal fans, their cold-climate wines and notable vintner's plates are prepared to feed visitors all year long. The best-kept secret might just be their snowshoe tours where you'll punch through mounds of snow, witness the sleeping vineyard and cap the day with a glass or two of nature's bounty (aka wine). Now that's one way to embrace the chill.
Come Pedal With Us
Fat Biking may just be the coolest way to take on winter. With snow crunching beneath your wheels and endless local trails to tackle, Ride Guides offers a variety of fat biking tours that will keep your summer momentum riding high, all season long. For those foodies out there looking for some outdoor fun, their 'Sweet Ride' fat bike experience gives you a guided outdoor ride followed by delicious treats at Heavenly Café in Collingwood. If this isn't convincing you, I don't know what will!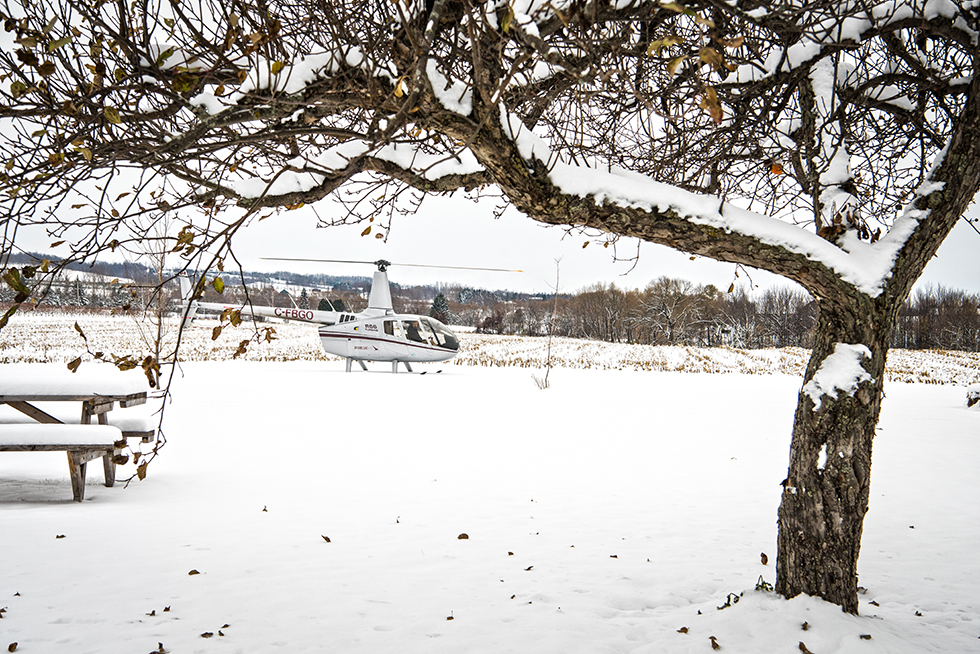 Come Fly With Us
Head Pilot at Big Blue Air, Marcus Vogel, offers a breathtaking way to take in the sights of Georgian Bay and our rolling Escarpment. Once aboard their helicopter, a Robinson R66, you'll be transported amidst the clouds to Georgian Hills Vineyards where you'll enjoy some locally produced wine paired with nibbles of artisanal cheeses. Besides being a perfect moment, you'll have the chance to learn about the inner workings of not one but two thriving local businesses.
Come Sweeten Up With Us
As the colder days dwindle away and the snow melts upon our es- carpment, the maple trees begin to prepare for prime sap production. When syrup season is at its peak, you'll want to make time this March to visit Regal Point Elk Farm in Wiarton for their infamous Maple Magic Festival – yes, a festival dedicated to all things maple! Be prepared for a day filled with pancakes, maple taffy, elk sightings, log sawing competitions and of course a guided tour of their syrup processing equipment. This festival will run the last two weekends of March with all profits being donated to the Wiarton Rotary Club.
From one side of the region to the next, you can find excursions, tours, tastings and activities that fit the likes of any curious player – foodies and all. Leave no weekend unplanned – take a tasty bite of winter now in Simcoe, Grey, Bruce.